Stopping by Stars Hollow: A Critic's First Watch of 'Gilmore Girls' - Season 1, Episode 20
'Then why you here? Empty your pockets!'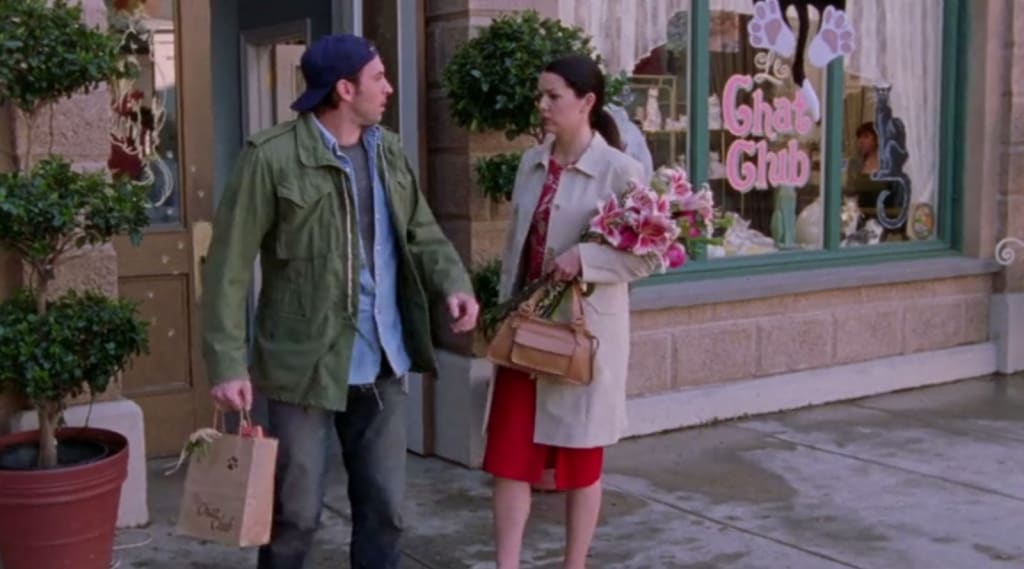 So to be fair and honest I am already deep into season 3 already. I started this series with the goal to pace myself and to treat each episode with thought and care, but my goodness the binge appeal of this series is so addicting. Thusly while I continue to brush through each episode with a fine tooth comb, please know dear reader that I am in the thick of it and that shit gets buck wild.
On an unrelated note… fair warning friends: remove the couch cushions off the couch before burning it. Fire vortexes are terrifying.
Season 1, Episode 20: "P.S. I Lo…"
Alrighty, ladies and gentlemen, it is time for another Rory bottles her emotions and explodes episode!
As much as I love accurate depictions of the bubbly tar pit known as adolescence with is inflated explosions of misunderstandings, rash decisions, and passion, I can only watch it so much before I want to slap someone.
And my goodness did I want to slap Rory.
It has been a common occurrence that when Rory bottles up her emotions in an episode she gets incredibly whiny. Usually, this whininess only lasts a few moments and is understandable because, as we know, Rory is a 16-year-old girl dealing with the toxic, Hyde-potion known as hormones. However in this episode, the entirety of the plot is Rory, whining.
Rory becomes a total brat in this episode and while it is a true to life portrayal of raising a teenager, it is absolutely aggravating to watch. This brings up an interesting point: when trying to have a character give a true to life portrayal how does one balance showcasing the repetitive, aggravating reality while delivering a compelling, dramatic, and entertaining story? Repetition is both an industry standard and a career ruiner, so where does one find the middle ground?
Well let's look at "P.S. I Lo…". The main reason why this episode is more aggravating than enlightening to the character of Rory is that we've seen it before. We've seen her bottle up and explode multiple times, and in the past those instances were entertaining because they showed us something new. In this episode we just see more of the same with the only change being that Rory heads to her grandparent's house. It's an episode that repeats our prior knowledge of Rory's character ad nauseam and doesn't provide any new information on her character.
Successful repetition doesn't merely repeat, it revolves and evolves. It grows and grows until it reaches its ultimate form. Be it a sight gag in a sitcom or the overdose after watching a character abuse drugs time and time again. While real life is repetitive, frustrating, and often one-note, good entertainment is supposed to be dynamic. A repetitive, true to life storyline can be entertaining as long as continues to grow and doesn't become stagnant.
Let's hope that balance gets restored as the series progresses. I want more of the dynamics that make the Emily and Lorelai cycle so intriguing. I need Rory and Lorelai's relationship to remain the opposite of Emily and Lorelai's but still have the same amount of layers and nuances. This will take time to build, I know, but it could be built faster if we got to see more of Lorelai's process of raising Rory. Their relationship needs just as much backstory and Emily and Lorelai's.
Well we've got one more episode left this season and hopefully, it's a doozy. Let's wait with baited breath to see what happens as we move…
Onto Season 1, Episode 21: "Love, Daisies and Troubadours"