Star Crossed Lovers
Hear Wedding Bells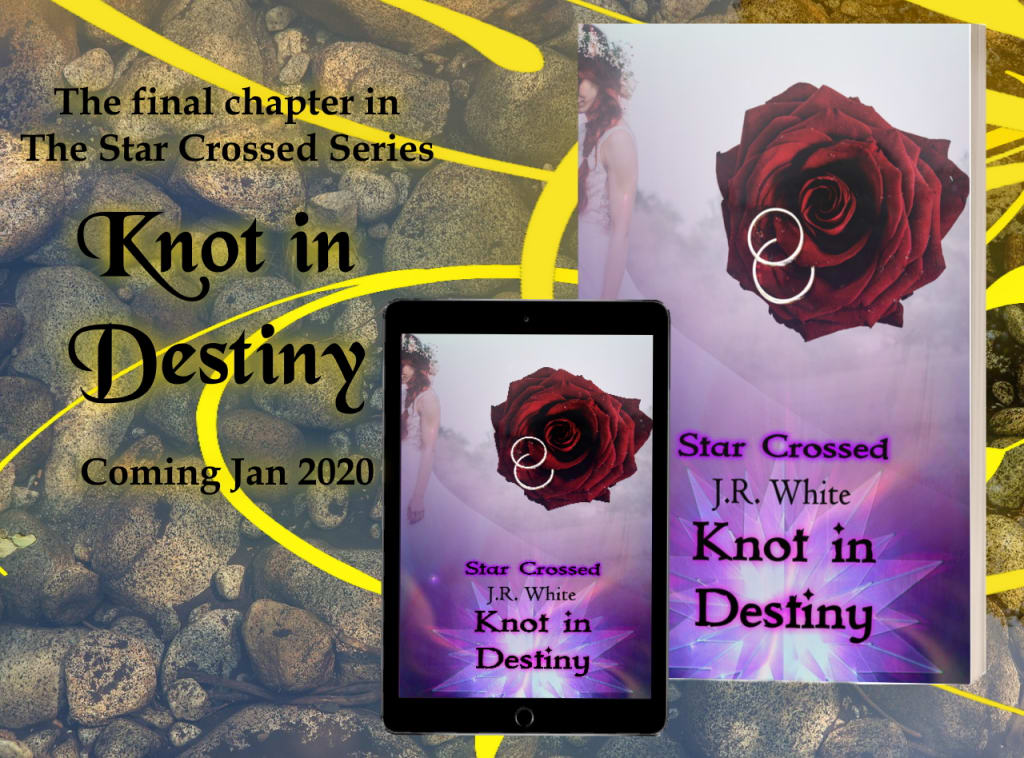 Star Crossed Lovers Hear Wedding bells
Releasing on January 15th, Knot in Destiny is the fifth and final book in the paranormal romance series, Star Crossed. The Blackburns and Blackwoods are finally coming to terms and giving their blessings, but no everyone is happy with Meredith and Malcolm. Join them as they face magical trials and puzzling tests to prove their love.
Knot in Destiny:
Meredith Blackburn is about to get married. Everything has finally fallen into place and nothing is going to stand in her way. Her happily ever after is put at risk when an objection isn't just voiced but forces Meredith into the most elaborate prison ever conceived of.
Ready to make Meredith his wife, Malcolm Blackwood is more than willing to tie the knot, but he didn't think it would be so tight. Getting through this maze of monsters is the only way to get Meredith back to the alter and he's determined to make it the happiest day of their lives.
Can they untie this knot? Or will their thread unravel?
Knot in Destiny is now available for pre-order on Amazon.com
If you need to play catch up, get ready for a deal!
Leading up to the release of Knot in Destiny, the first four ebooks leading to this moment will be on sale for just .99 cents each.
Between Dec 15th until Jan 15th you can download Just Beyond Daybreak, Caught by Nightfall, Chasing High Noon and Witching Hour Madness for just .99 cents each.
Just Beyond Daybreak (Book 1)
When the source of her family's magical energy and life force is stolen, Meredith Blackburn is left with little choice, but to search out the best magical tracker she knows. Unfortunately Malcolm Blackwood is more than just a tracker, he is also a man who captivates Meredith's thoughts.
She strolled into Malcolm's life with a job that he didn't want, but instantly he regretted turning her away. Now, with his own family relics in danger, Malcolm finds himself unable to leave Meredith behind.
Can they save the Blackburn bloodline? Or will family ties tear them apart?
Caught by Nightfall (Book 2)
Meredith Blackburn finds herself between a rock and a hard place now that her relationship with Malcolm has led her to magical breaking and entering. Someone is playing around with the rivers of magic that flow over the planet and the oldest library around expects her to figure out who.
All Malcolm Blackwood wanted was a handful of new tracking spells. What he got was an angry lover, a conflicting revelation from his brother and some old kook trying to start a war. Now it's up to him and Meredith to set things right.
Will they save the day? Or will family get in the way?
Chasing High Noon (Book 3)
Overworked, Meredith Blackburn is on a deadline. Restoring the Dragon's Eye, a family relic that connects them to their magical roots, has turned into a trial by fire. With her family breathing down her neck, the Lunar Shadow can't come soon enough.
Malcolm Blackwood is sure Meredith is still there somewhere, but with a new attendant and family pressure, she's just too wrapped up to notice that things are wrong. Warned about forbidden magic and desperate to support his lover, he's tiptoeing through a mine field.
Will the Blackburns be satisfied? Or will Meredith be cast out?
Witching Hour Madness (Book 4)
The Witching Hour is upon them, and Meredith Blackburn finds herself navigating family politics and community gossip. When the doors lock down, so does her magic, and she starts to wonder about the foreboding feeling that has been tickling her neck all night.
With Meredith at his side, Malcolm Blackwood is ready to face the elite magic community he once ran away from. Asked to help track down a missing magical threat, he finds something more frightening than the golden ring in his pocket.
Can they stop an ancient threat? Or will the magic users be consumed?
What are you waiting for? Go catch up or start a great series today!
Find the links and more books on the author's website.