Sitcoms to Turn to Now That 'The Office' Was Stolen From Us
Because I know that you're not paying for Peacock, either.
I'm not sure if you've seen the pricing model for Peacock, NBC's new streaming service, but it feels like a joke. If you're not privy, here's a peek.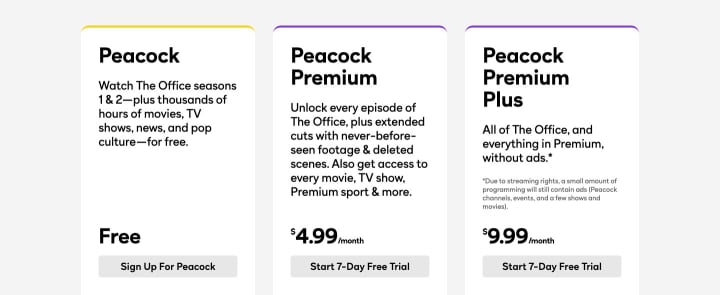 Basically, the more you love The Office, the more you pay. And... that's it. It's like Peacock knows their only bargaining chip, and they're blatantly holding it over your head. And I'm a stubborn person! So, no. I'm not playing your games, Peacock.
For those of you like me, who love The Office but aren't interested in playing right into NBC's hands, here are some alternatives.
1. The Mindy Project
The series follows obstetrician/gynaecologist Mindy Lahiri (Mindy Kaling) as she tries to balance her personal and professional life, surrounded by quirky co-workers in a small medical practice in New York City. The character was inspired by Kaling's own mother, an OB/GYN. Mindy explores life with the help of her co-workers: Danny Castellano (Chris Messina), her best friend and love interest... Jeremy Reed, an English physician who manages the practice; Peter Prentice, another physician who was a fraternity jock while attending Dartmouth; Morgan Tookers, a wacky, yet lovable registered nurse and an ex-con; Tamra Webb, a blunt nurse; and Beverley, the libidinous older office receptionist. (Source)
Obviously everyone who loves The Office is like, 65% in it for Kelly Kapoor, and another 20% is for Ryan Howard. The Mindy Project showcases Mindy Kaling as a very different type of character, without the ditz, but still offers all the same workplace banter, hilarious situations, romantic tension, and BJ Novak. Mindy Kaling has writer's and producer's credits on many of the most popular The Office episodes (18 of them, in fact!), including the beloved Niagara episodes, which even gained her Emmy recognition. So, if you love The Office you have Mindy to thank—and you'll probably love this one too.
2. Billy on the Street
Billy on the Street with Billy Eichner is an American comedy game show hosted by Billy Eichner. During each episode, Eichner goes out to the streets of New York City and asks pedestrians questions about pop culture. Recurring games are "For a Dollar" and "Quizzed in the Face". (Source)
Ok, this one's not so much of a sitcom as it is part reality TV, part talk show. But there's a reason Billy on the Street has made this list. First, if you're a fan of The Office—particularly the earlier seasons—it means you're a fan of dry, hyper-uncomfortable humor, delivered by Michael Scott et al. If there;s one word you can use to describe Billy on the Street, it is uncomfortable. Billy Eichner has no filter and no shame, and his interactions with random people on the streets of NYC are reminiscent of how Michael Scott might behave if he ran his own talk show.
There's another reason that you'll love this show, though, and it's the guest appearances and celebrity references. So many of the actors we've come to know and love through The Office and similar shows make an appearance here, either as themselves live and in person—or sometumes as a cardboard cutout, voodoo doll or paper mache rendering of themselves given as a prize to an unsuspecting New Yorker who answers enough of Billy's questions correctly. Watching Rashida Jones run through NYC holding hands with Billy and harassing passerby is something you might as well give a try. Available to stream on Netflix.
3. Parks and Recreation
Parks and Recreation revolves around Leslie Knope, the deputy director of the parks and recreation department in the fictional Indiana town of Pawnee. ... Leslie vows to turn the pit into a park, despite resistance from the parks director Ron Swanson, an anti-government Libertarian. (Source)
Parks and Recreation is a mock-umentary sitcom that very closely captures the feeling of The Office. It's a bit less dry humor, and you'll have to get over the fact that they definitely ripped off The Office's whole deal. But, on the plus side, both have Rashida Jones to offer.
Parks and Recreation is an NBC show, which means—surprise!—it's also on Peacock, and has also been taken off of every other OTT streaming platform. However, it's another perk that might make paying for the service more bearable if you do find yourself giving in to the Peacock temptation.
About the Creator
Raised on a steady diet of makeup and games. Eager to share my experiences with the world and make a difference, article by article! :)
Reader insights
Be the first to share your insights about this piece.
Add your insights