Shrinkage: A Comedy Sci-Fi Epic by Rob Kutner
One Funny Graphic Novel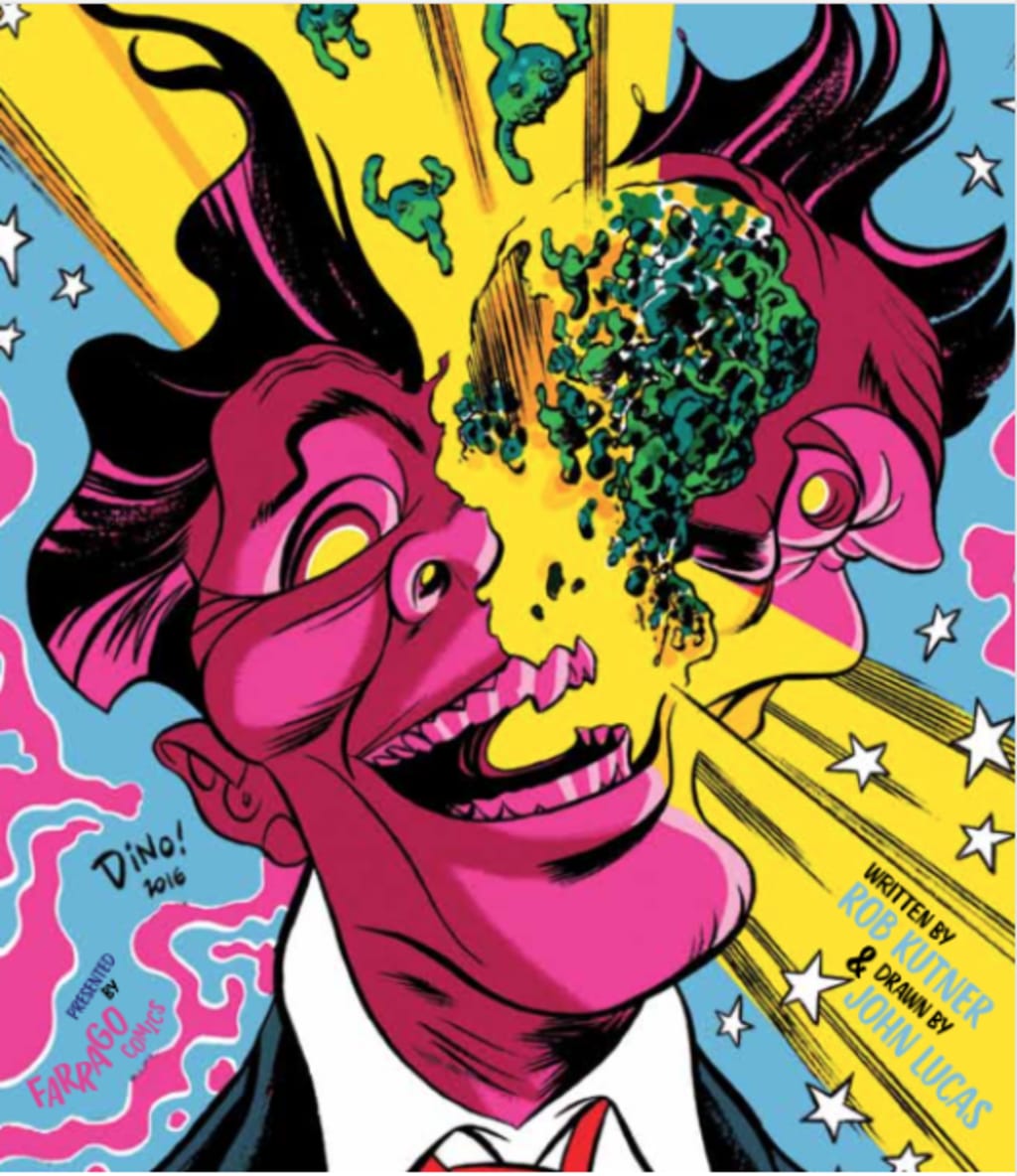 Cover Art By Dean Haspiel 
Comic book brethren, here's a new title that you must check out. Rob Kutner, five-time Emmy award winning writer of such iconic late night series as The Daily Show with Jon Stewart and Conan has teamed-up with artist John Lucas (Deadpool/X-Men) to create the dark sci-fi comedy epic, Shrinkage.
No, it's not about that kind of reduction.
Shrinkage tells the story of a brilliant dysfunctional neuroscientist, Dr. Lana Percy, and a tough Cold War general who lead an expedition inside the brain of the President of the United States to stop a band of aliens from controlling him and destroying the world. The art and writing are fantastic, jam-packed with high-caliber jokes and insane concepts from Rob's research on modern neuro science.
Rob has taken his natural gift for comedic political satire and blended it with his passion for sci-fi and the human mind to create this unique book. "I am absolutely gobsmacked by the mysteries of the brain," Kutner said to CNET. "And since we know so little about it, I figured it was the least accountable place for me to set a story."
Rob funded the comic via Kickstarter, raising $30,000. He found himself obsessed by the latest brain-related news from Psychology Today and Scientific American Mind and sought to write something drawing from what he learned.

Rob has been a long-time fan of all things genre, and this volume is a real treat since he's finally gotten the chance to meld all of these interests into this fine and funny publication. The book also has a series of beautiful covers, rendered by such fantastic illustrators as Dean Haspiel, Paul Pop, Rob Guillory and Bob Fingerman.
If you enjoy sci-fi, weird-mind-bending ideas and laughing out loud, then Shrinkage is a must have. Oh, and if you find yourself at this year's San Diego Comic-Con, stop by Rob's booth. He'll be doing a signing this Friday, July 21st from 6-7 at Golden Apple Comics booth 1806 and is a really nice guy who will make you laugh. Shrinkage retails for a mere $15, and only $12 for SDCC attendees. So what are you waiting for? Get your Shrinkage today!
Not that kind!
Rob Kutner's graphic novel will be available on ComiXology.
Follow Rob Kutner on Twitter for updates here.
About the Creator
Originally from Maui, Hawaii, Joshua is a multi-award winning writer based in LA. He has written for Marvel, SciFutures, Motherboard, Geeks and is represented by Abrams Artist Agency.
Reader insights
Be the first to share your insights about this piece.
Add your insights