Review of 'A Mirror Mended'
A Mirror Mended takes Zinnia through the multiverse of fairytales, from Sleeping Beauty to Snow White in a magical snap.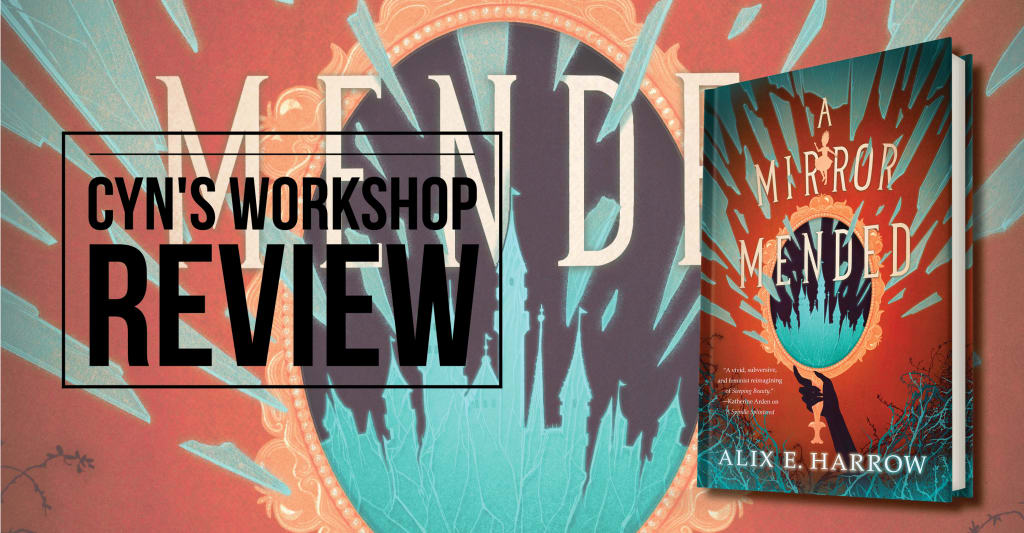 A Mirror Mended is the next installment in USA Today bestselling author Alix E. Harrow's Fractured Fables series.

Zinnia Gray, professional fairy-tale fixer and lapsed Sleeping Beauty, is over rescuing snoring princesses. Once you've rescued a dozen damsels and burned fifty spindles, once you've gotten drunk with twenty good fairies and made out with one too many members of the royal family, you start to wish some of these girls would just get a grip and try solving their own narrative issues.

Just when Zinnia's beginning to think she can't handle one more princess, she glances into a mirror and sees another face looking back at her: the shockingly gorgeous face of evil, asking for her help. Because there's more than one person trapped in a story they didn't choose. Snow White's Evil Queen has found out how her story ends, and she's desperate for a better ending. She wants Zinnia to help her before it's too late for everyone. Will Zinnia accept the Queen's poisonous request and save them both from the hot-iron shoes that wait for them, or will she try another path?
Review
A Mirror Mended takes Zinnia back into the multiverse on her quest to continue to foil the villains until the villain asks for her help.
Amazing Storytelling
If I have said it once, I will repeat it, Harrow is a fantastic author, and I love her. A Mirror Mended is the sequel to A Spindle Splintered. Zinnia is still traversing the multiverse, but the lines between the universes are becoming more blurred.
I love that this story focuses more on Zinnia and her reluctance to return to her life. It makes sense. Returning home means resetting the clock on her life. However, because she meddles, fairytale elements appear in unexpected places and become untethered from their fairytales.
And vice versa.
The Wicked Stepmother from Snow White, a woman without a name, without an identity, has gotten a hold of Zinnia's collection of fairytales. Now aware of her fate, she seeks Zinnia's help to escape her fairytale and fate.
Once again, Harrow is dismantling more fairytale tropes, this time of a different one. And through it, now teamed up with the villain, Zinnia explores her mortality and what defines a villain. It is, after all, all about perception. And her reluctance to return to her universe and live in fairytale after fairytale while keeping her fate at bay does not ensure her own happily ever after.
I loved that Harrow is delving into what makes a fairytale and what defines that happy ending. It is about what you make of it. Even Zinnia, her happiness is what she can make of it.
Final Thoughts
A Mirror Mended is a superb novel and fabulous follow-up to A Spindle Splintered. If I have one complaint, it's that I want more. But more would have ruined what is otherwise a short and sweet story about villains and making your happiness.
Writing Quality : 10/10
Character Development : 10/10
"Couldn't Put It Down"-ness : 10/10
Intellectual Depth: 10/10
Originality: 10/10
Overall Rating: 5 out of 5.
Like this review?
Don't forget to follow Cyn's Workshop on Facebook | Instagram | Twitter | Tumblr | Spotify | YouTube | BookBub | Goodreads | LinkedIn to stay tuned for future reviews.
About the Author
Cynthia Bujnicki graduated from Emerson College with a BA in Writing, Literature and Publishing. She has always loved to read since she was a child. A contributing writer for YA Fantasy Addicts, she is also the Editor-in-Chief for Cyn's Workshop. She lives in sunny South Florida with her husband, son and daughter and their two cats.