Review of 'A Spindle Splintered'
Fall into the fairytale multiverse with A Spindle Splintered, a quick read that subverts all expectations.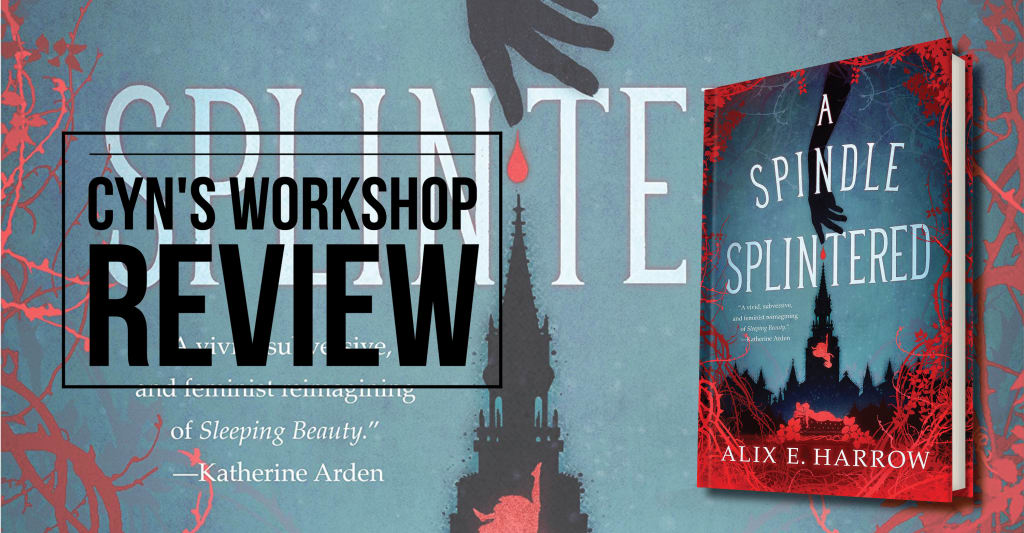 USA Today bestselling author Alix E. Harrow's A Spindle Splintered brings her patented charm to a new version of a classic story. Featuring Arthur Rackham's original illustrations for The Sleeping Beauty, fractured and reimagined.

"A vivid, subversive and feminist reimagining of Sleeping Beauty, where implacable destiny is no match for courage, sisterhood, stubbornness and a good working knowledge of fairy tales." —Katherine Arden

"Like Into the Spider-verse for Disney princesses...a gripping narrative that bridges the gaps between fairy tale tropes and the sci-fi multiverse." — Mike Chen

"This whirlwind tour de fairyland jabs at the old happily-ever-afters — and asks whether we might want more than a prince and a palace." —Kerstin hall

It's Zinnia Gray's twenty-first birthday, which is extra-special because it's the last birthday she'll ever have. When she was young, an industrial accident left Zinnia with a rare condition. Not much is known about her illness, just that no-one has lived past twenty-one.

Her best friend Charm is intent on making Zinnia's last birthday special with a full sleeping beauty experience, complete with a tower and a spinning wheel. But when Zinnia pricks her finger, something strange and unexpected happens, and she finds herself falling through worlds, with another sleeping beauty, just as desperate to escape her fate.
Review
A Spindle Splintered follows Zinnia as she pricks her finger and finds herself in another world with a sleeping beauty eager to escape her fate.
Storytelling
I love Alix E. Harrow. There, I said it. Her storytelling is impressive, and A Spindle Splintered highlights how powerful she is with words.
A Spindle Splintered is not the longest read. Running at only 128 pages, Harrow works thoughtfully to build up this feminist narrative of a girl living under a curse of her own, one that will end her life on her 21st birthday. A day where she will fall asleep and never wake up.
Hence her obsession with the Sleeping Beauty fairytale.
The pacing, the momentum, it never falters as Zinnia tries to find a way to break the spell of Sleeping Beauty. Harrow takes the fairytale apart, subverting the sexism that defined the original texts and modernizing the tale with an empowered protagonist who is eager to escape her dire fate and help those stuck escape their own.
But more than that, in a few pages, Harrow shows readers the many fairytales that can follow Sleeping Beauty. Mike Chen hit the nail when he said, "Like Into the Spider-Verse for Disney princess…". It was incredible to be given snippets of various versions of this tale, the multiple ways the story can break its mold and become something else entirely while still holding onto its substance.
Final Thoughts
A Spindle Splintered is mind-blowing. Harrow gives readers a short and sweet narrative that subverts all expectations. It moves with a graceful pace, highlighting the sexism in old fairy tales, taking the "moral" and creating something new.
Writing Quality : 10/10
Character Development : 10/10
"Couldn't Put It Down"-ness : 10/10
Intellectual Depth: 10/10
Originality: 10/10
Overall Rating: 5 out of 5.
Like this review?
Don't forget to follow Cyn's Workshop on Facebook | Instagram | Twitter | Tumblr | Spotify | YouTube | BookBub | Goodreads | LinkedIn to stay tuned for future reviews.
About the Author
Cynthia Bujnicki graduated from Emerson College with a BA in Writing, Literature and Publishing. She has always loved to read since she was a child. A contributing writer for YA Fantasy Addicts, she is also the Editor-in-Chief for Cyn's Workshop. She lives in sunny South Florida with her husband, son and daughter and their two cats.
Reader insights
Be the first to share your insights about this piece.
Add your insights