Oliver Jeffers Signing Copies of 'Here We Are'
A Review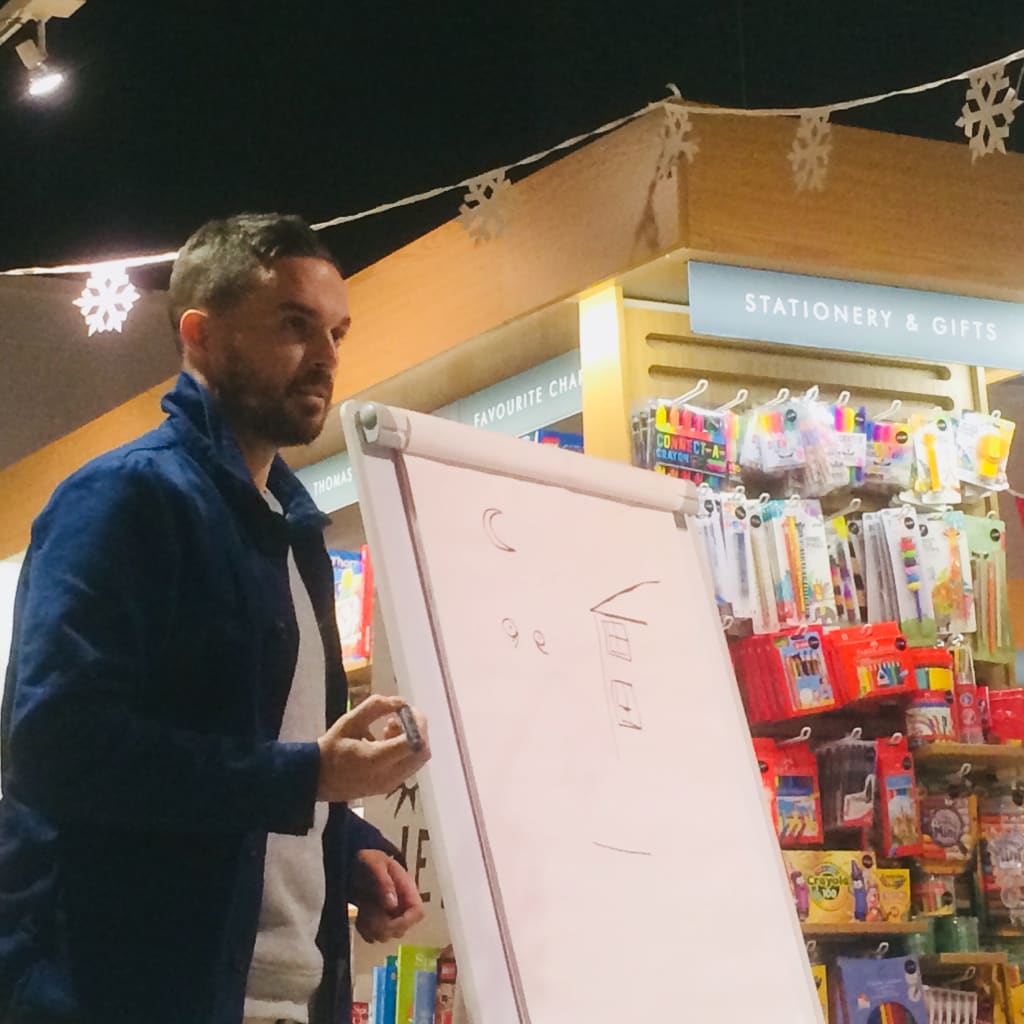 Where: Waterstones Putney
When: November 11 of 2017 at 4:30 PM.
About the makers:
Oliver Jeffers: Artist, illustrator, and picture book author from Northern Ireland. His work has been shown in different galleries and cities around the globe, including Lazarides Gallery and the National Portrait Gallery in London. His picture books are well known and have been translated into 30 languages; one example of it is The Incredible Book Eating Boy and its sequel The Day the Crayons Came Home. You can visit his site here.
Waterstones: It is a British book retailer with more than 200 stores. Tim Waterstone founded it in 1982 with the idea of creating a different bookshop in the UK, thereby he followed the styles he saw in United States, creating store displays with important literary authors and employing highly literate staff. Each store has the purpose to adapt to the local market interests, but they also sell books that are bestsellers around the country so that they can fit into the reader's demands. They also have prizes (like the Waterstones Children's Literature award), events (like the one I had the chance to attend to) and Café W, where people can enjoy a coffee while they read their favorite book. Visit their site here.
The experience: As the event was for signing copies of Oliver Jeffers' books, everything was displayed around him in the children's area. There was a table with all of his books, even the new one: Here We Are, and there was a board with some papers and markers available for him to draw. There were also some chairs and carpets for the kids to sit down on the floor. When Oliver Jeffers arrived, he was introduced by one of the booksellers, after that he started talking about how to draw and took as an example a kid that was participating a lot during all the process. Then he draw the story of the boy who ate books and finally read out loud his new book, and explained that the purpose of his book was to start teaching his son about the world he just arrived to, especially because all the books he wrote before were for himself, because he enjoyed doing picture books, but now he has somebody in his life to teach and dedicate his books to. At the end he started signing books for the audience and also taking pictures.
The event was very well organized, a lot of people attended and they made sure they had all the books available for signing moment. It was quite a short time the entire event, perhaps a little bit longer the process of storytelling would have made it better, although he managed to make everybody happy and focused, which is really hard, taking into account the different ages that attend the event. In general it was really fun and to see one of your favorite authors is always exiting.
About the book:Here We Are is about the world we live at. It starts from the biggest thing and ends up with the most specific one. This biggest thing is the universe and the galaxy we are part of, from that moment on Oliver Jeffers starts making a closing up to get inside our world, the nature and the living beings that live in it. Then, with a very gentle and loving tone, he starts explaining how everyone is different and why that differences we have makes the world a unique and amazing place, where you can learn and experience everything you want, the only condition is to keep open to others stories and ideas. This is one of the simplest books he has written and the only one with a purpose in life, which is giving a warm and affecting welcome to his son, that turns out to be a welcome to every single child that arrives to this world. As always, the illustration and story are very well connected and very well done, making this book perfect for every audience and a very good first book for any child.
literature