Nikolas and Ava are a match made on 'General Hospital'
The prince and his mob princess may be fighting their true feelings.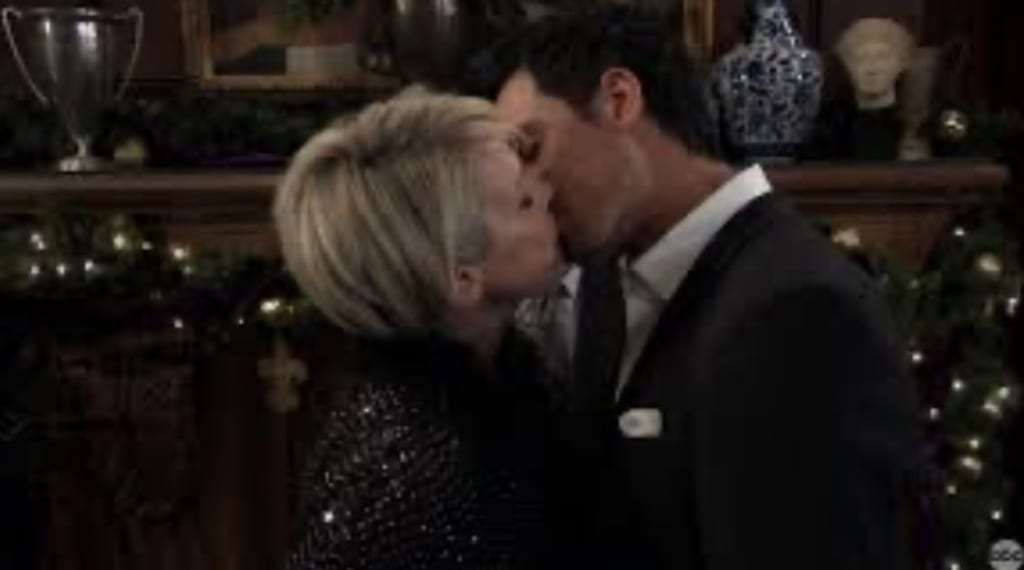 Ava and her prince might fall in love
General Hospital fans are divided over the fate of the marriage between the Cassadine prince and the mob princess. This couple is complicated and basically like oil and water. Last week in Port Charles, Ava told Nina that she and Nikolas had an agreement that nether of them would commit adultery. She added that there would be no sex inside or outside of the marriage and Nina was stunned. Right now the Cassadine prince and his new bride are acting as if they loathe each other, but they once had a strong connection. Underneath the quest for power and revenge there is probably deep passion burning. There is an old saying that there is a thin line between love and hate. Ava and Nikolas will probably soon cross that line. They may play it off as just sex, but the more they live together, the deeper their feelings may grow, if they don't kill each other first.
Spoiler alerts have not given any details regarding the direction this duo is headed, but some viewers believe soon the prince will be seen coming out of his wife's boudoir. Others think the marriage will fall apart and each will go in separate directions. Both of them are ruthless and power hungry and together they make a formidable team. It would be interesting to watch Nic and his wife getting in and out of trouble together and stay in the marriage for the long hall. Soaps She Knows says the couple must remain husband and wife if they desire to stay rich so things could become pretty complicated. Each one of them is determined to outsmart the other and while they are plotting, their feelings might ovetake them. Nina and Ava will continue to bond and Ms. Reeves will soon confide in the new Mrs. Cassadine. She might tell her about the kiss with Jax, admit her feelings are growing for Joslyn's dad or there could be a different revelation to come forth.
Nina, Ava, and Nikolas would do well to keep Valentin on their radar because spoilers say he is going to shoot at Jax and Dustin but don't give details as to why. It's possible Mr. Cassadine finds out that Jax made a move on his ex wife. There will also soon be a DNA test that should prove Valentin the s not a Cassadine which would please the Nikolas and Ava are playing a game of cat and mouse with one another and just may get caught in each other's snare. When Nikolas rescued Ava from drowning and married her in the same night, some viewers thought they were perfect for each other. General Hospital fans are divided on whether or not this match was made in heaven or hell.
Several spoilers have suggested that Ava might lose all because her marriage to Nikolas may be invalid. It's believed that he never divorced Hayden, but if this is true then how was Ms. Barnes about to marry Dr. Finn before she left Port Charles? Some General Hospital viewers are hoping Nikolas and Ava May truly fall in love while others are waiting for them to destroy each other. Just before Valentin shot the Cassadine heir he stepped in front of Ava to protect her. The two had been getting to know each other and it looked like romance might bloom. Nikolas saved Ms. Jerome from Valentin again when he threw her in the water and left her to drown.
There really is no way to know for certain which way this relationship is headed because these are two headstrong individuals who are determined to outwit each other. Ava is still grieving Kiki and Nikolas is hurting because he feels he betrayed Spencer. There is also Obrecht lurking around the Cassadine property, Laura's being shot and a defiant Spencer will all play a part in how this couple ends up. Celeb Dirty Laundry suggests that "Nava' might soon be in danger from Ryan Chamberlain who continues to be enamored by Ms. Jerome. The spoiler says that Nelle owes him a favor since he helped her get out of jail. She may target the Cassadine Prince on behalf of the serial killer. Between Ryan and Valentin the newlyweds will have to keep looking over their shoulders.
Ava and Nina were supposed to make the Cassadine men pay for hurting them, so it's not clear what Ms. Jerome's true motives really are. No one expects this union to last and everybody believes it's all about the money. The prince and the mob princess could easily fool everyone and actually fall in love and remain married for a long time to come. Be sure to look for spoiler alerts that update this storyline as they become available. Continue watching General Hospital each weekday afternoon on ABC at 2:00 PM EST. Quite a lot of drama is about to ensue at the Cassadine mansion and you don't want to miss any of it.