My Most Anticipated Film Releases of 2019
25 Up and Coming Releases with 12 Honourable Mentions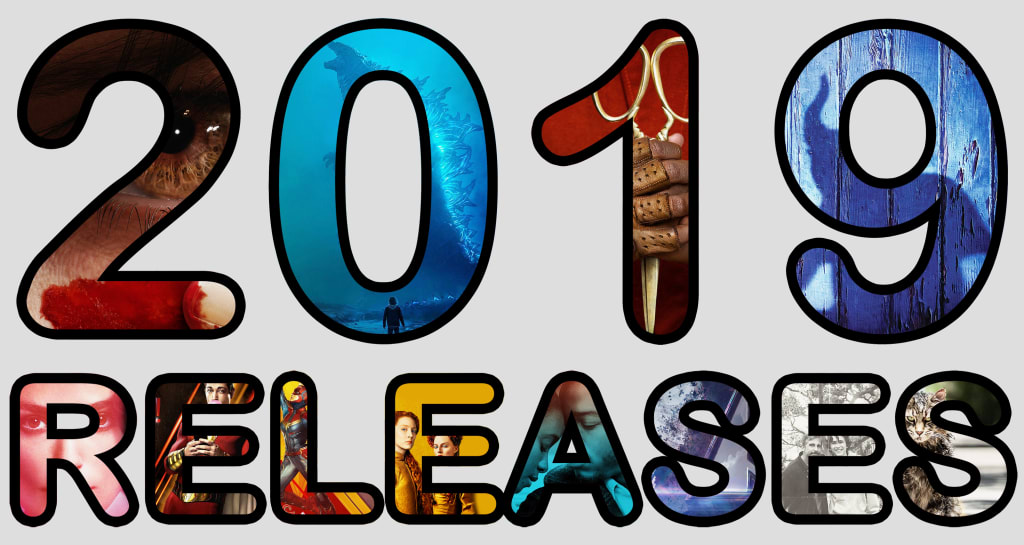 Already there are so many movies that have been announced for release this year that I'm really excited to see. Considering this, I have decided to make a list of my most anticipated releases so I thought I would add a little bit as to why I'm looking forward to them and share it with you!
Before we get started, there are some things to consider about this list. Firstly, this is based on the UK release dates so some of these movies may have come out in a previous year elsewhere in the world. Another thing about that is that some of these movies may have been shown through festivals in the UK, but I'm counting their cinema release dates. These dates are taken from IMDb so they might change as the year goes on, and not every movie has been announced yet so there's potential, depending on when you read this, for some movies to be missing.
With that being said, here are my most anticipated upcoming releases of 2019!
"Colette is pushed by her husband to write novels under his name. Upon their success, she fights to make her talents known, challenging gender norms." - IMDb
I really know nothing about Colette, her work, or her life so going into this should be interesting. I'm considering keeping it that way and then do my research after the fact, if I feel inclined to. Regardless, this movie looks fantastic and I'm excited to see Kiera Knightley in the role. I feel watching a movie about a female writer's journey to claim back her work and be properly credited is going to be an incredible watch.
"Based on the best-selling pair of memoirs from father and son David and Nic Sheff, Beautiful Boy chronicles the heartbreaking and inspiring experience of survival, relapse, and recovery in a family coping with addiction over many years." - IMDb
I've seen a lot of good and bad reviews about this movie but honestly, I think it looks interesting and it seems like it's going to be a rollercoaster of a ride. I suspect that the acting is going to be incredible and I'm particularly looking forward to seeing Timothée Chalamet. Again, similarly to Collette, I know nothing about the lives of the father and son the movie is based on and will most likely leave any research until after I see the movie (if I decide to do any at all).
Security guard David Dunn uses his supernatural abilities to track Kevin Wendell Crumb, a disturbed man who has twenty-four personalities. - IMDb
I'm mostly excited about this movie because of the cast and also how much Split surprised me. I remember getting to the end just like everyone else and realising that it was connected to the movie Unbreakable. That is one I saw many years prior and although I'll most likely have to re-watch it, I'm stoked that it's now an entire trilogy. Glass is the first one to be able to play with that fact. Unbreakable was a solo movie at the time, Split had to hide the fact it was a sequel until the end, but this movie will be acknowledging its connections and I genuinely feel like we're going to get something bigger, better, and more coordinated.
"Mary Stuart's attempt to overthrow her cousin Elizabeth I, Queen of England, finds her condemned to years of imprisonment before facing execution." - IMDb
Listen, I'm curious about seeing what they do with this part of history but at the end of the day, I'm here for the chemistry between Margot Robbie and Saoirse Ronan. From the trailer alone I'm already looking forward to seeing many more scenes between the two of them. Also, it does look like it's going to be a very entertaining and visually beautiful movie.
"Six strangers find themselves in circumstances beyond their control, and must use their wits to survive." - IMDb
This just genuinely looks like it's going to be a ton of fun. I love movies with this kind of premise, that are really good for sitting down and passing a couple of hours. At the end of the day, I think it will be, at the very least, a movie that's so bad that it's good. Plus, I'm looking forward to seeing Deborah Ann Woll.
"An action-packed story of one young woman's journey to discover the truth of who she is and her fight to change the world." - IMDb
I really like Robert Rodriguez as a director so I was instantly curious about this one and more so when I saw the trailer. It looks like it's going to be a really fun, action-packed ride but I'm mostly curious to see how this movie stands up, especially considering how long it took to actually be made, (it was first announced in 2003 and Rodriguez was announced as director back in 2016), and with the amount of CGI involved. I want to see if that, particularly, is consistent and well maintained throughout.
"A woman in Harlem embraces her pregnancy while she and her family struggle to prove her fiancé innocent of a crime." - IMDb
I've heard nothing but good things about this movie and after seeing just one trailer I'm inclined to believe them. It looks and sounds beautiful and I'm intrigued to see it all ties together and whether or not it truly lives up to its hype.
"It's been five years since everything was awesome and the citizens are facing a huge new threat: LEGO DUPLO® invaders from outer space, wrecking everything faster than they can rebuild." - IMDb
The thing I love about this movie already is that the plot sounds so stupid but I can guarantee I'm going to have a good time. The first movie was a ton of fun with interesting animation and a great cast. I'm really excited to see what new things if any, they try with this one and I'm mostly interested as to whether or not it'll be as good as the first one.
"Carol Danvers becomes one of the universe's most powerful heroes when Earth is caught in the middle of a galactic war between two alien races." - IMDb
So yes, part of this is the fact that it is another installment of the MCU, but I'm particularly intrigued because it's a new superhero to the franchise. It's set in the past (the 1990s), and there's a ton of new faces that I'm happy to see join the MCU casts. This does look entertaining just like the others, but it also seems to have its own vibe which works really well considering it's set in an earlier time similarly to how Captain America: the First Avenger had a differing vibe.
"A mother and father take their kids to their beach house, expecting to enjoy time with friends, but their serenity turns to tension and chaos when some visitors arrive uninvited." - IMDb
Honestly, Get Out blew me away when I saw it and just knowing this movie is also written and directed by Jordan Peele makes me instantly invested in it. The trailer blew me away. It was intense, well-paced, and the use of sound was fantastic. I honestly hope the movie is similar or better because if it is, this may possibly end up being one of my favourite movies of the year.
"An ex-convict working undercover intentionally gets himself incarcerated again in order to infiltrate the mob at a maximum security prison." - IMDb
So, I'm one of those people who doesn't block ads on YouTube and it's probably a good thing because I would have never known about this movie otherwise. Okay, so I might have heard about it at some point, but not as early as I did. Towards the end last year, when I first saw this trailer, I was hooked. I will watch this for Joel Kinnaman and Clive Owen alone but it does look genuinely interesting and after watching Kinnaman in Altered Carbon, I was blown away by his performance so I'm excited to see him take a lead in this.
"A young elephant, whose oversized ears enable him to fly, helps save a struggling circus, but when the circus plans a new venture, Dumbo and his friends discover dark secrets beneath its shiny veneer." - IMDb
I'm curious to see all of the Disney live-action remakes but I'm particularly interested to see what this one will be like considering it is directed by Tim Burton and I wonder how much of his usual style will make it into the entire movie. There is also a decent cast involved and I've only seen the animated version of Dumbo a handful of times so it'll be interesting to see the story again, most likely with some changes.
"Louis Creed, his wife Rachel and their two children Gage and Ellie move to a rural home where they are welcomed and enlightened about the eerie 'Pet Sematary' located near their home. After the tragedy of their cat being killed by a truck, Louis resorts to burying it in the mysterious pet cemetery, which is definitely not as it seems, as it proves to the Creeds that sometimes, dead is better." - IMDb
I've actually never read Pet Sematary or seen any other adaptation of it but I've heard a ton of positive things about it in general and I often find that Stephen King's stories are entertaining and I usually have a good time reading/watching them. If the trailer is anything to go by, and I hope it is, this looks like it'll be really entertaining and creepy.
"We all have a superhero inside us, it just takes a bit of magic to bring it out. In Billy Batson's case, by shouting out one word - SHAZAM! - this streetwise 14-year-old foster kid can turn into the adult superhero Shazam." - IMDb
I mean, I was going to see this anyway because I do want to see all of the DCEU movies, however, this one looks like it's going to be the most fun. It looks hilarious and action-packed. I'm hoping it at least falls on the same lines as Aquaman—not the best movie ever made, but incredibly entertaining and a really good time.
As you've probably guessed, my main reason for this one is to see the conclusion to Avengers: Infinity War. If this installment is anywhere near as good as its predecessor when it comes to plot, structure, and character then this is going to be one amazing movie.
"An introverted teenage girl tries to survive the last week of her disastrous eighth grade year before leaving to start high school." - IMDb
I have heard so many positive things about this movie in terms of plot, pacing, casting, and characterisation. I remember what it was like to be 13/14 but that was about 10 years ago, so I have no idea what it's like to be that age today. I've heard so many people say that this movie adequately displays what it's like to be that age at this time so I'm curious to see it for myself. Plus, it does look really fun.
"In a world where people collect Pokémon to do battle, a boy comes across an intelligent talking Pikachu who seeks to be a detective." - IMDb
Pokémon was a huge part of my life growing up and it still is today. I have wanted to see a live action Pokémon movie for as long as I can remember so to see an actual trailer for this made my day, I can only imagine what it'll be like to see the entire thing! I also like that they haven't just retold Ash Ketchum's story in live action because of that I already know this is going to be incredibly fun, interesting, and I really don't think I'm going to get enough of Ryan Reynolds as Pikachu.
"A master assassin comes out of retirement to contend with a group of young hit men." - IMDb
I already love everything about this movie. I'm invested because of Mads Mikkelsen and the trailer just looks phenomenal. I love the way the action sequences are displayed and how they work well with every sound and piece of music. I hope the entire movie is like that too. If it is I think it'll be one of the most satisfying movies I've seen this year. Plus, it's on Netflix so I'm pretty much guaranteed to see it.
"The crypto-zoological agency Monarch faces off against a battery of god-sized monsters, including the mighty Godzilla, who collides with Mothra, Rodan, and his ultimate nemesis, the three-headed King Ghidorah." - IMDb
To be honest, I'm mostly excited for this because it looks fantastic and has an amazing cast. I've seen the prequel to this, Godzilla, which came out in 2014 but I'm most likely going to have to re-watch that before I see this. I'm excited to discover how they expand the universe and how the filmmaking and story compare between the two films. Although they're not directly connected at the moment I also need to see Kong: Skull Island in preparation for the crossover that's coming. If this one does well, hopefully, the franchise will continue to grow and get better and better.
"The Men in Black have always protected the Earth from the scum of the universe. In this new adventure, they tackle their biggest threat to date: a mole in the Men in Black organization." -IMDb
When I first heard there was going to be a new Men in Black movie with a completely new cast I was afraid it was going to be a complete remake but luckily enough this is a reboot that plans to expand the universe. I love the idea of there being other facilities across the world, especially in England. This movie seems to have the same qualities as the original movies with some of its own. I'm already loving seeing Chris Hemsworth and Tessa Thompson together in this so seeing the entire movie will, hopefully, be just as intriguing.
Again, like Dumbo, I want to see this because I plan to see all the Disney live action remakes, but I'm particularly interested in this one because the Lion King series is one of my favourites to come out of Disney animation. The CGI looks fantastic and I'm curious to see what will remain the same and what will be changed.
"When a new toy called "Forky" joins Woody and the gang, a road trip alongside old and new friends reveals how big the world can be for a toy." - IMDb
I never thought they would go beyond Toy Story 3 and I am afraid that at some point this franchise might go on longer than it needs to, however, I don't think it has reached that point just yet. If this one is anything like the previous three then it's going to be a good time. I am waiting for a little more information or perhaps a trailer but even without much information, I'm still very excited to see this.
"Five young mutants, just discovering their abilities while held in a secret facility against their will, fight to escape their past sins and save themselves." - IMDb
I haven't seen every movie in the X-Men film series but I adore the ones I have seen and so I'm excited to see this installment, especially considering it's going down the horror route. I think it's going to be incredibly refreshing and, if it does well, hopefully, the franchise will keep branching off into sub-series that will provide more variety.
"Twenty-seven years later, the Losers Club have grown up and moved away, until a devastating phone call brings them back." - IMDb
I loved the first movie way more than I was expecting to and I've never actually seen the old mini-series or read the book. So, I have absolutely no idea what is coming in this movie and that makes me all the more interested.
"A failed stand-up comedian is driven insane and becomes a psychopathic murderer." - IMDb
The Joker is one of my all-time favourite DC characters so I'm excited to see him in his own live-action movie. From what I've seen of his previous work, I know that Joaquin Phoenix is going to do a fantastic job. Beyond that, I really don't need to know much, I'm already waiting to see it.
That is it for my 2019 anticipated film releases! I'm sure there will be more to come and I hope this year will be a good one for film. Below are some honorary mentions that didn't quite make it onto my main list.
These movies are being mentioned because I am interested to see all of them. Some just missed out on being part of the main list because I'm not as excited to see them and others missed out because there is very little information about them and/or a trailer has yet to be released.
The Sisters Brothers (April 5)
Ad Astra (May 24)
Aladdin (May 24)
Hobbs and Shaw (August 2)
Zombieland 2 (October 11)
Charlie's Angels (November 1)
Frozen 2 (November 22)
Untitled Jumanji: Welcome to the Jungle Sequel (December 13)
Fahrenheit 451 (UK Date Unknown)
The Intruder (UK Date Unknown)
Spider-Man: Far From Home (UK Date Unknown)
Star Wars IX (UK Date Unknown)