My Top 10 Films of 2018
A Spoiler Free Look at 10 of the Best Movies I Saw in 2018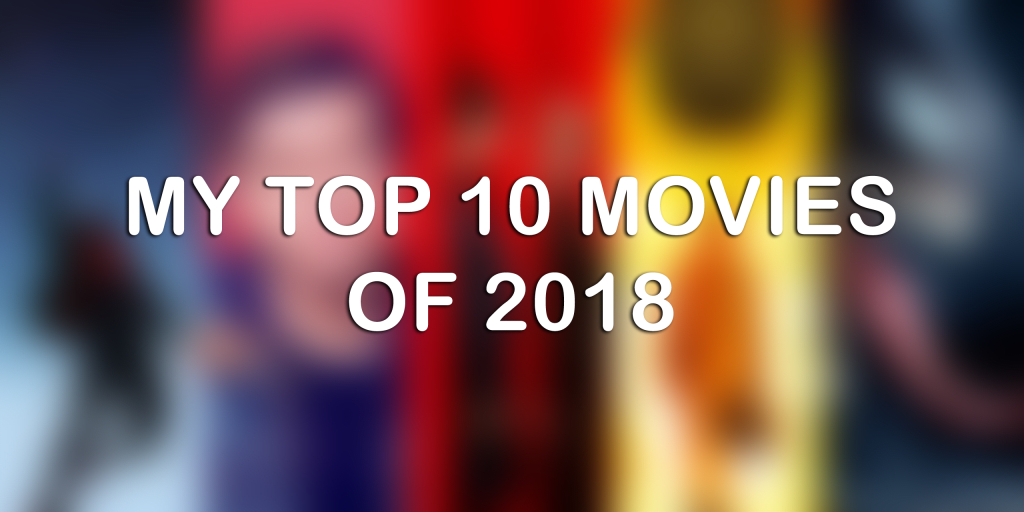 2018 was actually quite a successful year for me when it comes to watching movies. I saw so many that I loved and now consider firm favourites of mine so I thought I would put together a list of my top 10!
There are, however, some quick things to note. These were all released in 2018 and viewed by me in the same year, I have not seen every 2018 release, this is mypersonal list and will therefore not reflect everyone's opinions, and it will be spoiler free.
With that being said, let's get on with the list!
What is it about?
Now an adult with a family and a full-time job, Christopher Robin is visited by his childhood friend Winnie the Pooh who helps him to rediscover the child-like wonder and joy he experienced growing up while exploring the Hundred Acre Woods with Pooh Bear and the rest of the gang.
Why is it in the top 10?
This movie took me back! Winnie the Pooh was a huge part of my childhood and this movie did not disappoint. The live action was fantastic and it was so wonderful to see all of my favourite characters come to life in this way. Although he is one of my all time favourites, it did take a moment to get used to Christopher Robin but mostly because he's grown in this version which I'm not used to. I very quickly loved him and had such a blast watching this movie. It's hilarious, heartwarming, and honestly, it was everything I could have asked for.
What is it about?
Lara Jean's life is changed when her secret love letters are mysteriously sent out.
Why is it in the top 10?
I promise you, this movie is so much more than just love letters being mysteriously sent out. Almost every website I checked only tells you about the letters in the description but the movie and the books are so much more interesting than that! This story is so adorable, funny, wholesome, and a breath of fresh air. Sure, in a lot of ways it's like any teen romance story but the main character (Lara Jean) and her love interest are both realistically flawed and both grow and develop as the story progresses. There's a lot of focus on romance but also on familial relationships. We spend a good amount of time with both and the romance is paced so well to the point that it uses up every moment perfectly meaning it never feels rushed or too slow.
What is it about?
Willowdean, in attempt to prove a point about fitting in, signs up to the local Miss Teen Bluebonnet pageant which is being run by her ex-beauty queen mother.
Why is it in the top 10?
This one took me by surprise and was so much better than I was expecting. I had previously seen Sierra Burgess is a Loser which was entertaining at times but ultimately disappointed me in a lot of ways and I was afraid the representation of a plus-sized main character would also be kind of bad in this movie, however, it wasn't. I loved watching Willowdean and her story. She is flawed in so many ways and makes mistakes but it's dealt with appropriately. This movie is entertaining and a good mixture of funny and emotional. It has such a great message and whenever it creates conflict it makes sure to resolve it in a very well done way. This movie is funny, emotional, and extremely entertaining.
What is it about?
In a post-apocalyptic world inhabited by monsters that hunt by sound, a family is forced to live in silences in order to survive.
Why is it in the top 10?
This was probably the best cinema experience I've ever had. A lot of what I saw online was that people's viewing was ruined by noisy moviegoers but I was so lucky. It was such an experience watching this movie in an almost completely silent cinema. A Quiet Place does fantastic things with sound, it's intense, and it's entertaining from start to finish. I also loved the jump scares. Some could have been left out but for the most part, they felt natural because considering the movie is primarily silent any sudden introduction of loud sounds and/or movement is going to make you jump. At the end of the day, I was actually invested in the story, I quite like the characters, the monsters were interesting enough, and I appreciate that the movie was closed up while still leaving enough room for more.
I also wrote a spoiler-free review over on my blog which you can find here.
What is it about?
In order to stop the end of the universe, the Avengers and their allies must work together to defeat Thanos because he obtains all of the infinity stones.
Why is it in the top 10?
This was an epic experience. I really enjoy the Marvel Cinematic Universe movies so to see them come together in such a big crossover was a lot of fun. I honestly wondered if it could be pulled off or if it would come across as a bit of a mess but honestly, this was so good! The story progression was really well done and it transitioned well between all of the different characters. Some did deserve slightly more screen time but considering the scale I think Infinity War is a fantastic movie. It's entertaining, well paced, consistent, emotional, and so much more. I can't wait to see the follow up this year.
I also wrote a spoiler-free review over on my blog which you can find here.
What is it about?
While doing some investigating, reporter Eddie Brock accidentally becomes the host for Venom, an alien symbiote, and despite their initial introduction, the two must work together to save each other and the planet.
Why is it in the top 10?
This was certainly a rollercoaster ride. I really went into this expecting it to be one of those "so bad it's good" movies, but honestly? I had so much fun and this movie was great! Very early on in my viewing, I realised I was going to love it and by the end, it became a firm favourite. It had a talented cast, a decent story, and great pacing. The whole thing had the vibe of a late 90s, early 2000s action movie which made it even better. It doesn't matter if you know anything about Venom (the character) or not, you can still enjoy this. This was by far one of the most fun movies I saw in 2018.
I also wrote a review over on my blog which you can find here. Be aware, it contains spoilers!
What is it about?
In a near-future, riot-filled Los Angeles, we follow the nurse who runs the Hotel Artemis, a secret, members-only emergency room for criminals which one night undergoes a threat from troublemaker clients.
Why is it in the top 10?
I'm going to be honest, I knew I was going to love this movie the second it was advertised and I did! It is aesthetically pleasing, has an interesting story, good pacing, great characters, and is entertaining overall. It's got a lot of well-done action sequences, a lot of consistency with its style, and a talented cast. There's really nothing I didn't like about it. It was fantastic seeing it on the big screen and I honestly don't think it got enough credit, in fact, I really think it should be the start of a series because that's what it felt like in a lot of ways.
What is it about?
After getting out of prison, Debbie Ocean puts together an all-female crew to pull off a heist at New York City's annual Met Gala.
Why is it in the top 10?
I couldn't stop smiling when I finished this movie. I'm going to admit, a lot of my love for this one is down to how much I like the franchise. The original Ocean's Trilogy are three of my all-time favourite movies and this one was a fantastic addition. I'll admit it's not the best, it's probably my third favourite overall but it was still amazing. The characters all brought something different to the table and I loved each and every one of them. The plot was simple enough but still served its purpose and I genuinely think that if, given the chance, future installments will get bigger and better as they go on. It's got a similar charm, entertainment factor, and structure to the original trilogy and I'm excited to see this side of the franchise pave its own way.
I also wrote a spoiler-free review over on my blog which you can find here.
What is it about?
Simon is yet to tell his family and friends that he is gay, the only person who knows is the mysterious Blue, a boy from school whom Simon has been emailing but the two of them have kept their identities secret. When his emails are found by another student, Martin, Simon is blackmailed into helping him otherwise his secrets will be revealed to the whole school.
Why is it in the top 10?
I absolutely adore the book this is based on. It's one of the best I've ever read and the movie was such a good adaptation! Some details were changed or left out but overall it worked incredibly well. It's a great story about not only discovering who you are but learning to embrace it. It's about first love, friendships, family, and growing up. Simon is such a fantastic protagonist who is realistically flawed and grows as the story progresses. There's a ton of other amazing characters and the entire movie, similarly to the book, balances the funnier scenes very well with the more serious ones.
What is it about?
After becoming Spider-Man, teenager Miles Morales crosses paths with five others like him, all from different realities, and they must work together to take down Wilson "King Pin" Fisk.
Why is it in the top 10?
My favourite new release of 2018 was by far Into the Spider-Verse. This thing surpassed any expectations I had for it. I had seen a couple of clips from it and was really intrigued by the animation but I was also curious about whether it would hold up for the entire movie. It did. The animation in this movie is so unique and really does feel like you stepped into a comic book. It's incredibly beautiful to watch but beyond that, it has a well-paced story, a fitting soundtrack, and a great cast of characters. I'm not going to pretend there weren't flaws but it was one of the more unique movie-watching experiences I've ever had and it was wildly entertaining.
And there we have it! My top 10 movies of 2018. I really did enjoy all of these and would consider them all new favourites of mine. I highly recommend checking each and every one of them out.
If you're interested in seeing my full list of top 2018 movies, you can find it here on my letterboxd account.