Movie Review: 'Sin La Habana'
Miami Film Festival latest to showcase terrific romantic drama, 'Sin La Habana'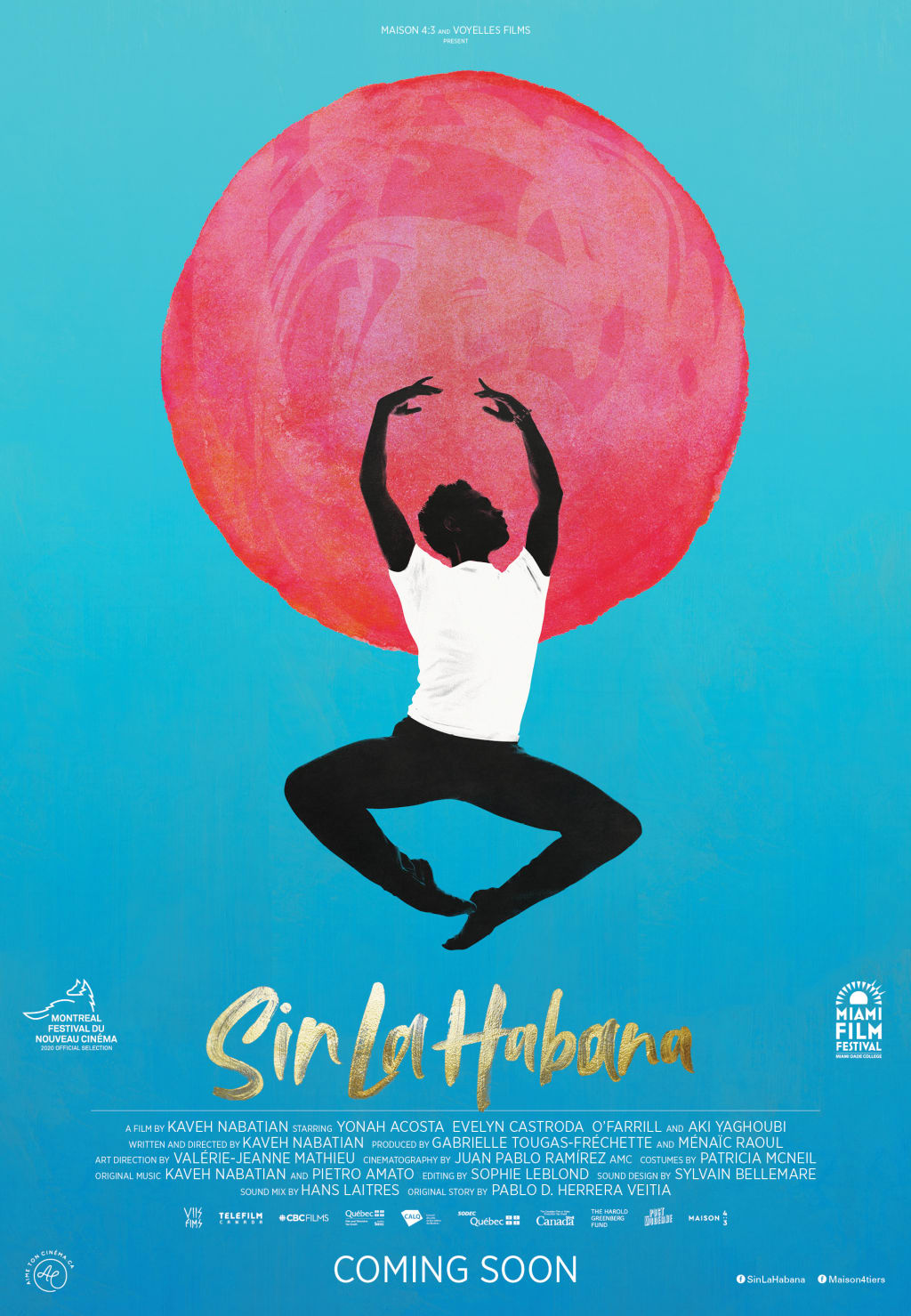 Sin La Habana, or Without Havana, for those who need a translation, is a challenging story about immigration, desperation and sex as a marketplace. The protagonist of Sin La Habana is a male ballet dancer who doesn't fit your Hollywood stereotype of men in ballet. He's a Cuban man with a beautiful girlfriend, a hot temper and ego to spare. It's that ego that will be challenged throughout as the story of Sin La Habana unfolds.
Sin La Habana tells the story of Leonardo (Yonah Acosta), a talented ballet dancer who, when we meet him, is devastated to learn that he's failed to land the lead role in his ballet company production of Romeo. Having been given a supporting role, Leonardo demands to know why he didn't get the lead before he is fired for his indignant and ill-considered rant against his boss. The boss explains that Leonardo's lack of humility is more problematic than his talent can justify.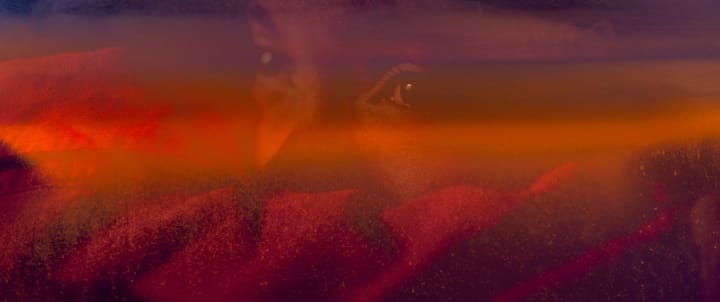 Bitter, Leonardo returns home to his long suffering girlfriend, Sara (Evelyn Castroda O'Farrill), who is none too happy to hear about his firing. Both had been counting on Leonardo landing this tour so they could use the money to leave Cuba behind forever. Now, they will need a whole new plan. Eventually, Sara is so desperate for an escape that she instructs Leonardo to seduce a rich female tourist and use her resources to get them out of Cuba.
Leonardo doesn't like this idea but when Sara threatens to prostitute herself to raise the money, he relents. After several months of unemployment, Leonardo has landed a job pretending to teach tourists to Salsa Dance, he doesn't know Salsa and they don't know what real salsa is. Through teaching, Leonardo meets Nasim (Aki Yaghoubi) a Canadian woman of Iranian descent. Leonardo seduces Nasim and she becomes his ticket out of Cuba.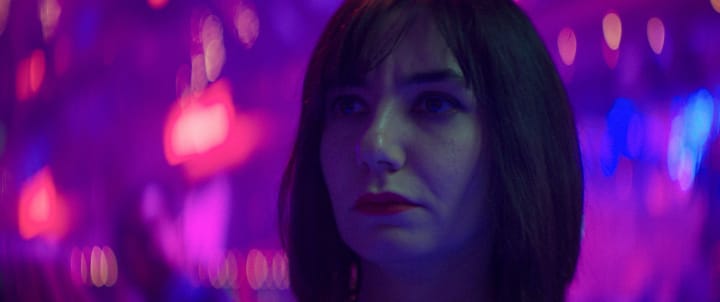 When Nasim invites Leonardo to Canada, the plan is for Leonardo to try out and make it big in the Montreal Ballet. Once he's made some money, he will then send for Sara, end his relationship with Nasim, and live happily ever after in Canada. Naturally, things do not go to plan. Feelings begin to get involved, complications erupt and change the direction of the story and Leonardo is caught up in a storm of emotions.
Sin La Habana was written and directed by Kevah Nabatian in the style of a waking dream. Making use of multiple types of cameras, of varying quality and style, gives the movie a unique and compelling visual palette. The shifting visual style is especially notable during the dance sequences of Sin La Habana. Here, director Nabatian underlines the beauty of dance with a soft, dark color palette that highlights the lithe, nimble and exceptionally coordinated Leonardo, a visual perfectly at odds with his chaotic personal and emotional life.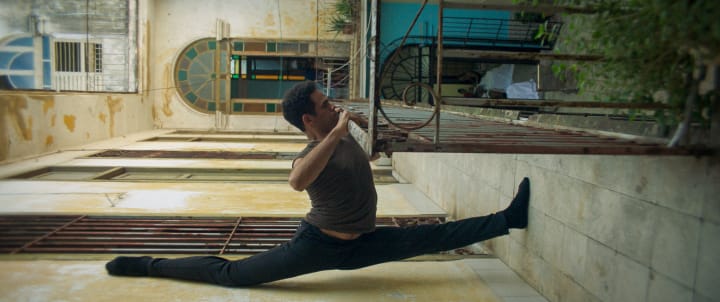 Bubbling throughout the story is a critical deconstruction of masculine identity. It's never openly commented on but Sin La Habana invites you to consider the contradictions of a man forced into the kind of positions that we associate with women. Generally, a story like this would center on a woman whose sexuality is turned into a commodity through poverty.
In Sin La Habana, Sara flips the script and pushes Leonardo toward becoming, for lack of a better term, a gigolo. She presses the issue of him using his sexuality to as the cure for their collective poverty. Leonardo is also at the mercy of the women in his life, from Sara to Nasim whose finances make his plot with Sara possible.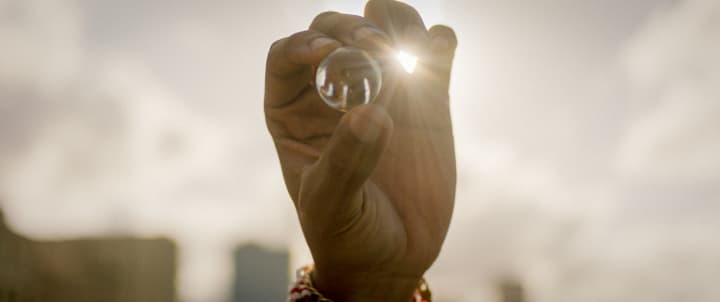 Then you have Leonardo's fiery ego which becomes his most masculine trait and is the one that faces the most scrutiny as he faces failure. Leonardo believes deeply in his own talent but his singlemindedness, his tunnel vision regarding his own unassailable talent trips him up throughout and becomes part of the storm stirring in his emotions all while he's engaged in not one but two, deceit filled love affairs, each with highly personal stakes.
Yonah Acosta does a wonderful job of bringing Leonardo's many conflicts to life. He's a believer in a voodoo religion based in many mysterious superstitions that come to light via well placed flashbacks to Leonardo being anointed with the blood of chickens and the rolling of bones. It's a dizzying display and it fits beautifully amid the chaos that Leonardo lives within on a daily basis as his feelings for Sara collide with not wanting to hurt the well-meaning and kind Nasim.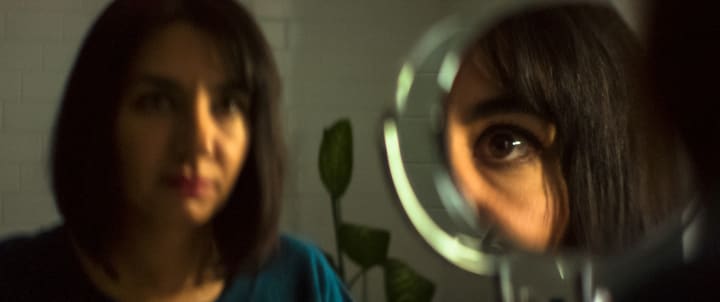 On the fringe of the story is Nasim's own chaotic family life. She left an abusive Iranian husband, much to the dismay of her traditionalist father. Nasim's sister sees right through Leonardo's plot but knows that Nasim won't listen to her and at the least, attempts to be sympathetic. Nasim's loneliness is driving her decisions and the naivete and irrationality of that as a driver is very compelling.
Sin La Habana is a terrific movie, visually and emotionally compelling. The film just played at the Miami Film Festival and is looking toward wider distribution in the near future.
movie
Hello, my name is Sean Patrick He/Him, and I am a film critic and podcast host for Everyone's a Critic Movie Review Podcast. I am a voting member of the Broadcast Film Critics Association, the group behind the annual Critics Choice Awards.