Movie Review: 'Phantom Thread'
P.T. Anderson spins yet another masterpiece in 'Phantom Thread.'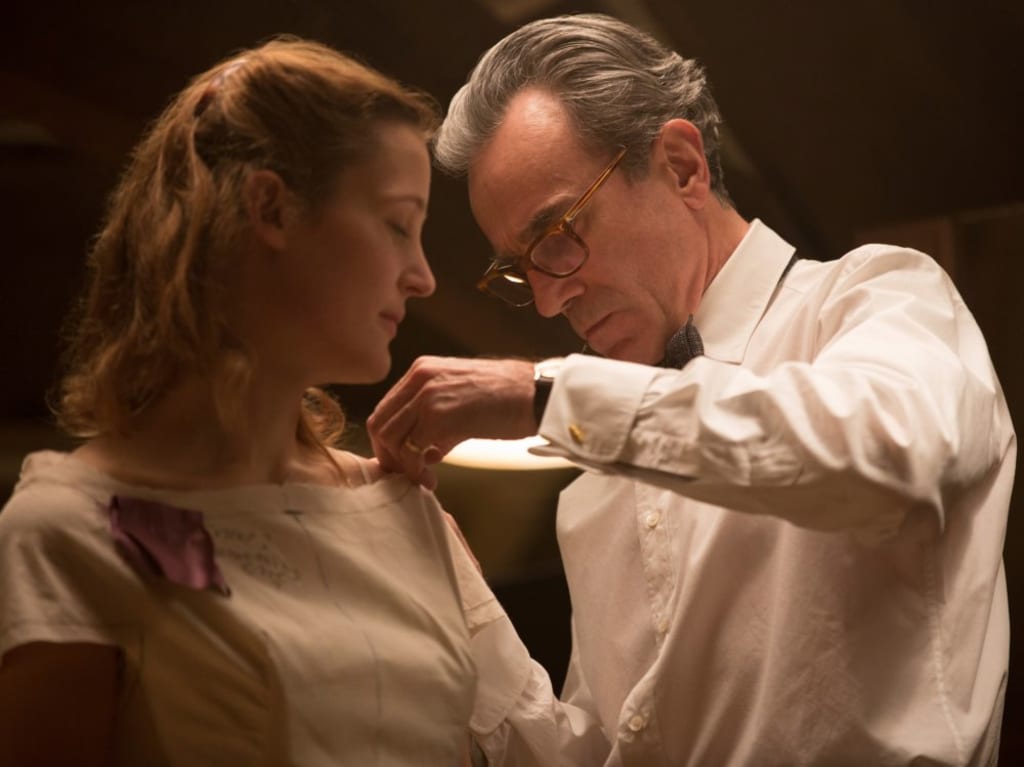 Phantom Thread is incredible. I'm not surprised by this; P.T Anderson has proven to be one of the most remarkable and consistently inventive directors of his era. Nothing surprises me about P.T Anderson crafting an incredible film. What did catch me off guard was the strange and fascinating way in which Phantom Thread is incredible. There is no predicting where this study of obsession and genius is headed.
Reynolds Woodcock, a name that could only belong to a character played by Daniel Day Lewis, is a famed London designer. Woodcock has dressed queens, princesses, movie stars, and many of the world's moneyed elite. His attention to detail and peculiar sense of style is unmatched by designers of his day. This peculiar and obsessive manner, however, comes at the price of his relationships.
Woodcock can't stand to be around anyone other than his sister, Cyril (Leslie Manville), who manages the House of Woodcock. Cyril's duties include managing Reynolds' business affairs and his personal affairs, such as when Reynolds tires of a female companion and cannot be bothered to be rid of them himself. Any early scene has Cyril sending a soon-to-be-former companion on her way barely batting an eye.
So averse to conflict or disruption is Reynolds that he takes off for his country home while Cyril clears out this latest affair. It's not long, however, before Reynolds' well trained eye has fallen on a new subject. While having breakfast at a country inn, Reynolds is smitten with Alma (Vicky Crieps). At first he is charmed by her awkward beauty but soon we find that he wishes to dress her, seeing her frame as perfect for his work.
Indeed, Alma proves that she can withstand his demanding style, standing for hours while he crafts dresses around her as if she were a mannequin. While Alma might seem put-upon and mousy, a voiceover narration from Alma is giving us hints of her real intentions and how she may not be as subservient as she appears. Subtle cracks in the armor hint at how Alma complements Reynolds and how the two fit together even as he is nearly impossible to endure.
There is little more to describe about Phantom Thread as there isn't much of a plot taking place. Much like Anderson's previous films, Phantom Thread is about observing unique characters far more than it is about a specific story. We are here to meet and observe Reynolds Woodcock, obsessive genius and the one woman on the planet who perhaps can put up with his moody and wearying genius.
Along with a pair of fascinating characters in Reynolds and Alma, we are also treated to Anderson's eye for immaculate scene setting. Anderson, acting as his own cinematographer, manages to make Phantom Thread look like a movie that is not merely set in the 1950s but was made in the 1950s. Something about the lighting and set design evoke the period as a setting but also as an inspiration.
Then there is Johnny Greenwood's breathtaking score bringing the whole thing together. This is the fourth teaming for Greenwood and Anderson, there first being the mind-blowing score for There Will Be Blood. The score for Phantom Thread is even more brilliant and unforgettable as that of There Will Be Blood. I can imagine listening to this haunting piano score simply on a whim with no need to watch the film.
I could go on praising Phantom Thread for several more paragraphs, I love it that much. With that said, I can understand that Phantom Thread will not be a movie for all audiences. The film will try the patience of anyone who goes in hoping for a traditional narrative and characters who are consistently sympathetic or familiar. Both Reynolds and Alma are peculiar souls and Anderson is content to simply observe them and how they complement each other.
Phantom Thread grabbed me from the first moment. Admittedly, I am prone to fall for the work of Paul Thomas Anderson, but regardless, Phantom Thread earned every bit of my fascination. Phantom Thread is gorgeous to look at and to listen to. The story is centered on two incredibly compelling characters whose peculiarity and unfamiliarity make them incredibly appealing and perfectly in line with the kinds of characters that only Paul Thomas Anderson is able to capture.
review
About the author
Hello, my name is Sean Patrick He/Him, and I am a film critic and podcast host for Everyone's a Critic Movie Review Podcast. I am a voting member of the Broadcast Film Critics Association, the group behind the annual Critics Choice Awards.
Reader insights
Be the first to share your insights about this piece.
Add your insights