Movie Review: Enola Holmes 2 is Delightful
A spry and and lively sequel to a terrific original.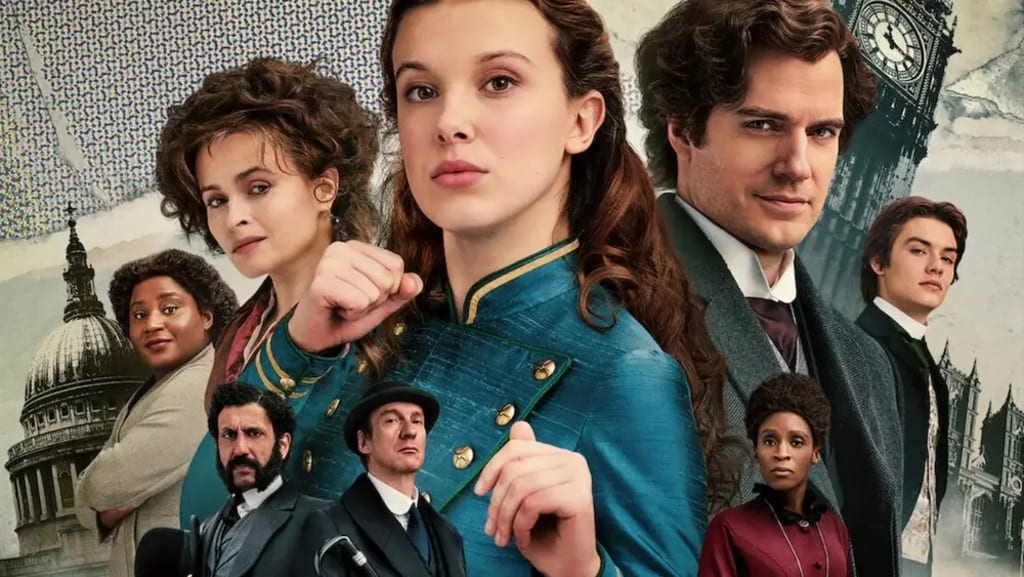 Enola Holmes 2 (2022)
Directed by Harry Bradbeer
Written by Jack Thorne, Nancy Springer
Starring Millie Bobby Brown, Henry Cavill, Louis Partridge, Helena Bonham Carter
Release Date October 27th, 2022
Published November 14th, 2022
Enola Holmes 2 is a consistent delight. Picking up from the breath of fresh air that was the first Enola Holmes feature, Enola Holmes 2 doesn't miss a beat in being fresh, funny, charming and thrilling. The stand out aspect of Enola Holmes 2 is, obviously, Enola Holmes herself played by Millie Bobby Brown. Brown could not be better cast as a quick witted, supremely intelligent, and capable detective hero. Brown's pluck and panache are the perfect qualities to complement a bubbly script underpinned by a genuine dedication to mystery.
As we re-join our beloved hero, Enola Holmes, she has unsuccessfully hung out her own shingle as a detective for hire. Unfortunately, the ugly misogyny of the time makes it hard for Enola to find work. Soon she's forced to close her office due to the lack of clients. Then, a young girl wanders in in need of Enola's help. The sister of this young girl has gone missing and she wants Enola to find her. It's pretty clear that this child won't be able to pay for Enola's help but Enola jumps into help anyway.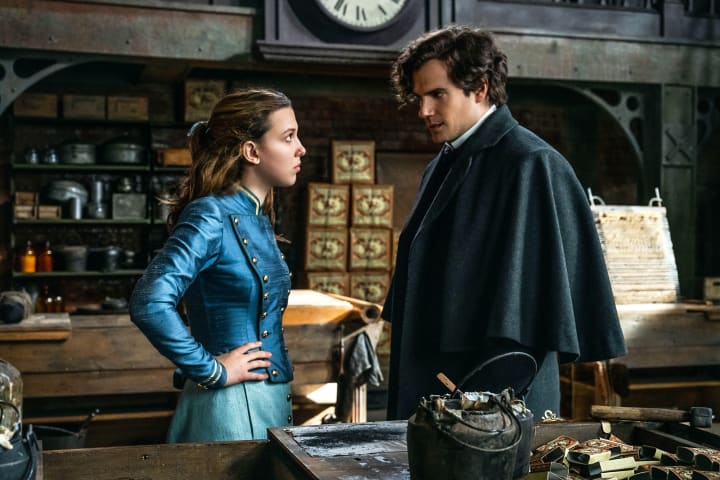 Running parallel to Enola's missing girl mystery, her big brother Sherlock (Henry Cavill) finds himself vexed by a series of financial crimes. Someone is robbing the rich and powerful via blackmail and they are also taunting Sherlock along the way. No points for guessing that Enola and Sherlock's cases will be crossing paths. How we get to that point is a terrifically fun ride. Driving the plot, even in limited screen time, is the corrupt Detective Grail (David Thewlis). A relentless and dangerous investigator, Grail goes to every length to keep Enola from the truth, right down to framing her for murder.
Returning with a slightly larger role in Enola Holmes 2 is Helena Bonham Carter as Enola and Sherlock's revolutionary mom, Eudoria. Though she remains on the run as she continues to blow up her corrupt enemies, Eudoria quickly jumps in to help when it appears that Enola is headed to the gallows on the frame up murder charge. Her rescue of Enola from the jail and during a big chase scene is sooooo much fun. It's just a great time and Bonham Carter appears to be loving every moment of her anarchic screen time.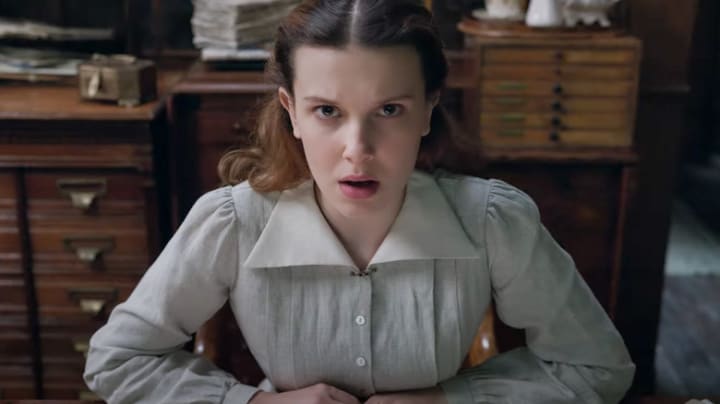 With Enola growing into her adulthood, Enola Holmes 2 begins to embrace romance as part of Enola's story. Lord Tewkesbury (Louis Partridge) is still very much in the picture. In fact, he catches Enola watching for him as he walks to Parliament. Turns out, she's been going to this spot everyday at a distance to see him. Tewkesbury has become a very respected member of his party and is struggling to bring important reforms forward. While Enola assumes he's still a playboy, Tewkesbury has rarely had time for dating while he tries to change things in the government.
The lovely world building and character building in Enola Holmes give Enola Holmes the scope of a story with a past, present and a future. The film features the introduction of a new, long term villain, and the growth of the relationship between Enola and her brother Sherlock and each is a welcome development. The wonderful familial chemistry between Millie Bobby Brown and Henry Cavill has grown since the first film and gets further underpinning in Enola Holmes 2 to great effect.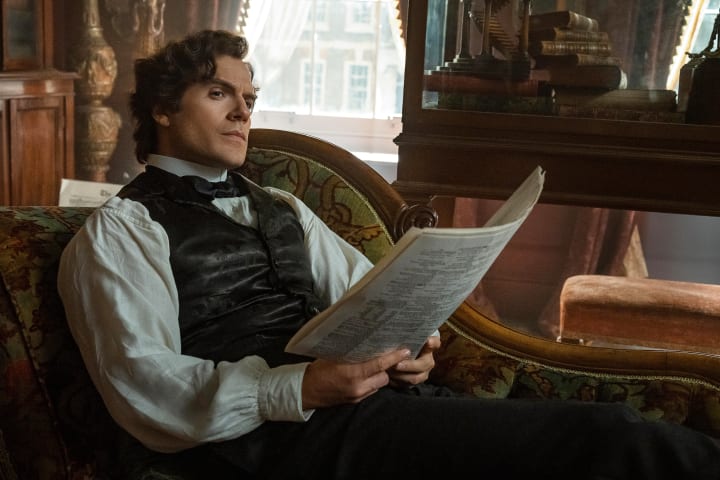 Of course, the most important element of Enola Holmes 2 is Millie Bobby Brown. Before our eyes, Brown is becoming a wonderful leading lady. She's so witty and natural on screen you'd think she'd been a leading lady for far longer than she has. She has so much natural appeal and ease on the screen that it is inevitable that she is going to find massive success on the big screen. There appears to be nothing she cant' do between her charming and funny work here and her dramatic work on Stranger Things.
Enola Holmes 2 is a wonderful film. Find my archive of more than 20 years and nearly 2000 movie reviews at SeanattheMovies.blogspot.com. Follow me on Twitter at PodcastSean. Follow the archive blog at SeanattheMovies on Twitter. Listen to me talk about movies on the Everyone's a Critic Movie Review Podcast. If you'd like to support my writing you can do so by making a monthly pledge or by leaving a one time tip. Thanks!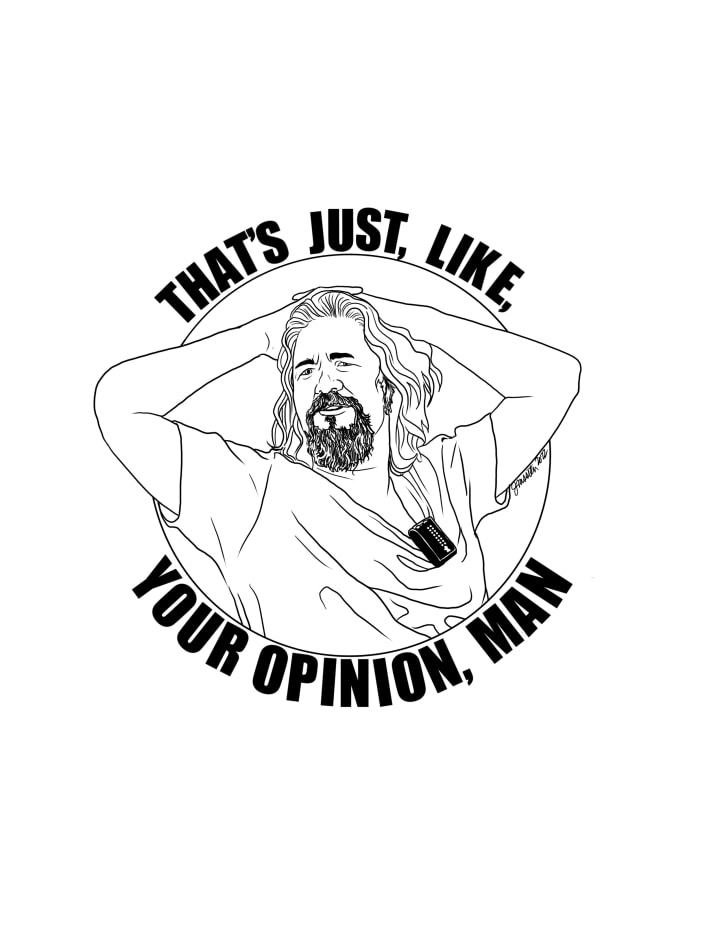 movie
About the author
Hello, my name is Sean Patrick He/Him, and I am a film critic and podcast host for Everyone's a Critic Movie Review Podcast. I am a voting member of the Broadcast Film Critics Association, the group behind the annual Critics Choice Awards.
Reader insights
Be the first to share your insights about this piece.
Add your insights