Movie Review: 'Weird The Al Yanovic Story' is One of the Funniest Movies of the Year
If you love Weird Al you will love Weird The Al Yankovic story.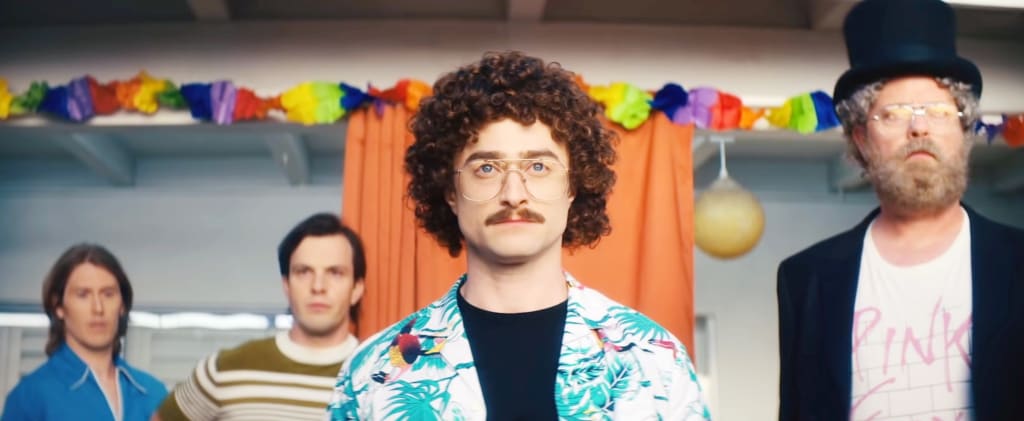 Weird The Al Yankovic Story (2022)
Directed by Eric Appel
Written by Weird Al, Eric Appel
Starring Daniel Radcliffe, Evan Rachel Wood, Rainn Wilson, Toby Huss, Julianne Nicholson
Release Date September 8th, 2022 (Roku Channel)
Published November 11th, 2022
As a connoisseur of one Weird Al Yankovic, the idea of a traditional Weird Al biopic had me perplexed. Why would anyone make an earnest biopic of one of the strangest, most ironic, and comic careers in history. I was genuinely confused with what the makers of the movie Weird were all about. Then I saw the trailer and it all began to make sense. Weird is a Weird Al biopic but it is, far more importantly, a send up of the various silly tropes of rock biopics.
Biopics of rock stars seem to always go the same way. There is the rocket ride to stardom, struggling in the harsh light of fame, the inevitable fall from grace, and then a rise once again or a death, one or the other. Biopics of rock stars do not tend to stray from this formula. Thus, the rock biopic genre is ripe for the kind of parody that Weird Al made famous with his music, an irreverent send up of the tropes combined with an over the top wackiness that is both hilarious and genuine.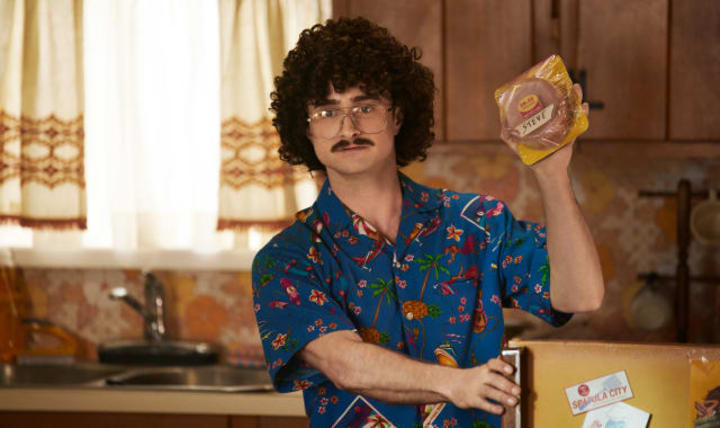 Weird kicks off in a universe where Polka is the equivalent of gangsta rap, a genre of ill-repute in the white washed Reagan era. Here we meet Al as he is berated by his working class father, Nick (Toby Huss) and coddled by his loving mother, Mary. Al's life is changed forever when a door to door salesman (Thomas Lennon) comes to Al's door selling accordions. While Al is taken with the instrument, his father will not have this filthy equipment in his home and sets about beating the salesman to death with his bare hands.
In order to keep Nick out of jail for assault or attempted murder, Mary buys an accordion and gifts it to Al. This begins a life long love of the accordion and the start of his rocket rise to fame. Cut to college where Al is living with three friends and plays the accordion regularly. When challenged, Al invents a song on the spot, a parody of My Sharona called My Bologna. In an inspired sequence, Al is inspired for every single lyric by something he sees in the room around him.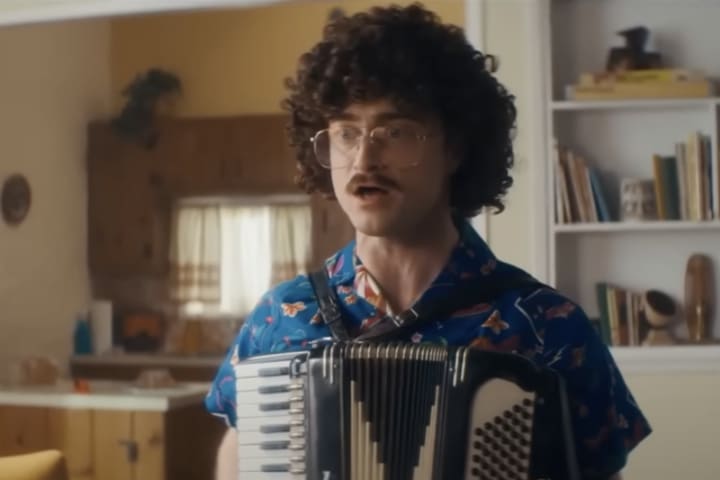 Biopics love to give every aspect of every rock star life an origin story. Thus, Al having an origin story for even the most mundane or outlandish lyric is a great bit. Big laughs are spun from this scene and the following scene where Al and his friends go to a local bus station bathroom to record My Bologna. That's a true story, Al really did record the song in a bathroom and took it to a record company meeting on the same day. They turned him down just as they do in this movie, only in a slightly more professional manner than seen here where Will Forte and the real Weird Al, berate the young wannabe parodist.
Another inspired element comes when Al insists on writing original music only, only to then write his most famous songs, Eat It and Amish Paradise while calling them original songs. The meta of Michael Jackson calling Al for permission to write and perform Beat It, based on Al's Eat It, is another truly inspired gag. Throughout Weird, the movie finds wonderful little inventive ways to give Al a massive ego, something his fans know is certainly not a trait of Weird Al, arguably the most humble tunesmith in America.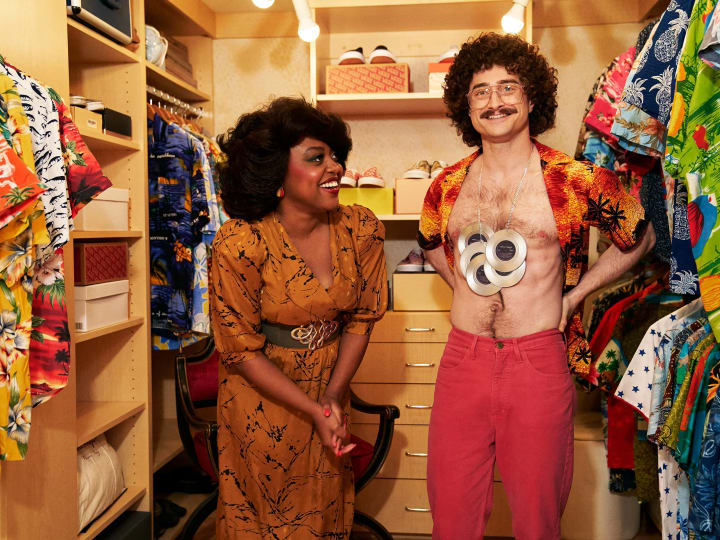 This being a Rock N' Roll biopic, a love interest must be involved, a woman of ill-repute who follows our star down to the depths of his despair. That woman in Weird is Madonna played by Evan Rachel Wood. Sexually voracious and wildly talented, Madonna sets her sights on Al because of the supposed 'Al Bump,' a spike in sales following an artist being parodied by Weird Al and his band. Madonna wants the sales bump and will do anything she can to get it.
Wood is terrific in her super villain role. She's also responsible for Al's death though I will leave you to discover just how that happens. Trust me, I'm not spoiling anything, Al is perfectly alive and well. He co-wrote the movie and performed all of the songs. In another inspired bit, instead of teaching star Daniel Radcliffe to try and sound like Al, Al simply performs all of the songs and Radcliffe lip syncs. This is both practical and a perfect commentary on the rock biopic where reality and fiction collide with star egos and stage craft. I love it.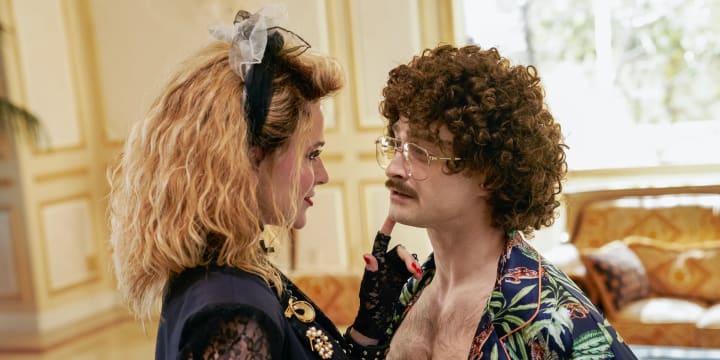 I love everything about Weird. I could go on describing scenes and punchlines but I want you to see Weird for yourself. I know you will enjoy it. Daniel Radcliffe is a terrific Al, a perfectly sculpted jaw and abs monster who also shreds on a guitar when he isn't looking sexy with an accordion. This is an Al Yankovic who gets with the ladies, a demon in the sack and on the stage. A hard partying, two fisted drinker with daddy issues. Each of these ideas build on each other from one gag to the next until you can barely find a moment to stop laughing.
Weird is one of the best comedies of 2022. An inspired parody from the master of parody. You can't help but laugh with and at this unendingly funny film. The gags are reminiscent of Al's deeply underappreciated UHF crossed with 80s era Zucker Brothers zaniness a la Airplane and The Naked Gun, a series Al was a small part of back in the day. Weird brings the movie parody into the modern day but doesn't try to reinvent it. Rather, it just does parody tropes extraordinarily well.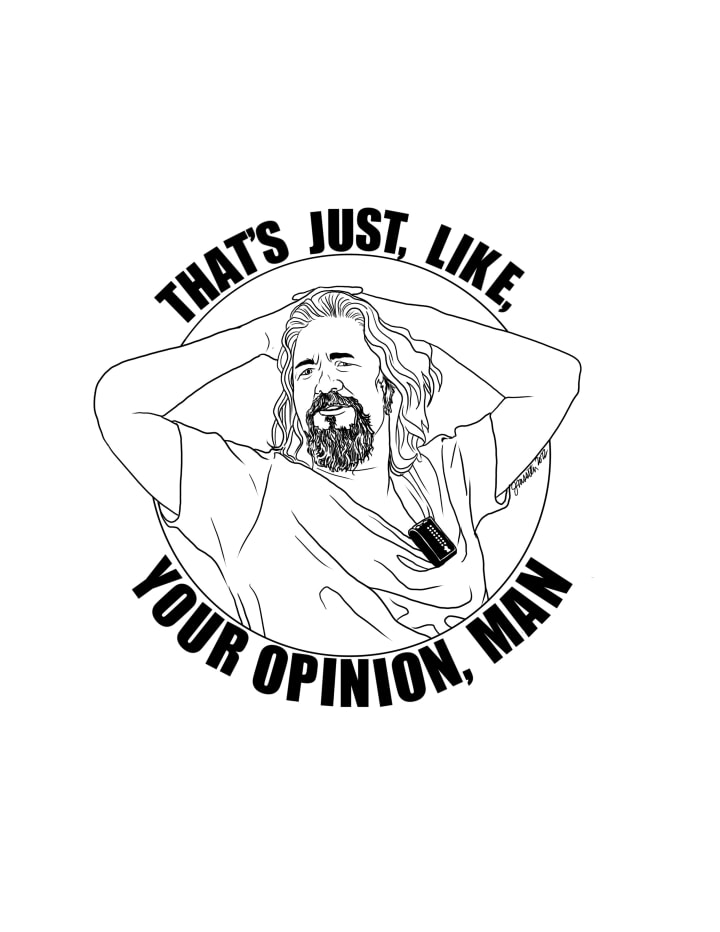 Weird debuted on Roku earlier this month and free with commercials. Find my archive of more than 20 years and nearly 2000 movie reviews at SeanattheMovies.blogspot.com. Follow me on Twitter at PodcastSean. Follow the archive blog on Twitter at SeanattheMovies. Listen to me talk about movies on the Everyone's a Critic Movie Review Podcast on your favorite podcast listening app. If you've enjoyed what you have read, subscribe to my work here on Vocal. You can also support my work by making a monthly pledge or by leaving a one time tip. Thanks!
movie
About the author
Hello, my name is Sean Patrick He/Him, and I am a film critic and podcast host for Everyone's a Critic Movie Review Podcast. I am a voting member of the Broadcast Film Critics Association, the group behind the annual Critics Choice Awards.
Reader insights
Be the first to share your insights about this piece.
Add your insights