Mildred Pierce (1945)
Melodrama and Motherhood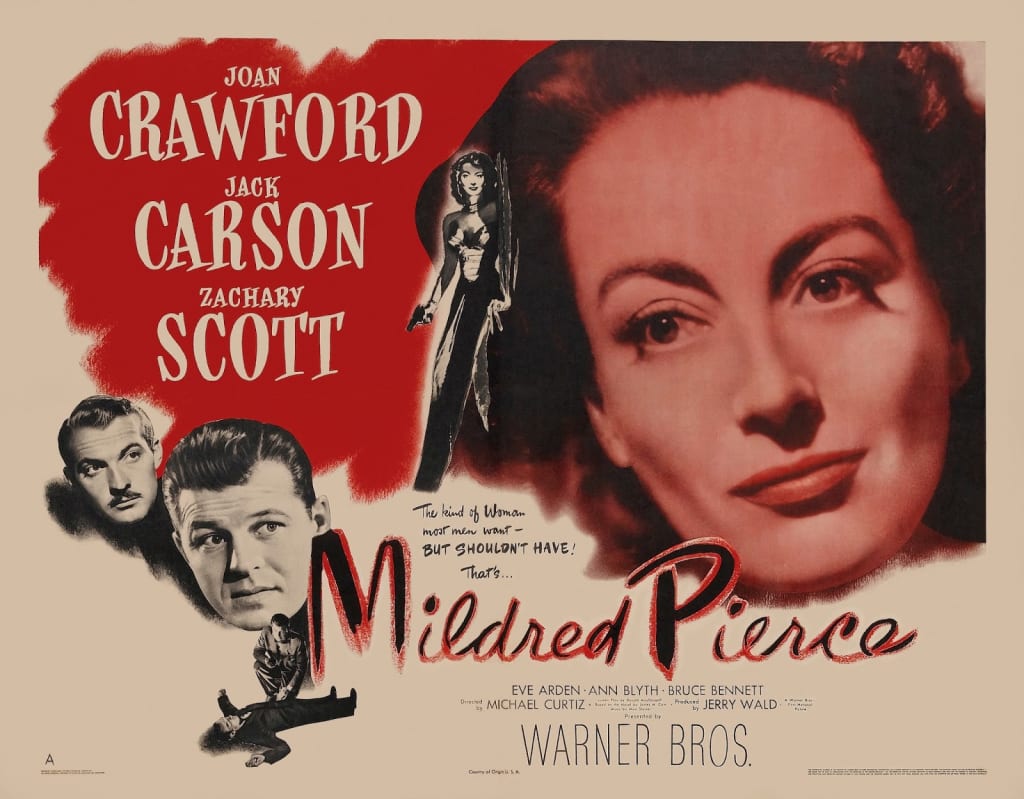 Movie Poster - Mildred Pierce (1945)
There have been some very clever things written about Mildred Pierce (1945) – the film adaption of James M Cain's novel which secured Joan Crawford her only Oscar.
Clever is great, but I want to talk about how the movie made me feel.
I watched Mildred Pierce as part of my (perfectly normal) ongoing ambition to be an imaginary 1940s screen writer. It was an important movie, heralding a new chapter in Crawford's career, where she embraced the darker side of life. It was also a massively profitable film. It made more than half of Warner Brother's profits in 1945 , Therefore, it is necessary viewing for someone who wants to write hard-boiled dialogue, narrated flashbacks and terse, strained emotions. Perfect for those who want to write about sassy women who play hard, make mistakes and pull themselves through with grit.
The plot – this does contain some spoilers, but I don't think I've given too much away.
Mildred Pierce is about a woman who has entrepreneurial success in the restaurant business through talent and resolve – but is set against a backdrop of personal tragedy. Mildred faces down her husband's infidelity, an economic downturn and the death of her younger daughter, by working hard and making compromises, both financially and romantically. Her motive – and motive is very important in this film – is to give her surviving daughter, Veda, the best of everything. But it all ends in tragedy.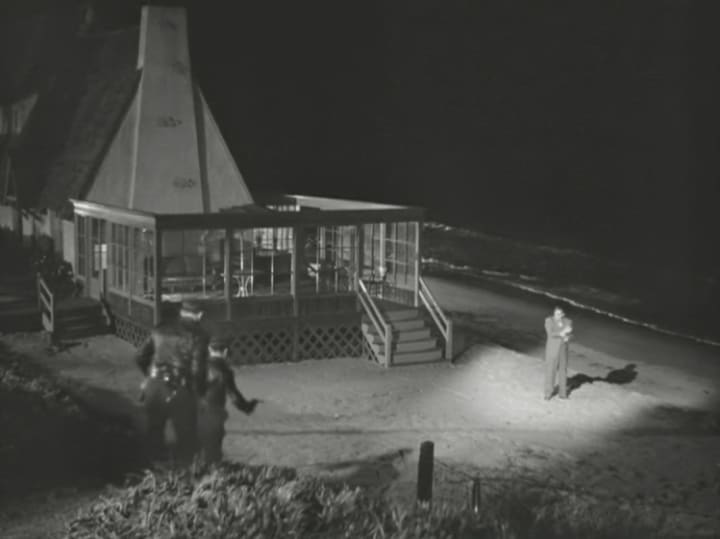 The plot of the film centres on the murder of Mildred's second husband, Monte Beragon. A murder that didn't feature in the novel, but was added into the film because the Production code requires evil-doers to be punished. (In other words, to make the film more 'moral' - someone has to be killed - yes, really. That is the twisted logic of the Production Code).
More important than the plot, is the story telling style. Or as the clever people put it - genre. The film borrows heavily from the film noir genre. It starts with a body, a man being framed for murder, locked in a beach house with disconcerting shadows and disorientating shots of a spiral staircase. Menace is built into the set. And in keeping with noir, there are shots of women's legs and women getting slapped.
The film is also told in film noir flashback, but with the twist that the narrator is a woman. A voice-over usually indicates that the story-teller is the one constructing the narrative.
However, clever people, like film critic Pam Cook in her analysis of the film, point out that whilst Mildred narrates the sequences in the past, which are about her rejection of the class and patriarchal order – she is forced do so by the force of the law. In terms of genre then, there is a feminised melodrama in the past, combined with the masculine noir crime thriller in the present. See, clever?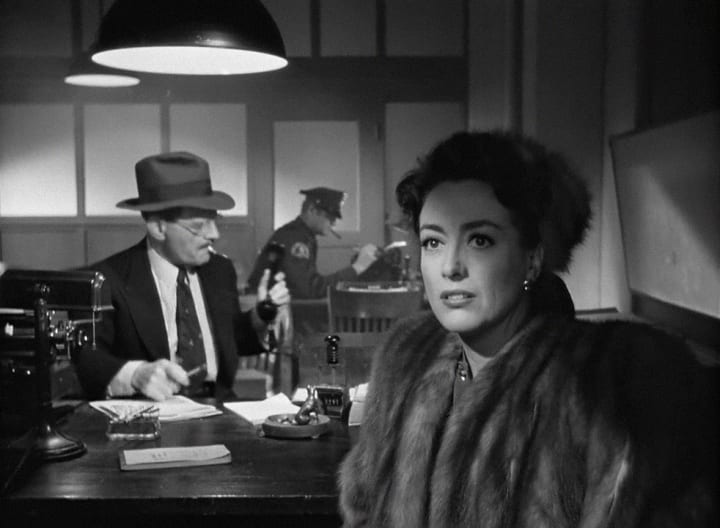 But how did I feel watching it? Did the shift in genre from noir to melodrama make a difference to me as a viewer?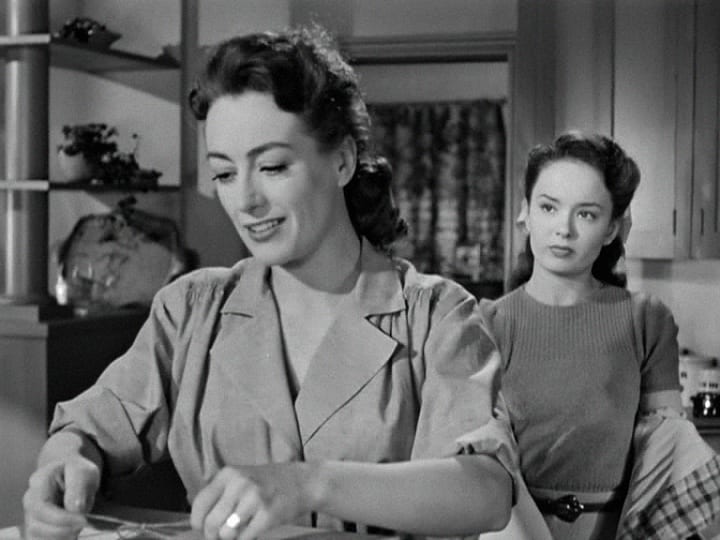 We all have different film tastes and this usually relate to genre. Genre just means the way we categorise films based on criteria such as setting, characters, plot, mood, tone and themes. I struggle to buy into super-hero movies, not because I think they are bad, or badly made, but because the setting and characters don't speak to me. Whereas, I can happily sit in front of a rom-com, even though I have seen the plot several times before and know what is going to happen. I also love the threat and menace of the psychological thrillers we call film noir, because the style of the films, the way they look, I find them mesmerising.
Mildred Pierce had me hooked at the beginning. Gun shots. A man gasping "Mildred" as he collapses. A woman in a fur coat fleeing the scene. A man locked in a beach house with a body. A dimly-lit detective's office. All this said to me, time for a story.
And then the spell is broken and replaced with another. It takes a while to shift into the domesticity of Mildred's back story. A domestic sphere where economics are key.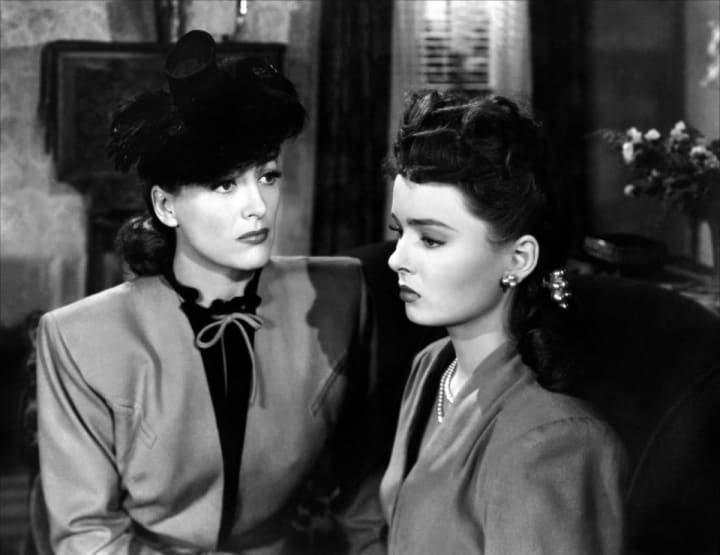 James M Cain said of his novel:
'Mildred Pierce is one woman's struggle against a great social injustice – which is the mother's necessity to support her children even though husband and community give her not the slightest assistance'
The economic situation is never far from the scene. Baking pies, not for her family, but to sell. And the story shifts from murder to a story of unrequited love – between mother and daughter. A daughter who rejects her mother out of hand, as embarrassing and déclassé. Love and resources become ugly and entwined Love becomes disfigured by greed.
"You're trying to buy love from these kids and it won't work." Bert to Mildred.
Mildred holds onto the cash register when Monte asks about the other daughter. "She died," she says holding onto the symbol of business to steady herself.
Mother and daughter fight. Mildred rips up a cheque made out to Veda – and this rips up their relationship.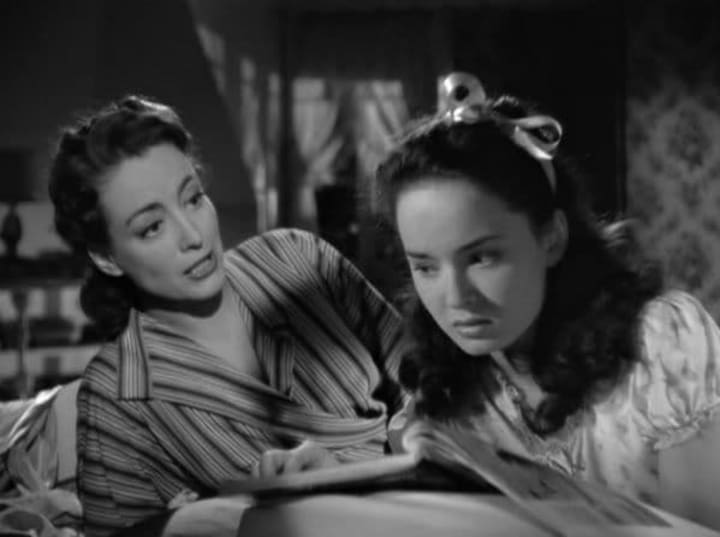 Even the death of Kay is cursory. There is no time to process the grief. Because this is a film about the urgency of making money to be a good mother. It is about the transactional nature of relationships
This is not new. Jane Austen's work, often seem as Empire-line romantic comedy, share the same concerns.
"It is a truth universally acknowledged, that a single man in possession of a good fortune, must be in want of a wife." (Pride and Prejudice)
Love needs money to flourish. Poverty makes love careless. Greed destroys it.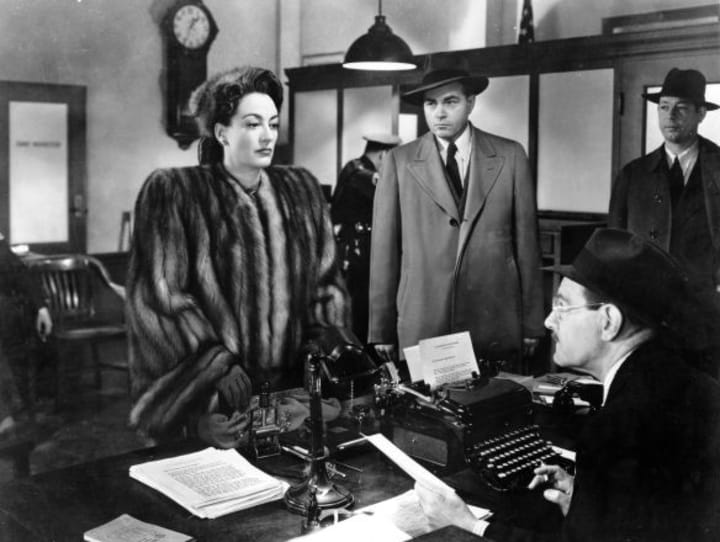 And so in terms of my emotions, how it made me feel. I was often distraught by the chasm between mother and daughter. There was no cosy way for the film to end. The loose ends are left dangling - even if a murder has been solved. Economics hollowed out the emotions.
But I also loved the film, because of its darkness. Crawford is magnificent in her shoulder pads and furs. She had campaigned for the part, that others didn't want because of the age implications of playing a mother of a teenage daughter But it gave her gravitas and depth. After all, Oscars are rarely won for light comedy. It paved a career for her playing tougher roles, showing a woman graduating from simple ingenue to complex maturity.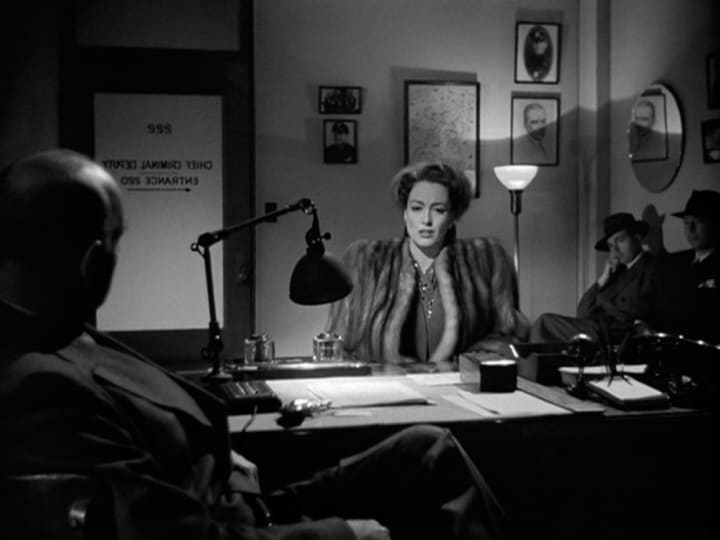 So, would I recommend the film? Absolutely if you are willing to wallow in melodrama, motherhood and darkness.
I'm going to finish with the one clever line I made in my notes while watching the film.
This is ambitious film-making about ambition.
(See what I did there?)
If you've enjoyed what you have read, consider subscribing to my writing on Vocal. If you'd like to support my writing, you can do so by leaving a one-time tip. Thank you.
About the Creator
Writer-Performer based in the North of England. A joyous, flawed mess.
Please read my stories and enjoy. And if you can, please leave a tip. Money raised will be used towards funding a one-woman story-telling, comedy show.
Reader insights
Be the first to share your insights about this piece.
Add your insights