Master of Quack Fu: Remembering 1970s Martial Arts Mania & Count Dante with 'Howard the Duck #3'
It's a fun flashback.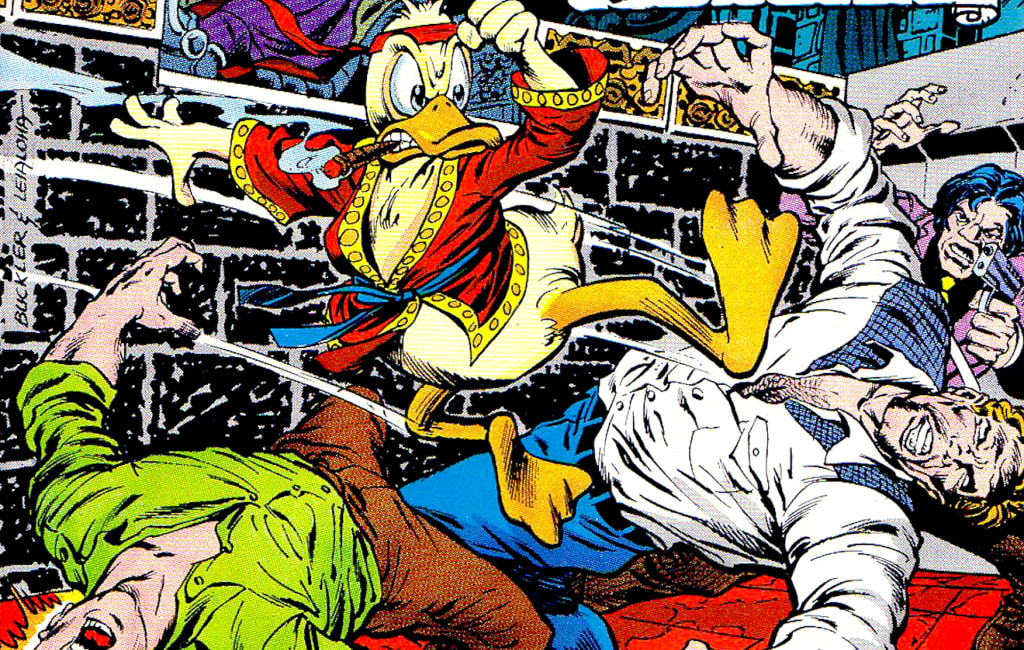 For anybody who collects comics that fondly recalls the martial arts movie mania of the 1970s, one of the forgotten gems of the era is Howard the Duck #3. Boasting a spine-tingling tale entitled "Four Fingers of Death," this issue was written by Steve Gerber and illustrated by John Buscema. It punched its way into the hands of readers in the spring of 1976.
Now, by the time this issue of Howard the Duck made the rounds, Marvel had already been milking the cash cow of the 1970s martial arts craze with a few different publications. Among them was the hybrid comic book/magazine Deadly Hands of Kung Fu, and comic books Master of Kung Fu and Iron Fist. So this issue of Howard the Duck offered readers a fitting parody of that venerable age when, all across the country, all across the world even, "everybody was-a kung fu fighting. Huuh!"
Now, if as a collector you aren't particularly a fan of the anthropomorphic adventures of characters like Howard, this book may not be for you. But if you love bronze age comics of all sorts, are a hardcore fan of the golden age of martial arts cinema, and aren't in any way adverse to fowl language (see what I did there?), I cannot recommend this particular book enough. It's a fun flashback.
Man, you come right out of a comic book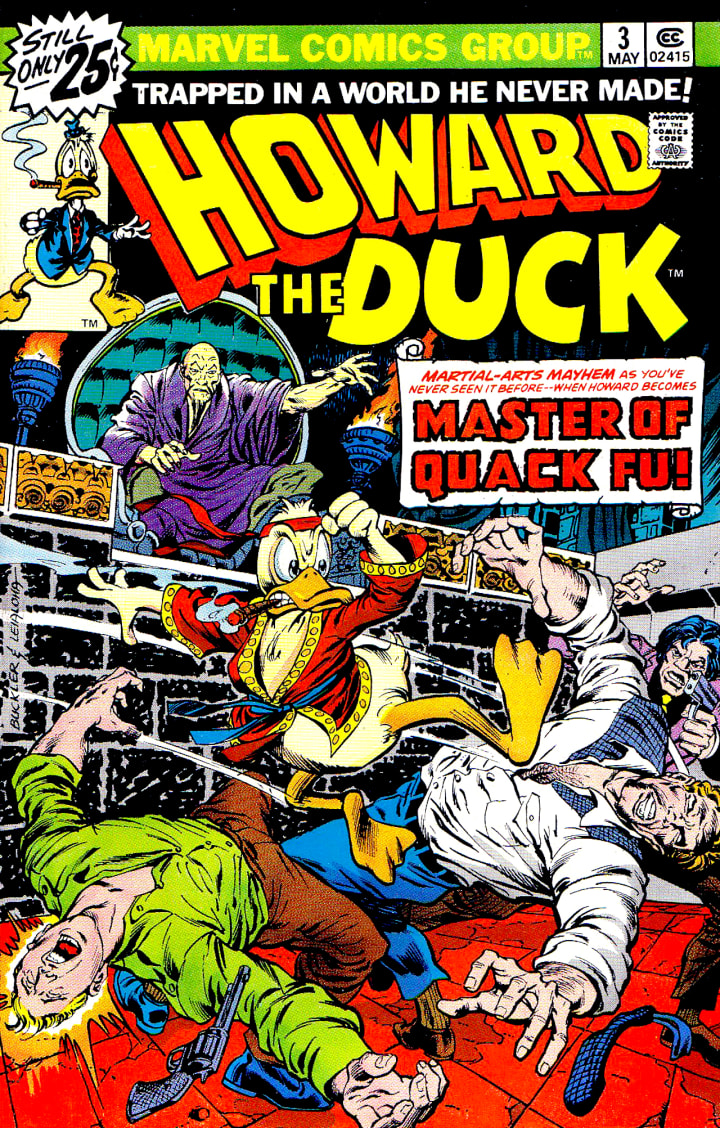 In addition to all of the aforementioned, maybe the real selling point here is this issue's surprising posthumous parody of the long gone karate legend Count Dante. Ads for his book World's Deadliest Fighting Secrets, which were carried in the pages of martial arts mags since the late 1960s, immortalized Dante in the minds of many a kid after he bought full-page ad space in various Marvel titles in the spring of 1975.
Both tragically and ironically, though, the martial artist that this indelible ad boldly hailed as the "Deadliest Man Alive" lost his life to health-related complications on May 26th––right at the time when the comics that carried his now classic advertisement were being read.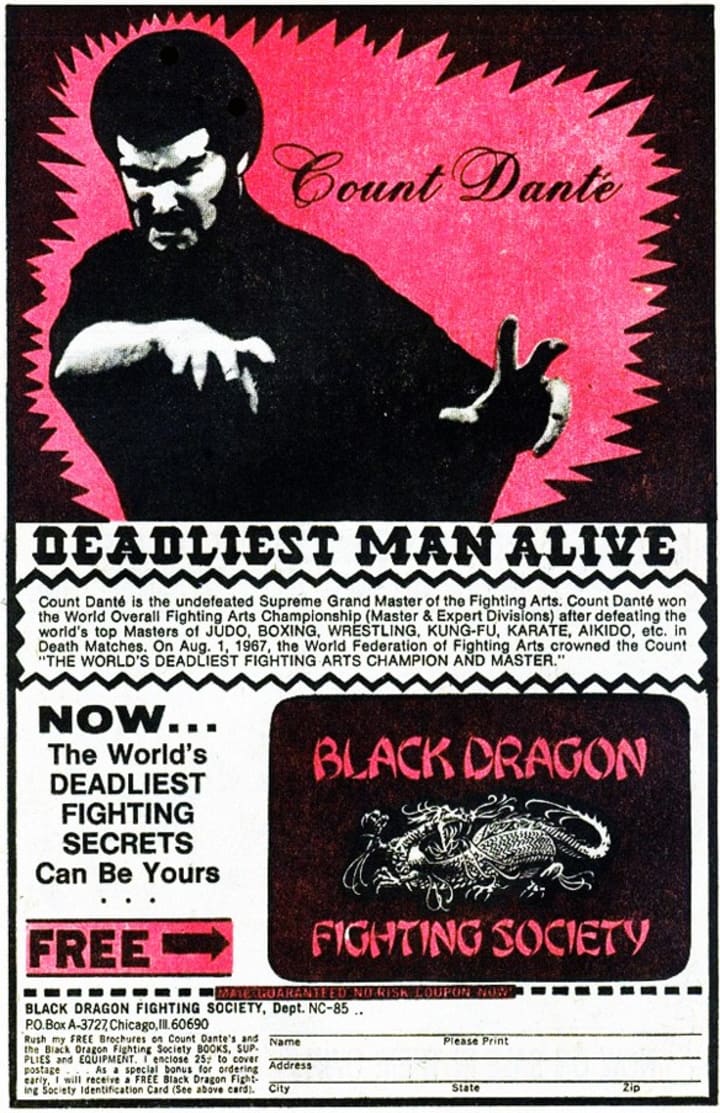 It was a year after the passing of Count Dante that writer Steve Gerber and artist John Buschema aptly satirized him and much of the kung fu fanaticism that was everywhere at the time.
And so it is late on a Saturday night that the cranky, stogie-smoking duck and his date are found exiting the movie theater after having taken in "the year's highest-grossing (and, coincidentally, goriest) kung fu thriller."
Howard, however, isn't at all happy about what they'd just finished watching. "How can you call ripping out somebody's tongue 'entertainment'?" he pleads in a losing case to his buttered popcorn-nibbling girlfriend, Beverly Switzler. "How can you call it a martial art? And... how can you eat after watching that?"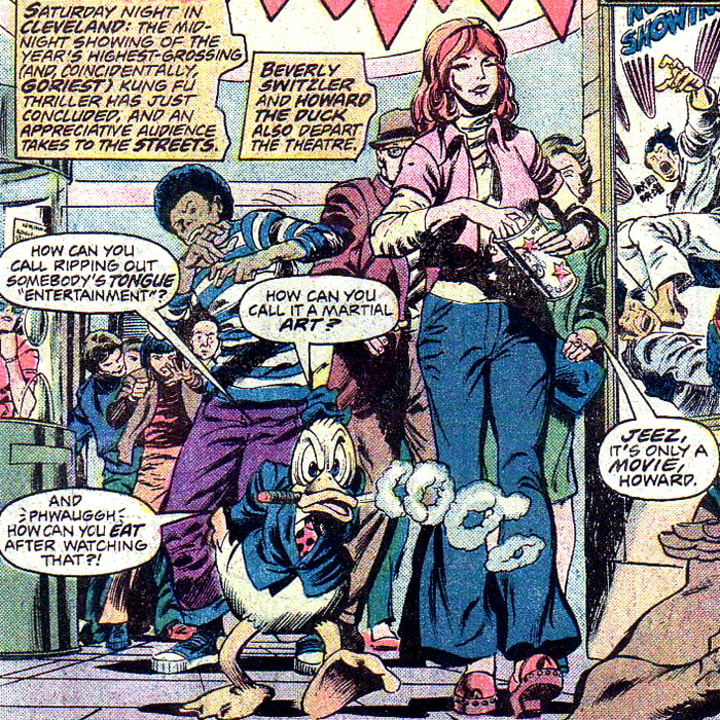 The very real and then-contemporary film Five Fingers of Death was obviously the inspiration for Howard's fictional ire––as well as the title of the story contained in this issue ("Four Feathers of Death").
Upon its release in 1973, Five Fingers of Death was a #1 box office smash, and became a mainstay in cheaply-run urban theaters across America for years. Of the Hong Kong film's most blabbed about happenings are two really brutal fight scenes where fighters see their eyes yanked out of their sockets by the deadly digits of two menacing kung fu masters.
In addition to that not-so-subtle cinematic reference, the tale also contains a glowing reference to Japanese actor Sonny Chiba (The Street Fighter, Kill Bill 2), who was quite a popular martial arts film star at the time. But the real treat here is when the character "Count Macho," a comic book villain in the very literal sense, violently crashes Howard the Duck's world.
Secrets of kung fu revealed!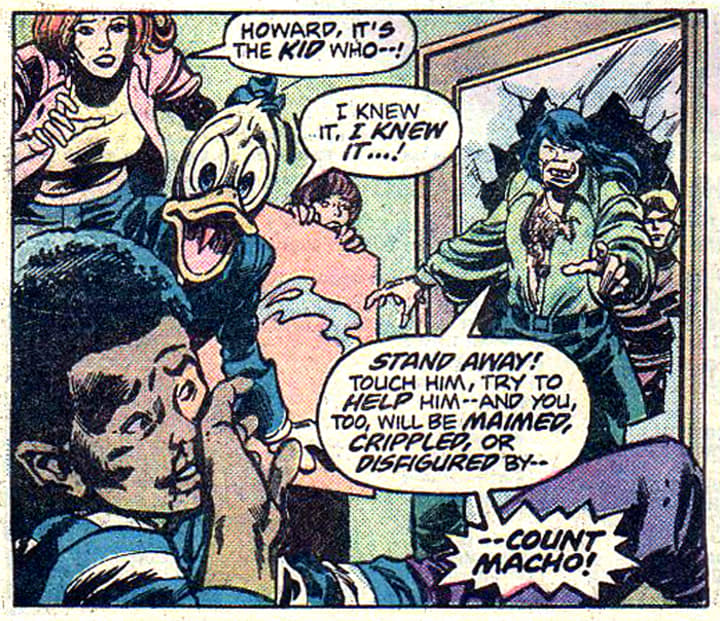 In order to face the threat that Count Macho brings to the kung fu-infatuated boys in the neighborhood, Howard decides to try beating the mean martial arts dude at his own game. To prepare himself for the task, he visits a local bookstore, and lets his feathered fingers do the walking... through the latest issue of (wait for it) Deadly 'Feet' of Kung Fu.
Scanning the mag's pulse-pounding pages, he finds that for which he seeks: an ad page for a martial arts school that promises it can reveal––and in just mere minutes––the "Secrets of Kung Fu!" It's an extraordinary offer, one that Howard soon learns is almost too good to be true.
Or is it?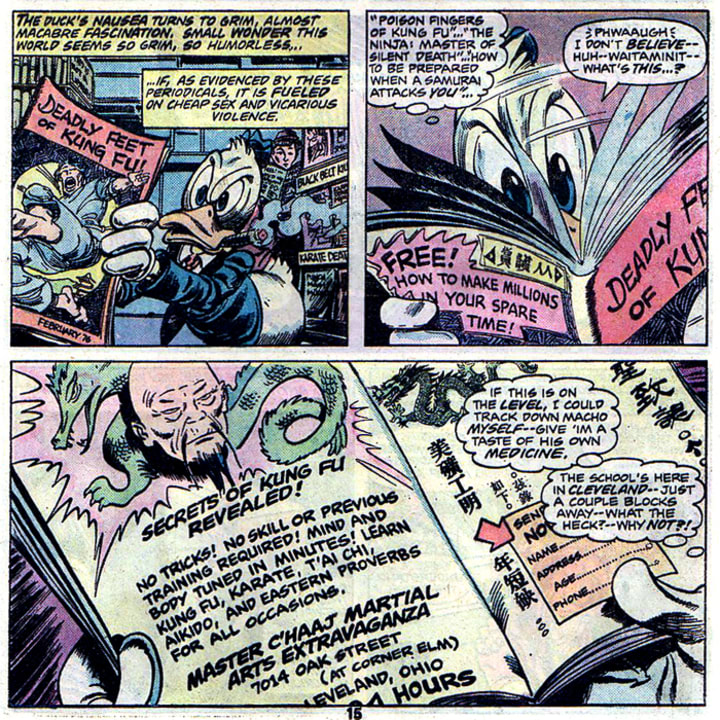 Because I don't wanna spoil all of the fun, suffice to say that Howard the Duck #3 offers you a cool time capsule of a bygone era that still feels somehow relevant.
As is true of so many comics that were published back in the day, you won't even need to know what happened in the first or second issue to enjoy it. This 'one and done' story stands alone. But it also stands head and shoulders over what anyone who's never read an issue of this classic series might expect from a book entitled Howard the Duck.
As a collector of some two-dozen or so semi-random issues of this title over the years, I still found myself marveling over how intelligently the tale was written by the always-acerbic Steve Gerber. And it reinforced for me that too-little-known legend of Marvel co-founder Stan Lee making it a point not to write down to young readers, and also encouraging writers in the Marvel bullpen then to make ample use of college level vocab.
With that latter geeky factoid in mind, I'd suggest that you keep a dictionary handy for the ten-cent words you'll come across in this book––like pusillanimous.
And don't be surprised when you hear yourself murmuring aloud something along the lines of 'whoa' or 'wow'when the sense-shattering tale told in Howard the Duck #3 comes to its climactic conclusion.
'Nuff said.