Lifetime Review: 'Zombie at 17'
Lifetime drama gets a shot of sci-fi in another strong Christine Conradt 'At 17' thriller.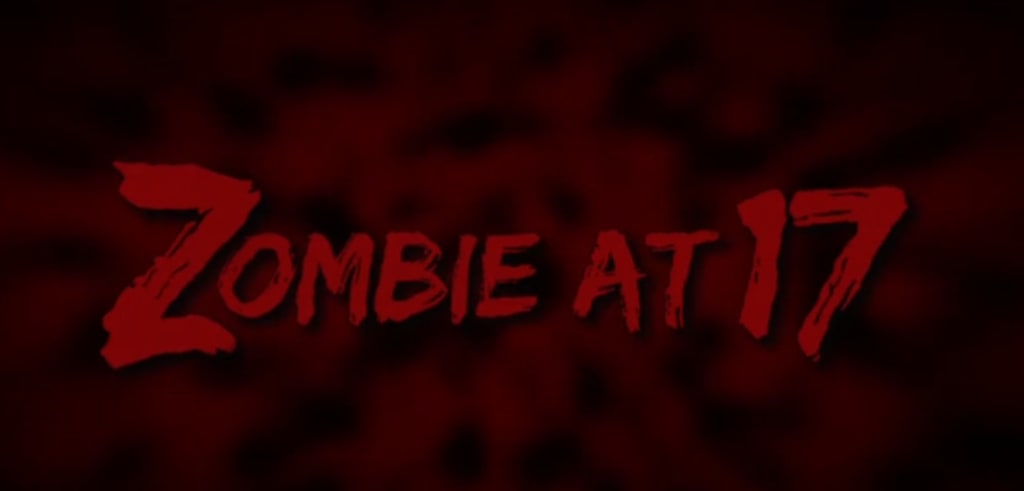 Ever since the death of her sister in a hit-and-run accident, Tia Scott (Celeste Desjardins) has had trouble coping with her loss—especially now that she has to deal with a peculiar infection that is causing massive physical changes in her body and giving her a taste for brains. As Tia struggles to cope with her debilitating situation and the effect it is having on her loved ones, she finds an unlikely ally in outcast student Flynn Murson (Seamus Patterson), who helps her do research into the zombie virus and seek out a possible cure. Despite Flynn's help, though, Tia's alliance with him causes friction for her already troubled relationship with her boyfriend Connor Foster (Carson MacCormac).
In addition to her life-threatening ailment, Tia gets pulled into a murder investigation when Connor's friend Riley Denton (Gabriel Darku) is murdered by their other friend Jason Ellzey (Connor McMahon). As Jason and his girlfriend Sammy Feldon (Alanna Bale) work to cover their tracks, they discover that Tia has told the police about the argument over money Jason had with Riley before his death, leading Jason to resort to extremes to silence her. Can Tia find a cure for her disease and avoid Jason's wrath before it's too late?
Like most of Lifetime's At 17 films, Christine Conradt was the writer of Zombie at 17, and her influence is visible throughout the film. The main story arc of a teen dealing with personal drama in addition to being hunted down by a pair of criminals she spoke out against is reminiscent of Pregnant at 17, with that plot thread in itself hearkening back to Dead and Accused at 17. While in the hands of some, this repetition might bring a film down, Conradt manages to take these previously used threads and added a new spice to them. As was expected, the plot regarding Tia's zombie transformation and her efforts to reverse and stop it dominate, and go through believable beats. The climax brings both plotlines together in a believable way, making for both a strong plot and a strong finale.
Casting is also a strong point as usual, with Celeste Desjardins giving a strong and sympathetic performance as Tia. With a perfect mix of heartbreaking vulnerability and fierce strength and independence, Tia is transformed into a sympathetic character who additionally doesn't let her traumatic situation make her weak or vulnerable—as fully evidenced during the film's satisfying third act. Desjardins also shares great chemistry with Laurie Fortier (who plays Tia's mother Kate), Jack Britton (Tia's younger brother Emory), and Seamus Patterson, with the latter relationship bringing the film the heart the best of Lifetime movies are sure to include. Connor McMahon and Alanna Bale also act as strong side antagonists and Frank Moore gives a powerful performance in a short role that I won't spoil.
Another strong point of the film is in regards to Tia's boyfriend Connor, who Tia gets into conflict with over her distant behavior due to her infection as well as her attempts to tell the police what she witnessed regarding Riley's murder. In a welcome change to the formula, Connor's frustration with Tia's change in demeanor (as well as her budding friendship with Flynn, who he has nothing but insults for) are treated as genuine flaws in character rather than as something that will be taken care of once he knows the truth. During her eventual confrontation with Connor regarding this, Tia made it clear that she wasn't willing to put up with his actions and refused to believe that her actions were solely the problem in their relationship. Additionally, [SPOILER ALERT] the film doesn't end with Tia taking Connor back and instead has her starting a new relationship with Flynn, who is shown to have been completely understanding and compassionate to her from their first interactions. This goes a long way not only in strengthening Tia's character, but also in breaking Zombie at 17 away from the traditional Lifetime formula.
While some might be miffed at the teen crime subplot ending with little fanfare and being given less development, Zombie at 17 is definitely another good step in Lifetime's At 17 saga, with strong plot and great characters to keep the drama and suspense invigorated. If you're having Lifetime-loving friends over for Halloween, Zombie at 17 is a no-brainer recommendation.
Score: 9 out of 10 stray zombified kittens.
review
Aspiring writer and film blogger: Lifetime, Hallmark, indie, and anything else that strikes my interest. He/him.
Twitter: @TrevorWells98
Instagram: @trevorwells_16
Email: [email protected]