Lifetime Review: 'Revenge Delivered'
A pair of exceptional leading ladies help revitalize this familiarly-premised Lifetime hospital thriller.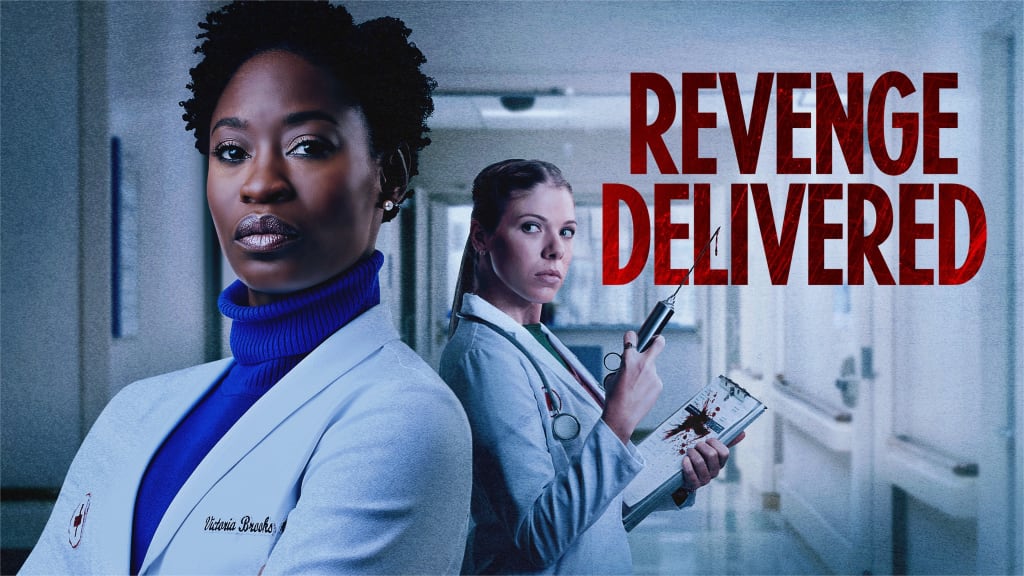 While she's grown to become a renowned obstetrician, Dr. Victoria Brooks (Olunike Adeliyi) is still haunted by the memory of a birth that ended with Victoria saving the baby at the cost of her patient's life. Now, as the head of her hospital's OB-GYN, Victoria has successfully managed the department for five years and is proud to see her daughter Noelle (Mary Antonini) join her at the hospital as part of her rotation program. Even with her past and some maternal worries clouding her mind, Victoria has a lot to be happy about.
But it's not long after Noelle joins the hospital staff that Victoria has another thing to worry about: a stalker. From threatening notes to car vandalism, it would seem someone else also remembers Victoria's ill-fated procedure from years prior--and is looking to make her pay for it. When things escalate to the point where Victoria's career is put in jeopardy, the doctor comes to suspect that the culprit may be someone within the hospital. How far will they go for revenge? And will Victoria be able to stop them before her stalker takes away everything she loves?
Coming out after the unexpectedly controversial Beware of the Midwife, Revenge Delivered also features a female medical professional of color in a prominent role. But whereas Rose Hammond was a villain, Victoria Brooks is the heroic protagonist of Revenge Delivered and her daughter Noelle is every bit as pure-hearted as her. With all the (in my opinion) unwarranted backlash Lifetime got for Beware of the Midwife, this would've been a good movie to air in the immediate aftermath for damage control. Not only could it have washed away the aftertaste of all the outrage, but because Revenge Delivered rises a level above Beware of the Midwife in terms of quality. While both prenatally-themed Lifetime movies follow familiar plots, Revenge Delivered's great cast and well-crafted story give it an edge over Beware of the Midwife.
Since story is largely what puts these two films on different levels, let's start there. Victoria's dilemma of being harassed by someone seeking revenge for a past tragedy she was involved in isn't a unique position for a Lifetime heroine. But the smooth pace and back-and-forth mystery dynamic help keep Revenge Delivered moderately fresh. While the above cover art may seem to spoil the whole mystery, Jordan Robinson's script holds a few surprises up its sleeve that might have your suspicions wandering. On the negative side, most of the hidden villain's tactics against Victoria are pretty pedestrian. Up until the third act escalation, all they do is lurk in the shadows and leave taunting messages for Victoria in various forms. While the emotional core that is Victoria's harbored guilt and troubled relationship with Noelle keep the story engaging, it still would've been nice to get more varied action bits than just Victoria getting scared by locked doors and menacing notes.
Speaking of Victoria and Noelle, Olunike Adeliyi and Mary Antonini work well together to bring their characters' frayed mother-daughter bond to life. While it's clear from the beginning that Victoria loves her daughter deeply, her stringent work ethic and overprotectiveness end up causing friction between her and Noelle. And while you feel for Noelle because of her traumatic past and how her relationship with her mother is damaged thanks to the villain's sabotage, she has overly harsh moments of her own. Throughout it all, Adeliyi and Antonini keep Victoria and Noelle's insecurities and mutual love for each other visible, making you empathize with them and root for them to make up. In fact, their flaws make them even more sympathetic and relatable. The last member of the Brooks trio is Thomas Brooks, with Jefferson Brown giving a sweet portrayal of a doting husband and a supportive father. Thomas also acts as a sort of foil to Victoria in terms of their parenting styles, being the more laidback parent in comparison to the sterner Victoria.
WARNING: SPOILERS BELOW
Of course, outside the Brooks family, the most important player of Revenge Delivered is Victoria's tormentor: outwardly innocuous go-getter Claire Matthews. While Claire is a pretty standard Lifetimey revenge seeker and Samantha Brown isn't very subtle with the hints to Claire's true nature, she gives a decent performance in the climax as Claire's tragic and loathsome qualities are balanced out. It's poignantly ironic that Claire's father abused her because he irrationally blamed her for her mother's death, leading Claire to form her own irrational hatred for Victoria and begin her campaign of vengeance. Brown will have you feeling bad for Claire as she recounts her painful childhood, but neither Victoria nor the movie allows you to forget the cruelty of Claire's actions. Her acts of sabotage at the hospital could've easily killed someone and her endgame involves murdering the completely innocent Noelle (who had come to view Claire as a friend) just to hurt Victoria.
The bait-and-switch moment when Victoria starts out expressing sympathy for Claire, only to turn around and blast her actions as despicable and something her mother would be ashamed of, was pretty satisfying and well-delivered by Adeliyi. But for all the tension that the actors bring to the cabin confrontation, the climax's conclusion feels a little rushed. It doesn't help that Claire's awkward reaction to discovering Noelle freed herself from her ropes is sure to pull viewers out of the action as it did for me. At least it leads into that whopper of a twist ending where Victoria learns that Claire isn't the only vengeful woman out to get her. As opposed to the heavy-handed foreshadowing about Claire, the slight hints to receptionist Maddy's secret are only obvious in hindsight thanks to good writing and Madeline Leon's controlled performance.
Spoilers Over
A pair of supporting characters that stand out are hospital security officer Darnell Forbes and his pregnant wife Tameka, as played by Ucal Shillingford and Shadia Ali. Darnell is a friendly co-worker and lovable father-to-be while Tameka is an adorably anxious soon-to-be mother. The ultrasound scene between Noelle, Victoria, and the Forbeses is an incredibly sweet breather that makes it alarming when the innocent couple get pulled into the revenge scheme against Victoria. The only complaint I have relating to the Forbeses is that Tameka's scared plea to Victoria to save her baby over her is a forced and overly on-the-nose callback to Victoria's past. Tamara Almeida sells student resident Luna as a suspicious girl with a bit of a snobby streak and Britt MacLennan gives a memorable opening performance as the ill-fated Kerry Myers. Seeing her accept her impending death for the sake of her child is heartbreaking, with later revelations only compounding the tragedy of her plot-triggering demise.
While I can't exactly say that Revenge Delivered is more original than Beware of the Midwife, I can attest that it doesn't hit as many dry patches as its predecessor. The formulaic revenge plot and the villain's equally cliché methods are offset by an all-around excellent cast (particularly the leads) that strengthens the script's prominent emotional backbone. By investing you in Victoria and Noelle's relationship and their separate traumas, the less interesting beats don't feel as tedious. So for all of the movie's problems, Revenge Delivered has compelling characters and a shocking finale to counteract them and give this film a clean bill of health.
Score: 7.5 out of 10 crowned heart tattoos.
review
Aspiring writer and film blogger: Lifetime, Hallmark, indie, and anything else that strikes my interest. He/him.
Twitter: @TrevorWells98
Instagram: @trevorwells_16
Email: [email protected]