Lifetime Review: 'I'll Be Watching'
Janel Parrish's life is uprooted by a twisted stalker in this nightmarish but empowering Lifetime thriller.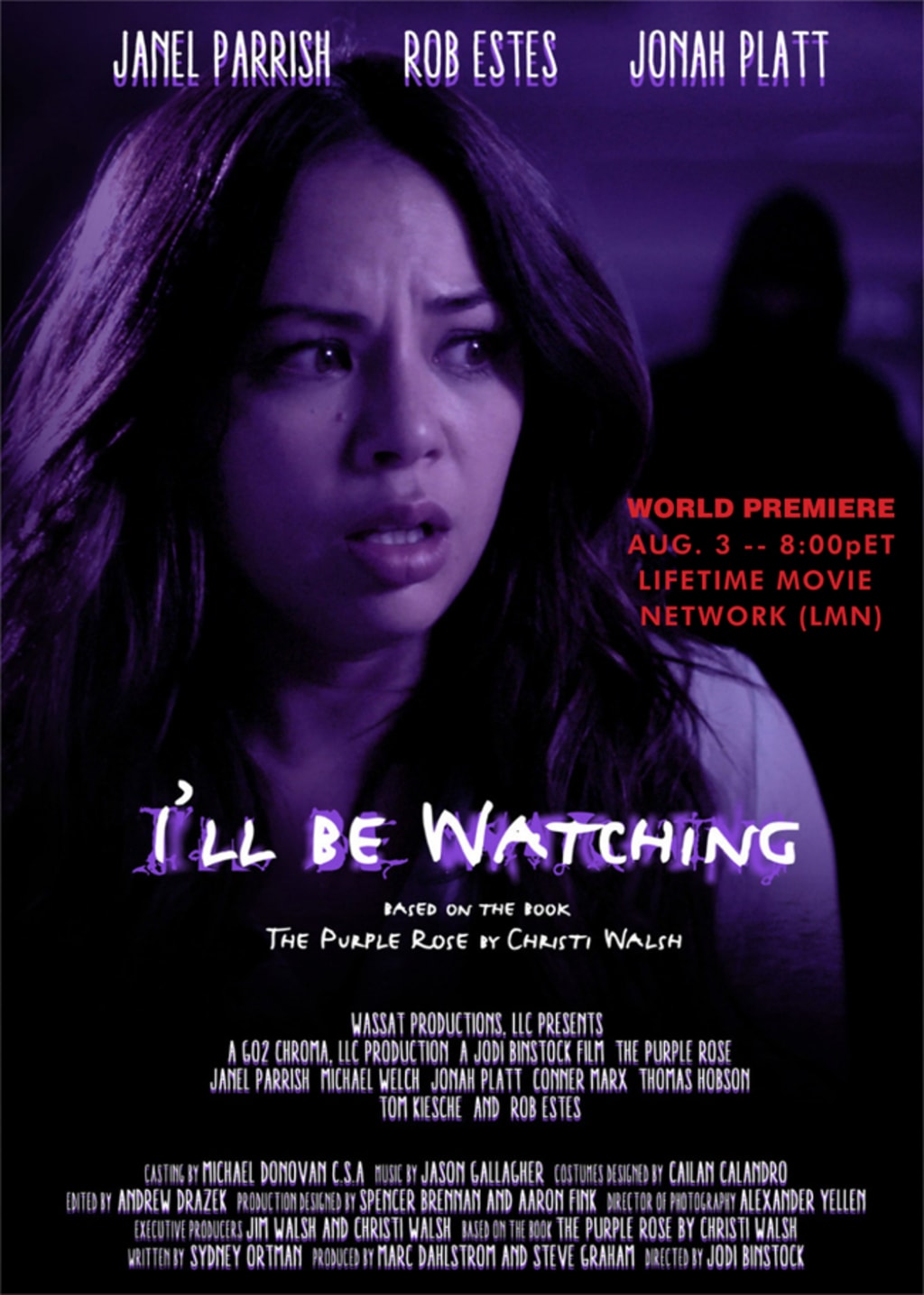 On the verge of graduating college, Kate Riley (Janel Parrish) has her life together and things can't look more ideal. So when she finds a purple flower with blood on it appears at her front door, Kate is unnerved, but ultimately comes to think little of it. But later on, while closing up at work, Kate is attacked by a deranged man, who reveals himself as her stalker. Kate is assigned a team of police detectives to protect her from the man, but just when it appears that he's been scared away, Kate is once again attacked by the man, who cuts her chest as a means of marking her as his while threatening to kill the detectives if they don't stay away from her.
Frightened and believing her stalker will go through with his threat, Kate flees from the hospital and begins moving periodically, desperate to avoid her stalker's grasp. Her travels eventually lead Kate to Wyoming, where she meets and falls in love with former detective Jack Rivers (Jonah Platt). As Kate and Jack connect and Jack learns about Kate's dark past, Kate begins to think she's finally found a place where she can plant roots and be safe. But after learning that her stalker has begun killing women who look like her as a way to lure her back into his clutches, Kate returns home to confront her tormentor—and finally reclaim her life from the man who destroyed it.
From the beginning, it becomes clear that I'll Be Watching (based on the book The Purple Rose by Christi Walsh) is much darker than most Lifetime films. The movie opens on an unsettling note, with the opening credits being played over footage of Kate's stalker looking over their photos of her. The moments of violence, while far between each other, are horrifyingly prolonged and squirm inducing, with Parrish and Conner Marx (who plays Kate's deranged stalker) selling the scenes for all the emotion they're worth. Even the murders are more graphically detailed, with the stalker's first random kill being surprisingly grisly to look at. Anyone thinking this'll be a standard Lifetime thriller will be in for a shocking awakening.
But while it's surprising, this surreal violence gives I'll Be Watching an edge over other Lifetime movies, as it allows for the suspense to hit more accurately and the characters to become more developed and easy to become attached to. In the hands of Parrish, Kate's transformation from average college student to terrified girl living in fear of her life is heartbreakingly realistic and tragic. In the film's climax, however, when Kate learns that her stalker has begun killing women to lure her back home, Kate makes it clear that despite her fear, she won't let innocent women die at the hands of her tormentor. Kate's strongest moment, however, has to be her final confrontations with her stalker, affirming herself as a survivor rather than a victim and that she wouldn't let the psychopath who had been terrorizing her destroy her life anymore.
The male characters, however, is where the film shines in regards to its' overall theme. The team of detectives assigned to Kate's protection are a breath of fresh air for Lifetime, which has had something of a track record for portraying law enforcers as either corrupt or grossly incompetent. The men never once not take their job of protecting Kate seriously, growing to truly care for her and are shown to be frustrated and heartbroken when she becomes victim to a brutal assault the moment they let their guard down. Michael Welch's Detective Jake Marsh shows this the strongest, as you can see just in his body language that he wants nothing more than to catch the stalker and allow Kate to feel safe again, to the point where he's willing to give up his personal time to protecting her. Marsh and his other police partners (particularly Rob Estes' Mark Paine), as well as Jonah Platt's compassionate and determinedly protecting Jack, make for an excellent parallel to the film's main villain, who is revealed to be lurking right under their noses.
Speaking of which, Marx's portrayal of the deranged and psychopathic Frank Dower delivers the strongest terror I've ever seen on Lifetime. From his first attack on Kate, which consists of him cutting off part of her hair and licking it, is enough to make your skin crawl and make you want to bleach your brain of the image. His brutal way of marking Kate (under the claim that "no man will ever want her" now that he's done so) also cements the type of stalker he is: a misogynistic psychopath who believes himself entitled to a woman by virtue of wanting her to himself—and becomes willing to kill anyone to get her and even kill Kate herself when she rejects his deranged pursuit. His job on the police force also allows him to arrogantly believe he's untouchable, turning him into a truly evil villain who will have you cheering when Kate finally calls him out on how he has destroyed her life with his obsession.
Overall, I'll Be Watching is a fantastic thriller, sure to unnerve even the most dedicated of Lifetime viewer. But on top of that, the film offers a strong message of female empowerment and has a strong cast that helps deliver that message from both sides of the gender spectrum. I'll Be Watching serves as proof of what Lifetime is capable of and is something I hope they continue to strive for when it comes to their movies.
Score: 10 out of 10 purple roses.
review
Aspiring writer and film blogger: Lifetime, Hallmark, indie, and anything else that strikes my interest. He/him.
Twitter: @TrevorWells98
Instagram: @trevorwells_16
Email: [email protected]