Lifetime Review: 'Her Deadly Groom'
Michael DeVorzon is a lethal charmer in this deliciously dramatic take on an old Lifetime formula.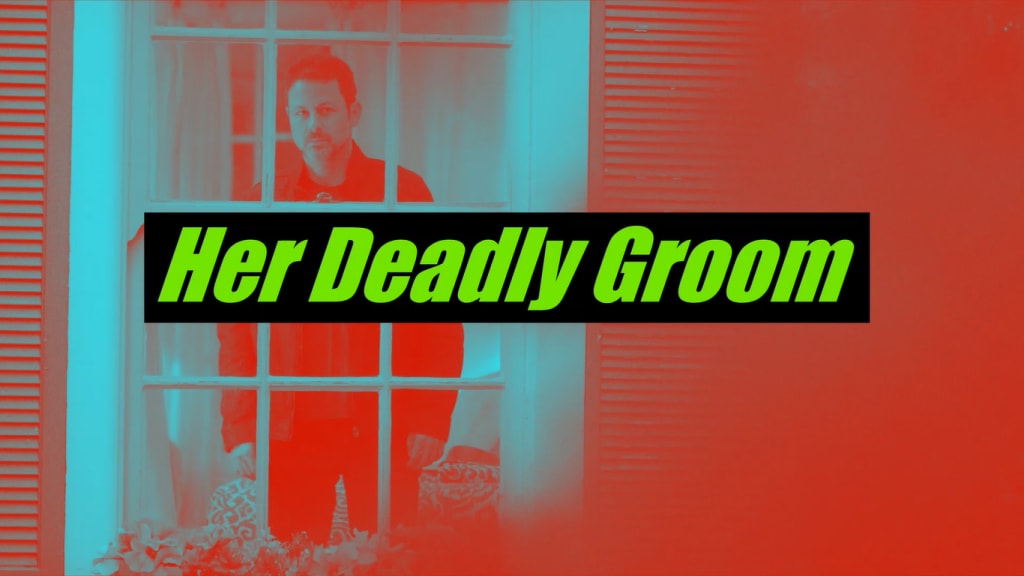 Since her divorce from her loathsome ex-husband, Alison May (Kate Watson) has devoted herself to her new startup business and raising her teenage daughter Nicky (Elyse Cantor). But at the insistence of her business partner and friend Brenna (Kelly Erin Decker), Alison decides to take the leap and put herself back in the dating scene. It's then that she meets Vincent Black (Michael DeVorzon), a handsome and charismatic man who sweeps her off her feet. Alison especially falls for Vincent when he becomes her rock as she deals with troubles with her ex George (Eric Roberts), and the whirlwind romance leads to marriage.
However, what Alison doesn't know is that Vincent has a closet full of skeletons--and that romancing her was only part of a sinister scheme against her. Now that he has Alison right where he wants her, Vincent isn't about to let anything stop him from getting what he wants. How many bodies will Alison and Vincent's shotgun wedding leave in its wake?
It's quite the coincidence that Her Deadly Groom aired on the day after the premiere of Stalked by My Husband's Ex, as both films share a common strength. Both movies take a seemingly predictable storyline and inject it with something that makes it different and interesting to watch. Of the two, Her Deadly Groom has the vastly more familiar Lifetime premise: a woman meets and falls for a man who seems to be perfect, only for him to turn out to have a dark side that becomes a danger to her and her loved ones. Whereas Stalked by My Husband's Ex revitalized itself by throwing some unexpected twists into its story, Her Deadly Groom goes the route of playing its standard Lifetimey mayhem for all the drama its worth.
Much of this delicious drama can be traced to Vincent Black, played with malevolent gusto by Michael DeVorzon. It's ironic that Stalked by My Doctor star Eric Roberts co-stars in Her Deadly Groom with DeVorzon, as I spotted similarities between how DeVorzon plays Vincent and how Roberts plays Albert Beck. The film wastes no time showing us Vincent's true nature, and DeVorzon throws himself into Vincent's unrepentant and sinisterly snarky demeanor (the cruel remarks he makes during his darker moments brought to mind Albert Beck comparisons the most vividly). DeVorzon thankfully maintains that strength when playing Vincent's charismatic facade, making it believable that Alison and others would be deceived by his act. The movie also avoids pulling a My Sister's Deadly Secret move and keeps Vincent's motivation for worming his way into Alison's life consistent--which in turn makes Vincent a consistently chilling villain who (at the same time) you can't help but love to watch in action.
The story of Her Deadly Groom gives DeVorzon plenty of room to ham it up, and that story itself throws in a few curves that might just surprise you. The cast around DeVorzon is similarly strong, with blossoming Lifetime regular Kate Watson shining in her first go as a central protagonist. In Watson's hands, Alison remains a likable protagonist, even as she makes typical Lifetime Protagonist mistakes regarding her relationship with Vincent. While such mistakes have the potential to be character-derailing, Watson's strong performance and DeVorzon's ability to play a convincing manipulator make these mistakes easier to swallow.
Eric Roberts himself, meanwhile, plays Kate's ex-husband George with enjoyably over-the-top sleaze before the film's events give Roberts the chance to give George some depth. Elyse Cantor brings charm to Alison's daughter Nicky, though the script frustratingly has Nicky flip-flop regarding how suspicious of Vincent she is. More consistently written is Nicky's boyfriend Jake, played by Jacob Michael in his feature film debut. Despite initially seeming like your standard "Expendable Supporting Character" type, Jake instead turns out to be a much more active player in Her Deadly Groom. In addition to Michael's chemistry with the rest of the cast, he also brings a consistent determination to Jake's hunt for the truth about Vincent--despite his quest putting him in Vincent's crosshairs. Jake emerges as the most Genre Savvy character of the bunch, and Her Deadly Groom gives him more than enough room to shine.
On the lower half of the character totem pole is Kate's business partner/best friend Brenna. Kelly Erin Decker gives a solid performance when Brenna finds her stride, but her character gives a bad first impression when she's introduced obnoxiously goading Alison into joining a dating app. Her Deadly Groom also hits a few pacing bumps during its third act, and the music and scene editing is distracting and erratic in places. But the film weathers its weaker spots well through its wonderfully histrionic story, awesome love-to-hate villain, and excellent cast. And with the way Her Deadly Groom ends, Lifetime is almost required to commission Jared Cohn and company for a sequel. Fingers crossed it happens!
Score: 8 out of 10 peanut butter jars.
About the Creator
Aspiring writer and film lover: Lifetime, Hallmark, indie, and anything else that strikes my interest. He/him.
Twitter: @TrevorWells98
Instagram: @trevorwells_16
Email: [email protected]
Reader insights
Be the first to share your insights about this piece.
Add your insights