Jojo Rabbit - A Movie Review
'Jojo Rabbit' is a dramatic and humorous tale that all audiences should witness.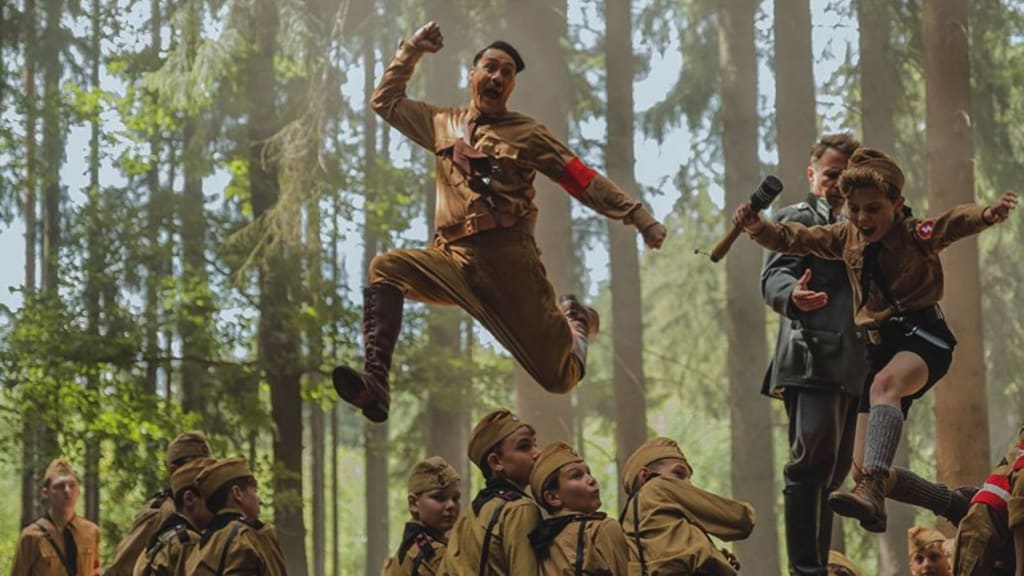 Take your imaginary friend and go on an adventure into World War II.
Jojo Rabbit is a 2019 film about a boy living in Nazi Germany who worships Hitler even going so far as to create his own imaginary friend. After an accident, Jojo learns about a big secret his mother is hiding between the walls of their own house. Creating a friendship that he never expected, Jojo is forced to pick sides.
I enjoyed every moment of Jojo Rabbit. The direction, acting, and the story captures a meaningful depiction of a young boy who has to grow up in a dangerous time period where he learns a lesson about friendship. Jojo Rabbit is a dramatic and humorous tale that all audiences should witness.
For his very first film, 10-year-old Roman Griffin Davis hits the mark as Jojo highlighting a journey of immense growth. Living in his own imagination and following along with cruel expectations from his Nazi counselors, Jojo is forced to see reality. I was impressed with Davis' illuminating energy, growing courage.
Thomasin McKenzie was outstanding as Elsa. I liked her snarky attitude. Her resilience was a trait to admire, never letting Jojo's cruel accusations hurt her. She and Jojo's first meeting is a great scene loaded with comedy. In fact, all of their interactions are great making one another open up about their own opinions.
A mother's job is tough. Scarlet Johansson does a terrific job as Rosie, the mother to Jojo. Their relationship is endearing while at the same time lies and secrets are kept from one another. Johannson's scenes were exceptional performing an important monologue about trust. Her nomination at this year's Oscars was well-deserved.
In one of the best roles that I have seen in a long time, Taika Waititi stars as Jojo's imaginary friend, Adolf Hitler. Jojo cherishes Hitler to the point that he imagines the dictator to help give him advice. I liked his incorporation into scenes blending fantasy with reality. Waititi allowed himself to be as over the top as he wanted with his flamboyant personality and mannerisms.
As the film goes, he gradually changes his personality as Jojo is drifting from the opinions that were put into his head. Every Imagination Hitler scene was my favorite and I was laughing out loud so many times.
Jojo Rabbit holds an impressive cast of actors. Sam Rockwell was superb as Captain Klenzendorf. I also enjoyed performances by Alfie Allen, Stephen Merchant, Archie Yates, Luke Brandon Field, and even an appearance by Rebel Wilson. Wilson was great as always even sparking a convincing accent, but she took away from scenes at times, ruining dramatic moments.
Jojo Rabbit is a clever mix of dark comedy and drama. I have to admit that I didn't know what to expect before watching this movie. And honestly, that plays a huge part when watching a movie. I could not wait to find out what happened in each scene as the film gradually became more suspenseful through the eyes of this ten-year-old boy.
When he was not acting as imaginary Adolf Hitler, Taika Waititi's direction of Jojo Rabbit was flawless. The cinematography and editing were well-directed, and I liked the soundtrack choices for some scenes. Waititi's attention to the story was the core of the film. The character growth was one of the most important aspects. That and friendship. Never judge someone based on the cruel accusation that the world has harbored itself into a frenzy.
I greatly recommend that you watch Jojo Rabbit. It is an excellent film with great actors, a meaningful story, and lessons on friendship and growth.