I don't want to think about Annette Crosbie having sex!
Online streamer Brit Box is going to mess with your head.

One foot in the grave - BBC
For a decade Annete Crosbie was best known for playing Victor Meldrews long suffering wife Margaret in the smash hit BBC comedy One Foot In The Grave and for most of us, that's just how we like to see her. But recently subscription streaming channel BritBox who partner with Channel 4 have been raiding the annals of the channels first movie releases way back in the early 1980s with surprising results.
One of Channel 4's first and most revered movies is P'tang Yang Kipperbang, a story of young love set post Second World War. For many years the movie has gained brand new audiences as the movie is rereleased on streamers or on U.K. channel Film Four, but a quick glance at the opening onscreen graphic, "1st" in a red love heart always had me wondering. Was this part of a series if so why have I never seen anything else. It turns out it was indeed part of a series, that along with many other films that have now for the first time been rejuvenated for a modern day audience thanks to Brit Box.
Other than the aforementioned 'kipperbang the most interesting of all of these is Sharma And Beyond, the story of a struggling author who takes his foreign language class on a tour to see his favourite authors house in the hope of having an encounter with the great man. Released in 1984 the story is fairly relevant now, struggles of morality over passion, for it seems our hero begins a relationship with the authors daughter played by Suzanne Burden, our hero a then virtually unknown Michael Malony struggles to identify if it's the author or the daughter he is truly in love with. The film is an interesting, with fashion weirdly predating the film before it's time, did we really dress like that in the neon 80s?
Something slightly less riveting is the potboiler Winter Flight that sees a young naive RAF serviceman played by a very young Reece Dinsdale fall in love with a young pregnant girl, who saves him being beaten up by the camp bully played by Sean Bean who in one of his earliest roles shows his skill as a loathsome character twisted by his own personal demons. Dinsdales character must decide whether to stick to his bird watching, or stand by the woman he loves or at least thinks he loves and father the child, despite not knowing who the father is. The film is very uneventful, until the big twist at the end, which commonplace now would have had 80s tv audiences rushing for the off button. Even in those opening years Channel 4 never shied away from controversy.
Mr Love is by far one of the weirdest movies of the collection, the story of a gardener and cinema projectionist who despite seeming plain and ordinary on the outside makes a whole town of women fall in love with him, much to the shock of his family who only start to uncover the backstory when all the women who loved him arrive for his funeral. It's a weird oddball film, that seems in someway like a film made somewhere in New Zealand, an alien location that seems no less to than random to an Englishman even in the 80s.
I won't bore you with the entire collection of these lost classics, but before we get back to Annette Crosbie, I really must mention the ultimate "nothing to see here," movie Secrets. First screened in 1983 this bizarre movie finds a schoolgirl on the wrong end of everything in post war Britain. Sent to boarding school she tries to inform her peers of the wonder of the Masons, creating a girls only version of the Masonic Lodge in school outbuildings. Meanwhile at home, her recently widowed mother makes a strange discovery in a secret box whole cleaning her daughters room. "Modesty!" Is probably the greatest thing I'll take from this, as each girl corrects another on their lack of lady like behaviour. The whole film is a kind of misunderstanding, but with one relevant shock, that the girl in question must sharply backtrack on. When you look at the movies released around that time, one does wonder who greenlit them.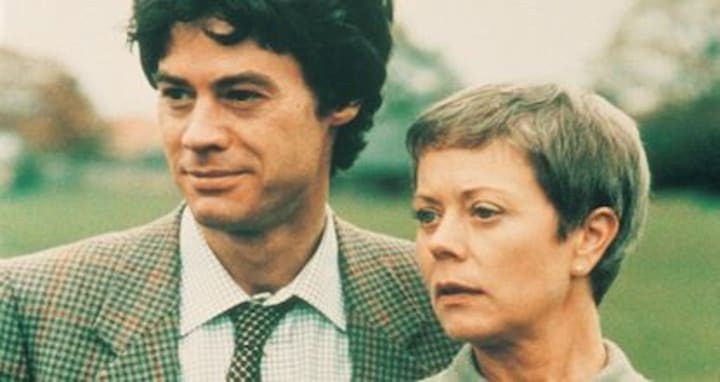 Back to Annette, with The Disappearance of Harry, the truly most mind blowing of these rejuvenated movies. Annette Crosbie stars as a woman who's husband suddenly disappears out of nowhere, stranger too the mystery surrounding his disappearance, nobody is overly interested to investigate and when finally they do, every single picture of Richard's life has been removed. What follows despite being set in 1982 is some sort of weird Edwardian drama, a mystery and a series of riddles. And despite being riddled with grief, halfway through the movie and less than a week from Harry vanishing, she throws of all her clothes and pops into bed with a local paper reporter who is chasing this hot story. No disrespect to Crosbie, but this image of a wayward woman on the cusp of her 50s, the loving screen wife of a TV Iegend (Victor Meldrew), is about as much as anyone can take. And while characters are characters and actors are indeed actors, this weird flashback is strangely unsettling, its a bit like discovering your grandparents in bed having a bit of "how's your father", you know it happens, you know you don't want it to happen, but it does and if it didn't you would not be here, it's deeply disturbing.
While The Dissapearance Of Harry is by no means graphic, it even has a PG rating, its the image that sticks with me long after the film has ended, a slinky Margaret Meldrew seductively seducing a young reporter, how on earth does this happen? And while when the movie was shot, 8 years prior to One Foot In The Graves conception, it's still there, you can't get that memory out of your head when watching in the modern day. It's even more disturbing when you consider what began as a kind of tense thriller has absolutely NO outcome, how does a film get commissioned without an ending, I mean it has one, but not one that justifies the almost two hour running time, then seemingly forgetting what it is all about.
BritBox has added about 20 movies from the early days of Channel 4's archives and despite the criticism they are well worth a look, a selection of films with almost no storylines but remind you of a simpler time using characters from all walks of life, they are nice to chill out to on cold days And a good way to block out the real world as we experience it now with all its menace, looking back at a far more menacing time (constant threat of nuclear war) but seeing it as a simpler, better way than how we live today, harder work, but much more freedom.
About the Creator
A multi-award nominated filmmaker with a passion for travel, film, finance and social media.
Reader insights
Be the first to share your insights about this piece.
Add your insights