Hopeful New SHE-riff in Town is Showing How Roses Grow From Concrete
TOYOTA Presents: A Woman's Will: The Celisha Towers Story (directed by Roger Suggs)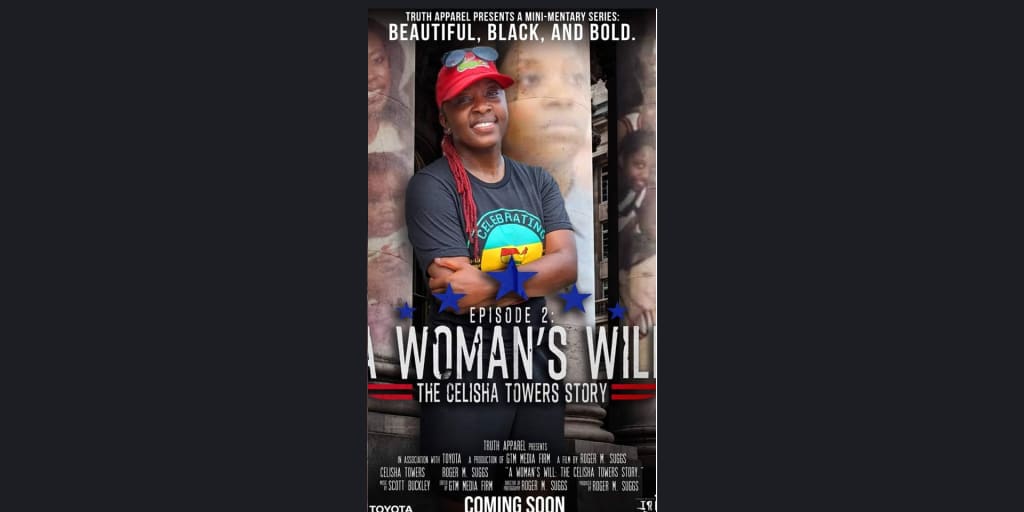 Photo credits: T.R.U.T.H. Apparel/Toyota
How Roses Grow From Concrete
The late Tupac Shakur wrote a poetic composition titled "The Rose That Grew From Concrete," which was published as an album project of poetry in 2000.
Prior to his untimely September 1996 death at age 25, Shakur enjoyed an illustrious career as a famed actor, hip-hop artist, and model. His posthumously-released poem describes a prominent person (the rose) who rocketed to prestige. The driven person described in Shakur's poem became prestigious despite growing up in the harsh environment of the inner-city (concrete).
The deeply philosophical and iconic entertainer's poem "The Rose That Grew From Concrete" partially reads as follows:
"You try to plant somethin in the conrete, y'knowhatimean?
If it grow, and the and the rose petal got all kind of
Scratches and marks, you not gon' say, "Damn, look at
All the scratches and marks on the rose that grew from concrete"
You gon' be like, "Damn! A rose grew from the concrete?!"
Same thing with me, y'knahmean? I grew out of all of this
Instead of sayin, "Damn, he did this, he did this,"
Just be like, "DAMN! He grew out of that? He came out of that?"
That's what they should see, y'knowhatimean?"
In everyday life, figurative soon-to-be and well-blossomed human roses are personifying Shakur's famous poem in many ways that are their own. The figurative concrete they are growing from (or have all grown from) varies. Whether it is a crime-ridden neighborhood, a grief-causing life circumstance, a former instance of public failure, or adverse familial situations from childhood, everyone knows or knows of a rose that grew from concrete.
A spot-on example of such a person is profiled in the second episode of Beautiful, Black, & Bold, a soul-stirring "mini-mentary" series. Filmmaker Roger M. Suggs figuratively and literally takes a Toyota-presented trip to showcase a rose – who shares her battle-tested story about the concrete she grew from.
The end result: A Woman's Will: The Celisha Towers Story.
A Leader is Made, Not Born
On the same day (August 3) the first episode of Beautiful, Black, & Bold was released via TruthTheReason.com (the website for Suggs' TRUTH Apparel clothing line), an election primary was held in the municipality of Wyandotte County, Kansas. For the second time, a youthful black female candidate named Celisha Towers (pictured) was campaigning for the elected municipal-level office of Wyandotte County Sheriff.
According to the local election office, Towers received enough votes during last week's primary to advance. She will be on the ballot again with a chance to win it all in November's general election. Sharp and seasoned political minds know one thing better than the average citizen: All politics are local. A big deal is made about the national presidential election every four years.
However, it is the local offices, which have the biggest and most immediate impact on taxpayers.
Audacious Advocacy
When it comes to issues, such as property tax hikes, funding public infrastructure, and curbing recidivism, local politicians wield the most authority. In 2017, as a very young but well-distinguished black female candidate who was campaigning to be the new sheriff in town, Towers articulately laid out the main objectives of her candidacy.
"My mission is simple. It is to ensure that we seek to build a strong relationship with the community – with transparency, accountability, and community oversight," Towers says during a video clip from her previous campaign trail, which is also featured in A Woman's Will.
However, the first years of Towers' life played out identically to how life unfolds for most people who currently are on the other side of the law.
Growing Pains
"Following her mother's incarceration [which came when Towers was between one and two years old], Celisha Towers life was a revolving door of homes – from foster care to her dad the back with her mom for years," Suggs wrote in a narration script, which appears onscreen before the film's next scene.
A truly substantive and diplomatic dialogue occurs between Towers and Suggs – a man who is the producer, screenwriter, and director of this cinematic jewel, which gives the film's star a chance to tell her deeply compelling story. Towers is a visibly young but brave lady with the resounding alto voice of a seasoned stateswoman.
Her steely resolve is evident by the succinct (not somber) manner in which she answers Suggs' very tough questions on-camera. She speaks matter-of-factly – with the noticeable passion that her fellow politically abandoned citizens of color so desperately need in a public servant.
Today, Towers' campaign lives to fight another day – with what Suggs brilliantly calls "a testimony that will test-the-phony."
"Yeah, we didn't get it in 2017. But I saw the hunger in my community. Because for me to come out to run and to be so young [is big]…getting the chance to compete for what's seen as an older white guy's seat who has all these accolades," Towers said.
Conclusion
The absolutely riveting story that surrounds this young law enforcer's rise to political prominence is within your reach. Exclusively at TruthTheReason.com today, you can support Towers, as well as four other trailblazing black women from the Greater Kansas City Metro Area. Their moving stories of triumph are just what some of our young women and girls need to witness in order to overcome obstacles taking shape in their own lives.
Rent A Woman's Will: The Celisha Towers Story and the entire second season of Suggs' "T.R.U.T.H. Mini-mentary Series" by visiting here.
About the Creator
Mr. Trammell is a digital media producer, freelance journalist, and author. He is currently a Chief Contributor at the Black Then History Network (BlackThen.com). Formerly, he wrote national radio content for the Michael Baisden Show.
Reader insights
Be the first to share your insights about this piece.
Add your insights