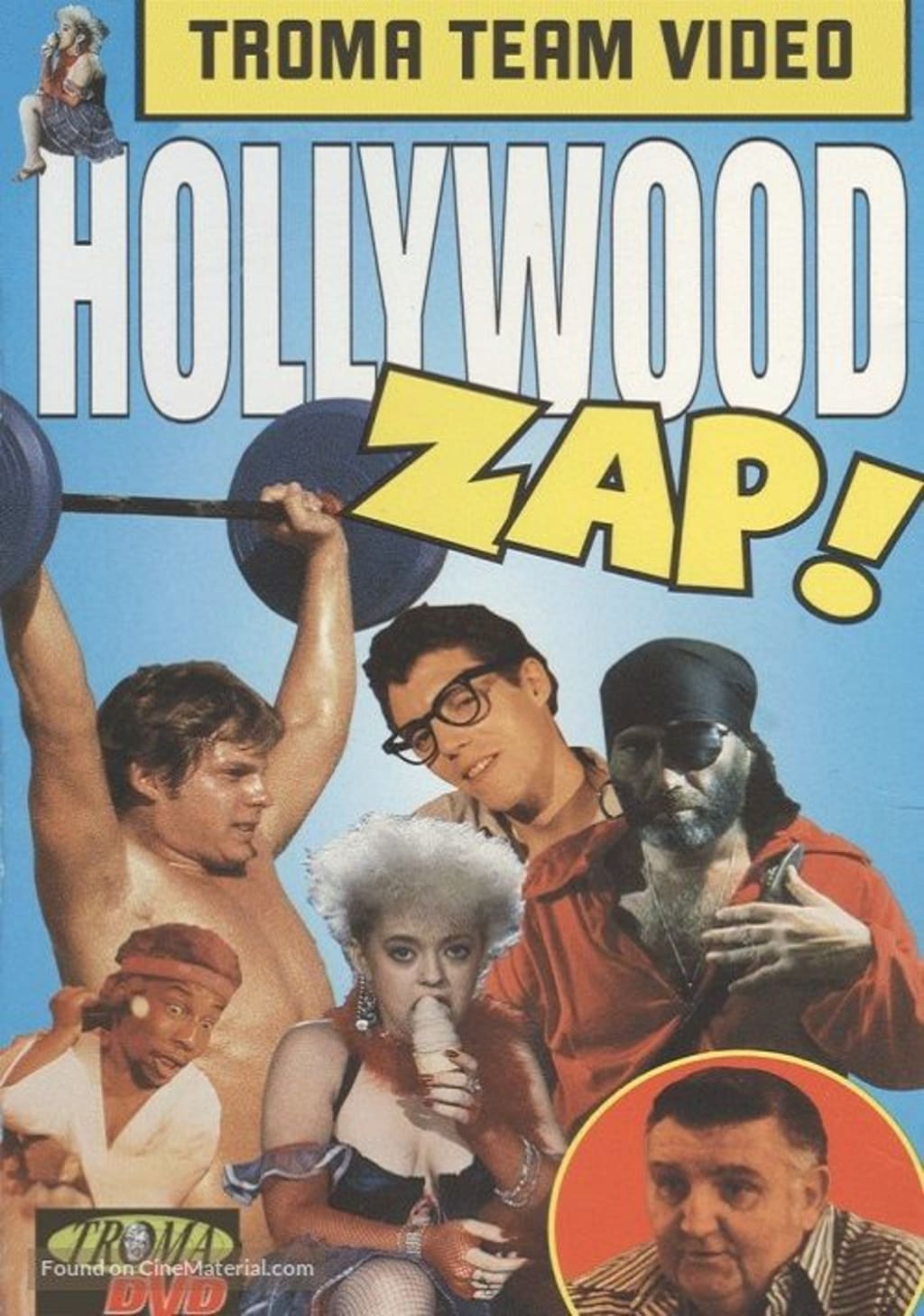 I discovered Hollywood Zap on videocassette at one of the last American video stores that held onto existence into the wee hours of the internet age. It was a relic then, and is even more of a relic now, a weird and curious piece of nostalgia from a rapidly disappearing, bygone age, a world that I grew up in, yet, one that is starting to look as dated and archaic as if we were talking about the world a century back.
I watched it on VHS tape, then bought the tape from a cut-out bin, and then watched it until my old VCR machine malfunctioned. I watched it repeatedly because it brought such strange, uber-good vibes, and was so endearingly stupid and gross and semi-sweet that it was like a bad piece of chocolate candy going down. But enough metaphor or simile or what-have-you. It brought back the nostalgia, though; like maybe watching episodes of "Alf" or "Amazing Stories."
(The movie artwork, video box, and I'm assuming theatrical poster also, seemed to bear artwork that had little to no relation to the actual film, featuring wild New Wave kids, a guy in glasses, a punk rocker holding a gun, a girl in a bikini. Whatever. You do what you have to do, I suppose, to sell what you've got. Or try to, at any rate.)
Ivan E. Roth plays "Tucker Downs", a bespectacled Southern nerdboy from Meridian Mississippi who bears a striking resemblance to Buddy Holly if Holly had hailed from the year 1986 instead of 1956. Tucker gets in his piece of shit car, with a literal tape cassette player hanging by a belt from his rearview mirror, to travel to L.A., where he heard his "Daddy" has disappeared to. He goes because "Mama's gone now," and he can't stand his job selling undergarments to fat Southern women who accuse him of cheating them or something, and spit, and say it's all just a bunch of "coon poop." Whatever the hell that means.
His car breaks down on the freeway, and he picks up Nash (the late Ben Frank, the veteran actor from horror films and a movie called "Murph the Surf" which sounds like something Frankie and Annette would romp around and dance on a beach in while twanging "wild guitars", and gathering at a campfire at night to beach blanket bingo. But I've never actually seen it, so I wouldn't know). Nash has a little "accident" in Tucker's car, they go to a restaurant, where a cartoonishly ugly waitress sticks her hand in Nash's Coke, and he exhibits very rude eating habits. Nash dresses like a cast extra from "Highway to Heaven," and spends the rest of the movie changing costumes, hustling. And playing Zaxxon. Because: "I'm in video." Old-fashioned arcade games are part of his hustle.
Tucker goes to a sleazy, fat grotesque uncle hotel keeper (familiar bad movie face Claude Earl Jones) to try and track down Daddy, but gets a tongue in his ear come on instead. From his uncle. He then goes to a lawyer, played by morbidly obese Porky's actor Chuck E. Mitchell. No dice.
Nash bobs up dressed as a Hare Krishna, and they break into the lawyer's office and get some sort of legal records, and this leads to the climactic conclusion which lifts an accusatory finger at religion and hypocrisy, but still comes off as a rather transphobic relic of the era. You'll just have to see it to understand.
During the trip, we have Tucker on the beach, meeting a bimbo who wants to make the beast with two backs, before declaring him a dud (because of his literary ambitions, I'm afraid) and also a vagrant wino living in a filthy apartment who shows his ass. De Waldron (who was in one other movie, the Penelope Spheeris helmed and Roger Corman produced punk rock drama Suburbia, which featured Flea from the Red Hot Chili Peppers and performances by D.I. and The Vandals) plays the dwarfish love interest of Nash ("Tee Tee"), of whom Tucker (Nash calls him "Downer") kind of takes a shine to.
There's a lot of silliness here. Tucker tries to pay a lawyer in sweet potatoes, and a black man at a video arcade delivers an impassioned speech about the danger of arcade game addiction. Further, we have uncomfortable (for modern times) stereotypes of Latinos as stock gangbangers (which Nash refers to as "taco meat"), as well as Rabbis, and even midgets. Not much of which would pass muster today, but the main thing seems to be Tucker and his obsession that people in L.A., well, "half of them don't know what sex they are!"
If there's a subtext it's the hypocrisy of organized religion, but Tucker does seem to morph, steadily, into that which his father becomes. I'm not sure how much I want to reveal, but it is a subtle hint that any sort of deviation from the norm might be buried deep in the genes, no matter if you know who "Daddy" is, or not. (Or, maybe the subtext is simply the roles we search out to play, whether exemplified by the costume changes of Nash, the stand-in Daddy who has nothing in the way of ethics, or the continued transformation of Tucker Downs, who ends the movie dressed as a female nurse and drives away with Tee Tee, leaving Nash to shit his pants on the Sunset Strip. Who knows?)
But the movie is so goofy and yucky and charming in an old-fashioned 1986 USA "Up All Night" way that you can hardly complain about any of it. And at the end, you leave off feeling good. What's not to love?
Hollywood Zap (1986) Trailer
About the Creator
Author of Haunted Indianapolis, Indiana Ghost Folklore, Midwest Maniacs, Midwest UFOs and Beyond, Scary Urban Legends, 50 Famous Fables and Folk Tales, and Notorious Crimes of the Upper Midwest.: http://tombakerbooks.weebly.com
Reader insights
Be the first to share your insights about this piece.
Add your insights