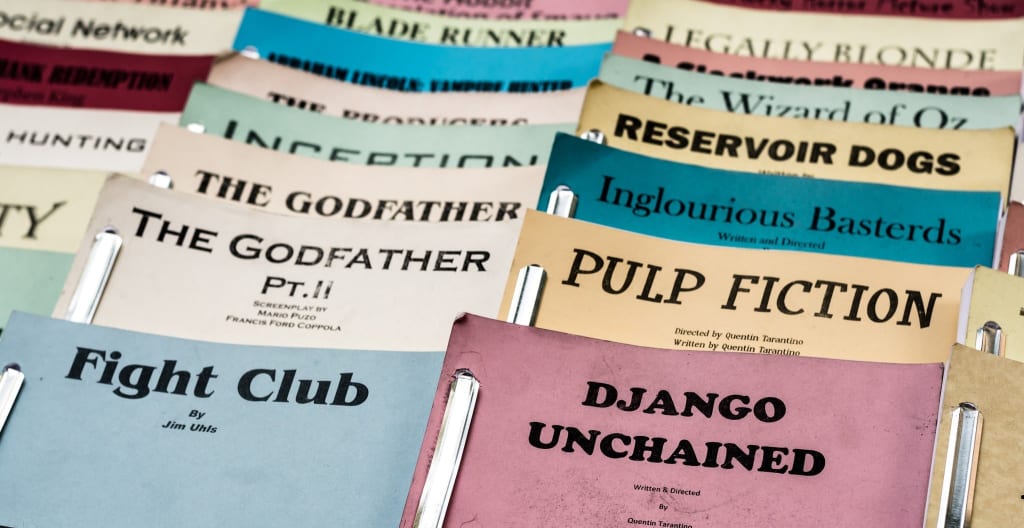 It doesn't take a genius to know that a film worthy of true potential must have an amazing script, one that not only entertains and challenges our natural inclinations, but shows us whole new potentials of the here and beyond. That's what films, writing, practically art in general, is here for, to make the things we can't understand possible, and to show us qualities of humanity through unimaginable depths. While film makers draw these aspects into life, screenwriters make possible these far flung worlds and gives them a tangible sense of realness and meaning. Film writing is the heart of truly immersive and impeccable cinema.
Forever known as some of the greatest film screenplays of all time, these titles have beckoned truly astounding portrayals of the world, whether it be through intergalactic space travel, in the criminal underworld of LA, or on an online community full of like-minded individuals lost in a daze of uncertainty. Whatever the case may be, based on a book, based on a play, or simply the product of one man's crazy idea, the following motion pictures won't disappoint.
Pulp Fiction tells the gritty story that weaves through the streets of Los Angeles by way of multiple story lines, and the characters that lead those stories all have one thing in common: crime. A boxer, drug addict, body guard, crime boss, and two petty thieves. What more could you ask for?
Not only one of the greatest gangster movies, it's your 90s cult classic: a superb mix of action, suspense, awesome dialogue, and literally the best chance to witness character development. It's one of the greatest film screenplays of all time, and while most people have seen this Quentin Tarantino beauty, seeing it another 50 can't hurt.
Robert De Niro plays a young and lean taxi cab operator in this addition to the greatest film screenplays of all time. Add to this great performance the directing skills of none other than Martin Scorsese, plus a brilliant script, and you might just have one of the greatest films, period.
Taxi Driver tells the story of Travis Bickle, an emotionally disturbed veteran suffering from insomnia and a decreasing state of sanity. Amid bussing fares across the streets of New York City, Bickle becomes obsessed with some insane idea in saving the world at all costs, thanks to the lovely Betsy.
Not only is it an amazing short story, Memento also makes for one of the greatest film screenplays of all time and can be argued as Christopher Nolan's most praiseworthy feature. It's also got a truly captivating concept behind it.
Starring Guy Pearce as a young man with an extreme case of memory loss, Memento also challenges the way we experience film in its cutting flow of time, weaving present and past by way of black and white scenes after those in color. It's really interesting, and shouldn't be missed for its exceptional dialogue and outstanding performances.
A classic, in of itself, and a mesmerizing story about one man's rise to fame and sudden departure from life. It may not be as glitzy and action packed as most, but Citizen Kane still remains a legend in cinema and is one of the greatest film screenplays of all time.
Following a journalist, the movie undergoes a look at Charles Foster Kane as he utter his last words. In search of answers and meaning, the reporter investigates this powerful man in detail, questioning friends and stumbling over complex and obscure realities about one man he may never truly understand.
Somewhat based on real life events of writer Woody Allen, Annie Hall is an underrated addition among the greatest film screenplays of all time. While it may be the best rom-com and Allen's all-time best, Annie Hall tends to be overshadowed by the writer's more widely appreciated Manhattan.
Alvy Singer is a 40-year-old standup comedian who undergoes a lengthy examination of his time spent with a lovely, yet somewhat self-interested midwestern girl named Annie Hall. It's humorous as it is emotional, and though it doesn't always receive the credit it deserves, Annie Hall will remain a classic for years to come.
Reverent and strange, drawing similarities to Memento for its rather unconventional portrayal of time, Eternal Sunshine of the Spotless Mind is definitely a must-watch, but it's also not for everyone. After erasing the memories from her prior relationship with Joel (Carey), Clementine does her absolute best to forget him for good. In seeing this, Joel too undergoes the operation, slowly forgetting the girl of his heart like a bad movie.
While it may be one of those films every teen will love, Eternal Sunshine is also credited as being one of the greatest film screenplays of all time. Whatever you're feelings might be on Jim Carey, this one's his most powerful performance yet. Don't ignore this truly spellbinding movie, full of heart and mystery that's sure to make you see the beauty in intimacy.
Like the New York Times says: millions of friends, but not very popular. Zuckerberg's roller coaster ride of engineering and building a superior form of online community the likes the world has never seen is turned into one of the greatest film screenplays of all time.
Sorkin's The Social Network makes his West Wing and Newsroom series look like passion projects. Inviting well-intuitive plot lines with pristine dialogue, in addition to Jesse Eisenberg's excellent performance as Facebook's simultaneous creator and thief, The Social Network is an examples of fine screenplay writing that can't be ignored.
"We're gonna need a bigger boat," says sheriff Martin Brody as a massive great white shark rips their small boat to shreds in one of the greatest film screenplays of all time. Jaws hit theaters as an instant success, claiming various awards for its effects, characters, performances, and so on.
Jaws is a story about the appearance of a giant shark that terrorizes one headstrong mayor's town on one of the busiest beaching weekends to date. It's a classic for making audiences everywhere terrified to go near the water, adding to the pop culture allure behind it and the realistic qualities inherent in the film's writing.
By far one of the most daring examples of Italian mob superiority and the endless bounds of their criminal enterprise are drown among the scenes printed on one of the greatest film screenplays of all time: The Godfather.
Mario Puzo's classic work of fiction is brought to life by Marlon Brando's award-winning performance, in addition to Coppola's even more brazen use of his own pen in drawing it into screenplay format. Follow Don Corleone and his mob family as they take back the streets of New York, dodge police at every turn, and send the other five families to the grave in The Godfather.
Being that it's one of the greatest science fiction movies ever put on screen, and probably one of the best sci-fi stories ever imagined, 2001: A Space Odyssey never lets you look away. Detailed by way of three separate short stories in one massive plot, the sci-fi classic is unlike any movie you have ever seen before. As much as the interstellar travelers are strapped into their own journey, so too are you in watching their culminating discoveries, from that ebon obelisk of mystery to the even more sinister computations made by Hal 3000.
For anyone wondering, it's no secret this movie's a staple among the greatest film screenplays of all time. It tests the way we see the cosmos, artificial intelligence, and the strings that seem to guid reality behind the forefront of time and space.
I saved the best for lest, merely because I feel Casablanca is probably the most celebrated and captivating film ever produced. Not to mention it's got one of the greatest film screenplays of all time, it's also a true love story about the ways in which human emotions can withstand the test of time.
If you're into them, Casablanca is a film noir that is beyond comparison. The black and white really brings the whole film together, drawing the characters out by way of their smoking cigarettes, darting eyes, and hand movements, not to mention the dialogue is really astounding.
About the Creator
A cosmic adventurer rendering wayward letters into infinite lengths of conception and prose, like quantum streams of pneumatic information
Reader insights
Be the first to share your insights about this piece.
Add your insights