Film Review: 'Under the Christmas Tree'
Two excellent leading ladies helm this heartwarming lesbian holiday flick about a very special tree.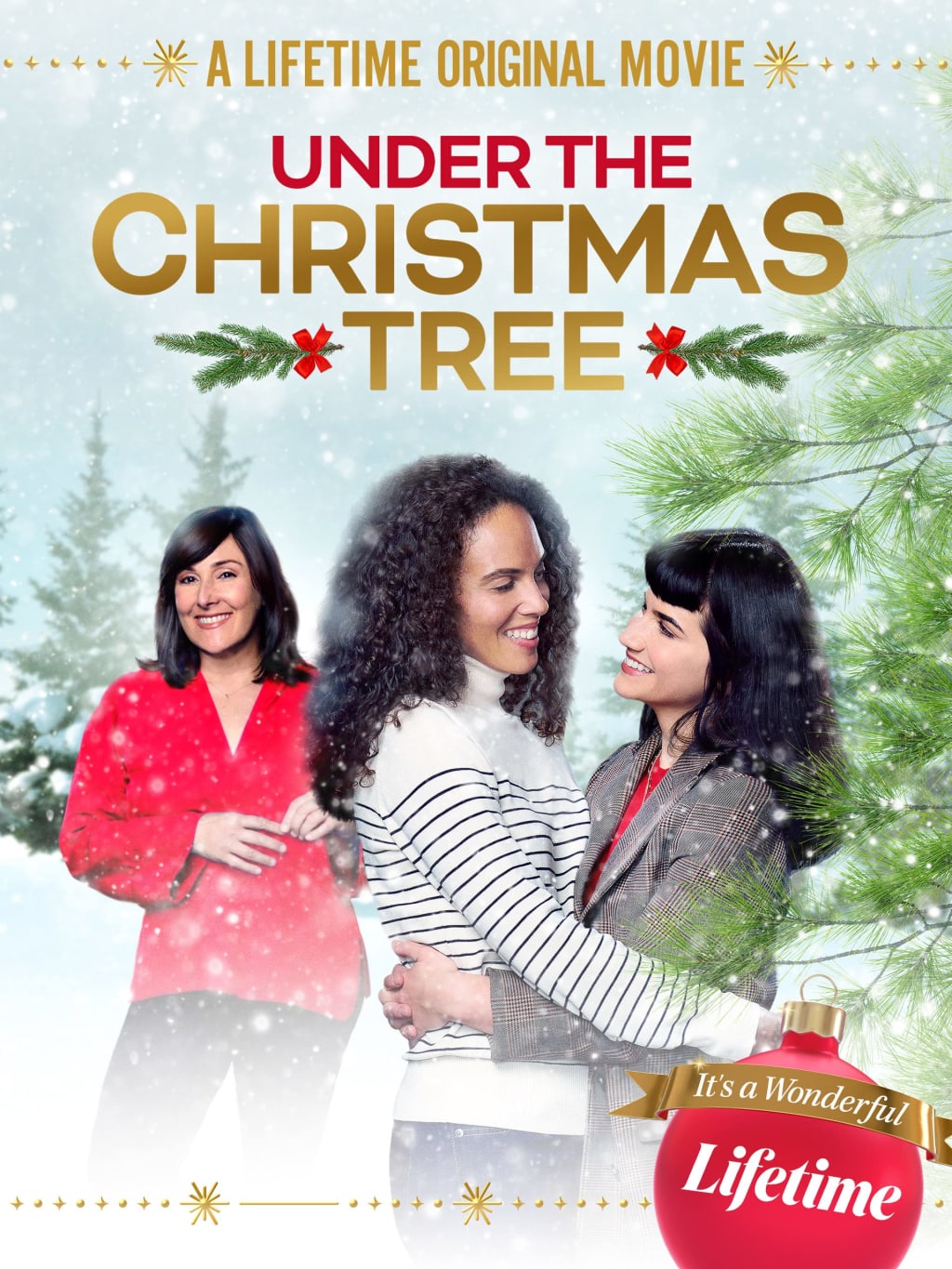 A self-proclaimed "Christmas tree whisperer," Charlie Freemont (Tattiawna Jones) has been given a daunting challenge this December. With an ice storm having ruined Maine's original state Christmas tree, it's up to Charlie to find a suitable replacement in time for the Christmas Eve tree lighting ceremony. Fortunately, her search leads her to a perfect tree in the town of Camden. The only problem: it's the backyard of Alma Beltran (Elise Bauman). A headstrong Christmas-loving woman on the verge of taking over the family retail business, Alma has no intentions of giving up her tree. After all, it's not only been a staple of her life, but it plays a key role in Camden's own Christmas celebrations.
But despite her firm stance, Charlie hopes to change Alma's mind. As Charlie and Alma spend more time together and Charlie becomes taken with both Alma's family and her festive little town, a romance ignites between them. But with Charlie's deadline drawing near, what does the future hold for Alma's beloved tree--and the potential relationship blooming between her and Charlie?
Last year, Lifetime premiered The Christmas Setup, its first Christmas movie to center on a gay male couple. As such, it only makes sense that this year, they'd come out (pun intended) with a lesbian Christmas love story. Written by Michael J. Murray, who was also responsible for writing The Christmas Setup, Under the Christmas Tree wears its queer heart on its sleeve just as much as Murray's last holiday film. There are no allusions to historical/present-day homophobia like there is in The Christmas Setup, but it still has two openly gay protagonists living their lives and talking about their sexualities without shame. While it may lack The Christmas Setup's touches of depth in how it addresses real-world LGBTQ+ issues, Under the Christmas Tree has just as much heart and its more relaxed same-sex romance is just as enjoyable to watch unfold.
A lot of that heart is tied to the actresses playing Charlie and Alma. Tattiawna Jones and Elise Bauman make for lovely romantic leads with their great chemistry and individual charisma. Both effectively sell Charlie and Alma as witty but occasionally awkward young women. You'll definitely feel the attraction as it begins to form between them and you'll feel your heart quiver whenever Charlie or Alma opens up emotionally. If I had to choose, though, I'd pick Bauman as my favorite of the two leads. She's a riot playing a feisty woman who can take charge when it comes to business matters or gingerbread house contests, but is prone to getting flustered when it comes to romance. She and her equally endearing co-star will leave you enchanted by Charlie and Alma's simple but heartfelt bond and have you dreading for the moment when the tree dilemma threatens to tear it apart.
I also enjoyed the trope-subversive story arc Alma has in regards to taking over the family business. In most Christmas movies, Alma would be painted as wholly in the right for refusing to consider her business consultant's "soulless" recommendations. Here, though, Alma's resistance to make changes is properly portrayed as a bad thing. As admirable as Alma's passion for the store is, a business that's unwilling to even consider new ideas isn't likely to last very long. There's a cathartic scene in which Alma's mother chides her for her stubbornness and points out what could happen to the business if she doesn't learn how to compromise. This ultimately results in a satisfyingly balanced conclusion to Alma's journey as a businesswoman, shattering the "Old=Good, New=Bad" fallacy often employed by holiday films.
Speaking of oft-used tropes, let's talk about how Charlie and Alma's inevitable third-act conflict plays out. SPOILER ALERT While the Third-Act Misunderstanding trope is easy to do poorly, Under the Christmas Tree manages to avoid fumbling it too hard. With what Alma hears Sonal saying about Charlie as she enters the bakery, it's feasible that she'd jump to conclusions and assume Charlie was only being nice to her and her parents for their tree. Alma breaking up with Charlie later on, even after Charlie explains everything, is also understandable on some level. In addition to her hurt feelings over Charlie not being forthcoming about the new agreement, Alma--in that moment--is having doubts that a long-distance relationship between her and Charlie could work. Those two factors combine to make for a believable (albeit sad and frustrating) breakup. On the plus side, that makes the happy ending even sweeter, with Alma and Charlie reconciling after the former forges her own sustainable business path and the latter gives up a job working under a toxic boss for one that lets her do work that fulfills her and be with the woman she loves. Spoilers Over
There's plenty of charm to be found in the supporting cast that makes up Charlie and Alma's friends and loved ones. Of the bunch, Shawn Ahmed makes the biggest impression as the effortlessly adorable Rohan, Charlie's co-worker/friend and insatiable foodie. With Ahmed's expressive mannerisms bringing Rohan's high-strung personality to life, he's an easy character to fall in love with. Alma also has a close friend in Camden bakery owner Marie Gauthier, as played by actress/talk show host Ricki Lake. Marie doesn't quite reach Rohan's energy levels and Lake's performance is far from perfect--not that she's helped in her first few scenes, where Marie's dialogue mostly consists of exposition dumps. But for the most part, Lake does a solid enough job playing a sweet-as-macarons baker who acts as a shoulder of support for Alma and Charlie and forms a cute friendship with Rohan (who, naturally, is a fan of her confections).
Alternatively, Charlie and Rohan's stern boss Sonal is nothing short of a stone-cold ice queen. Sonia Dhillon Tully does great work selling Sonal as Charlie's ultra-callous foil. While both are dedicated to their jobs, Charlie takes the feelings of others into consideration when it comes to her assignments--unlike Sonal, who's more than willing to overlook the concept of basic empathy if it means getting the job done. Admittedly, though, the fact that Sonal is also Rohan's mother could've been handled better. After a handful of Sonal-centric conversations between Rohan and Charlie where her relation to the former is never even hinted at, the information gets dropped on us out of nowhere. Early confirmation not only would've prevented any confusion, but it would've also given more power to Rohan's resolve to someday finally stand up to his mother.
In less rigid parental figures, we have the kind and compassionate Marcus and Isabella Beltran. Wendy Crewson is wonderful as Isabella supports her daughter through some challenging transitions--while also calling Alma out when her obstinacy becomes a problem. Enrico Colantoni matches Crewson in warmth, allowing Marcus to be the comforting teddy bear to Isabella's loving but firm toy soldier. Crewson and Colantoni blend well with both their onscreen daughter and with Jones. The latter even gets to share a tender scene with Jones when Marcus and Charlie bond over piano and Auld Lang Syne. Colantoni and Crewson also share some nice chemistry as a couple, with Marcus and Isabella getting a lovely moment alone that proves their love hasn't lost its spark. Last of the noteworthy cast is Connie Manfredi, the star of a funny comedic beat involving a Christmas fortuneteller known as "Maggie Claus."
Under the Christmas Tree contains a lot of what made The Christmas Setup great and has a few elements of its own to contribute. The plot is interesting and moves at a steady pace, the acting is strong, the protagonists are easy to love and root for, and the mood is perfect for if you need a little holiday pick-me-up. Wholesome and upbeat, even when the time comes for Alma and Charlie's relationship to be tested, this film is sure to brighten your spirits. It may come up a little short of topping The Christmas Setup on the rating scale, but Under the Christmas Tree is still a stellar movie that I'd recommend watching alongside its men-loving-men counterpart in a double feature viewing.
Score: 8 out of 10 dragées.
About the Creator
Aspiring writer and film lover: Lifetime, Hallmark, indie, and anything else that strikes my interest. He/him.
Twitter: @TrevorWells98
Instagram: @trevorwells_16
Email: [email protected]
Reader insights
Be the first to share your insights about this piece.
Add your insights