Hallmark Review: 'The Christmas House 2: Deck Those Halls'
It's Brother vs. Brother in this Hallmark sequel that outdoes the first film with a bigger, better, flashier plot.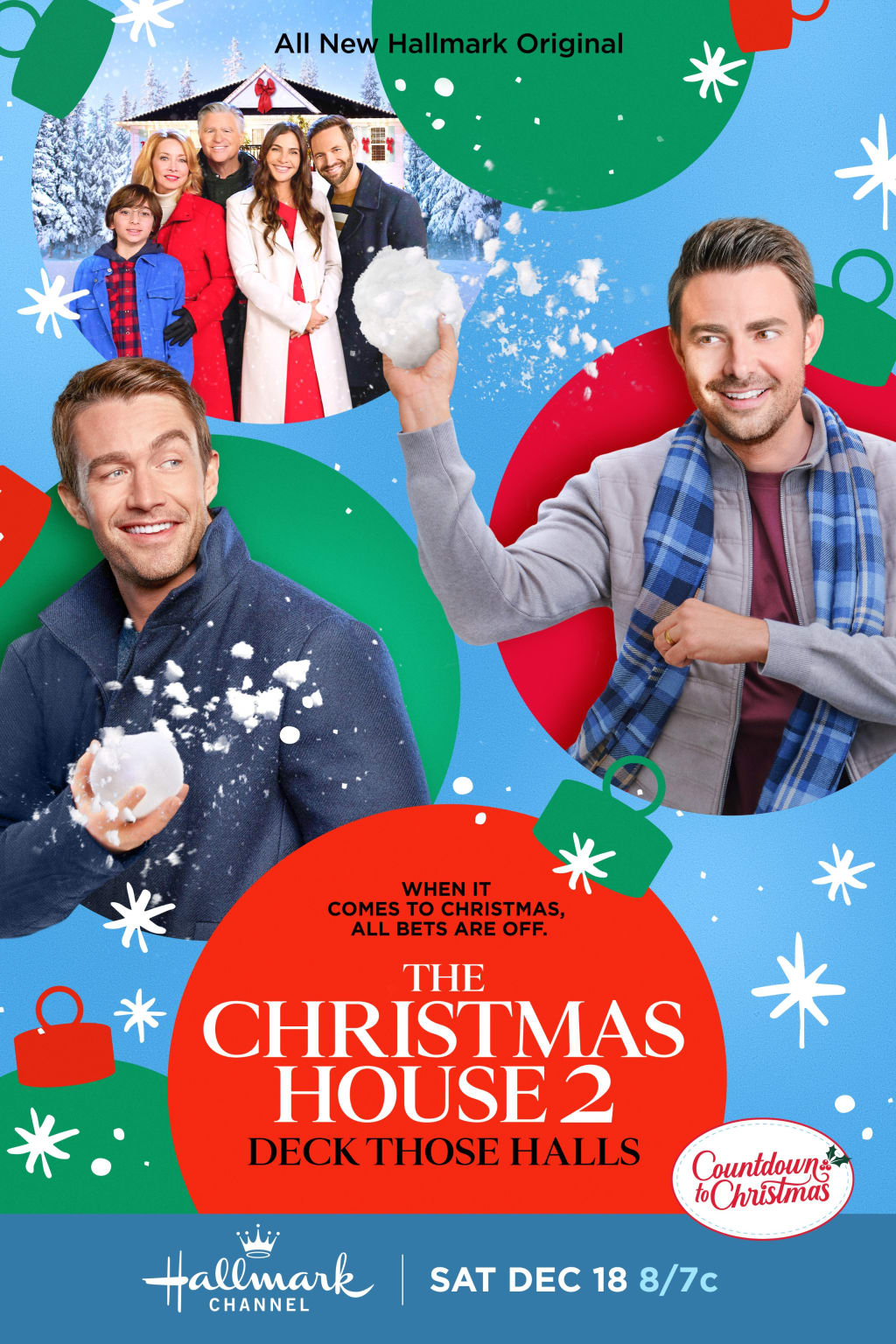 After all the craziness from last year, all Mike Mitchell (Robert Buckley) wants is a nice uneventful Christmas. On hiatus from his TV series Handsome Justice, Mike is looking forward to spending a lowkey holiday with his high school sweetheart Andi Cruz (Ana Ayora) and her son Noah (Mattia Castrillo). But his plans are thrown for a loop when his publicist Kathleen (Michelle Harrison) reveals Mike has been invited to appear on Deck Those Halls, a reality show where two celebrities compete to see who can decorate the best house for Christmas. While he's initially dead set against it, his family ultimately manages to convince him to take the offer.
But when Mike's celebrity competitor is forced to back out, he's floored by who is brought in to replace him: his brother Brandon (Jonathan Bennett)! The competition takes Mike and Brandon's sibling rivalry to the next level, and soon, it's a free-for-all as both brothers fight for the title of "King of Christmas." And on top of the increasingly tense televised competition, Mike is dealing with the daunting prospect of proposing to Andi. But with her ex-husband and Noah's father Zane (Matthew James Dowden) suddenly coming back into the picture, Mike is left reeling. Will the Mitchells be able to pull it all together in time for the Christmas Houses to be unveiled?
Last year, Hallmark made waves with The Christmas House, their first Christmas movie to feature a gay couple. While it got some flak for how said couple (Brandon and his husband Jake) wasn't the focus of the film, their presence was still significant and their adoption subplot was wonderfully carried by Jonathan Bennett and Brad Harder. With the sequel letting Mike and Brandon share the spotlight thanks to their Deck Those Halls competition, this allows Brandon and Jake more time to shine. The script makes good use of this additional screentime, allowing for some more overt conversations regarding the challenges of being a gay man/gay parent to take place. Brandon's sexuality even ends up playing a partial role in his feud with Mike, leading to a tearjerking and beautifully performed scene between the brothers.
Overall, Bennett and Robert Buckley thoroughly steal the show as the dueling Mitchell siblings. After a stiff start from Buckley, he and Bennett go on to strike comedy gold once Mike and Brandon become reality show rivals. The banter between the two is hilarious, and when it comes time for the sniping to go from funny to concerning, Buckley and Bennett handle the transition with ease. The script also makes sure the escalation aligns with Mike and Brandon's characterizations. While they both receive heartfelt encouragements and wise warnings not to let the competition go to their heads, Mike and Brandon's competitive streaks and unresolved issues prove more powerful. As is true in real life, it's only through confronting those issues that things take a turn for the better.
Mike and Brandon's rivalry and the implications linked to it may serve as the fiber of The Christmas House 2, but all the other characters pull their weight and contribute to the movie's engrossing story. Just about everyone joins Mike and Brandon in cracking jokes and the subplots outside of Deck Those Halls get room to grow. Sharon Lawrence and Treat Williams have the same chemistry together that they had in The Christmas House. The pair also get to show their comedic abilities as Phylis and Bill awkwardly participate in the reality show and star in a vaguely risqué Christmas play. Brad Harder's Jake is wholly lovable as he becomes the level-headed rationalist to Brandon's "obsessive maniac" and Michelle Harrison (whose character was a blip in the first movie) gets the chance to flex her funny bone as Mike's excitable publicist Kathleen. While Kathleen does briefly let the promise of big ratings cloud her conscience, she thankfully reigns herself in before she becomes another Deb Clarkson.
In a redemptive return, Ana Ayora gives a much-improved performance in comparison to how wooden she was in the first film. While she still hits a few snags, Ayora's deliveries are much more natural this time around--especially when Andi gets in on the sassy quips. She's joined by Mattia Castrillo, who still does a good job making Noah precociously sweet without getting obnoxious. Ayora and Castrillo still share a good deal of chemistry with Buckley, bringing to life the tender bond between Mike and Noah and the reignited love between Mike and Andi. While the Mike/Andi storyline of the first movie was formulaic and a bit on the uninteresting side, the couple's efforts to get through another chaotic Christmas while Mike agonizes over when (and if) he should pop the question is much more engaging. Last among the returning players is Chris Gauthier, who is as entertaining as he was when he originally portrayed Mike's eccentric magician mentor Marvelous Jim.
Two notable newcomers to the Christmas House series are Teryl Rothery and Matthew James Dowden. Rothery gives a charming enough cameo as celebrity judge Macie Stevens while Dowden gives a solid performance throughout a less-than-solid character arc. Zane clearly loves his son and wants to be a part of his life after years of being an absentee father. But at the same time, his behavior often comes across as pretentious and insincere, especially whenever it seems he's deliberately trying to upstage Mike. Dowden does a good job playing the role of a well-intentioned but self-centered and pompous ex-husband, but the script caps his story off with a rushed resolution. SPOILER ALERT Zane just abruptly goes from entitled jerk to good guy with little explanation as to how this change came about. Zane suddenly hooking up with Kathleen in the epilogue in classic "Pair the Spares" fashion is given more justification. Spoilers Over
But in the grand scheme of things, this sequel takes the original Christmas House and adds some decorations of its own to build on what was already there. The story has more emotional punch and comedic flair, the returning characters are given more exploration, and the actors playing them give performances as strong as their initial portrayals. The reality show-style confessionals shown throughout the movie are a bonus, being a charming addition that acts as a vehicle for a few humorous comedy beats. There are still a few kinks here and there and some may take issue with how the plot is only possible thanks to Mike's loved ones pressuring him into accepting the Deck Those Halls invitation. But by and large, The Christmas House 2 is a great movie for when you want an equal dose of sentiment and snark for the holiday season.
Score: 9 out of 10 licorice bows.
About the Creator
Aspiring writer and film lover: Lifetime, Hallmark, indie, and anything else that strikes my interest. He/him.
Twitter: @TrevorWells98
Instagram: @trevorwells_16
Email: [email protected]
Reader insights
Be the first to share your insights about this piece.
Add your insights