Fighting for Home Descendants of the Amazoi Book One by Kim Richards
Today's Book Spotlight
Provided by Bewitching Book Tours
Book Description:
In 300 B.C.—the Greco-Roman Age—tribes of warrior women thrived near the Black Sea. The area is now modern-day Turkey. The Greeks called them Amazoi (meaning Mankiller).
Inspired by their story, Fighting for Home sings the tale of one tribe as they battle to save their way of life. Healing magic is real! Ilenea and Saphira, the wolf sisters, battle close to home with others of their generation. A healer priestess named Essla travels to a temple of Artemis at Anthela with her male slave, bringing a call to arms for the pending war. She meets and falls in love with a Roman General.
Whatever the outcome, this war changes everyone.
the book may be purchased here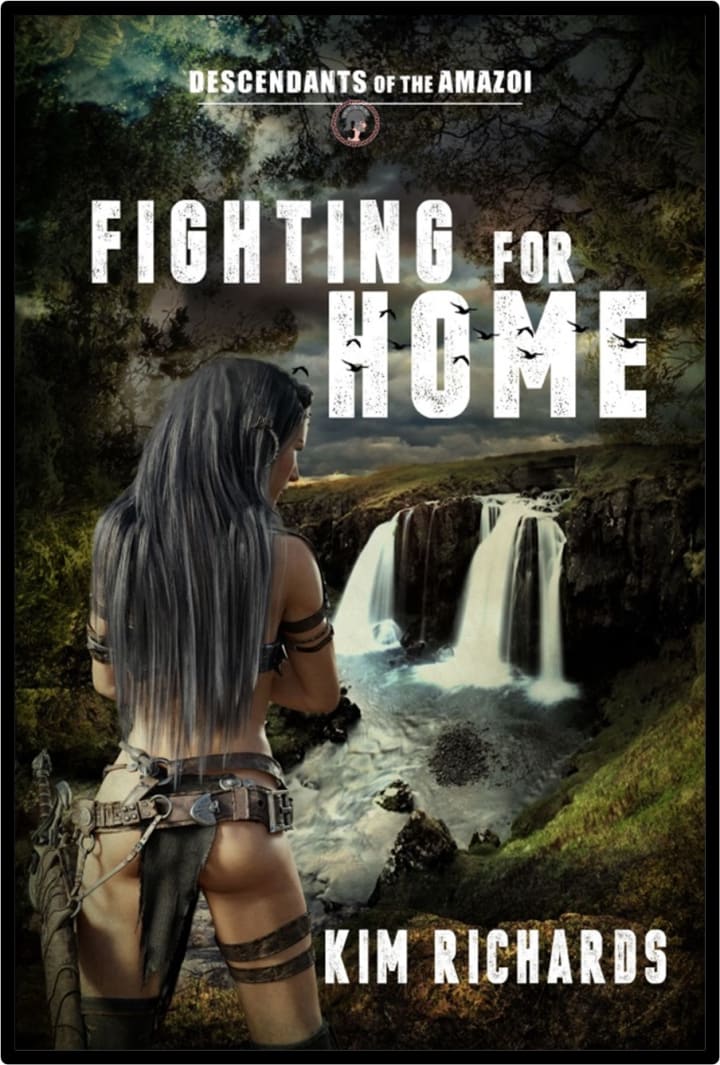 Excerpt:
Thup. Thup. The second archer cried out as two of Xanthi's arrows buried themselves into his thigh and hip. He let his own arrow fly. Leaves rustled where his arrows disappeared among the tree branches. He fumbled with an arrow, trying to notch it quickly when he heard the rustle again.
The archer looked up as Xanthi leaped from the bushes with her spear in hand. There was no time for him to raise his bow before the bronze point burrowed its way through his leather cuirass, seeking the tender flesh beneath.
At his wretched cry, the shield man to the left took a wild swing with his sword. He caught Xanthi just below the left collarbone. It sliced through her leather jerkin, taking breast flesh with it.
Crying out from the pain, she fell to her knees as blood poured from the gash. One hand pressed against the wound as her other fumbled for her knife.
Xanthi's man turned his attention from her. He should've advanced. Celete used it to her advantage and swung her axe up the inside of his shield. It's blade cleaved his stomach wide open. His guts spilled out over her hand—hot and sticky. He toppled sideways, landing in the dirt before Xanthi. With a roar befitting any lioness, she clawed at his face for what he did to her.
About the Author:
Kim Richards lives in Northern California with her husband and pets. She loves the genres of horror, science fiction, and fantasy. Her hobbies include reading, writing, sewing, LARPing, and listening to music.
Amazon Author Page: https://www.amazon.com/-/e/B00APPEHK4
Twitter: https://twitter.com/kim_richards
Facebook: https://www.facebook.com/KimRichardsAuthor/
Instagram: https://www.instagram.com/kimrichards5576/
Goodreads: https://www.goodreads.com/kim_richards
Midnight Musings Information
Hello all! I am a former sociology professor who lost her 9-year job at a community college this May. Due to Covid and mine and my mother's health, a traditional job isn't working out as well as I thought that it would.
So, I decided to try my hand at writing here, providing my self-care and yoga classes as well as my metaphysical gifts via Zoom.
I am hoping that my hobbies may take off as a full-time career. I have 3 Facebook pages for each endeavor and if you could take a moment and give them a like and subscribe to my You Tube channel then this would be very helpful. Thank you in advance.
Visit my author page at Bertena Varney Author on Facebook here https://www.facebook.com/bertenavarneyauthor/ for more information on my books.
And visit Midnight Musings Facebook Page here https://www.facebook.com/midnightmusingswithbertena/ to see what metaphysical things that I am up to.
And subscribe to my new YouTube Channel here https://www.youtube.com/channel/UCHA5C5qAsXCJXwbNxqjedVQ/
Visit A New You Self Care and Wellness Center Facebook Page https://www.facebook.com/anewyouselfcare/ for my yoga, meditation and other self-care classes .
If you want to support me in helping make my hobbies become my main job simply leave a tip for me then visit my profile here.
https://vocal.media/authors/midnight-musings-with-bertena
literature
About the author
The Divine Goddess School of Mystery is open for business. Find the goddess within you!
Find more about us here https://linktr.ee/thedivinegoddess
Reader insights
Be the first to share your insights about this piece.
Add your insights