Fancy Dance - A Sundance Review
'Fancy Dance' is a passion project that was driven right from the heart.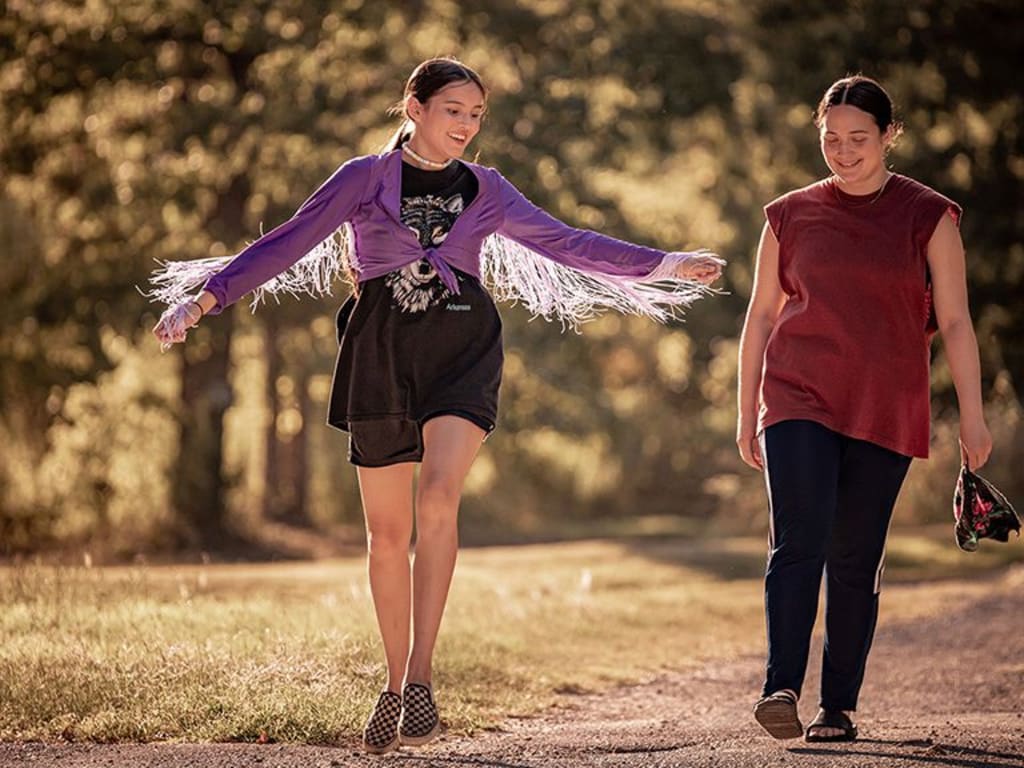 I have some advice for you. We ain't the quittin' type.
Fancy Dancy premiered at the 2023 Sundance Film Festival. A Native American hustler kidnaps her niece when she loses custody of her. Venturing out, Jax and Roki travel to the state powwow. Along the way, Jax tries to keep what's left of her family intact.
Experiencing films at the Sundance Film Festival is a gratifying experience. I recommend to anyone to watch a movie at the festival. Fancy Dance is a moving story. Exploring the relationship between an aunt and niece, Fancy Dance presents complication and honesty.
Lily Gladstone and Isabel Deroy-Olson are terrific actors. The actresses immediately clicked with their bond. Jax and Roki's interactions are the best part of the film. The bond between an aunt and niece is worthwhile. It's a different relationship. I am so thankful for this positive portrayal. We don't have many films that exhibit this relationship.
My favorite moments were when they were goofing around. A lot of the interactions reminded me of conversations I'd have with my late aunt. Just like Jax and Roki, we'd end up in laughing fits, barely able to catch our breaths. I miss my sarcastic relationship with my aunt so much. Watching this film made me feel like I was watching it with her.
Roki's first period was a touching scene. Relatable to anyone, this is a transformative moment in any young woman's life. Not many films have scenes dictated to menstruation. We need more. It's an important topic.
Jax is not a perfect person. Quitting is not part of her vocabulary. Gladstone did a remarkable job guiding her character's tough exterior and vulnerability. Jax is a great aunt but doesn't carry out her decisions in the best of ways.
Roki's gullible demeanor annoyed me. At 13, she is old enough to understand responsibility. Twice, she is told by Jax to keep her bag on her at all times. And what happens? She leaves her bag at an inconvenient moment! She should know better.
Fancy Dance had a small cast. The characters were all written well. The grandparents (Audrey Wasilewski and Shea Whigham) were not portrayed as the villains. Only trying to do what's best for Roki, they do make efforts to understand her interests.
Ryan Begay (J.J.) was wonderful. You always have people to count on. Even though she had a small part, Sapphire (Crystle Lightning) and Jax had a sweet relationship. I wanted to see more scenes with them. Their relationship is not what the film is about, but there should have been a scene where Jax calls her instead of having Sapphire disappear in the story.
In her directorial debut, Erica Tremblay illustrated positive representations. Native American culture is significant to the story. I have come to like films about culture. We need to recognize different cultures. I learned more than I expected to about Native American culture, like the language (which is becoming extinct) and a powwow.
Filmed in Oklahoma, Fancy Dance takes place on the road. Road travel is my favorite scenario. Based on what Tremblay was saying, Fancy Dance is a passion project that was driven right from the heart. The film deals with some heavy topics. Tremblay figured out how to make it work.
Fancy Dance is a moving story. I am glad that I had the opportunity to watch this film at its premiere. The ending is beautiful. Put Fancy Dance once it is in theaters or on streaming services. It makes a good movie night for aunts and their nieces.
About the Creator
Writing has been my passion since I was 11 years old. I love creating stories from fiction, poetry, fanfiction. I enjoy writing movie reviews. I would love to become a creative writing teacher and leave the world inspiring minds.
Reader insights
Be the first to share your insights about this piece.
Add your insights