Rachel Getting Married - A Movie Review
'Rachel Getting Married' has an important message to all.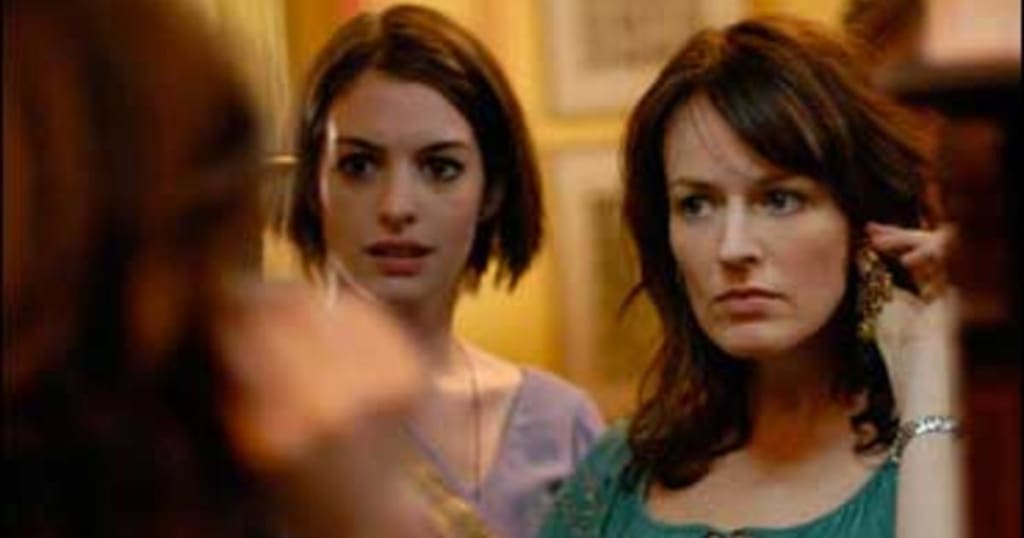 Only you get to decide who you want to be.
Rachel Getting Married is a 2008 film. Kym is coming home for the weekend for her sister's wedding. Having been in and out of rehab, Kym's presence is not welcomed by everyone. Avoiding Kym's problems, Rachel is desperate to make it the best wedding.
Talk about your family dysfunctional films. Except, that's not what Rachel Getting Married is all about. In midst of all the family chaos, Rachel Getting Married has an important message to all. The film embows that we can change if we believe in our strengths.
Anne Hathaway is a brilliant actress. Kym is a difficult person who has faced dark periods. Hathaway achieved impressive emotions. Her monologue at the rehearsal dinner was delivered in perfection, digging through layers of hurt and remorse. Proud of herself, Kym is not met with others' approval, making her appearance harder.
Rachel's (Rosemarie DeWitt) behavior was selfish. I didn't like her opinions. She was not willing to listen to Kym. But here's where you need to be open-minded. A lot of history has transpired in this family over the years.
Once I understood why Rachel commanded attention to herself it changed my view of the film. Hathaway and DeWitt were excellent at playing out this relationship, highlighting tender sisterly moments and heated fights.
The house is filled with characters. Debra Winger, Sebastian Stan, Bill Irwin, Tunde Adebimpe, Mather Zickel, and an entire ensemble of family members or friends enjoying the wedding. The cast dug deep into their relationships. A lot of good interactions happen in the film. Certain characters expressed their feelings as they were while others hid their feelings.
A lot of conversations and arguments ensue. One character who I didn't pay attention to until a pivotal scene was Paul (Irwin). He has been bearing an incredible weight on his shoulders all for the sake of his daughters.
Jonathan Demme filmed Rachel Getting Married like a home movie. Filming was out-of-focus in some scenes, like arguments. We get a sense of how uncomfortable Kym feels. Demme did a remarkable job with the wedding rehearsal dinner. This scene makes the film.
The house is busy as the family prepares for Rachel's wedding. Something is happening in each room of the house like decorating, family members talking, and last-minute planning. It's rare whenever there's a quiet moment alone.
To make Kym feel secluded, in family discussions, she is never seen in shots with the family, instead isolated in her own screen. Opinions differ about Kim and it shows. Colors also signify Kym's demeanor. Her clothes are dark while other characters wear brighter material.
Rachel Getting Married assimilates a theme that some viewers can relate to. Addiction. Change is possible. We all make mistakes. It's not right to treat people like their mistakes. It's nobody but the person's decision on who they get to be. That is the most valuable advice I have heard from a film.
Although the entire wedding sequence is endearing and happy, it went on too long. I enjoyed the whole sequence. And I never understood the dishwasher sequence. Unless it's a family tradition, the scene was random.
Sad and frustrating, Rachel Getting Married is a film that makes you take a breath by the end. A new kind of silence surfaces compared to the beginning. There's a sense of closure. Forgiveness takes time. Take it one step at a time.
The film is tough to watch at times, but I recommend that you watch Rachel Getting Married. The performances are excellent.
About the Creator
Writing has been my passion since I was 11 years old. I love creating stories from fiction, poetry, fanfiction. I enjoy writing movie reviews. I would love to become a creative writing teacher and leave the world inspiring minds.
Reader insights
Be the first to share your insights about this piece.
Add your insights