Documentary Review: 'A Life on the Farm' is a Wild Ride
The story of a found footage oddity that is becoming a full on sensation, A Life on the Farm is unpredictable and kind of brilliant.
A Life on the Farm (2022)
Directed by Oscar Harding
Written by Documentary
Starring Oscar Harding, Charles Carson, Karen Kilgariff
Release Date Fantastic Fest 2 022
Featured at the Found Footage Festival
A Life on the Farm is a fascinatingly bizarre and brilliant documentary. I was not prepared for Life on the Farm. I thought what I was getting would be quirky and funny, and it is. But it is soooo much more than that. A Life on the Farm is macabre, mysterious, charming and bizarre. It's a surprisingly emotional experience as well. I assumed that the film's subject, Charles Carson, was just going to be some easy to poke fun at bad filmmaker. Instead, Charles Carson is this genuine, sweet, odd individual who wins you over with his enthusiasm for all aspects of life and death.
A Life on the Farm is the brainchild of director Oscar Harding who turned a vague memory from his childhood into a lifelong search and obsession that culminates in the creation of this documentary. When Oscar was a kid growing up in the English countryside, Charles Carson was a kindly, somewhat addled neighbor who made sure drop something off with Oscar's family every Christmas. That something was Charles' annual VHS Christmas Card. Charles was a camcorder enthusiast whose life was dedicated to capturing life on the farm, in all of its forms.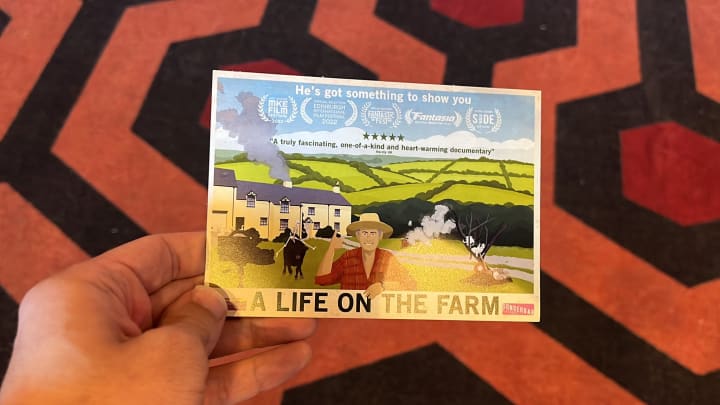 Each video started the same way with Charles addressing the camera with his name and the name of his farm, Coombes End Farm, said without a pause, charmingly and incomprehensibly together as CoomesonFahm. The videos have stuck with Oscar Harding for more than 30 years not because they were a secret work of genius, though they kind of are. No, his memory was solidified while watching the VHS with his dad and his dad suddenly clicking the tape off and getting rid of it. Why had his father done this? What could the kindly Charles Carson have had in the video for Oscar's dad to have reacted so suddenly and decisively?
Meanwhile, somewhere around the globe while Oscar was puzzling over this childhood memory, VHS and found footage collectors were sitting on a goldmine. Through fate or chance, some of Charles' incredibly strange and unique home movies had gone around the globe and wound up part of found footage and found VHS festivals. The Charles Carson tapes were a pre-internet sensation but with no YouTube to save it for posterity, the tapes went into storage and were often forgotten, returning to the status of found footage to one day be rediscovered.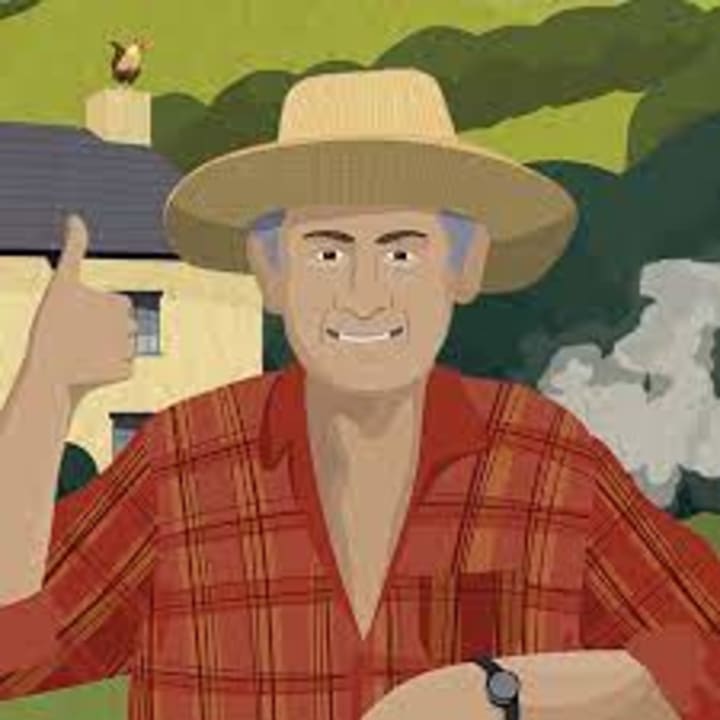 Incredibly, just as Oscar Harding's Aunt recovered one of Charles' tapes, YouTubers had found one as well and were sharing it, though it wasn't quite as viral right away. The online fandom was small but growing and since Oscar's tape was different from the one that had gone around the globe, the confluence of Charles Carson content was about to reach a boiling point that would create this documentary, A Life on the Farm, and a demand for Charles content among small enclaves of found footage devotees that is almost unrivaled.
I am not sure how much I want to give away about the Charles Carson tapes. Part of the excitement for me was having no knowledge of Charles before the documentary and finding myself shocked, delighted, appalled, and fascinated over and over again as his story unfolds. In America, we just don't do the kinds of things Charles Carson does in A Life on the Farm. He's not necessarily doing anything illegal. Rather, we might view what Charles does as being in poor taste. And yet, there is something about the enthusiasm with which Charles transgresses normal, expected behavior that makes him so winning.
I'm not telling you anymore, you need to see A Life on the Farm for yourself. You need to have the unvarnished experience of Life on the Farm to feel the full weight of it. As weird and out there as Life on the Farm is, by the end, I was wiping away tears over Charles Carson, his strange life and his remarkable highs and lows, before and after his life. Oscar Harding has given Charles Carson a life beyond death that could not be more appropriate for the man. Charles might add a little something to his own end of life story that is not in A Life on the Farm, but it doesn't lessen just how much of a wonderful tribute the documentary is to Charles' strange and fascinating life.
A Life on the Farm is playing at Fantastic Fest in Austin, Texas via the Alamo Drafthouse. Find my archive of more than 20 years and nearly 2000 movie reviews at SeanattheMovies.blogspot.com. Follow me on Twitter at PodcastSean. Follow the archive blog at SeanattheMovies. You can hear me talking about movies on the Everyone's a Critic Movie Review Podcast. If you've enjoyed what you have read, consider subscribing to my work here on Vocal. You can also support my work by making a monthly financial pledge or leaving a 1 time tip below. Thanks!
review
About the author
Hello, my name is Sean Patrick He/Him, and I am a film critic and podcast host for Everyone's a Critic Movie Review Podcast. I am a voting member of the Broadcast Film Critics Association, the group behind the annual Critics Choice Awards.
Reader insights
Be the first to share your insights about this piece.
Add your insights