'Doctor Who': "The Secrets of Det-Sen" Review
What's past is prologue in this Doctor Who: The Early Adventures release from Big Finish.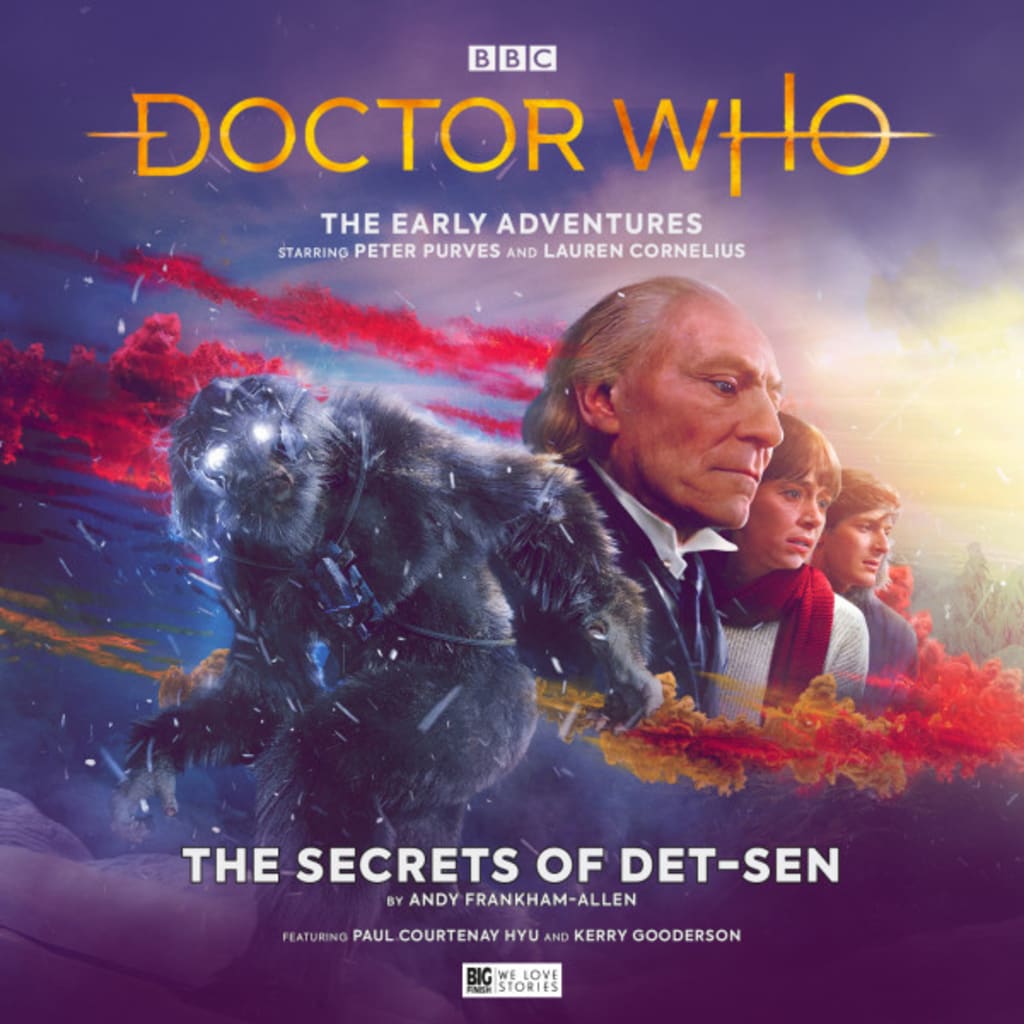 In the 1967 Doctor Who serial "The Abominable Snowmen" (soon to be the latest wiped serial to be animated), the plot of that story and Patrick Troughton's Doctor encountering the robotic Yeti around a Tibetan monastery was set in motion by a previous visit. Except, as was already becoming the case for the series less than five years into its run, we never actually saw it happen. It's perhaps surprising that in the plethora of spin-off novels and audio dramas that have arisen in the last three decades, that visit has never received much attention. Or, at least, until August 2021 when Big Finish presented it in their audio drama The Secrets of Det-Sen.
There are a couple of things that potentially need mentioning upfront. The first and most obvious is that while "The Abominable Snowmen" featured Troughton's Doctor, this one features William Hartnell's incarnation (brought superbly to life by Peter Purves, also reprising his 1960s screen role of companion Steven Taylor). The second is that, whereas "Snowmen" fell into that the Who sub-genre of the pseudo-historical (that is, tales set in the past but with a prominent science fiction element), Secrets of Det-Sen falls into something more akin to the pure historical format of the Hartnell era. Both of which add up for perhaps a different story than some might have anticipated, but an exceedingly worthwhile one.
Indeed, the historical format and the choice of the TARDIS crew go a long way to make the story what it is. Secrets of Det-Sen follows much in the tradition of historical tales such as "Marco Polo" or "The Crusades," as our travelers in space and time get caught up in events in what we would regard as history, encountering things as alien as any far-off world. In the case of this audio, that would be a group of pilgrims on their way to a monastery. Of course, things are never simple, with hints of ancient knowledge, a budding romance, and the threat of bandits hanging in the air. In short, everything you need for a solid Doctor Who historical tale.
The setting also allows the story to do a couple of neat things. The most significant is that this is the first audio drama to feature companion Dodo Chaplet that didn't feature the character off-screen or her dialogue read by Purves as Steven. It's a move that's unsurprising in some ways, given the growing trend of sympathetically re-casting performers who have passed away or otherwise unwilling to play the role again, as was the case with Jackie Lane as Dodo before her passing a short time before the audio's release, and its being dedicated to her. Lauren Cornelius admirably slips into the role here, capturing all of Lane's energy and enthusiasm while also having perhaps a meatier role to play. Likewise unsurprising is that the character is better utilized here than in virtually any of her TV appearances, making Dodo just the latest underserved character to receive a second life on audio, with Cornelius hopefully reprising the role soon.
The other neat thing Secrets of Det-Sen gets up to is in how it uses its continuity references. Of course, with writer Andy Frankham-Allen being the creative director of the Haisman Estate, representing one-half of the writing pair behind not only this story's parent serial but also the iconic character of Brigadier Lethbridge-Stewart, he's in a position to know the original story well. It's something that shines throughout the four episodes, with Frankham-Allen dropping in little nuggets here and there that will have knowledgeable fans go "aha!" with delight while also telling a compelling story in its own right. More than that, the script avoids doing the obvious by the simple nature of its emulating the Hartnell era pure historicals, with Frankham-Allen engaging in some neat cross-breeding with the base under siege format of the Yeti serials and the inclusion of an intriguing science fiction element. Secrets of Det-Sen is a story that stands out as an example of avoiding the tropes of revisiting Doctor Who's history, approaching it from a different angle.
For a story that could have been a reference-laden bit of continuity plugging, Secrets of Det-Sen is a compelling bit of character and historical drama. It's a story boosted by its cast and a new performer breathing life into an underrated character from Doctor Who's earliest years. As such, whether you're a fan of the Hartnell era historicals or someone just looking to enjoy a piece of retro-flavored Doctor Who, The Secrets of Det-Sen is well a listen.
Doctor Who: The Secrets of Det-Sen is available now on CD and download from Big Finish Productions.
About the Creator
Matthew Kresal was born and raised in North Alabama though he never developed a Southern accent. His essays have been featured in numerous books and his first novel Our Man on the Hill was published by Sea Lion Press in 2021.
Reader insights
Be the first to share your insights about this piece.
Add your insights