"Diana Reborn"
Today marks 22-years since the death of Diana, Princess of Wales. We look at how the tragedy unfolded, from a 'Vanity Fair' article, to deep within a tunnel in Paris.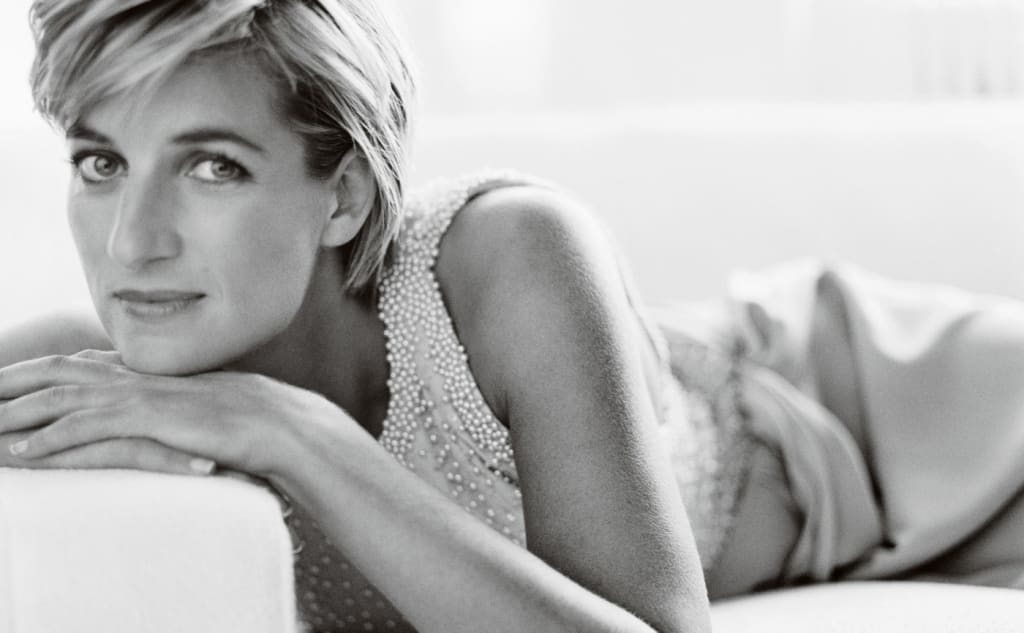 Diana, Princess of Wales photographed by Mario Testino for Vanity Fair.
There are those rare events where you can apply one simple question; where were you when they happened? Throughout history this question has mainly been linked with a global event, which has shocked, moved, or wowed the world. Twenty-two years ago today, such an event took place, one which would plunge an entire Nation into a deep-seated grief, and would bring a thousand year-old institution to the brink. It would begin with an article in the magazine Vanity Fair, and tragically end within the Pont de l'Alma tunnel in Paris.
"Diana Reborn" was the title of that article, which accompanied a selection of photographs that would become the most iconic and poignant images ever captured of Diana, Princess of Wales. The article was in honour of a charity auction whereby the 36-year-old single mother of two would sell her numerous gowns to raise money for five of her charities.
Within the pages of Vanity Fair, Diana was described as heading into a new chapter of her life. Gone were the shackles of suffocating royalty; she was relinquished from the marriage that had made her so deeply unhappy, and for many of those close to her, Diana was now reborn, ready to increase her already superstar stature in the world.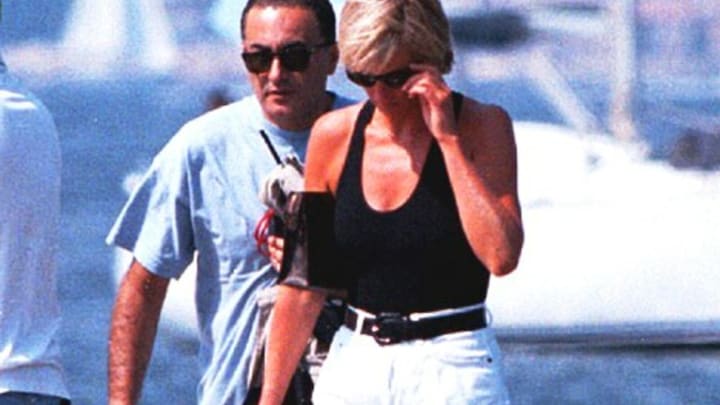 For fifteen years, the public had watched as the young, shy Lady Diana Spencer had transformed herself into the most famous woman in the world. The media were addicted to her, and as she so famously described herself as a "product that sold well," thus her relationship with the paparazzi quickly began to reach fever-pitch.
That universal interest only increased with the blossoming relationship with Dodi Fayed, son of billionaire Mohamed Al-Fayed. The couple would be chased by an army of journalists, royal photographers and paparazzi, though not without a little help from Diana herself. She would famously ring certain members of the Press, instructing them to be in a certain place, at a certain time, ensuring an exclusive story would dominate the front pages of every newspaper. Days later, Diana's face would be emblazoned across every news outlet on the globe, but it would be for an entirely different reason than a kiss with Dodi.
Unexpectedly the couple, who had been holidaying in the South of France would travel to Paris. Dodi reportedly had business in the city, and had organised the Harrod's Jet to take them both back to London. Having expected to stay at the Ritz hotel for the evening, the couple's deputy head of security, Henri Paul, would instead hire a black 1994 Mercedes-Benz to allude the ever-present paparazzi.
From here onwards a series of events would unravel, leading to a cataclysmic finale no one saw coming.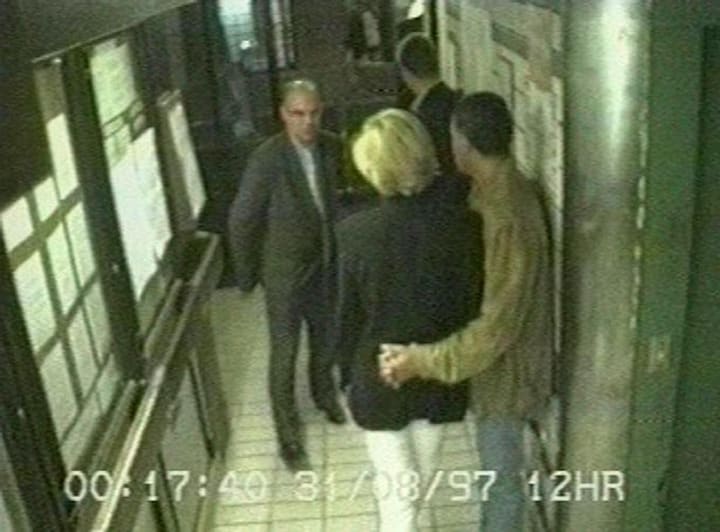 At 12:20 AM Diana and Dodi, escorted by bodyguard Trevor Rees-Jones, attempt to evade photographers by leaving through the back entrance of the hotel. Moments before, a decoy car has left the main foyer fooling the majority of the waiting paparazzi outside. The couple and their bodyguard enter the Mercedes, which is being driven by Henri Paul who is now intoxicated three times the legal limit in France.
The car speeds away from the hotel with a swarm of photographers following closely behind on scooters. The time is now approximately 12:23 AM. Reaching speeds of over 110km/h the Mercedes driven by an inebriated Henri Paul, carrying bodyguard Trevor Rees-Jones, Dodi Al-Fayed and the most famous woman in the world, Diana, Princess of Wales, collides with a concrete pillar in the Pont de l'Alma tunnel.
Moments before the impact, Rees-Jones will decide to fasten his seatbelt. He is the only one to do so. Dodi and Henri Paul are killed instantly. Diana, badly injured, is still conscious in the back of the Mercedes. She is cut free from the vehicle and arrives at Pitié-Salpétrière Hospital at approximately 2:01 AM.
For over two hours doctors desperately try to save the Princess' life. As the clock ticks to exactly 4:00 AM, Diana, Princess of Wales; the most famous woman of our time is pronounced dead.
It is at this point that the simple question is asked. Where were you when you heard the news that Princess Diana had died? Many awoke reacting in disbelief, and quickly the entire United Kingdom entered a feeling of suspended animation. London fell silent, and where the usual bustling of tourists and early-morning workers filled the air, instead the weeping cries of a nation took their place.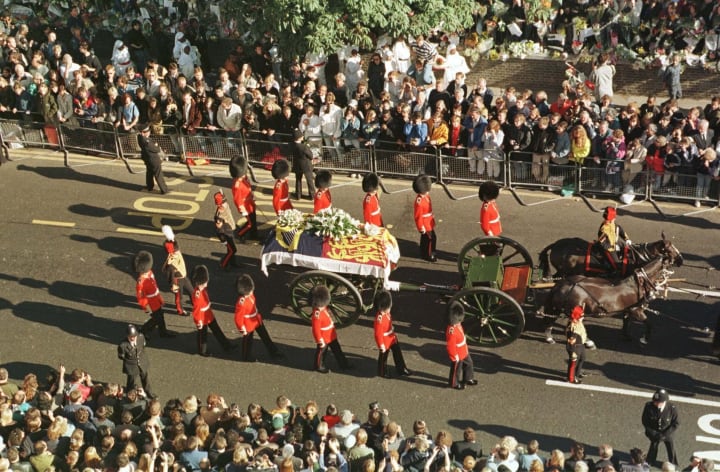 It was a reaction we had never seen before; an entire country entered a void of public grief for a woman most had never met. And as the vast amounts of flowers quickly turned to oceans lapping at the gates of Kensington Palace and Buckingham Palace, the reaction of the Monarchy would garner the overwhelming anger of the British public. As pressure grew along with the resentment, the very survival of the Royal Family fell into question.
The Queen would respond with her only ever televised statement from the Chinese Dining Room of Buckingham Palace. And as the funeral cortege carrying Diana's body to Westminster solemnly passed by, she would unprecedently lead her family to the gates of her palace, and bow her head. These actions would save her monarchy, though gravely damage its popularity for years afterwards.
Over one-million people lined the streets to say goodbye to the woman dubbed "The People's Princess." Every cast, creed, religion, race, gender, and age stood in silence, though some overcome with grief sobbed into the stillness weeping Diana's name. But as she neared the holy majesty of Westminster Abbey, an image would potently burn onto the consciousness of the United Kingdom. One which even today, still breaks even the stoniest of hearts.
Two boys, aged fifteen and twelve, slowly and bravely embarked through the streets of the Capital. Prince Harry stared forward as the gun carriage slowly traversed onwards. But it was his older brother, Prince William who, like his mother before him, stared at the ground only occasionally bringing himself to look through his lashes at the road ahead.
It is impossible to imagine how Diana's beloved sons felt that day. Grief is a complex patchwork of emotions, each arrangement is unique to every individual, but to overcome such pain whilst the world watches on only adds to the complexity.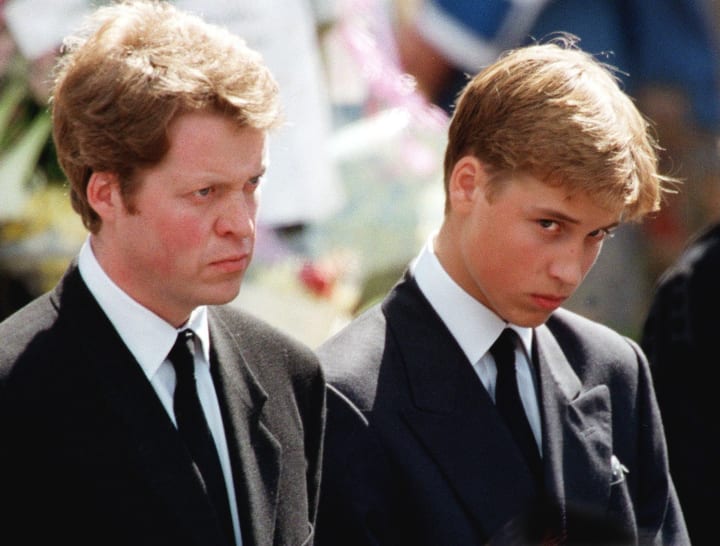 The funeral of Princess Diana would be watched by a global audience of 2.9 billion people worldwide. It was, and still is, one of the most watched live events in television history. And whilst the sadness of her loss resonated then as it continues to do today, it would be fair to say that Diana's memory has perhaps entered the stage that is everlasting. Her presence is still felt through her sons, and by extension her grandchildren, but there are many now who were born after her tragic death.
They never lived in a world where Diana, Princess of Wales dominated the front pages, where she highlighted a cause that, before her magic touch, was thought taboo. To them she is an historic figure, and in reflection of her life, she's earned the right to be. The complex and unique story of the shy nineteen-year-old girl who transformed into the Princess it was impossible not to champion, all for it to end deep within a tunnel in Paris, is a fable that will interest and move for generations.
No one would have known reading that article in Vanity Fair that Diana Reborn would, months later, lead to her untimely death. But what we did know, and now know more than ever, is that Diana, Princess of Wales was an enigma we all thought we knew. She was our Princess; a woman with the ability to connect in a way rarely seen nowadays. A trailblazer that never imitated, but set her own path, not always smoothly, but her own. As twenty-two years has passed, that simple question will cross the lips of many today. But instead of applying it to her death, today I'll leave you with this.
Where were you when Diana, Princess of Wales lived?
See all of our latest articles on The Royal Family here!
Powerul Prince: Prince William visited Christchurch, the New Zealand town rocked by an horrific terror attack. In doing so, he has reminded us all how powerful the Royal Family can be in uniting a heartbroken community.
That Dress: It has been 25 years since that "revenge dress" made famous by Diana, Princess of Wales. Looking back just how significant was the fateful summer's evening in 1994?