Palace Palaver
As Harry and Meghan face more backlash from the Press and public with their militant approach to privacy, has the British Taxpayer finally had enough?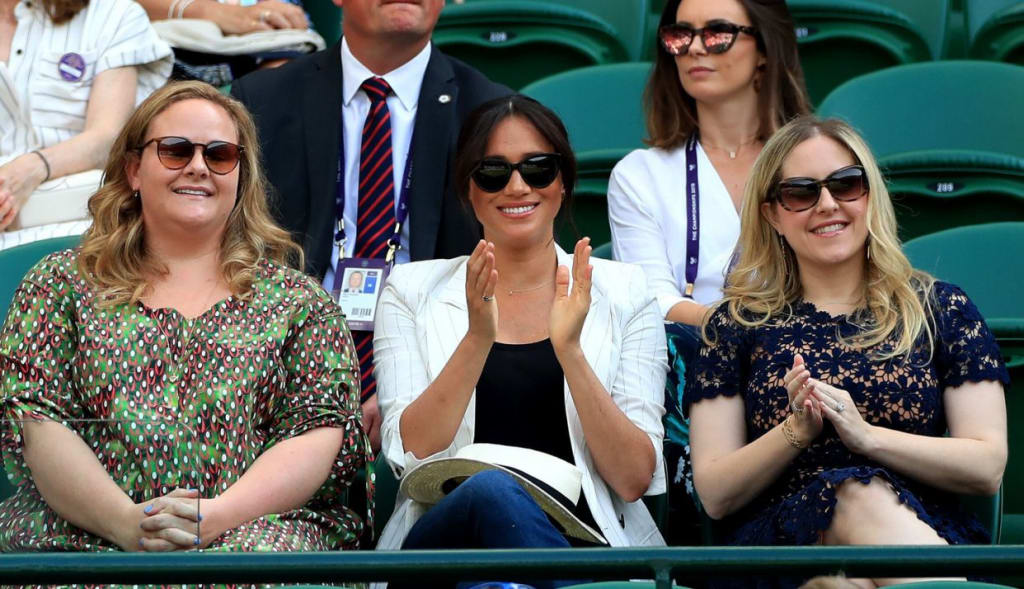 Meghan Markle at Wimbledon with Genevieve Hillis (left) and Lindsay Roth (right). PA©
What on earth is going on?
It is hard not to imagine that this question hasn't passed through the minds of the public when it comes to The Duke and Duchess of Sussex. For weeks now, the British Taxpayer has watched on as PR error after PR error is quickly manifesting into a right royal palaver.
We've had the mishandling of the birth of the couple's son, Archie Harrison Mountbatten-Windsor, which frustrated the Press beyond belief. There has been the backlash against the excessive spending of Taxpayer's money on their Frogmore Cottage—so far standing at £2.4 million. Then came the decision to shut out the Press and public from Archie's christening, the same public which just forked out that astronomical amount of funding.
And this week we've seen perhaps the most bizarre news story going, which is saying something when it comes to Harry and Meghan.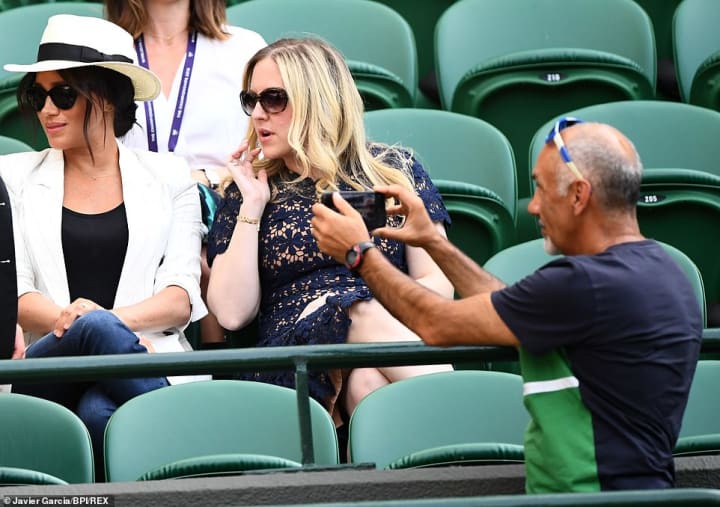 In an exclusive piece in the Telegraph, it was revealed that fans at the Wimbledon Tournament—a hugely popular sporting event shown all around the world—were "banned" from taking photographs of the Duchess of Sussex as she watched her close friend, Serena Williams, play.
Sally Jones, an ex-BBC star, who was at the same match, was approached by one of Meghan's RPO's (Royal Protection Officer) and asked to refrain from photographing the Duchess. Jones stated that she was confused by the request as she had been photographing Serena Williams instead and was unaware that Meghan was even in attendance.
She said, "There were around 200 photographers snapping away at her but security were sent to warn an old biddy like me. It makes them look silly. It's childish and takes us for fools."
And Jones wasn't the only spectator to be scolded by a security guard described as "embarrassed." Pictures have since emerged with what originally looked like a man blatantly taking a close-up photo of Meghan's face. However, on closer inspection, it has now been revealed the man was in fact taking a selfie.
The altercation between Meghan's PPO and those watching the match has caused further backlash towards the royal couple. Branded as 'childish' and 'out-of-touch' Meghan has found herself in truly hot water.
Kensington Palace have refused to comment, though a royal source has stated that the Duchess made the decision to not be photographed so she could "engage with people rather than camera phones." They also added that Meghan was a guest of Williams and was instead attending in a 'private capacity'. This explanation has further added to the confusion and dismay over what is quickly becoming common-place behaviour of the Sussex's.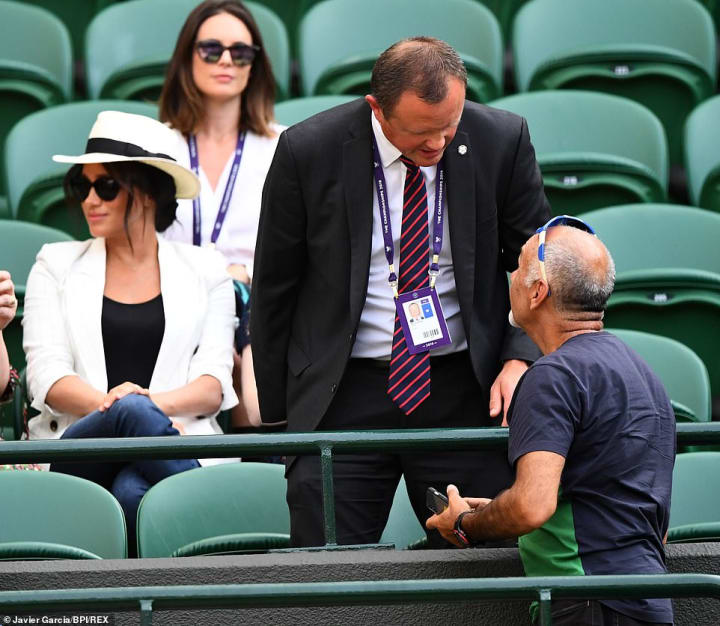 Many have argued that if Meghan's attendance was meant to be 'private', then why was a Press Announcement released detailing that the Duchess would be attending the match earlier in the day? What is quickly coming to light is that there seems to be two narratives forming. One belonging to the Press and public, the other—Harry and Meghan. This constant confusion that is emitting from the Sussex's Household is beginning to wear a little thin. And the British public are quickly becoming frustrated with the constant circus of Harry and Meghan.
In comparison, earlier that same week as Meghan's visit to Wimbledon, the Duchess of Cambridge attended a plethora of games. Unlike her sister-in-law, Catherine's RPOs never requested for photographs not to be taken, and the Duchess blended in amongst the public. So why such the cloak-and-dagger approach with Meghan?
It is fair to say that yes, Meghan has had a hard time in the Press and has consistently come under immense scrutiny. But with behaviour like Wimbledon, Archie's christening and the constant royal trip-ups the couple seem to be failing to avoid, it's obvious the couple are going to be highly scrutinised.
The unfortunate fact is, this isn't what the public expect from members of their Royal Family. By all means, break the occasional protocol, modernise aspects of the monarchy to fit a modern world. But Harry and Meghan are going beyond this. They're dragging this 1000-year-old institution into a celebrity culture that does nothing more than cheapen it.
The Monarchy isn't about fame. It isn't about publicity or privacy. It is solely duty and duty alone, and there seems to be failure of understanding this where Harry and Meghan are concerned. They just don't seem to want to get it.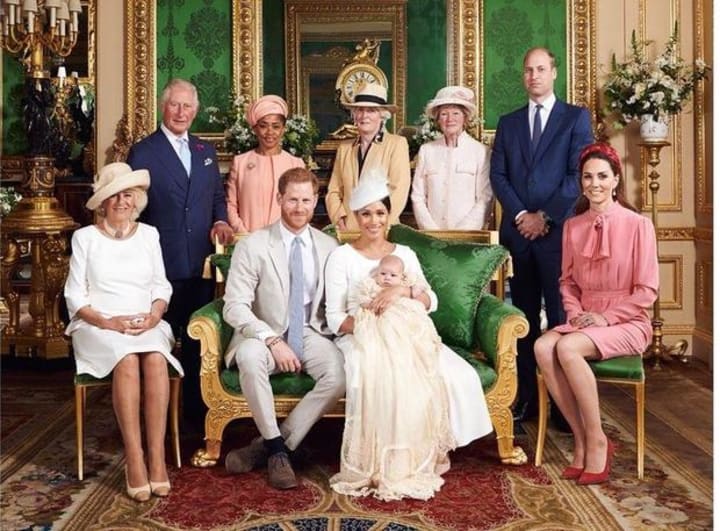 The life of Royalty is, to an extent, a poisoned chalice. Immense wealth, privilege and power are parts of the deal, but privacy isn't a guarantee. That may seem unfair, and considering the fate of Harry's mother, Diana, Princess of Wales, you can understand aspects of the tenacity of which her youngest son fights for a private life. But Harry, by accident of birth, and Meghan through their marriage, are no longer private citizens. Harry's older brother William too lost his mother on that fateful night in Paris, and shares a jarred opinion of the Press, though the Cambridge's have never navigated Royal life with such unnecessary secrecy.
When members of the Royal Family take from the public purse, to pay towards a project they themselves could easily fund privately, then is it fair to ask the public to respect their own needs of privacy, especially when sat at a public sports tournament?
The truth is, Harry and Meghan must find a balancing act, one which not only works for themselves, but most importantly, for the public. If they don't, they'll quickly find themselves falling further out of favour with the people who fund them. There is no need for such secrecy, and the end result of such clandestineness simply creates more attention, that same attention we are told they so avertedly despise.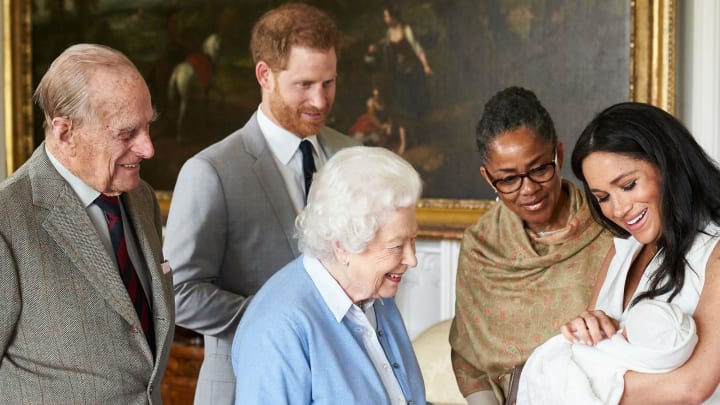 But there are some now who are questioning whether Harry and Meghan are truly against the media interest. Some are connecting Meghan's past as an actress in Hollywood, to the behaviour she and her husband display today. Meghan built a successful career in arguably one of the world's most competitive industries. That success is achieved through publicity, good or bad. And what I find concerning is that the old Hollywood slogan of "no press is bad press" is worryingly ingratiating itself in the Royal Family.
This outlook is a slippery slope, one which the Monarchy can no longer afford. We are living in different times where bad press is bad press. And with the unravelling of other scandalous stories, including the arrest of Prince Andrew's former friend Jeffrey Epstein for allegedly trafficking minors in an underage sex ring, the Royal Family could potentially need all the good PR they can get.
Obviously, I am not relating Meghan and Harry's recent disregard for the Press and public in the same breadth of such a heightened scandal, but their disdain for a public life doesn't paint the Monarchy in a good light.
Harry and Meghan are now faced with a crossroads, one with only two options. Continue as the Duke and Duchess of Sussex but play the game as its always been played. No ridiculous demand for secrecy from a public who are more than willing to support them. Or give it up. All-of-it. The privilege, the wealth, the titles, the palaces; become the private citizens they so passionately argue they are.
This current attitude can't go on, not if the Monarchy wish to continue any sense of smooth sailing. It's Harry and Meghan's choice, and whilst I hope they choose to play the game, I have a feeling they'll continue down that rickety road to a right royal palaver.
To see more in-depth analysis of the Royal Family, see The Rumble's new Royal Corner...
As Harry and Meghan leave the Royal Foundation, we look at what it means for the future of the "fab four."
The prominence of media headlines may inject short-term attention, but it is the love and respect of the people Prince William will one day reign over, which endures for much longer. It is here where William's royal, and public, power far out-rivals any other.
celebrities
Our blog covers everything from entertainment, Movies, Politics, The Royal Family and so much more!!
Let's get ready to RUMBLE!
Visit us at our website:
Receive stories by Jonathan Reed in

your feed