Dave Allen: The Irish funnyman with mischief in his smile
And the only comedian I've ever chosen to watch live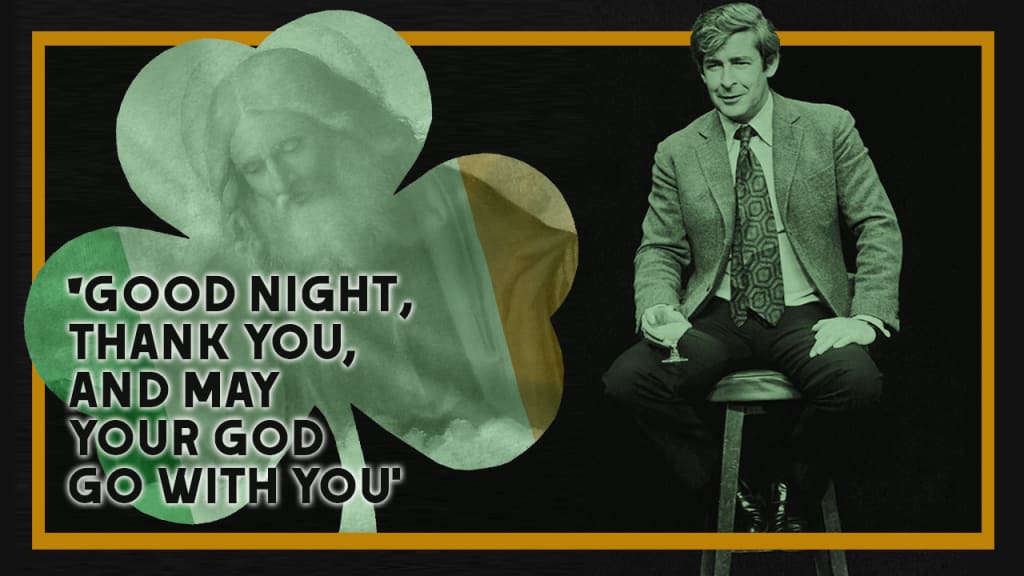 I don't need a calculator, abacus or two hands to add up how many comedians I've watched live during my lifetime… I can count to five quite comfortably without the help of those devices.
Four from the list have been in Cardiff during the last decade and include a very miffed Micky Flanagan at St David's Hall, when the microphone left him struggling to be heard, and a Glee Club set featuring mixie-mixie Filipina comedienne Ria Lina, whose two accomplices on the night escape me.
On both those occasions it was for birthday celebrations when the acts were chosen by other family members… the only comedian I ever chose to pay the price of admission to see came way back in the 1980s at some north London venue where one David Tynan O'Mahony was appearing.
Better known professionally as Dave Allen, he was one of the staples during the golden years of BBC light entertainment when I was growing up and by some quirk of fate, probably another birthday, was appearing in the capital on a rare occasion I happened to be staying in the city.
I remember wondering how his television format from the Dave Allen At Large shows would translate to the theatre, after all irreverent religious sketches formed a significant and very amusing part of those 30-minute programmes.
For the remainder of the half-hour format he sat perched on a high bar stool facing the audience, smoking and occasionally sipping from a glass of what he allowed people to assume was whiskey but in fact was probably ginger ale.
And his show in London was just that, him on his bar stool in complete command of a captivated public delivering an array of stories we'd all heard countless times before but that were delivered in such a relaxed and rueful style that it seemed it was the first time we'd been told them. The time passed too quickly and at the end we all wanted more… but if memory serves me correctly it was the only performance I've ever been to that didn't have an encore. But then it is a comedian's right to always leave the public wanting more.
Allen was born on 6 July 1936 in Dublin and was the youngest of Jean Archer and Gerard "Cully" Tynan O'Mahony's three sons. His father, who died when Allen was 12, was managing editor of The Irish Times and nephew of Irish writer Katharine Tynan.
Aged 17, Allen followed his father into journalism, joining the Drogheda Argus as a copy boy, but two years later moved to London to stay with his brother John, who'd also gone into newspapers. After drifting through several jobs, Allen joined the staff at Butlin's holiday camp in 1955 at Skegness as a holiday host and entertainment officer… better known as a "red coat".
During his time at Butlin's Allen developed a double-act with colleague Al Page and after three years they turned in their red coats and began to tour around small clubs, although after only a few months into the partnership Allen decided to go it alone, changing his name from O'Mahony to make it easier for British audiences to relate to and to earn a place at the top of his agent's contact list.
Audiences took to the new name and act and Allen began working his way up the ladder at seaside strip shows and as a warm-up man for musical acts, with his first television appearance coming on the BBC talent show New Faces in 1959.
He hosted pop music shows in the early 1960s and was signed up for tours with Adam Faith and a young Helen Shapiro, who headlined a 1963 tour of Britain compered by Allen, which also featured an upcoming Liverpudlian band called The Beatles.
In 1962 he toured South Africa with American vaudeville star Sophie Tucker, who he described as "one of the most charming and delightful performers with whom I have ever worked". Tucker was also impressed by him and suggested he try his luck in Australia. Moving there later in 1963, he worked with Digby Wolfe on Australian television, becoming Wolfe's resident comedian.
He quickly proved successful and accepted an offer to headline a television talk show with Channel 9, Tonight With Dave Allen, but after only six months he was banned from Australian airwaves when, during a live broadcast, he insulted the show's producer while conducting an interview with Peter Cook and Dudley Moore. The ban was dropped quietly as Allen's popularity continued.
Back in Britain in 1964, Allen made his name with guest spots on the Val Doonican Show, leading to various series of his own, on both the BBC and ITV, running from 1967-94.
The first of these, Tonight With Dave Allen, ran on ITV from 1967-69 and won him the Variety Club's ITV Personality of the Year in 1967. The Dave Allen Show followed on the BBC in 1969, combining the popular format of his solo routine interspersed with sketches. This became Dave Allen At Large from 1971-79 and then simply Dave Allen from 1981.
The targets of his self-penned humour, often sex and religion, frequently brought Allen and the BBC to the attention of society's moral guardians. His use of the F-word on one programme even led to questions in parliament.
The final BBC Dave Allen series in 1990 saw the sketches cut from the show to concentrate on his solo routine and one of his tales prompted Robert Hayward MP to ask a parliamentary question about "offensive language".
Allen's joke? "You wake to the clock, you go to work to the clock, you clock in to the clock, you clock out to the clock, you come home to the clock, you eat to the clock, you drink to the clock, you go to bed to the clock, you get up to the clock, you go back to work to the clock... you do that for 40 years of your life and you retire, what do they fu***ng give you? A clock!"
Smoking was a trademark part of his routine, but he quit his 60-a-day habit in the 1980s, explaining: "I was fed up with paying people to kill me."
He was also famous for missing the tip of one of his fingers and spun various yarns about how it happened. In one of his tales he was asked if he was "the Irish comedian with half a finger"… his reply: "No, I'm the Irish comedian with nine and a half fingers."
One version of the accident was that he kept dipping it in his whiskey, which ate away at the flesh, while another was that it was self-inflicted to avoid National Service.
But how did he really lose the top of his finger? Well, according to a childhood friend he got it caught in a cog wheel at a mill. The accident apparently happened on 6 June 1941 when Allen was a month away from his sixth birthday, school records showing it resulted in him being absent from class for the following six days.
According to his classmate, Allen's family lived in an old mill house, and while out playing Allen put his finger in an old cog wheel. When one of his friends turned it, Allen lost the top of his finger.
An Evening With Dave Allen at London's Strand Theatre followed in 1991 and his final television series, the Dave Allen Show, was recorded for ITV at the Mermaid Theatre in 1993.
During his career Allen also presented several documentaries, looking at New York life in Dave Allen in the Melting Pot (1969), quirky individuals in Dave Allen in Search of the Great English Eccentric (1974) and American eccentrics in Dave Allen (1978). He hosted The Unique Dave Allen in 1998, a six-part series for the BBC in which he talked about his career between clips from his old shows, and retired from performing in 1999.
He made several forays into straight acting, appearing on stage at the Royal Court Theatre in Edna O'Brien's A Pagan Place in 1972 and played an estate agent going through a mid-life crisis in Alan Bennett's television play One Fine Day in 1979. He also had roles as Mr Darling and Captain Hook, opposite Maggie Smith, in Peter Pan at the London Coliseum in 1973.
And it was Smith who had introduced him to the first of his two wives, actress Judith Stott, who he married in 1964. They had two children together, Jane and Edward, but divorced in 1983. Allen married his second wife, Karin, in 2003 after 18 years together.
In his spare time Allen also enjoyed painting and even put on an exhibition of his works, called Private Views, in Edinburgh in 2001. He died on 10 March 2005 from sudden arrhythmic death syndrome in his sleep at the age of 68… his wife giving birth to their son Cullen three weeks later.
About the Creator
From Covid to the Ukraine... nothing is as it seems in the world. Don't just accept the mainstream brainwashing, open your eyes to the bigger picture at the heart of these staged productions.
JOIN THE DOTS: http://not.wildaboutit.com
Reader insights
Be the first to share your insights about this piece.
Add your insights