Stanley Kubrick: Shining light of modern cinema
Movie maestro who challenged our perceptions of the world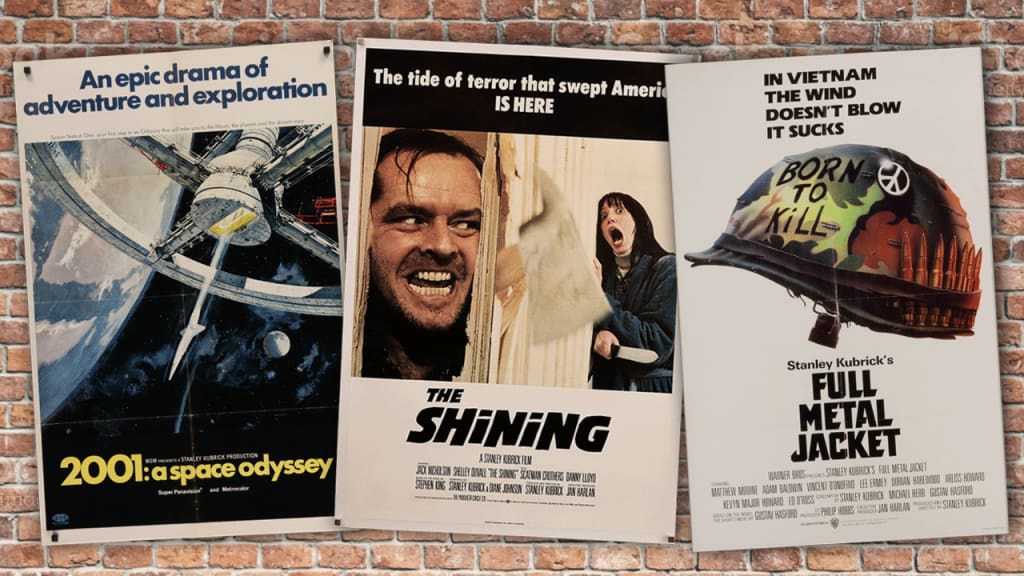 Six days after screening the final cut of his last movie, Eyes Wide Shut, for family and stars of the film, one of the movie industry's most acclaimed directors died in his sleep after suffering a heart attack.
It was 22 years ago today, on 7 March 1999, that the curtain came down on the career of Stanley Kubrick, at the age of 70, with many of his 13 feature films being regarded as some of "the most important contributions to world cinema in the 20th century".
Spartacus (1960), 2001: A Space Odyssey (1968), The Shining (1980) and Full Metal Jacket (1987) standing out in a collection of work that involved a painstaking attention to detail and a revolutionary approach to film-making.
And, had it not been for the lunacy that has swept the world during the past 12 months, an exhibition devoted to Kubrick's work would already have closed at New York's Museum of the Moving Image following stops at many international destinations such as Barcelona, Frankfurt, Copenhagen, Toronto, Seoul and Melbourne since going on tour in 2004.
But the exhibition's term has been indefinitely suspended because of the events worldwide that followed its arrival in New York after its departure from London's Design Museum in September 2019.
Curated by a long-time friend of Kubrick, with the help of his brother-in-law, Stanley Kubrick: The Exhibition draws on the huge archive built up at his home estate of Childwickbury Manor, near St Albans, where he created the battlefields of Vietnam for Full Metal Jacket, an orbiting space station for 2001: A Space Odyssey, as well as Dr Strangelove's impressive war room from the 1964 feature starring Peter Sellers.
Born in Manhattan, New York City, on 26 July 1928, to Jewish immigrants Sadie Gertrude (Perveler) and physician Jacob Leonard Kubrick, his father's decision to give him a camera for his 13th birthday started him out on the road to cinematic success, with Kubrick becoming an avid photographer who would often make trips around New York taking photographs which he would develop in a friend's darkroom.
This led him to Look magazine and he began to explore the art of film-making in the 1950s, starting out by making documentary shorts financed by friends and relatives before embarking on his his first feature, the 1953 military drama Fear and Desire, which he made independently. Early into his film-making career, Kubrick acted as cinematographer, editor and soundman, in addition to directing. Later, he would also write and produce.
His next two films Killer's Kiss (1955) and The Killing (1956) brought him to the attention of Hollywood and in 1957 he directed Kirk Douglas in Paths of Glory (1957).
An adaptation of the best-selling Humphrey Cobb novel of the same name, no studio had been willing to take on the project until Douglas agreed to star. Filmed in Germany, Paths of Glory is about three soldiers tried for cowardice and is regarded as one of the best films ever made about the insanity of war.
Despite the kudos he received for the film, Kubrick ran into difficulties with his next projects, which never even reached the production stage, but his fortunes took a turn for the better when Anthony Mann, the original director of Spartacus, was fired and producer Douglas offered Kubrick the job, making the 32-year-old filmmaker the youngest person ever to direct a Hollywood epic.
It took 167 days to shoot and employed about 10,000 people, costing more than US$12 million to make, an astronomical sum in those days.
Although Spartacus was a hit on its release in 1960 and attracted Academy Award attention, it left Kubrick feeling as if he had had too little creative control and, as a result, he decided to move to Britain to make his next film.
Having acquired the rights to Vladimir Nabokov's controversial novel Lolita, director Kubrick and producer James B Harris headed to England, with the two men rewriting Nabokov's script to leave only about 20 per cent of the original. The novel's subject matter was handled subtly, primarily through looks and double-entendres, but left many moviegoers and critics disappointed because they felt it was not true to the frank eroticism of the original story.
Following Lolita, the thrice-married Kubrick called England home, staunchly refusing to leave the country to work elsewhere.
Dr Strangelove was released in 1964, two years after the Cuban missile crisis led the United States and the Soviet Union to the brink of nuclear war. Based on Peter George's novel Red Alert, it is what some consider the blackest comedy in movie history. The film is a suspenseful Cold War thriller and a wicked farce that lampoons both the military and political establishments. It was a resounding hit, with Kubrick receiving Academy Award nominations as co-author, director and producer.
Kubrick next hired science fiction writer Arthur C Clarke to develop a story about man's encounter with extraterrestrial intelligence. The result was the landmark 2001: A Space Odyssey (1968), which netted Kubrick more Academy Award nominations for writing and directing and his only Academy Award for designing and directing the movie's complicated special effects.
Critics generally panned it, but audiences loved it and it is widely regarded as a technological triumph of its time and a sci-fi classic.
In 1971, Kubrick adapted Anthony Burgess' novel A Clockwork Orange for the screen and also filled his customary roles of producer and director. Controversial because of its violent scenes, the film initially garnered an "X" rating in the United States but Kubrick nevertheless wound up with three Academy Award nominations (for writer, producer and director) as well as the New York Film Critics' Best Picture and Best Director honours. It played in England for nearly a year to sellout crowds before Kubrick and Warner Brothers removed it from cinemas in the wake of several crimes that appeared to be modelled on acts depicted in the film.
Kubrick's next film, Barry Lyndon (1975), was based on the 18th-century novel by William Makepeace Thackeray and was a meticulous costume drama that failed at the box office, although a hit with critics that was nominated it for seven Academy Awards. Three of those were for Kubrick himself as the movie's writer, director and producer.
Five years later, Kubrick adapted Stephen King's novel The Shining for the screen. Although it was a financially successful film, it left critics unmoved and angered King, who deeply resented the changes Kubrick had made to his original story. King eventually bought back the rights to The Shining and approved a 1997 television remake that he felt was more in line with how he himself envisioned the characters and themes.
In 1987, Kubrick released Full Metal Jacket, based on Gustav Hasford's novel The Short-Timers. A brutal look at Marine basic training and the subsequent combat experiences of a group of recruits sent to Vietnam, critics took issue with the fact he insisted on shooting the movie in London rather than in a more appropriate locale. To make his sets look as authentic as possible, Kubrick demolished a number of 1930s-era buildings to create his own rubble, brought in palm trees from Spain and imported more than 100,000 plastic tropical plants from Hong Kong.
Scheduled for release in late 1998, Eyes Wide Shut took nearly two years for Kubrick to complete. Based on a novel by Frederic Raphael, it is a tale of jealousy and sexual obsession involving a married couple who are both psychiatrists. Problems plagued the project almost from the beginning. Star Tom Cruise reportedly balked at having to re-shoot so many of his scenes and was furious that the delays finally forced one of his co-stars, Harvey Keitel, to quit due to a scheduling conflict. His departure meant that six months' worth of work had to be scrapped.
Despite his eccentricities, Kubrick was an acknowledged master of modern cinema, with his thought-provoking films addressing timeless themes such as the absurdity of war, the nature of crime and punishment, obsessive love, madness and even the enigma of humankind's evolution.
About the Creator
From Covid to the Ukraine and Gaza... nothing is as it seems in the world. Don't just accept the mainstream brainwashing, open your eyes to the bigger picture at the heart of these globalist agendas.
JOIN THE DOTS: http://not.wildaboutit.com
Reader insights
Be the first to share your insights about this piece.
Add your insights