Cosplayer Holly Wolf
Playboy Playmate turned cosplayer Holly Wolf is part of a new wave of pop culture embracing geek entertainment.
Holly Wolf is a Canadian model who juggles her career as a playmate with her passion for geek pop culture and cosplay. The Toronto native is a self-proclaimed Zelda who provides breakdowns of her costumes on her website alongside details of her armor-making skills. She was the first-ever cover model of Geek Fantasy, a men's magazine, where she cosplayed Captain America. Wolf is an internationally-recognized model who has graced the pages of FHM while appearing on the cover of Playboy Slovakia. Her honors include 2014 Playmate of the Year for the Czech edition of the venerated publication. Cosplayer Holly Wolf symbolizes a new wave of pop culture—it is possible to be a smart, beautiful geek girl.
Geek Girl at the Playboy Mansion
While she is a fixture of the Playboy mansion, Wolf is not unlike many other female cosplayers from North America and regions beyond Asia. She names Jessica Rabbit, the iconic red-haired songstress of 1988's Who Framed Roger Rabbit? as her first cosplay. She balances cosplaying characters from western pop-culture like Poison Ivy or Harley Quinn with costumes that evoke Rikku from Final Fantasy X.
Her thirst for video gaming is a product of her childhood, and she continues to experience joy from a challenging new release. "I've always been a big gamer," says Wolf in a 2014 interview with Canada's Metro News. "I just didn't find it necessary to let everyone know—my close friends knew, of course. But I didn't put it out there as much."
Now, rather than hide her inner geek, she embraces it. Her passion for all-things-nerdy and obscure extends beyond comics and cosplay. Like many of her contemporaries, she developed a love for Asian entertainment beyond the scope of watching anime or reading manga. She has become a regular fixture at various cons; the K-pop fan was even tapped by the Toronto-based Korean-culture convention, Hallyu North.
In a January 2015 interview with Tickets Move, she explains her passion for the acclaimed K-pop group, Big Bang, and her favorite member, Taeyang. When asked to name her favorite male celebrity, she checked off Taeyang and provided key reasons for selecting the pop idol. Taeyang is known to international audiences for his electro-pop hit, "Ringa Linga."
"He is a dancer and a singer," muses Wolf. "He is absolutely amazing. I very much appreciate dancers—I do group training and I trained a lot."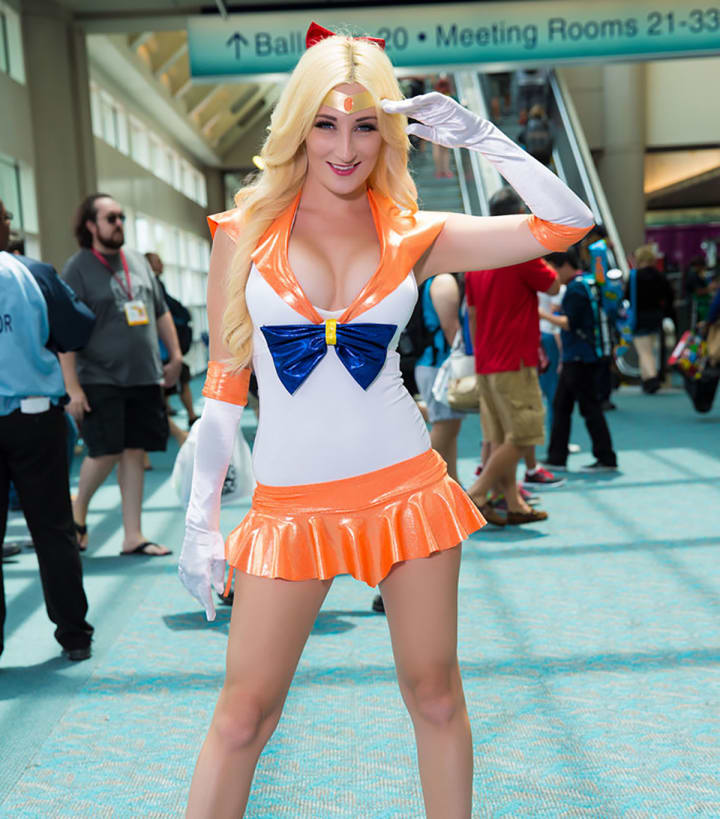 Going Japanese
Her intrinsic respect for Asian pop-culture is also reflected in the characters she cosplays. Wolf has garnered praise for her execution of several prominent anime figures, including Sailor Uranus of Sailor Moon. She maintains a legion of dedicated fans, but Wolf is a polarizing figure amongst female cosplayers—particularly those who advocate against sexy interpretations of characters.
The desire to cosplay is often born from organic experiences, like a love of anime, manga, or comics. In the case of Wolf, her fame was initially derived from her work in modeling and adult entertainment. She continues to deal with naysayers who criticize her for lacking street cred as a cosplayer, gamer, anime enthusiast, or geek culture fan.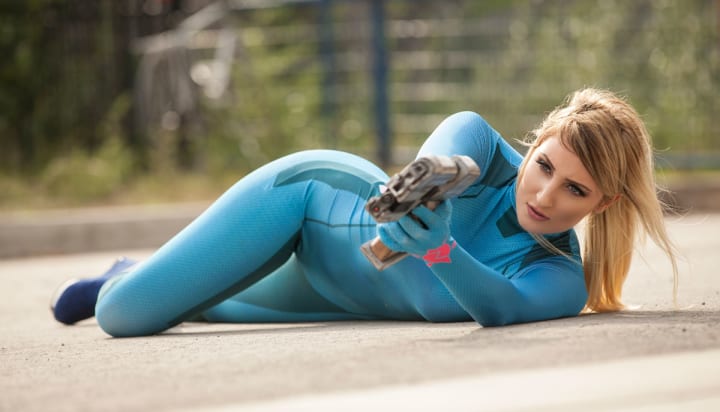 Haters Gonna Hate
Unfortunately, some of her most outspoken critics have been women, particularly those who participate in forums like the Fuuka archive /cgl, a thread that analyzes cosplay and Gothic Lolita (a Japanese fashion subculture), as well as elegant Gothic Lolita. She is often viewed as an interloper by many female cosplay purists, who cite her access to other cosplayers, costume-makers, and acclaimed photographers as keys to her burgeoning success. However, her perceived struggles to maintain a balance between modeling and cosplay are not uncommon for women who have uncharacteristically infiltrated geekdom.
With her sun-kissed beauty, Wolf resembles classic bombshells like Hedy Lamarr—women who were easily dismissed as ditzy "broads." While she did not receive full recognition for her inventive accomplishments in her lifetime, Lamarr was the original geek girl-next-door. She was an Austrian actress who sparked controversy with her nude scenes in the 1933 movie, Ecstasy, and she was also a developer of a radio guidance system that served as the precursor to modern-day technology like Wi-Fi and Bluetooth.
While Wolf's website reveals cursory details about her educational background, a 2013 interview with Lion's Den U sheds light on her dance training and experience as a makeup artist. Wolf attended the Oakville campus of Toronto's Sheridan College, where she studied performing arts. She received training in acting and singing, particularly in the areas of technical stagecraft, but chooses dance as her favorite subject. Wolf's desire to dance eventually led her to join Chic-a-boom-boom Room, a modern-age burlesque troupe. Her early involvement with the burlesque movement demonstrates her appreciation for bygone eras and sisterhood within female-led areas of entertainment.
Women like Lamarr and Wolf may be gorgeous, but their intense attention to details and information is what makes them ultimate geek girls. These qualities have enabled them to bridge the gap between femininity and what is often considered male-dominated geek culture. Through her step-by-step website posts centered around Cosplay Fun, Wolf demonstrates her ability to craft armor for Emma Frost from Phoenix 5, while also showing her respect for Jay Tablante, the esteemed cosplay photographer responsible for her shoot.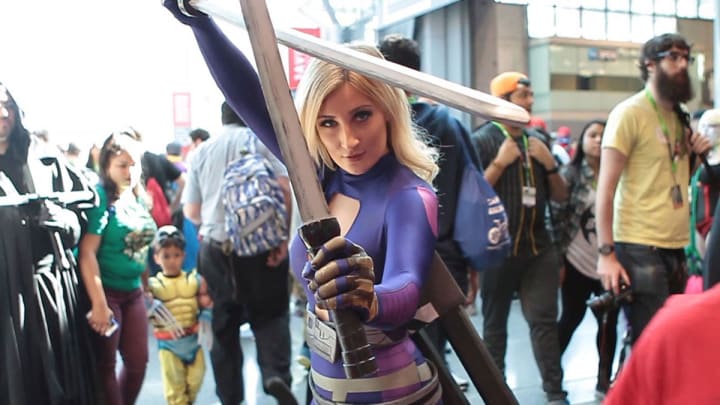 Holly Enters the Fiction-Verse and Cosplays Her Own Character

Wolf embarked on a journey into comic geekdom when she joined Treadwater, a sci-fi comic and game series. She debuted her character at New York Comic Con 2015, where she mingled with fans while cosplaying as a kickass katana-wielding vixen clad in a purple latex bodysuit. She continues to exude her popularity as a rising cosplay celebrity, as prominent photographers and other cosplayers seek her out for pictorials. She represents a new age for women within geek culture and cosplay, which may be disconcerting for some purists who cling to notions that the sexiest types of nerd girls are those in button-down sweaters and glasses. While the Zoey Deschanels definitely have a place in our world, so do cosplay vixens like Holly Wolf.
Sharing Cosplay Every Day
Holly Wolf has maintained a very active presence on her Twitter and Facebook, represented by Hype PR, but easily the best place to see the latest costumes and cons she's attending is her YouTube page. She shares behind the scenes videos of her modeling gigs as well as work-in-progress videos of her latest costumes. Every fan wishes they could spend all of their time going to every con on the planet. While time and money might not necessarily make that a realistic ambition, Holly's channel gives geeks the a front row seat to the best cons and cosplay around. Not only that, but her regular vlogs let her share her humorous observations with the world. It's like having the beautiful nerdy best friend next door constantly taking you behind the scenes of the best cons in the world and sharing all the behind the scenes stuff.
Perhaps that's what's managed to enamor so many of her fans. While many girls have become Playboy Playmates, few have the approachable down-to-earth demeanor to truly charm geeks while also displaying a vast knowledge of gaming and anime culture. The best part of her YouTube channel is that it gives fans the opportunity to suggest future cosplay ideas for upcoming cons. It's no wonder she's become such a fan favorite despite a few previous unwarranted kerfuffles. We at Geeks can't wait to see what amazing cosplay challenges she'll tackle next. Even if the Syfy channel's Heroes of Cosplay is long gone she'll always be a Cosplay Hero to us. You can catch her at San Diego Comic Con, the Mecca of all conventions, where she'll be doing signings on Sunday at Booth E3 between the Nintendo and the Blizzard booth. If you can't catch there you'll definitely be able to catch up on her youtube channel.