Comic Creators that Frequent Cons
Visit any con to mingle with the best comic creators around.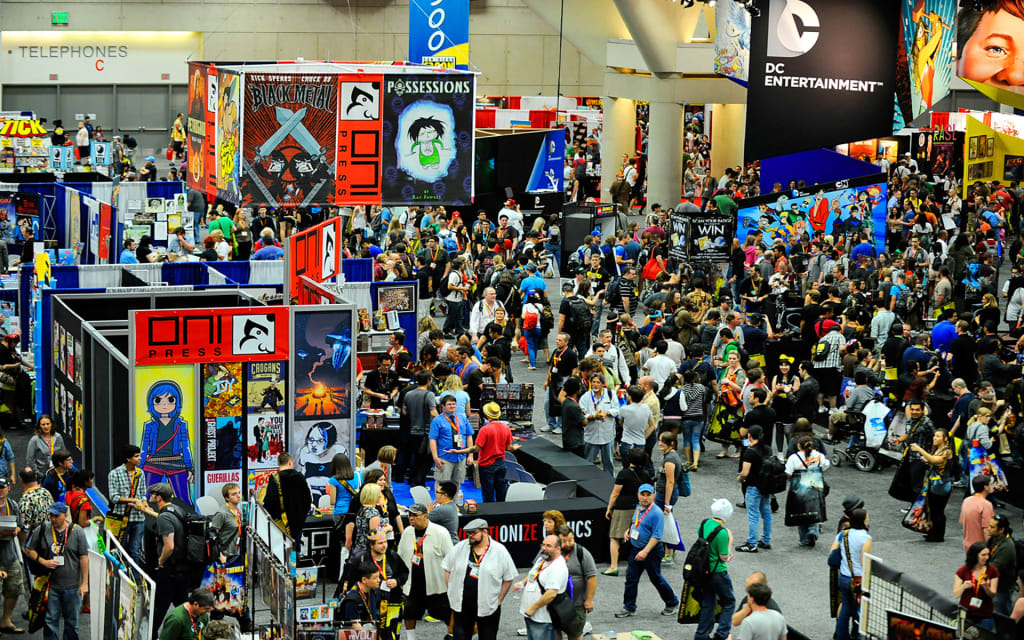 The best part of going to any con is the chance to mingle with the best and brightest talent available. This is where fans get to ask their favorite creators the burning questions that have been eating away at their hearts. While not every creator can make every con, there are a few usual suspects that manage to always find their way into the biggest conventions. So if you're going to any reasonably well-sized con, chances are you'll have a good chance at running into one of these creators. Here's our list of our favorite creators that frequent cons, so keep an eye next time you're at an event.
Greg Pak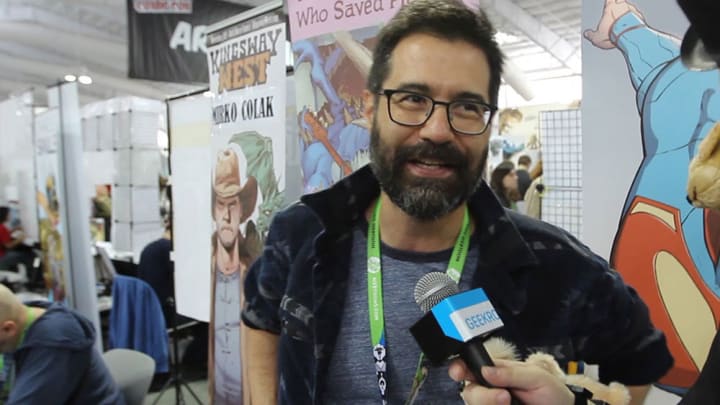 Greg Pak is a comic book writer and filmmaker. He studied political science at Yale University, and in 1991, he went to study history at Oxford as a Rhodes Scholar with the hopes of becoming a politician. Later on, he entered NYU's graduate film program. While in college, his short film "Fighting Grandpa" won 20 awards and prizes, and has played at over 50 film festivals. Since September of 2004, Pak has been writing for Marvel Comics. He has worked on titles such as Warlock, Phoenix: Endsong, Phoenix: Warsong, and The Incredible Hulk, as well as many others. He is best known for his work for Action Comics, Batman/Superman for DC Comics, and Planet Hulk and Storm for Marvel. He wrote Make Comics Like The Pros with his Incredible Hercules co-writer, Fred Van Lente.
Rob Liefeld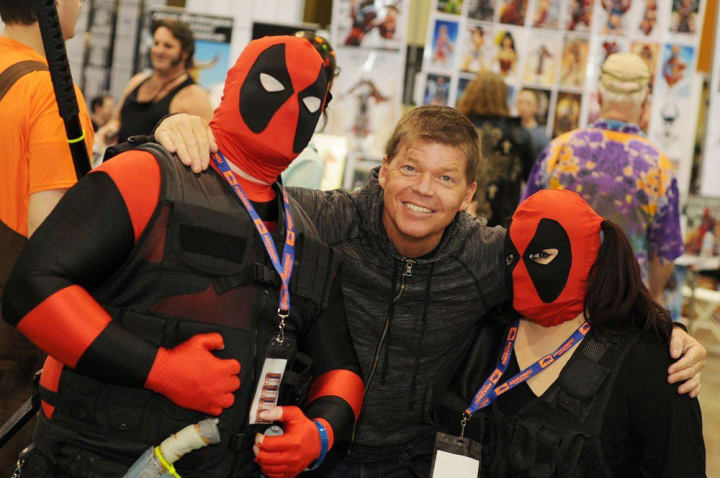 Rob Liefeld is an American comic book creator who has faced much controversy over the years. A self-taught artist, Liefeld gained popularity in the early 1990s as a result of his prominent work on Marvel Comics' The New Mutants and later X-Force. In 1992, he, along with other Marvel comic artists, left the company to begin Image Comics. The first book published by Image Comics was Youngblood #1. In 1996, Liefeld left Image Comics and moved all of his publishing ventures to a new company, Awesome Comics. The company then ceased operation in 2000. A few years later in 2004, Liefeld reunited with Fabian Nicieza when he illustrated the early covers for Nicieza's Cable & Deadpool. Liefeld returned to the Deadpool character, and became the regular artist on Deadpool Corps in 2010.
Kyle Higgins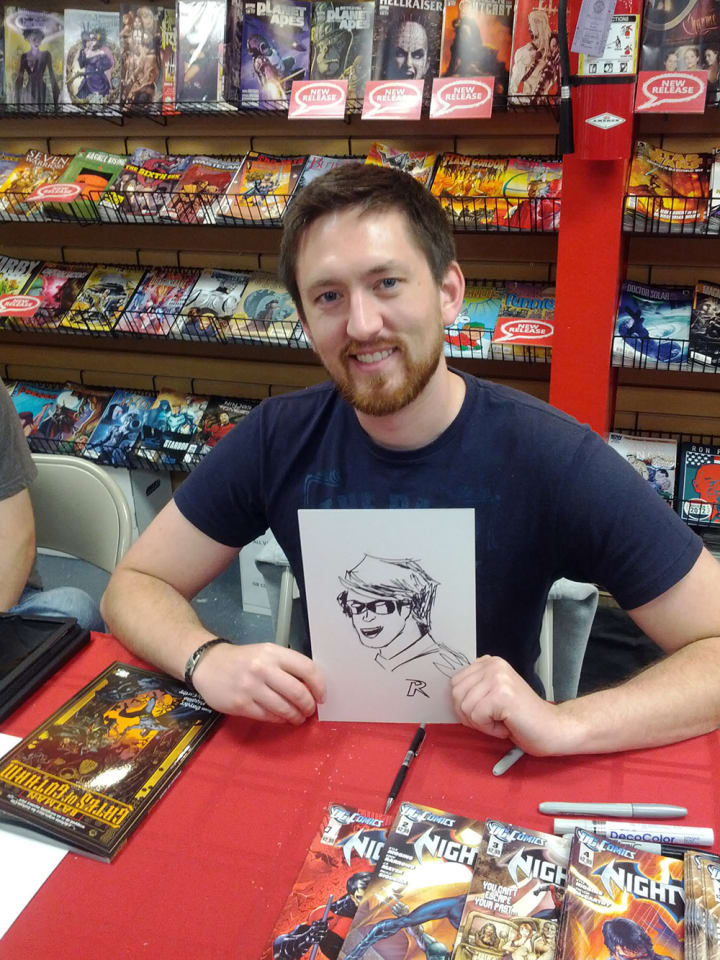 Kyle Higgins' passion for comics and film-making began when he saw the 1978 film Superman at the age of seven. He studied film and creative writing at the University of Iowa, and then transferred to the Film Production program of Chapman University in Orange, California. It is here that he co-wrote and directed a superhero noir, The League. The film opened doors at Marvel Comics, where he co-wrote his first two books. He is best known for Batman: Gates of Gotham and Nightwing for DC Comics, as well as Batman Eternal.
Amy Chu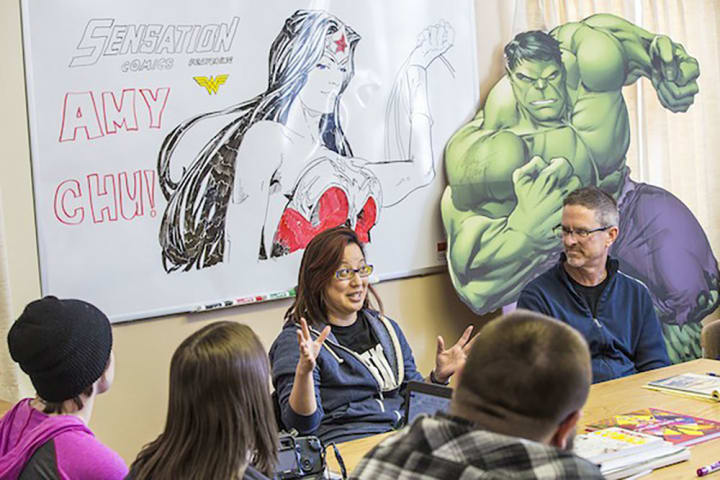 Amy Chu prides herself on writing comics and only comics. She started writing classes under ex-Marvel editor Andy Schmidt, then Scott Snyder, and went on to write, edit, flat, and letter her own books. Chu is the writer for Poison Ivy's first solo series, Sensation Comics' Wonder Woman, Vertigo's Strange Sports Stories, CMYK, and has worked for DMC Comics and Valiant. She is also the co-founder of Alpha Girl Comics and publisher of Girls Night Out, The VIP Room, and Meridien City. She has written and produced educational comics for organizations, such as New York Historical Society, Baltimore Museum of Art, and the Museum of Chinese in Americas. She has an MBA from Harvard, an architectural design SB from MIT, and a BA in East Asian Studies from Wellesley College. She frequents conventions as a speaker, panel moderator, and guest, including San Diego Comic Con, New York Comic Con, Heroes Con, Baltimore Comic Con, Emerald City Comic Con, and Fan Expo.
Kieron Gillen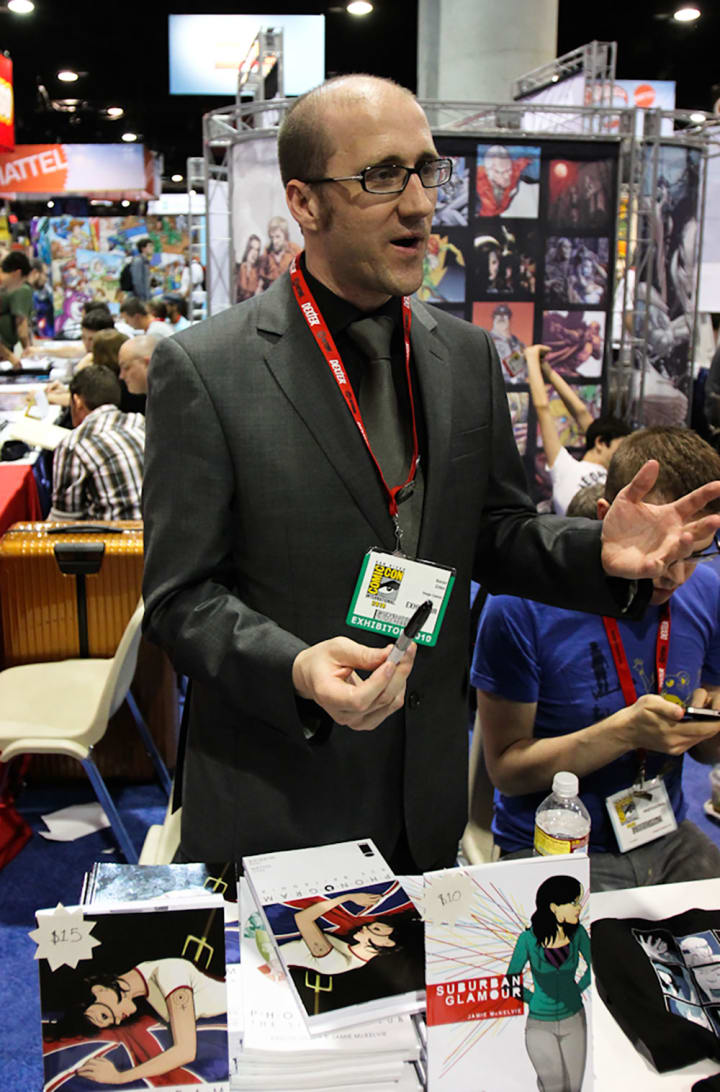 England-born Kieron Gillen is a comic book writer and former computer game and music journalist. He is very well known for his work with The Wicked + The Divine, a comic he created with artist Jamie McKelvie. During his time in journalism, he worked for many publications, including PC Gamer UK and The Escapist, as well as many others. In 2000, he became the first video game journalist to receive an award from the Periodical Publishers Association for New Specialist Consumer Journalist. Gillen has also had a hand in creating Young Avengers, Uncanny X-Men, Star Wars: Darth Vader, and Uber.
Josh Howard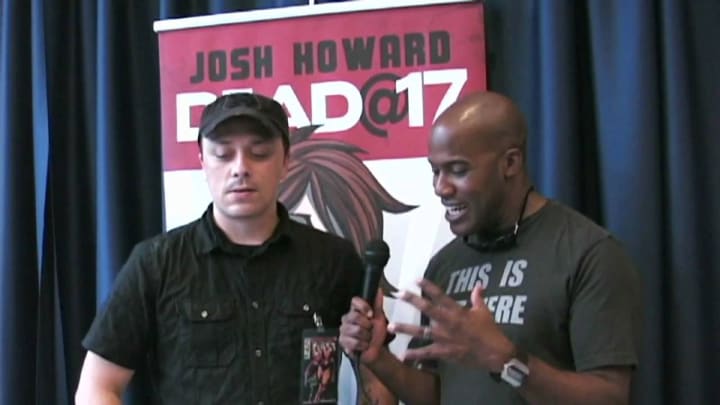 Josh Howard is the writer and artist of the American comic book, [email protected], which is published by Image Comics, as well as Black Harvest and The Lost Books of Eve. [email protected] focuses on a girl, Nara Kidley, who is killed and then reborn to fight demons. Howard is also a regular contributor to The Wizard website, which is an online magazine about comic books.
Amy Reeder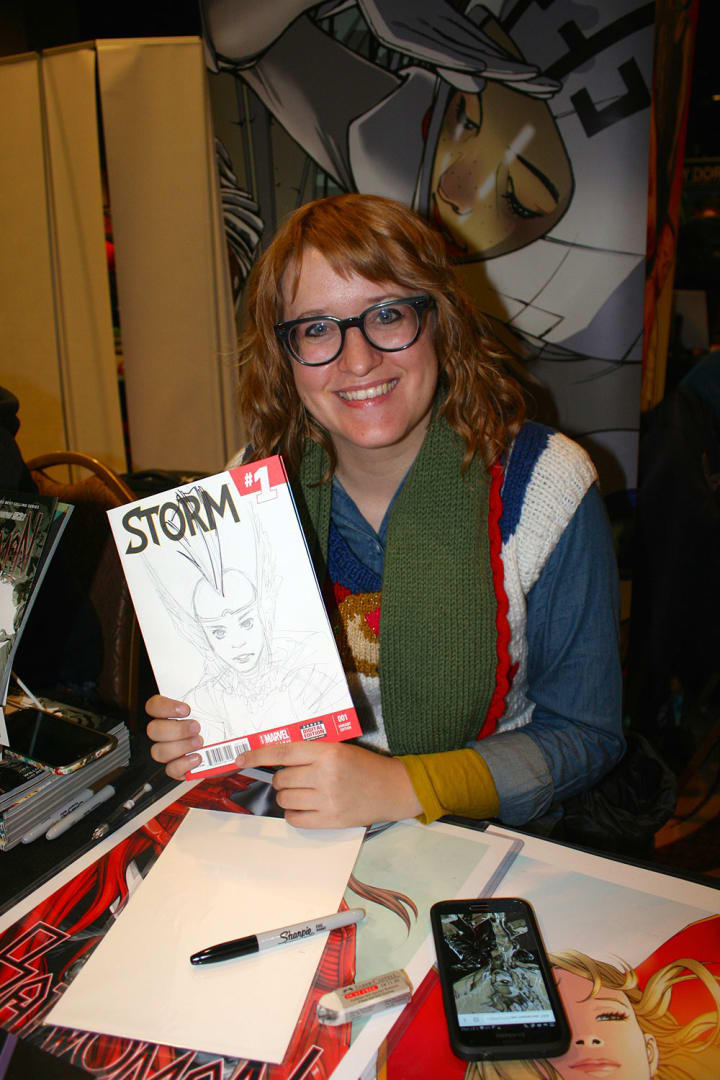 Amy Reeder was first discovered through the fourth Tokyopop's Rising Stars of Manga competition. She went on to write and illustrate the OEL manga Fool's Gold. She became the lead artist on the Madame Xanadu series for DC Comics' Vertigo imprint. In 2010, she took over art duties for the Batwoman series. Reeder is originally from Denver, Colorado, and obtained a Bachelor of Science in Social Science Teaching. She has also worked on Devil Dinosaurs and Moon Girl for Marvel Comics.
Aaron Kuder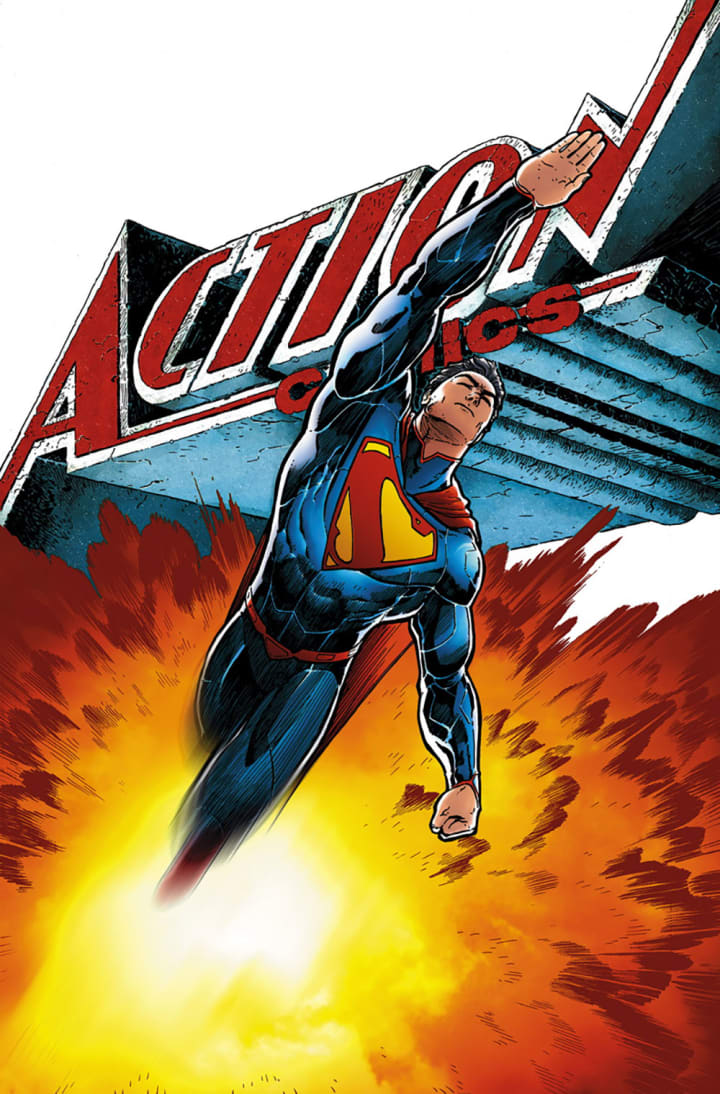 Aaron Kuder is a comic book artist and writer. His career began around 2000 on the Top Ten Studios Forum. He claims he is heavily influenced by the work of Arthur Adams and Grzegorz Rosinski. Kuder has worked on such books as Amory Wars: In Keeping Secrets of Silent Earth 3, Legion Lost, Green Lantern: New Guardians, and Avenging Spider-Man.
Jeff McComsey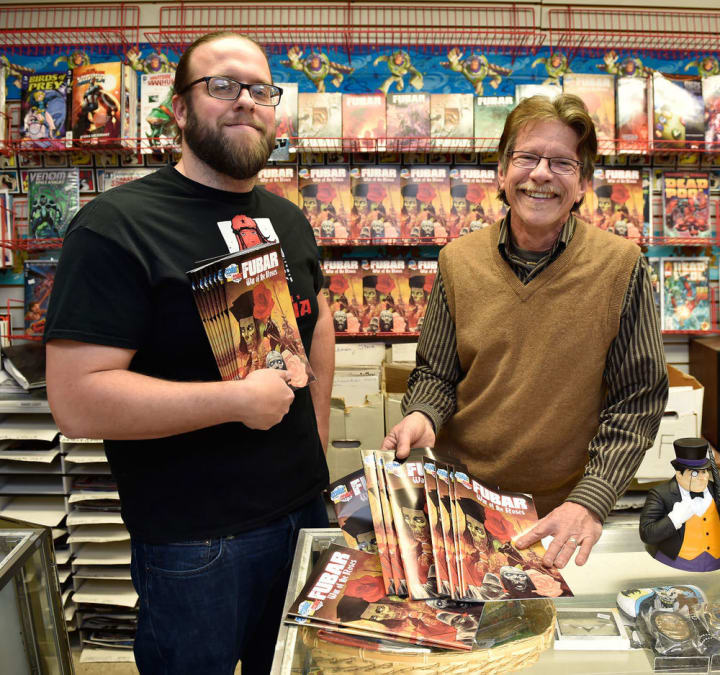 Jeff McComsey is a thirty-four-year-old illustrator and author of graphic novels, animations, and video game art. His most well-known works include American Terror, a graphic novel series published through Alterna Comics, two series of Ultimate Night of the Living Dead, and the self-published work FUBAR, which is a comic series about zombies thrown in various periods of military history. He also owns a successful kickstarter campaign that is worth nearly $100,000.
Dirk Manning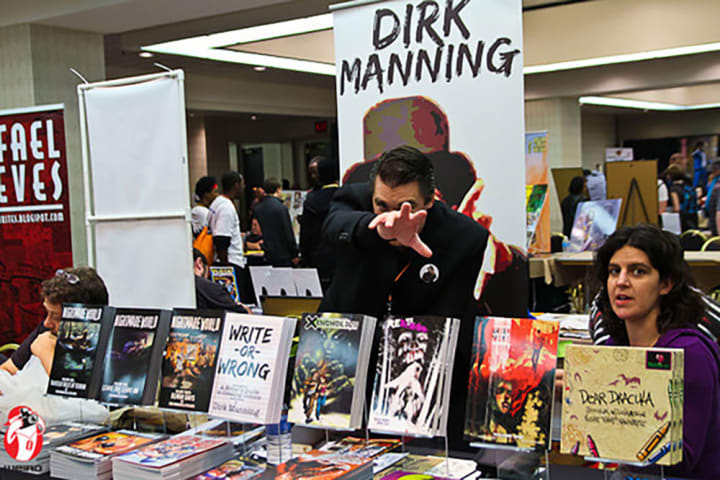 Dirk Manning is the creator and writer of Tales of Mr. Rhee and Nightmare World. He has also written the inspirational how-to book Write or Wrong: A Writer's Guide to Creating Comics, and The Legend of Oz: The Wicked West. Dirk Manning is known for his engaging stories with a slight supernatural or horror edge. His gripping stories can be read in Dia De Los Muertos and Love Stories (To Die For). Dirk has also written several short films for the popular YouTube horror film series BLACKBOX TV, including "The Hunger," in which Uncle Rico from Napoleon Dynamite plays the villain.
Fiona Staples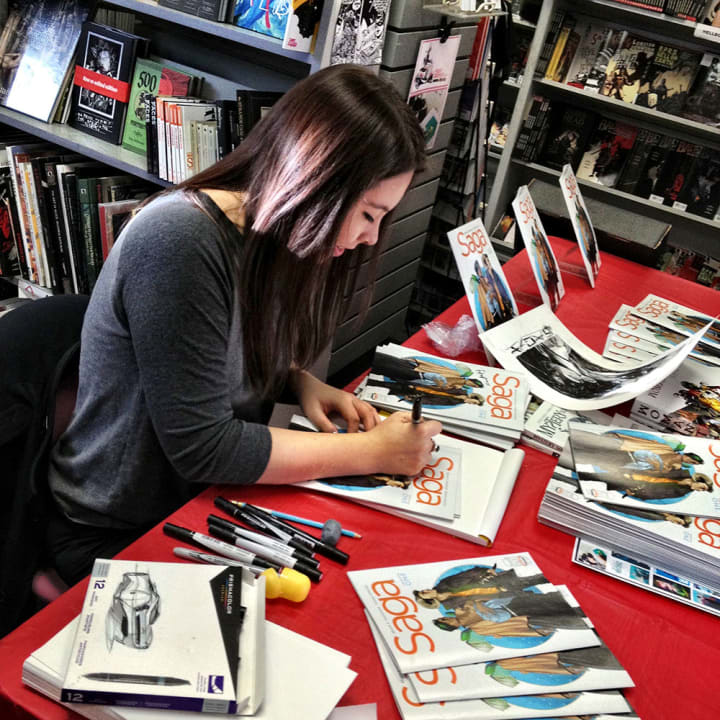 A frequent name on conference attendee lists is an award-winning artist by the name of Fiona Staples. Staples hails from Canada and has been called one of the best artists working in comic books today. You may know her cover work from titles such as DV8: Gods and Monsters, T.H.U.N.D.E.R. Agents #7-10, or Dark Horse Presents #10. She is also well known for interior work on titles like Saga, Mystery Society, and North 40. If you want to pencil in time with her to talk art, she is at many conventions throughout the year.
Mark Waid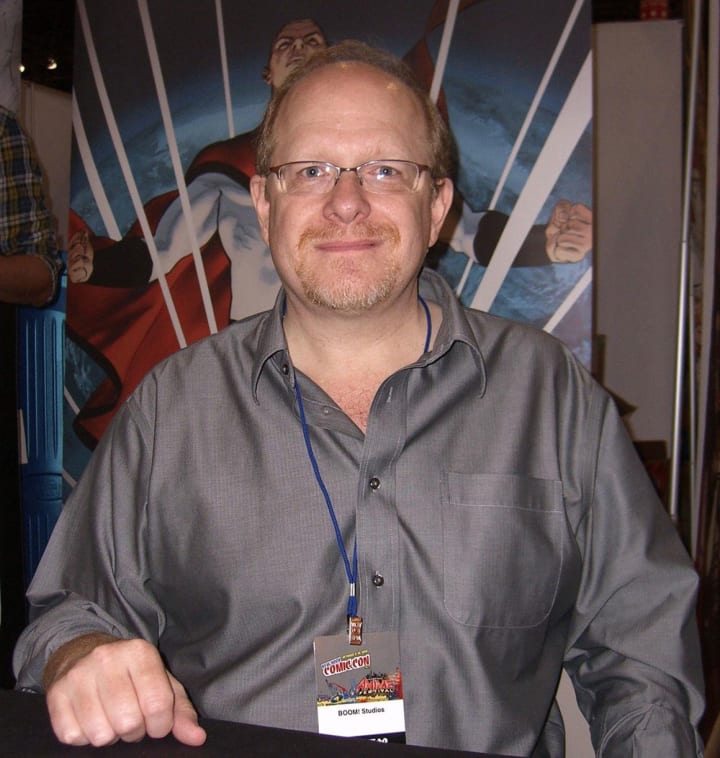 Mark Waid is an Eisner Award recipient and well-known American comic book writer. Waid is mostly known for his work on DC Comics' titles including Superman: Birthright, The Flash, 52, and Kingdom Come. For those Marvel fans out there, don't stop reading. He's also done work for Captain America and Daredevil. When Waid isn't working with his writing or at conferences, he also co-owns Aw Yeah Comics in Muncie Indiana, along with Christina Blanch.
Robert Kirkman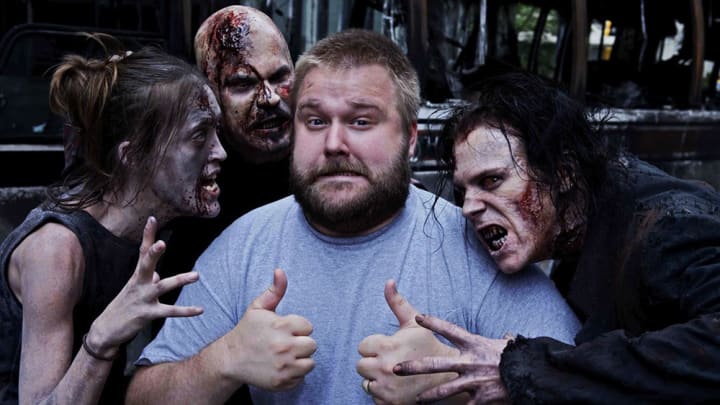 Robert Kirkman is known for creating The Walking Dead comic series. For those undead lovers out there, he's also had writing experience with six episodes of the television show by the same name. Other than his work on The Walking Dead, he's written for Invincible, Marvel Zombies, and Ultimate X-Men. He's additionally one of five partners at Image Comics and carries the distinction of being the only one who was not a founder. He was also a producer for AIR, a science-fiction thriller starring Djimon Hounsu and Norman Reedus.
Neal Adams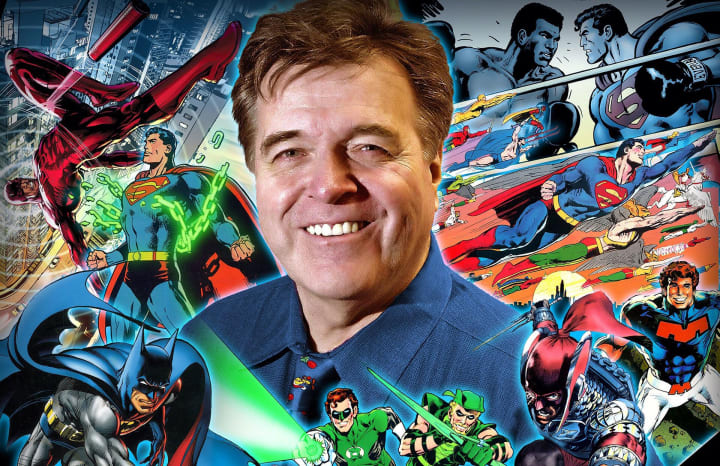 Neal Adams. He's a common participant at conventions who has been in the business for decades. His portfolio is huge and diverse. He is known for having a hand in creating such characters as Green Arrow, Batman, and even Superman. He also is an avid creators-rights advocate. Adams is another Eisner winner and was inducted into the Harvey Awards' Jack Kirby Hall of Fame in the late 90s. In addition to comic work, Adams was art director and costume designer for Warp!, a science fiction stage play.
Matt Fraction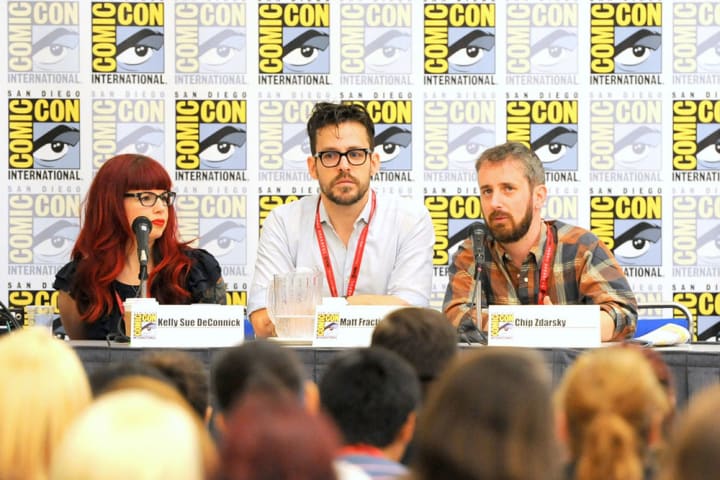 Matt Fraction is a distinguished comic book writer who grew up in the Chicago area. He is a staple at conventions and is often around to visit with his fans. Fraction is known for work on Uncanny X-Men, The Immortal Iron Fist, and The Invincible Iron Man with Marvel, as well as Casanova and Sex Criminals for Image Comics. He consulted on the set of Iron Man 2 and was in charge of writing the Iron Man 2 video game that was connected to the movie. Fraction was also listed on IGN's list of "The Best Tweeters in Comics" because of his personality on Twitter.
Fabian Nicieza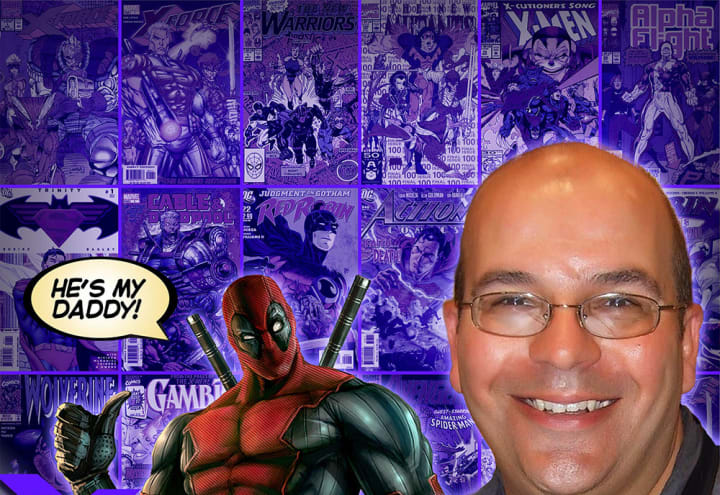 Argentina-born writer and editor, Fabian Nicieza, is well known for his work on titles like X-Force, X-Men, and Thunderbolts. Of course, he is most noted for his part in the creation of the character Deadpool. He moved to the United States at four and learned to read and write from comic books. He has worked for Marvel and Acclaim Comics, and has also had an illustrious freelance career in which he did work for many different studios. Nicieza is a common conference attendee and someone worth seeking out at events.
Mike Mignola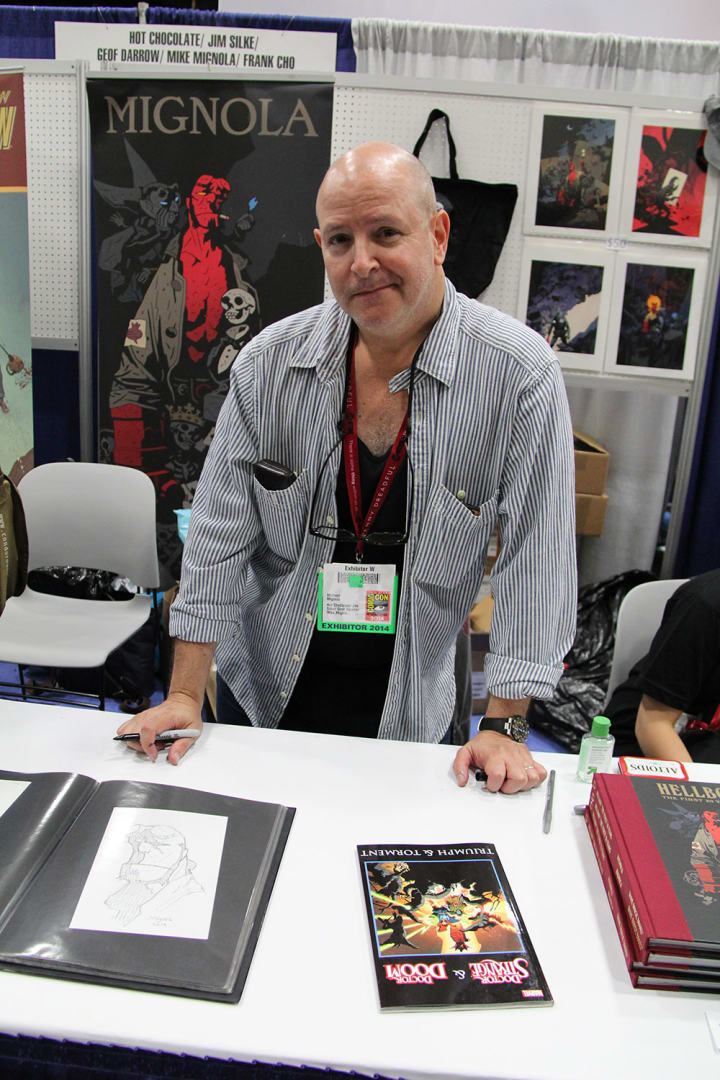 Mike Mignola is perhaps best known for creating the series Hellboy for Dark Horse Comics. He is both a writer and an artist, and his art style that is very distinct and has been called a mixture of Alex Toth and Jack Kirby. While most of his work was with Hellboy and all of its spinoffs, he has also worked on several titles for both Marvel and DC. Some of these include World of Krypton, Phantom Strange, The Incredible Hulk, and Rocket Raccoon. Mignola has also worked in many projects on film and television, as well. His roles have included illustration, production design, character design, and production.
Jamal Igle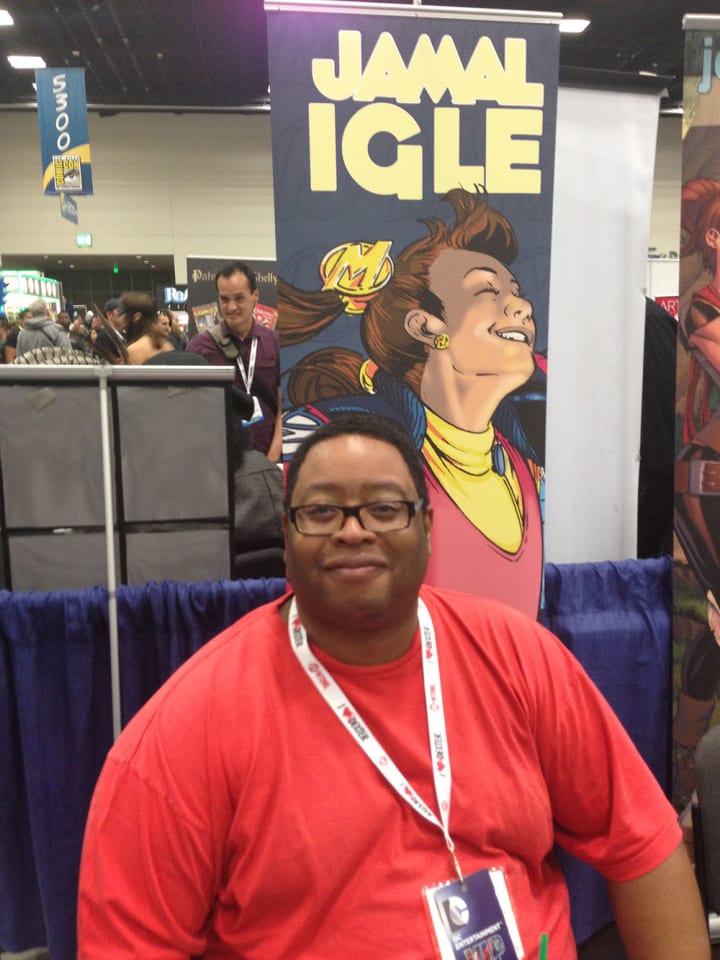 Jamal Igle is a brilliant artist and writer who was the creator of the comic book series Molly Danger. As far as his art style goes, Igle claims he's influenced by people as diverse as Alan Davis, Louise Gordon, Tim Burton, and Steve Rude. In addition to his own series, Igle has worked on many projects, largely in the ink and coloring work. Some of these are Supergirl and Firestorm. In addition to this, Igle earned an Inkpot Award in 2011 for Achievement in Comic Art. He also was the artist on Ray which debuted in 2011 as part of The New 52 re-launch at DC.
Max Brooks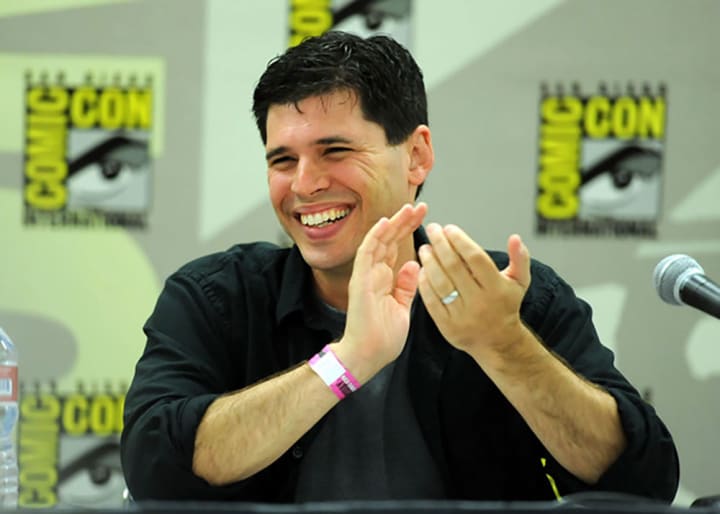 If you enjoy horror, you might want to catch up with Max Brooks at the nearest con. Brooks is the author of the bestselling book, The Zombie Survival Guide, as well as a graphic novel that was based on the same storyline and premise. He went on to write World War Z: An Oral History of the Zombie War, a novel that was later adapted to film that starred Brad Pitt. Since then, Brooks has done various writing projects, often on collaborations or comic books. Most of this work is related to the zombie genre of horror. Brooks also does voice-over work and has acted in shows like Roseanne and 7th Heaven.
Scott Snyder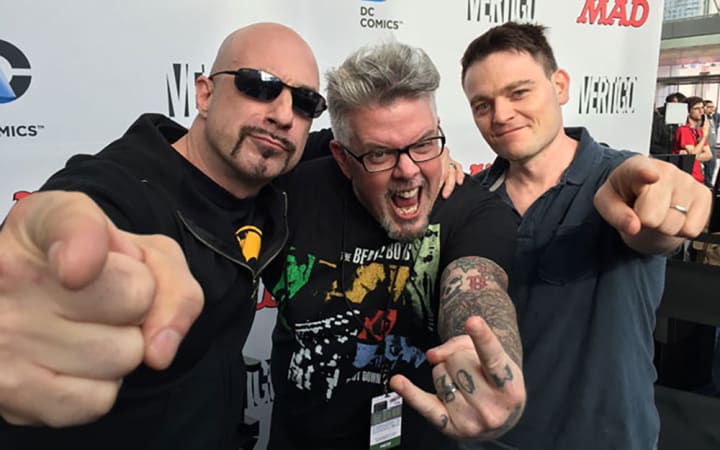 Scott Snyder is a writer who works in the fantasy, superhero, and horror genres. His comic book writing has graced the pages of American Vampire, Detective Comics, Batman, and the relaunch of Swamp Thing. His latest work is as a co-writer on the Batman Eternal series. Snyder has also published a volume of short stories called Voodoo Heart. He received critical acclaim for this book. Stephen King chose two of his stories for the 2007 The Best American Short Stories shortlist. The guy can weave a great tale so look him up and get something signed next time he is in town.
About the Creator
The biggest bunch of geeks gathered in one 12,000 sqft warehouse in Northern New Jersey who spend their whole day just being geeks.
Reader insights
Be the first to share your insights about this piece.
Add your insights