Comic Book Review Round-Up—March Week 4, 2019
A Shorter Than Usual Round-Up This Week, with Several New Titles to Enjoy
Plenty of new titles to check out in this week's Comic Book Review Round-Up
How did March already end? It's been a great month of comics, but I close this week's Comic Book Review Round-Up, with a curtailed list of titles, since one of my regulars has been postponed. However, there's still plenty to get excited about. I dive into Detective Comics #1000, Heroes in Crisis #7, plus Age of X-Man: X-Tremists #2. For the number ones section, we have Marvel Rising, Dial H for Hero, and Valiant Comics' highly anticipated Fallen World.
Detective Comics #1000
Anthology collections are often a hit or a miss, especially when it's a celebration piece like this issue. Most of the stories are welcome additions to the Batman canon, but I was expecting a few more homages to Batman's legacy, and the Bat-family.
Far too many stories focused on Bruce—some even re-tread, age-old moments from his long history. We could have done with more emphasis on how the Bat-family have become heroes, and how they continue to save Gotham (and the world), with Batman's help. The Legend of Knute Brody,The Precedent, The Last Crime in Gotham, and Batman's Greatest Case seemed like apt celebrations of the team book that Detective Comics is often seen as. This issue is also a good stepping on point for readers, especially with the tease about the new story villain. How will Batman take down the Arkham Knight?
Read my complete rankings of all the stories here.
'Age of X-Man: X-Tremists' #2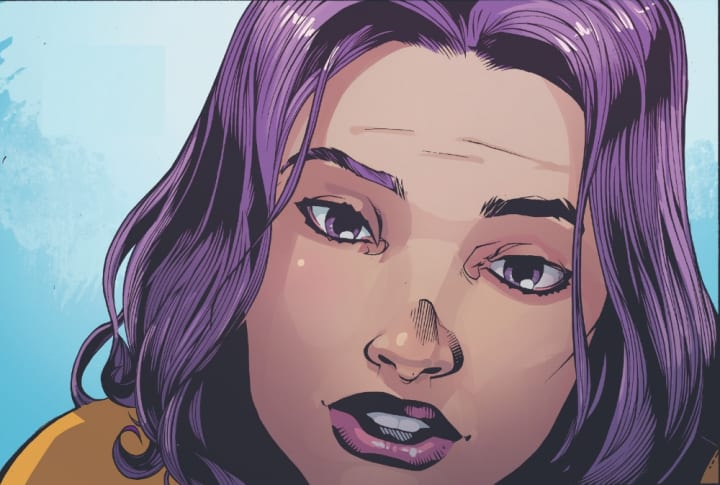 So, the X-Tremists are hideous, horrible people. They locked up a poor pregnant woman, call people insults, and go around setting wildfires, so that the X-Men have something to do. On top of it all, Blob is attracted to his colleague, and it is drawn precisely like some kind of Beauty and Beast story, when, in fact, the creators could have gone down two very different routes:
Have more than one plus-size character in the X-Men universe, so that Blob isn't treated as a punchline. The art is drawn in a way to make Blob stick out like a sore thumb, in relation to all the painfully skinny female (and male) characters.
Confront the notion that just because a man is attracted to a woman, the feelings need not be reciprocated, and that both the characters can move beyond that in an adult fashion.
It's strange how the creative team decided that Blob must be the one to fall in love, in this love-less land, and that his love interest will indeed have similar inclinations (if not toward him, she feels love in general). There are two gay characters on the team—maybe they could have fallen in love? There's a lot of hetero romance going on in the Age of X-Man, how about changing it up a bit?
Heroes in Crisis #7
Finally, a much-needed injection of life into this series. We have been on cruise control for too long. I'm still not sure where the plot is headed, because the science is iffy at best, but the feeling of enthusiasm is back in the writing and in the art.
Wally West is at the centre of the massacre at Sanctuary, but how exactly he's involved remains unclear. But we're getting Wally's point of view, so at least that's a start. It's also proven that Booster Gold and Harley Quinn are innocent—and now that they're in cahoots with Batgirl and Ted Kord, they're invested in finding Wally and helping him. The trouble is, since Batman and The Flash are in the dark about all these proceedings, will they end up ruining the whole operation?
Comic Book Number Ones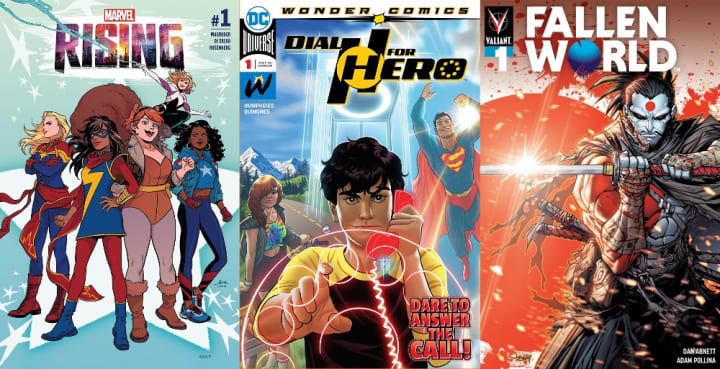 Marvel Rising #1 is a team-up book, with Ms Marvel, Squirrel Girl, Spider-Man (the amazing Miles variety) and Inferno. I was really excited to get into this title, because all these characters are so cool and fun. Yet, this issue turned out to be quite a chore. It's uninteresting, and deals with the team choosing their college degrees. It's… not the team-up action story that was expected. Some people may enjoy this, but even the antagonist is tedious. What a shame, because I love the main characters.
Dial H for Hero #1 is another entry, from the Wonder Comics young adult collection. We follow Miguel, who is living his worst life ever, but then he comes across a magical phone that grants him superpowers! It's a very cute little tale, but so overly cartoonish, that it is hard to take seriously, at all. I'd reckon this is for much younger audiences than those for Young Justice, Naomi or Wonder Twins, because this book was really a series of tropes and little else. Miguel is a beguiling character, but I'm betting they're not going to write Summer as anything more than a hot girl who gets in trouble. Some may pick up this series again, but it didn't hold that much interest for me.
I received an early working copy of Fallen World #1 and while it may be an interesting story, the overall writing and art aesthetic of Valiant is monotonous. It seems like every title is about powerful world-weary men, burdened with heroism, while they are surrounded by inexperienced, nubile, petite young women, who are created to plump up the male ego, and to be schooled in the ways of the world. It's tiresome to read. The women have no personalities, other than being appendages to Rai and Gilad, yet the latter two are rounded characters, despite curtailed time on page. This kind of sentiment should have disappeared in the 90s, why are Lula, Momo and Karana in this book, written and drawn like that in 2019?
I should be back to full power next week for another go at the Comic Book Review Round-Ups.
Reader insights
Be the first to share your insights about this piece.
Add your insights