Detective Comics #1000: Ranking the Stories in the Landmark Issue
Detective Comics released its milestone issue this month with a collection of short stories. We rank them here.
DC Daily Ep.136: Brian Michael Bendis talks Batman 80 and Detective Comics 1000!
This March, Batman turned 80 and Detective Comics released its landmark 1000th issue. Detective Comics has now become the longest-running comic series ever, and it seems fitting that this series was the birthplace of the world's most iconic hero.
To celebrate the dual historic moments, DC Comics gathered renowned artists and writers to pay homage to Batman's legacy as well as visit his past, present and future in a collection of short stories for Detective Comics #1000. Along the way, readers meet the Caped Crusader's rogues gallery of villains and the extended Bat-family of heroes.
Here we rank the 11 stories of #Detective1000.
11. 'Heretic' by Christopher Priest and Neal Adams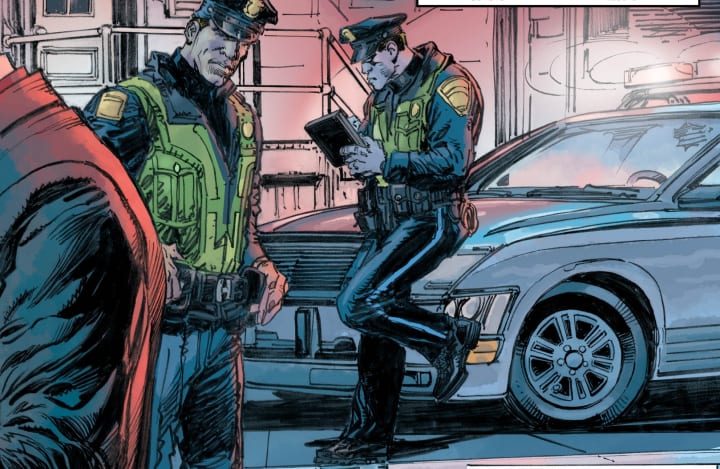 A boy from the Wayne Foundation is found murdered, and Batman is on the case. This was a hit, but who called it? The mystery goes back to Bruce Wayne's past—an innocuous incident impacted the people around Bruce, and now it's cost a life.
This story ended abruptly, almost mid-thought. Had it continued, I believe it would make for a compelling issue about the consequences of Bruce's wealth and privilege. Unfortunately, the story does not leverage its initial premise, instead devolving into a saga of Batman being right irrespective of how adversely his intentions can—and have—affected others. Adams' art with Dave Stewart's colors are particularly striking in this story. Theirs is a good mix of the classic and modern styles of drawing Batman.
10. 'Batman's Longest Case' by Scott Snyder and Greg Capullo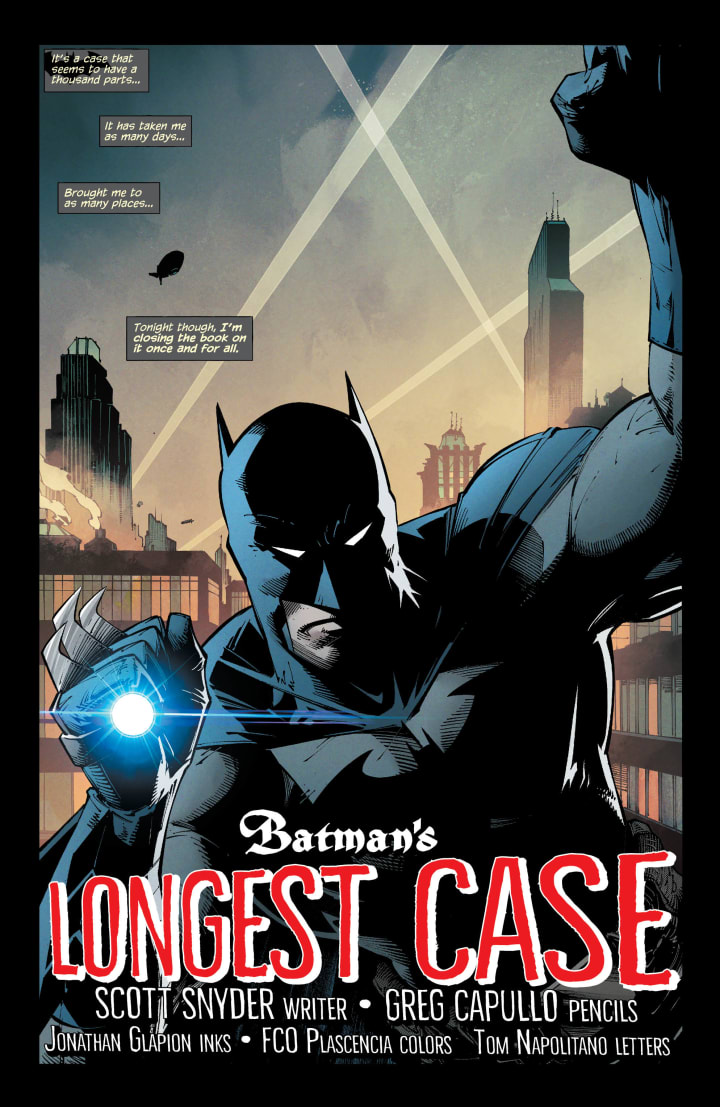 Batman has been tracking clues of a mysterious opponent for years. This is his longest case and it has taken him across the globe. Finally, it seems he may have cracked the case, but is he ready to face the truth?
I'm in two minds about the big reveal—is it a cop out or is it cute? I can't tell, which is why this story places so low in the rankings. This story feels quintessentially like it belongs to Detective Comics and to Batman, but given the star power of Snyder and Capullo, I would have expected something much more poignant for the Caped Crusader.
9. 'Manufacture for Use,' by Kevin Smith and Jim Lee
A collector visits a true crimes shop and is presented a number of items belonging to Batman's rogues gallery. The shopkeeper is full of stories about villainous encounters with the Bat. But this mysterious collector is after something else—something just as unique.
This story should have held a lot of emotional heft, but the denouement fell flat. What can't be denied is Jim Lee's extraordinary art. The precision of his work brings the world of Batman alive. In combination with Scott Williams' inks and Alex Sinclair's stunning colors, this story is breath-taking to look at. I just wish there had been a bigger punch to the finale.
8. 'Return to Crime Alley' by Denny O'Neil and Steve Epting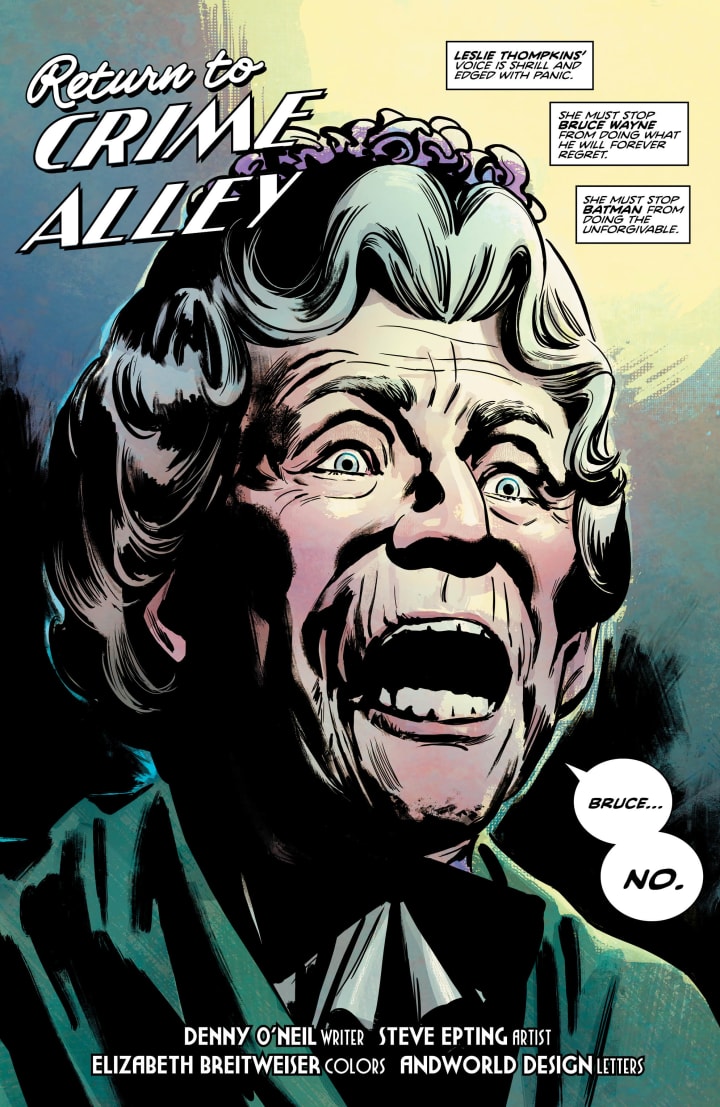 This was publicized as being a "direct sequel" to the Detective Comics #457 story There's No Hope in Crime Alley. In that story, Batman seeks out the good on the anniversary of his parents' murders—and that goodness comes in the form of Leslie Tompkins.
This story is more like a re-imagining of that previous encounter, but it's very dark and paints Batman as some kind of violent psychopath who is doing more harm than good. It's Leslie's point of view, but is it correct? It seems almost cruel to judge Batman for trying to protect Gotham the only way he knows how to—through fear. To think that someone he trusts should turn on him on such an anniversary feels like a double-blow.
7. 'Medieval' by Peter J. Tomasi and Doug Mahnke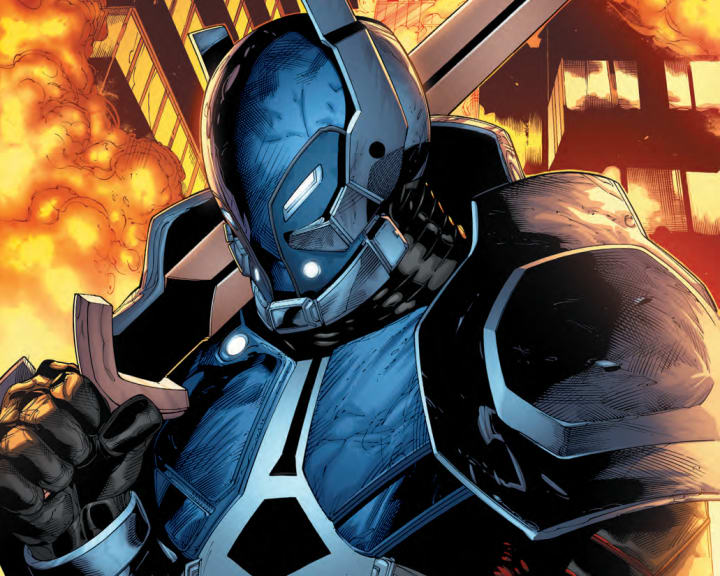 An omniscient narrator looks back at Batman's greatest battles with his greatest enemies. There is a cynical, foreboding tone to what this person says. What does he want with Batman? We will only find out in Detective Comics #1001.
This is the final story in this issue, segueing directly into the new arc of the series. The art in this story is the star, accurately creating iconic interactions between Batman and his famous villains. As if Mahnke's art isn't beautiful enough, David Baron's colors simply pop off the page. Is the central antagonist compelling? He seems to have been created in a similar vein to the Batman Who Laughs and his ilk, so this could be a great new villain, or one that comes across as little more than a copy.
6. 'Batman's Greatest Case' by Tom King, Tony Daniel and Joëlle Jones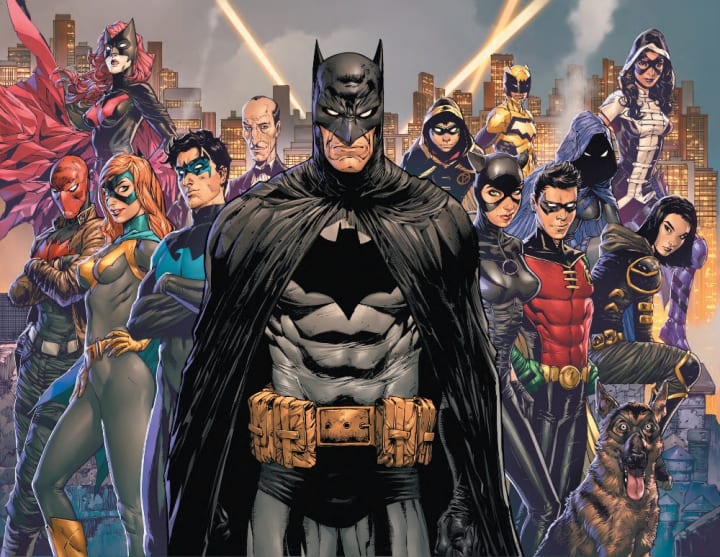 The entire Bat-family have gathered, but why? Damian asks Richard (Dick Grayson), but he doesn't know. No one knows why Batman has called them together, but here they are and the man of the hour… is late. But, of course.
I love seeing a story that actively addresses what a giant family Batman has—it's Bruce's greatest legacy. This should have been an homage to everything, and everyone, that Batman has created, but the interactions were just wrong. Dick comes across as an arrogant dick, Barbara is defined by her former relationship with Dick; neither Catwoman nor Batwoman have any characterisation. Damian and Jason are given lots of page space, but the rest are forgotten. Also, King's writing "tics" occasionally derail the reading experience. Every dialogue doesn't need to be repeated in every story! Even the art felt wrong, though Tomeu Morey's colors were absolutely outstanding.
5. 'The Last Crime in Gotham' by Geoff Johns and Kelley Jones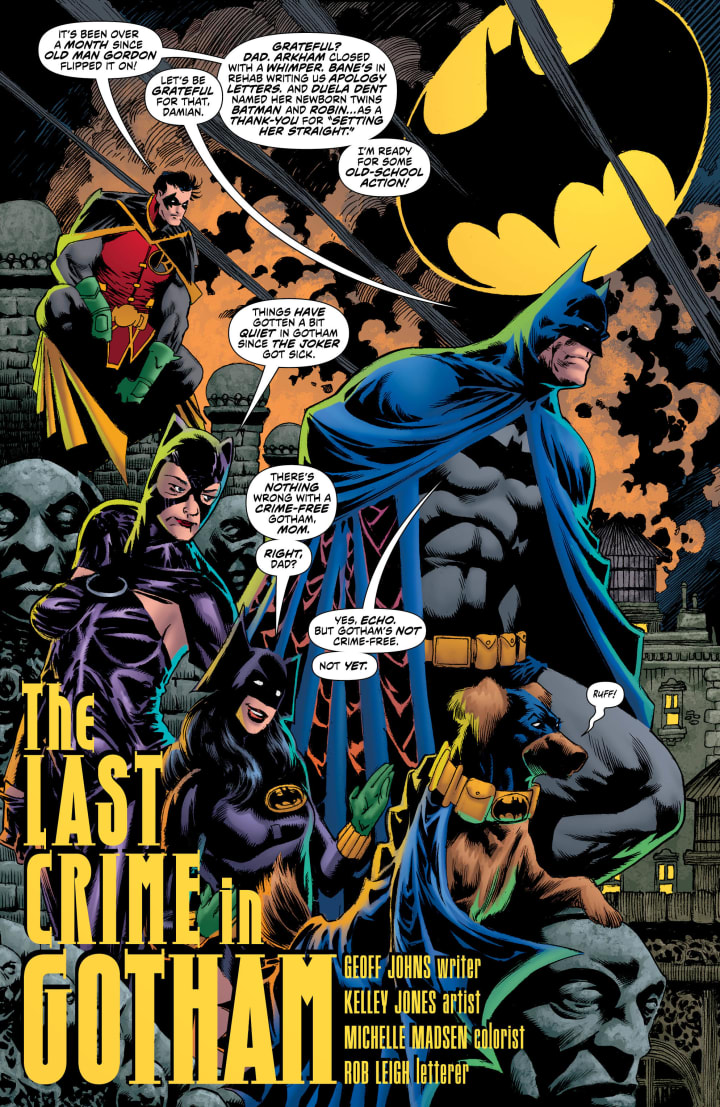 In the future, Batman, Catwoman and their children fight one last crime in Gotham. It's been quiet in the city, but on this night multiple bodies have been found in one location. Who could be behind the murders and why have they done it? The Dark Knight will find out.
This was a surprisingly melancholy story that pulled at my heartstrings. We get a sense of what Batman's future would look like—it's at once heart-warming and heart-breaking. Despite Bruce's many faults, we can't help but love him and want him to find happiness. Johns understands that and weaves that into the story seamlessly. While Jones' art is distinctive, it was inconsistent and didn't quite fit the mood of the story.
4. 'The Batman's Design' by Warren Ellis and Becky Cloonan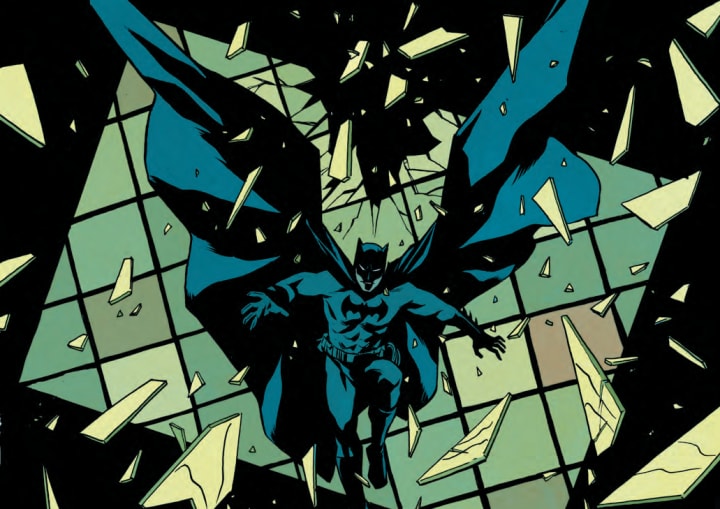 Criminals are on the run from Batman, but he's one step ahead of them. The thugs think they've got the World's Greatest Detective on the ropes, but actually he is the one with the upper hand. While the bad guys try to make a quick getaway, they're actually springing Batman's trap.
This was perhaps the most authentic depiction of Batman's detective skills in the entire issue. No gimmicks (except the booby traps set by Bats), no drama. This is Batman at his best—capturing villains with minimal harm to all those around him. If Batman can change people's lives along the way, then that's a bonus. Great, pacey action that did justice to the history of the Caped Crusader.
3. 'I Know' by Brian Michael Bendis and Alex Maleev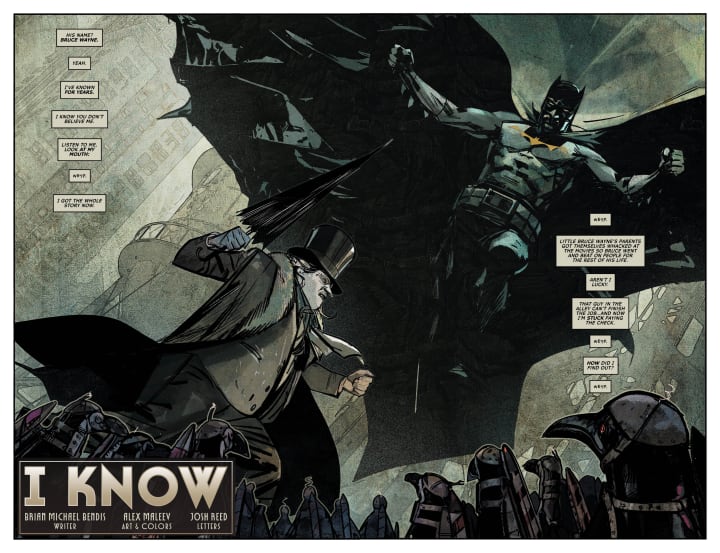 An elderly Penguin comes to meet a wheelchair-bound Bruce Wayne. Oswald has a confession to make, and he will rub Bruce's face in it as much as he can because Bruce is mute and old and can't fight back. Oswald knows, he's always known, and now he wants Bruce to know as well.
It's easy to make a story about an aged superhero tragic and wistful, but this one is fun and funny. The writing is short, compact and precise, and juxtaposed with Maleev's art, it makes for a compelling tale. In all honesty, Maleev's art takes this chapter to a whole new level—the expressiveness of his Oswald is only matched by the colors that reflect the mood and atmosphere of the story. This story was so cinematic, I could read an entire issue written, draw and colored in this style.
2. 'The Precedent' by James Tynion IV and Alvaro Martinez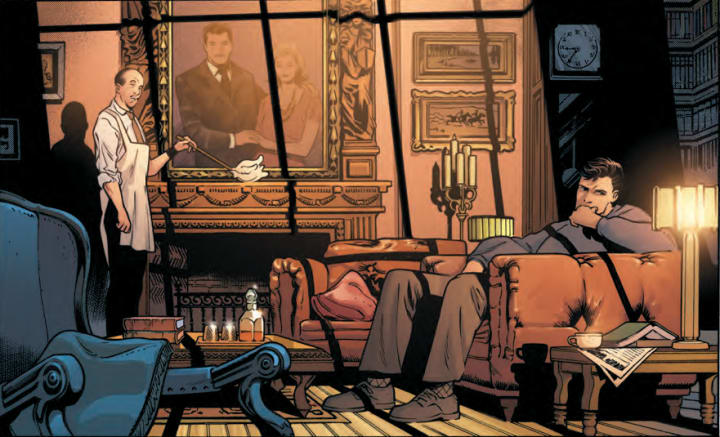 Bruce is worried—he thinks he's setting a precedent by allowing young Dick to become a superhero and fight crime alongside him as Batman. But the horse has already bolted, and Alfred sees this as an opportunity for Bruce to spare Dick from the sacrifices he's had to make.
This story is told in hindsight by Tynion, who is able to see all the good that Bruce has done in this world. Bruce is written very much as a mentor in this story, which is what he originally was. He's now considered the Robins' dad (basically), but he was Dick's friend first, and a father later. It's a really sweet homage to what propelled the Batman and Robin stories in Detective Comics to fame in the first place. You'll find yourself smiling ear-to-ear reading it. I loved Martinez's art, which directly emulates the classic style of drawing the characters, but looks precise and clear thanks to Brad Anderson's colors.
1. 'The Legend of Knute Brody' by Paul Dini, Dustin Nguyen, Derek Fridolfs and John Kalisz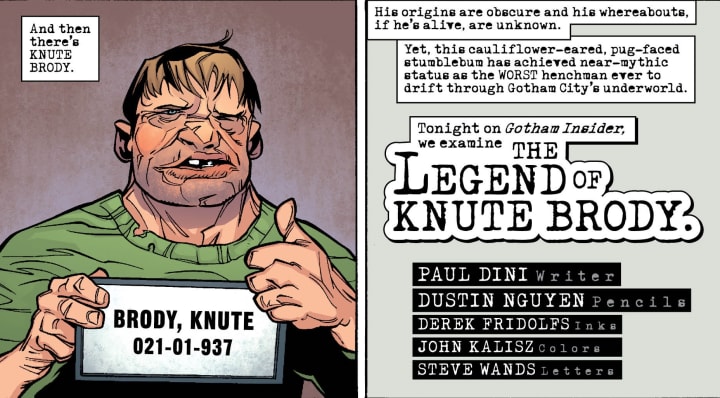 There's a legend among the Gotham villains—an incompetent henchman named Knute Brody kept getting gigs and then foiling every best laid plan with his ineptitude. Now there's a documentary being made about this cult figure and in the spotlight are all the villains who've suffered thanks to him.
This story is a gem. I was initially unsure of it given the whimsical art and the focus on an unknown character, but I found myself guffawing throughout. The expressions on the characters' faces combined with the jovial writing are enough to make you love this story. But throw in that climactic revelation and you have a winner. This story was a throwback to what comics were originally meant for—fun, light entertainment. And it still managed to succinctly pay homage to Batman and what a great detective he is. If you have to read just one chapter in this issue, you should read this one.
While Detective Comics #1000 was an enlightening issue, I was expecting more of the Bat-family rather than such a focus on solo Batman stories. It's also disappointing that more women weren't invited to create these stories (there are no women writers on this issue), which means most of the women characters fell by the wayside in the stories. This is a good jumping on point for readers who have been daunted by the number of issues before, but as an homage to Batman I think DC's efforts have fallen short.
All Images Courtesy DC Comics
What did you think of Detective Comics #1000? Do you agree with our rankings? Let us know on social media.