'Center of My World' – A Film that Navigates First Love, Family, and Unanswered Questions
Jakob M. Erwa delivers an intelligently faithful adaption of the novel 'Die Mitte der Welt' by Andreas Steinhöfel.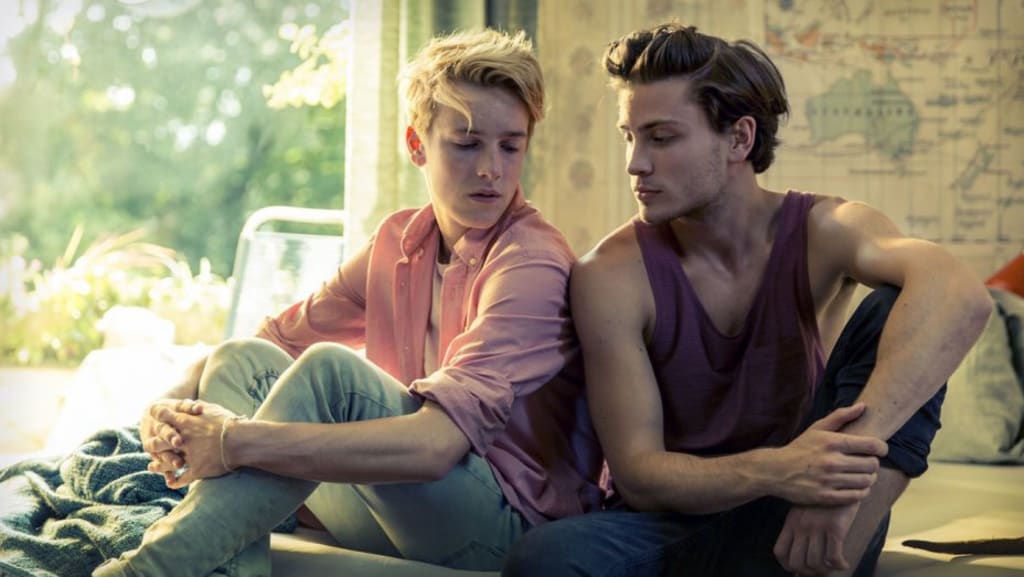 Center of My World (image courtesy of Matchbox Films)
With Centre of My World (Die Mitte der Welt) writer/director Jakob M. Erwa has adapted the 1998 novel of the same name by by Andreas Steinhöfel.
It's a German-language film, set in a small rural town, where we meet 17-year-old Phil.
The story opens as Phil returns home from summer camp. Home for Phil is a rambling old mansion called Visible. He lives there with his mother —who insists on being called Glass, not mother — and Dianne, his twin sister.
Flashbacks in the story illustrate why Glass and her children seem a bit isolated — Glass arrived into the small village as a single mother, an almost dangerously alternative force in an otherwise sleepy party of the world.
Adding to their sense of otherness is Dianne's apparent ability to communicate with animals and the natural world.
But Glass, Phil, and Dianne are not completely alone — neighbours Tereza and Pascal keep a watchful eye on them, and Phil has his best friend Kat to confide in.
On Phil's return from summer camp, he notices that something has changed in his absence. It's not just the big storm that seems to have uprooted trees and turned things upside down, there is a new tension between Glass and Dianne that no one seems willing to talk about.
With summer at an end, school returns. But the appearance of new boy Nicholas turns Phil's world upside down in a completely different way. Initially unsure if Nicholas would be reception to Phil's affection, a passionate romance quickly blossoms. But things never go smoothly when love, friends, and family are involved, and Phil has to find his own path to self-discovery.
One of the strengths of this film is the compelling cast that Erwa has assembled, including:
Louis Hofmann as Phil
Jannik Schümann as Nicholas
Sabine Timoteo as Glass
Ada Philine Stappenbeck as Dianne
Svenja Jung as Kat
Inka Friedrich as Tereza
Nina Proll as Pascal
At the heart of this film is an outstanding performance from Louis Hofmann (Phil) — naive and trusting, but resourceful and determined. Hofmann is an established actor — he's been on screen since the age of 13, and was 19 when filming this production.
The sex scenes between Phil and Nicholas are presented authentically, in a no-nonsense German kind of way. Sex and sexuality aren't really the issues here, they're just part of life — just one of the things that we all have to negotiate and navigate as we try and figure out where things are taking us.
Erwa has kept the structure of Steinhöfel's novel — using flashbacks to Phil and Dianne's childhood to create a sense of mystery and to provide some context of the growing tension within the family. Some of these mysterious elements are ultimately red herrings, or perhaps not developed fully enough to have any real impact on the story, but Erwa keeps his audience guessing as to what it all ultimately means for the characters at the heart of this drama.
Center of My World is a refreshingly complex coming-of-age story. Phil's burgeoning sexuality and his passionate encounters with Nicholas aren't really the key forces driving this drama, and ultimately the outcomes are more about Phil and his family than who he falls in love with.
Erwa is also exploring and showcasing different types of love and different types of relationships. From the fiercely independent Glass, to the deeply emotional Dianne, to the more pragmatic and world-weary Tereza and Pascal. Phil has a lot of role models to draw upon, but ultimately he realises that he needs to find his own way.
Intelligent film-making and and uplifting story of a young guy navigating his way through life.
review
About the author
A non-smoker who loves to laugh... (and binge on travel, food, movies, fashion, and theatre...). Find me on Twitter @gtvlondon
Reader insights
Be the first to share your insights about this piece.
Add your insights