Culture Vulture: 'Certain Women' (2016)
A masterclass in modern American filmmaking.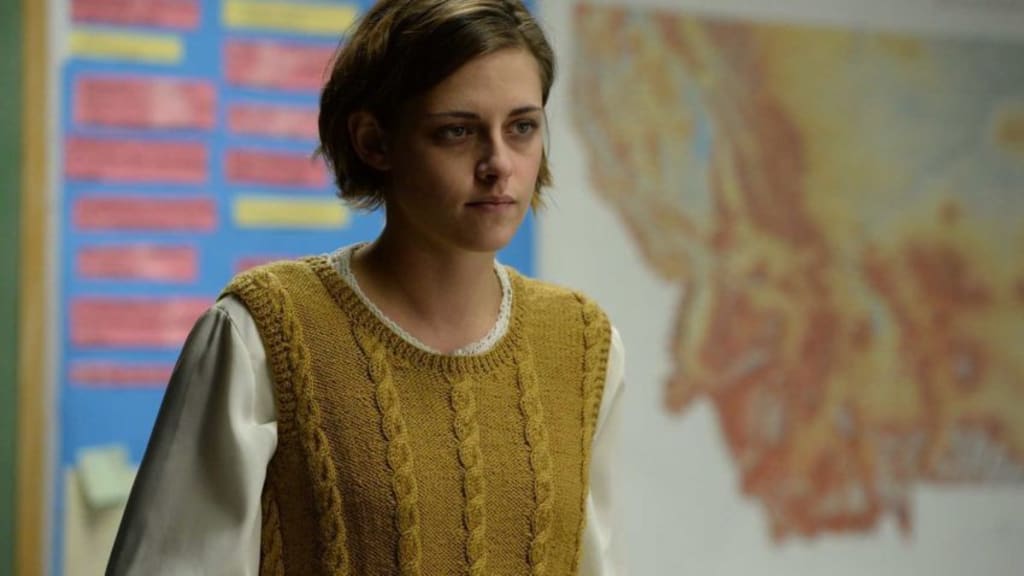 Kristen Stewart in Certain Women (2016). Image published via IMDB.
Written and directed by Kelly Reichardt, Certain Women is based on short stories from a collection by Maile Meloy – titled Both Ways Is the Only Way I Want It, published in 2009.
The structure of Reichardt's film is reminiscent of the style often favoured by Robert Altman — three concurrent stories that have some loose connections but aren't really interdependent in any way.
Set amidst the communities that live in the wide open plains of Montana in the American Northwest (where author Maile Meloy is from), Reichardt is exploring the experiences of the women who are living in this part of the world – women who are building their lives, establishing their identities, and growing as people.
The scenery is spectacular – vast plains and snow-covered mountains. This is a movie that really needs to be experienced on the big screen so that you can immerse yourself in the landscapes that are expertly captured by cinematographer Christopher Blauvelt.
Reichardt has also assembled a stunning cast: Laura Dern as a lawyer contending with a problematic client; Michelle Williams as a determined woman building her dream home; and Kristen Stewart as a law student who forms an unlikely bond with a lonely ranch hand, played by Lily Gladstone. These are flawed but strong-willed women — familiar territory for both Dern and Williams, who again demonstrate their ability to authentically bring complex characters to life. Reichardt has given Lily Gladstone her first major role and she truly shines — we'll be seeing a lot more of her. Perhaps the most surprising performance is Kristen Stewart.
When you look at Kristen Stewart's career, she's been working for a long time and covered a lot of different genres, but from what I've seen I think this is probably Stewart's best work to date. In the character of Beth Travis she brings to life a woman who is restrained, fragile, brittle – carefully revealing her character as each scene gradually unfolds. Certain Women was released around the time that Stewart began to talk more publicly about her sexuality. It's possible that Stewart has reached a point in her career where she has to worry less about what magazines write about her, and she can be a bit more relaxed in the roles she chooses and how she shares information about her life. Stewart brings a bit of star-power to Certain Women, but above all she brings her A-game in terms of creating and delivering a complicated character.
The pace that Reichardt has opted for is meditative and unhurried. Long, uninterrupted takes that draw you in and hold you captivated as you try and gauge the depths of emotions that these characters are only hinting at.
What shines through is Reichardt's empathy for her characters. In many ways these are ordinary people, muddling through their lives just like the rest of us. But Reichardt is able to subtly give us insights into what makes these women tick, what's motivating them, and the complexities and banalities that they're trying to find a way to navigate through in their day-to-day lives.
This movie isn't going to be for everyone. There's no major action sequences or revelations, the drama is internalised and buried deep, and if you're expecting the three storyline strands to really come together at some stage you might be disappointed when they don't.
However, in Certain Women, Reichardt is giving us a masterclass in modern American filmmaking and showcases a cast of actors at the top of their game.
Certain Women has been a success for Reichardt – critically as well as commercially. Certain Women is Reichardt's sixth feature-length film and it's her highest grossing film to date.
Reichardt premiered the film at the Sundance Film Festival in 2016, touring the circuit festival before its general release later that year. The film was distributed by Sony Pictures. It was awarded Best Film at the London Film Festival in 2016.
movie
About the author
A non-smoker who loves to laugh... (and binge on travel, food, movies, fashion, and theatre...). Find me on Twitter @gtvlondon
Reader insights
Be the first to share your insights about this piece.
Add your insights