Catch the Bullet Train! (Review)
The Brad Pitt action-comedy is full of fun characters, violence, dark humor, and is completely entertaining!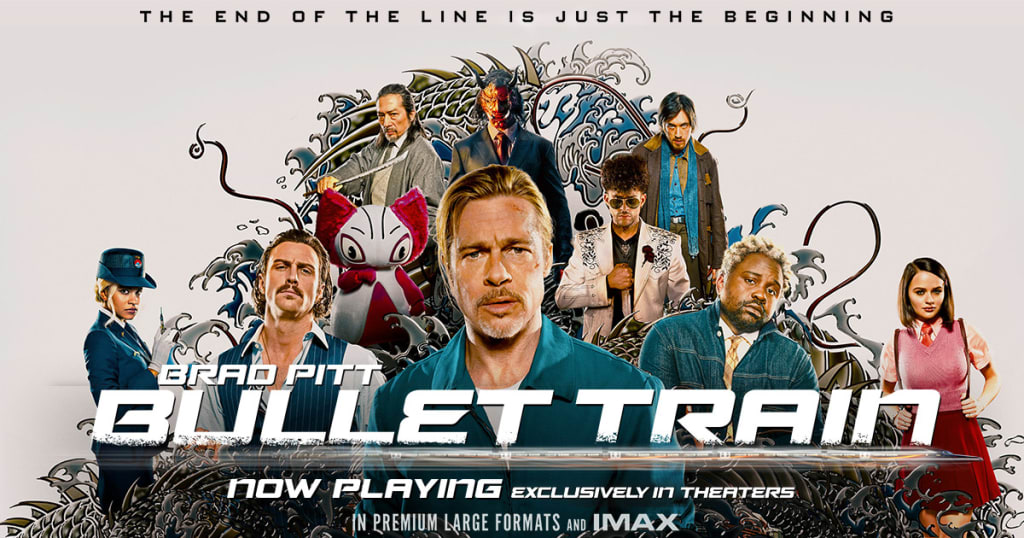 Sony Pictures
The first time we saw the new "Bullet Train" movie trailer a few months ago, we expected that it was going to be a wild ride. Having now seen the full movie, I am pleased to report that it did not disappoint. In fact, the film was so entertaining, that I actually considered turning right back around and watching it a second time. It was exactly the movie that I needed to see today – a smart, action-packed, hilariously twisted adventure!
Brad Pitt plays "Ladybug" a professional bad guy who is trying to find personal growth and inner peace through therapy, meditation, and the help of his briskly efficient handler, Maria. Despite having a questionable past and what seems to be a fairly sketchy present, he comes off as an affable doofus trying to be a decent person, and we can't help but like him. We can even forgive him for his dubious career choices and even worse fashion sense because he's a handsome, friendly, older guy who calls everyone "dude". Hey, everyone has to make a living, right? Plus, at 58 years of age, Brad may actually need those giant, black, Harry Caray spectacles in order to see!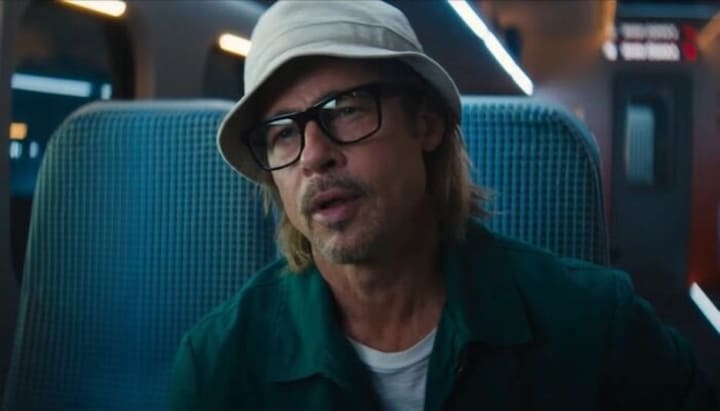 We learn that "Ladybug" has agreed to take on a "simple snatch-and-grab" job aboard a bullet train that is crossing Japan. Believing that everything is impacted by his notoriously bad luck, he frets that things seem to be going too easily, which of course means that it's all about to go wrong – which it does! The movie unfolds in a partially Rashomon style – different stories seen from the point of view of several different characters – all of whom seem to be involved with trying to kill someone or avoid being killed. Brief flashbacks help to tie the different characters together, and help avoid confusion.
There is a Tarantino-esque feel to the film that reveals flavors of Kill Bill and Pulp Fiction with a hint of Grosse Point Blank. Yet, when you realize that director David Leitch is the same guy that brought us all of the John Wick films and most of the Deadpool movies? It makes sense. The same dark, twisted, humor paired with colorfully creative violence is found in this film, as in many of his other works.
Pitt's character is given the name "Ladybug" because ladybugs are a symbol for good luck, and his luck is renowned for being astonishingly bad. Still, he's charming, witty, and has a particular set of skills that allow him to cheat death multiple times during the wild journey.
Yes, Brad Pitt is delightfully self-deprecating and sympathetic. You could say that his performance steals the show, but you could say the same about nearly every character in Bullet Train. The cast is chock full of incredibly talented actors, and a number of celebrity cameos. (I have chosen not to include any spoilers because I squealed with glee at some of the unexpected faces, and I hope you do too!)
The only break in non-stop action comes when there's witty dialogue, pretty scenery, or absurdly over-the-top metaphors delivered by characters who all seem to be fixated on fate, luck, and other elements outside of their control. Yet we savvy viewers are left to question whether it's luck, fate, or perhaps a more manipulative puppet master pulling the strings when events take place that seem to be more than mere coincidence.
With a bright, exciting, visually pleasing setting, a lively soundtrack, witty dialogue, and enjoyable characters, Bullet Train isn't exactly a "feel-good" movie, but it left me feeling good because it was thoroughly entertaining and highly recommended.