Book Review: "Wonderworks" by Angus Fletcher
5/5 - an incredibly immersive piece of nonfiction...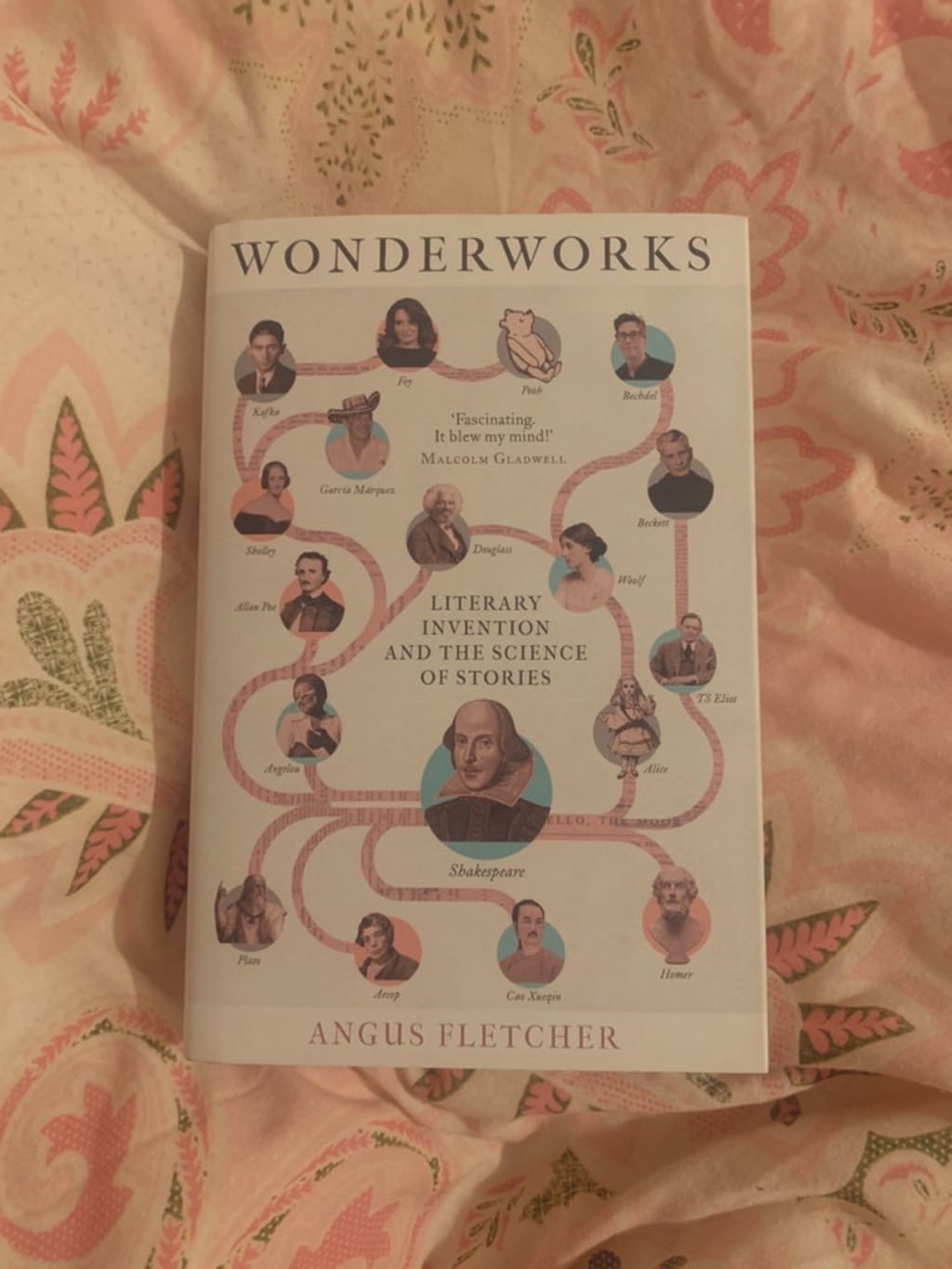 Books about reading have always been great books to read. Anthologies about great books, collections of changing ideas in literature and milestones of the cultural shifts within different eras of the arts have always been entertaining and informative. A while back, I was reading a book called "Ex Libris: 100+ Books to Read and Reread" by Michiko Kakutani. It was one of the most eye-opening books about reading I had ever read because it taught me not to be caught up in how much I reread a book (I am a big rereader) and know that when I reread a book, there will always be an aspect of discovery going on. It may be thematic, symbolic or even conceptual, but it is a new discovery all the same. Books such as "The Handmaid's Tale" appear side by side with Homer's "Odyssey". But this book we have here is a little bit different to that.
Subtitled: "Literary Invention and the Science of Stories", this book by Angus Fletcher is a book about how we read stories and why on earth we even bother. It feels like you're on a tour of great literary ideas and your tour guide is Angus Fletcher. His language style is something to be reckoned with, often sarcastic with a little bit of a devious dark side, some of the jokes made are hyperbolic to say the least. I can say that it is an aspect that definitely made the book more enjoyable.
More or less most genres are covered and Fletcher explains publications such as the 19th century serials in which sales would be boosted by the fact that the reader had to wait for the next instalment in the next edition of the paper (some of Dickens was published in this style, whereas the entirety of Wilde's The Picture of Dorian Gray was published in one paper by Lippincott's).
He goes through the famous dark works that draw us in from everywhere such as Shakespeare and his famed tragedy Macbeth all the way down the line to Virginia Woolf's Mrs. Dalloway. It is really quite a tour to be perfectly honest, I got quite lost along the way and really didn't want to go home. If this were a real place, I would definitely not be leaving this soon at all.
My favourite part was the description the writer gives of Dante's "Divine Comedy" and the different parts of Hell and the Pagan stories within the "Inferno" especially to do with Medusa and her role in this when the three faces come out to Virgil and Dante. The fact that Fletcher even discusses the Pagan stories within Dante's Inferno is surprising to me because I have never seen such attention paid to them before. He even goes as far as to give Virgil his own little note on how he wrote the Aeneid (another one of my personal favourite books ever).
Another one of my favourite parts was on Machiavelli. You all know how I feel about the writings of Machiavelli (and if you don't then you really need to get reading some of my reviews and what kind of books I enjoy). Machiavelli is a person I know a lot about and so when he is mentioned and his contextual aspects for writing are explored such as: the Medici, Machiavelli's own imprisonment and change of heart and finally, the way in which Machiavelli tried to climb the social ladder.
All in all, I can definitely say that I enjoyed this book massively and I will be reading it again in the future because honestly, what is wrong with reader a book over and over again when there is so much discovery to be done still?
literature
Film and Writing (M.A)
117K+ Reads on Vocal
Focus in Film: Adaptation from Literature, Horror Filmmaking Styles and Auteur Cinema
IG: @AnnieApproximately
Pronouns: (she/her/hers)