Are Remakes Killing Original Movies?
Should we just repeat?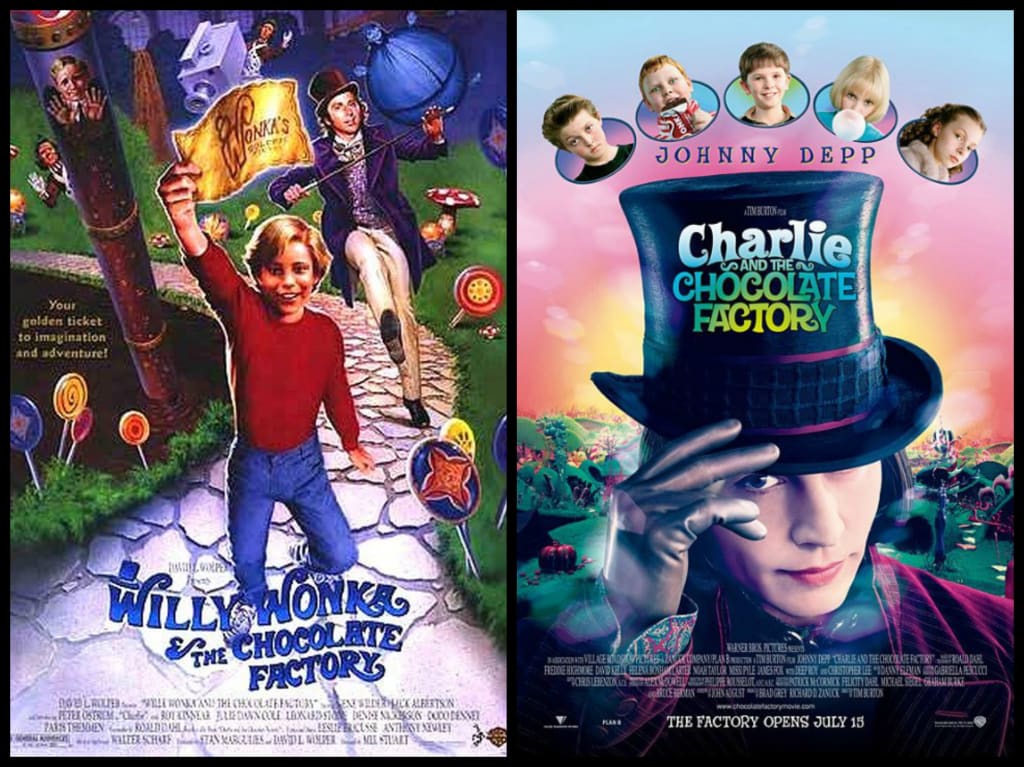 Now I know what you're thinking, oh hell yes of course remakes are killing original movies. There is no way that Hollywood hasn't had a good idea since the 80's. Well yes and no. I know I know, you're thinking geezz this girl can't make up her mind. She must be drinking crazy juice. Well if you're calling wine my crazy juice I'll take it. But hear me out as to why I think there is hope for original ideas.
For years, people have been saying that Hollywood only does remakes. They either take a movie that was made years ago, it was fine the way it was, but Hollywood wanted to remake it to make MOONNNEEYY (Evil Laugh can be inserted here if desired). Believe me I feel that way sometimes. Willy Wonka and the Chocolate Factory is one of my favorite movies of all time. I know it's not a perfect film, but it has charm, Gene Wider, a believable atmosphere, and songs that are so catchy you'll be singing it for days on end. Then 2005 came and Tim Burton did "his" version of the classic. Yes I know it was called Charlie and the Chocolate Factory, yes I know it was more based on the book and yes I gave Burton my money and saw this. And of course I was upset, how dare he I thought. Why did I do this to myself, why did I waste money on this, why BURTON?!?! But what made me want to go see it if I loved the original so much? Maybe at the time I had a huge crush on Johnny Depp, or maybe the real reason is I wanted to see if Tim Burton could actually do better than the original. Like I said in my editorial on Disney remakes, they wanted to bring back a feeling I had like when I first saw Willy Wonka on my TV. But I have to grow up and realize that I can't go back to that childhood I once had because well we grow up.
As simple as that sounds, yes we all grow up. Being a grown up sucks. I have to pay bills, I have to work at a job and I can't go to Chuck E Cheese without having a kid with me. But I want to relive my childhood by watching movies that remind me of a good time. I think everyday I look on Buzzfeed or Facebook I see people post things about growing up in the 90's and how awesome it was. Hollywood must have seen this and thought maybe this is what people want. I mean I must not be the only one who got excited to see that they are remaking It (the trailer gave me nightmares by the way). But I think this is where Hollywood might be getting a little overboard. Yes some remakes can improve on what was an idea (Mad Max Fury Road is a good example of this), but I think sometimes they can try to go improve to a point of missing the point.
I recently read the concept for the new Jumanji movie (yes they are remaking it). In case you never saw the 1995 film Jumanji, the story is about two kids who discover an old board game and are stuck playing it to the end in order to make the world normal again because this game lets out animals, planets, even people that are from this jungle-like place. Robin Williams plays a boy from 30 years in the past who gets stuck in this game until the two kids set him free. Though the movie has special effects that are way out of date, the story itself is simple and at times pretty exciting. What does the new remake offer? It's an old video game console instead of a board game. They go into this video game not as their teenage selves but as the Rock and Jack Black, yea because that's what the original movie was missing, the Rock and Jack Black. Though this movie isn't going to be coming until later this year, I have a feeling fans of the original aren't going to like it because, well, that's not the original. No duh! It's like trying to remake my mom's famous taco casserole without looking at her recipe, it's not going to work one way or another. Though I get why they came up with video games instead of a board game, it would have been a smarter idea to use the last scene in the original to continue the story (and if you have no idea what I'm talking about I suggest watch it and see what I'm talking about).
Ok I'm getting side tracked. The topic at hand is, are the remakes killing original movies? Well I say no, not really. Yes I know all you see in the theater now are remakes, but there is hope for all you people who wanted to see an original movie, you probably have seen one and haven't even noticed. The movie Get Out is the first that comes to mind and that came out this year. I remember hearing about this movie and thinking "damn this movie better be good because when was the last time you heard of a comedian directing a horror movie?" Well good news, he can direct and damn was it a great movie. It was a hit, an original movie being a hit. This movie (which I won't spoil because I can't praise this movie enough and you should see it) takes horror and pays tribute to it by making a taboo topic and what people didn't think could be considered a topic of a horror movie into what I can say is a masterpiece. People spread the word about how great the movie was, they probably forgot to mention how it wasn't a remake or a reboot.
Going back to Disney, they are full of original ideas if you didn't notice. Of course I'm talking about the Pixar side of Disney. One of my favorite movies by Pixar is Inside Out. This movie came out almost two years ago but the story is something everyone can relate to, having feelings. It was such great visually story telling, told through a girl is dealing with change. But instead of it coming from the girl herself telling the story we instead go inside of her head where her feelings are characters. When you see this written as a summary you think "I don't get how this would work." Well you doubt Pixar's ability to make a grown person cry (I still cry at the end of this movie). I mean just look at most of Pixar's movie ideas, most of them are original. Yes I know they make a lot of sequels now, but just look at how great Wall-e, Toy Story and Inside Out were that people can forget how original and innovated they are.
If you think about it, most movies we liked were based off of something. Willy Wonka is based off a book (which the author Roald Dahl hated by the way). But don't lose hope, original ideas are all around you. La La Land is an original idea, got nominated and won an Oscar for best picture (oh wait it was Moonlight that won, my bad). So my point is this, if you want original ideas to be seen out there in movies, see the ones that are out there. Remember The Nice Guys, most of you don't but see it because it's a great movie and it's original. Support those who are making them, they are out there. Yes I know you want to go back to a time where you can color as homework, but simply put we can't. Sometimes remakes get it right and sometimes they don't. But if you don't want to see your favorite movie being redone, then don't. I gave my money to a movie I knew couldn't hold up to my favorite, it never will. Instead try to support movie that are trying to get out there and be seen. I'm trying to in my own life, it's hard I know but just know they are there waiting for you to enjoy and spread the word around.
About the Creator
Movie lover, blogger and over all a person trying to make it to the stars!
www.theflixchix.com
Reader insights
Be the first to share your insights about this piece.
Add your insights