A Playtron's Guide
Tips, Tricks, and Hacks to The Minnesota Renaissance Festival

Costumes 2017, 2016, 2018, 2019
Before adopting the moniker/pen name of Tinka Boudit, I was a ten year attendee of the Minnesota Renaissance Festival. I go in costume. I shop, see shows, I made friends with cast members, vendors, and other attendees. I go every weekend for seven weekends. Those of us who do this are known as 'playtrons'. As in we play along, but we are patrons who pay the ticket fee to be there; we do not work there. I've also volunteered my time in a booth for three other seasons. I officially joined the cast in 2019 as a Riddle Master.
I know my way around the grounds. There are vendors, cast members, and other patrons who vary from casual acquaintances to some of my dearest friends. Anyone who knows me will tell you this is my biggest hobby, others would say obsession. I count the days until opening day.
This list is crafted from over ten years of festival attendance and working. I take my playtime seriously. You want to get an extra hour of energy out of your festival day? You want to recover a little quicker the next day after attending? This is the list for you.
Consider also reading my other top ten list to get through the day at the Minnesota Renaissance Festival.
Check the weather leading up to the day: The Minnesota Renaissance Festival (MNRF) takes place from mid-August and goes for seven weekends, sometimes to the first weekend of October. It's based on the third weekend of the festival being Labor Day weekend. The festival is all outdoors with few covered areas and even fewer (maybe one or two) temperature controlled areas. The festival has seen 105 degree days with no wind or clouds, pouring rain, snow, and the most glorious 62-72 degree days I have experienced in my entire life. Check it and adapt accordingly, including my own information below.
Loading your vehicle: Whether you are attending with your friends, significant other, or family, prepare your vehicle to arrive and depart the festival. What do I mean by that? Pack a cooler or two with food and beverages. You know what you need and like. I can't tell you how delicious a PB&J along with milk and an orange taste out of a cooler at the end of the day while sitting in that hay field. Going back to the weather, is it going to rain - umbrellas, towels, etc. Anything that brings you comfort at the end of a long day. Have your vehicle gassed up the night before.
Footwear: "When our feet hurt, we hurt all over." - Socrates. Wear proper footwear: proper rugged boots, something waterproof, sneakers that will get dirty - all factors to consider. DO NOT wear heals, flip flops, or anything with a thin sole. Bare feet are not allowed by anyone. At the beginning of the day, you are going to walk a couple hundred to a couple thousand steps just to get to the front gate. The grounds are NOT paved and there is not proper drainage. Your footwear doesn't have to be sexy. You know what's sexy? Comfort; not whining. My go to footwear: Rubber ankle rain boots, compression socks, wool sock on cold days, and good insoles. Consider packing a change of shoes/socks for the drive home.
Attire: If you don't costume, skip this section and just dress appropriately from your own wardrobe.
I costume in this order. - Weather, Comfort, Theme. I cannot stress this enough: costuming is each person's individual prerogative. I cannot and will not judge people for their costumes or lack thereof. That's their choice. Only when choices effect others, is it a problem.
Weather: Is it going to be hot? Breathable fabrics- cotton, linen, silk. Skirt, blouse, cotton bodice, silk scarves, straw hat, hand fan, mug for water. Anything after that is an accessory. Is it going to be cold? Layers. Long Johns, thermals, wool, *furs. Wool/multiple skirts, linen/multiple shirts. Is it going to rain? warm cloak or rain cloak that's been waterproofed, pashmina scarves. I wear things that can all be cleaned. Everything can be cared for, replaced, or fixed.
Theme: Each weekend has a different theme. Each piece of clothing is premeditated and curated. Nothing is an accident on my body. My look is art. It's how I express myself at MNRF. A group of friends and I will go as far as coordinate colors if someone has a wedding, birthday, or anniversary over the coarse of the festival season.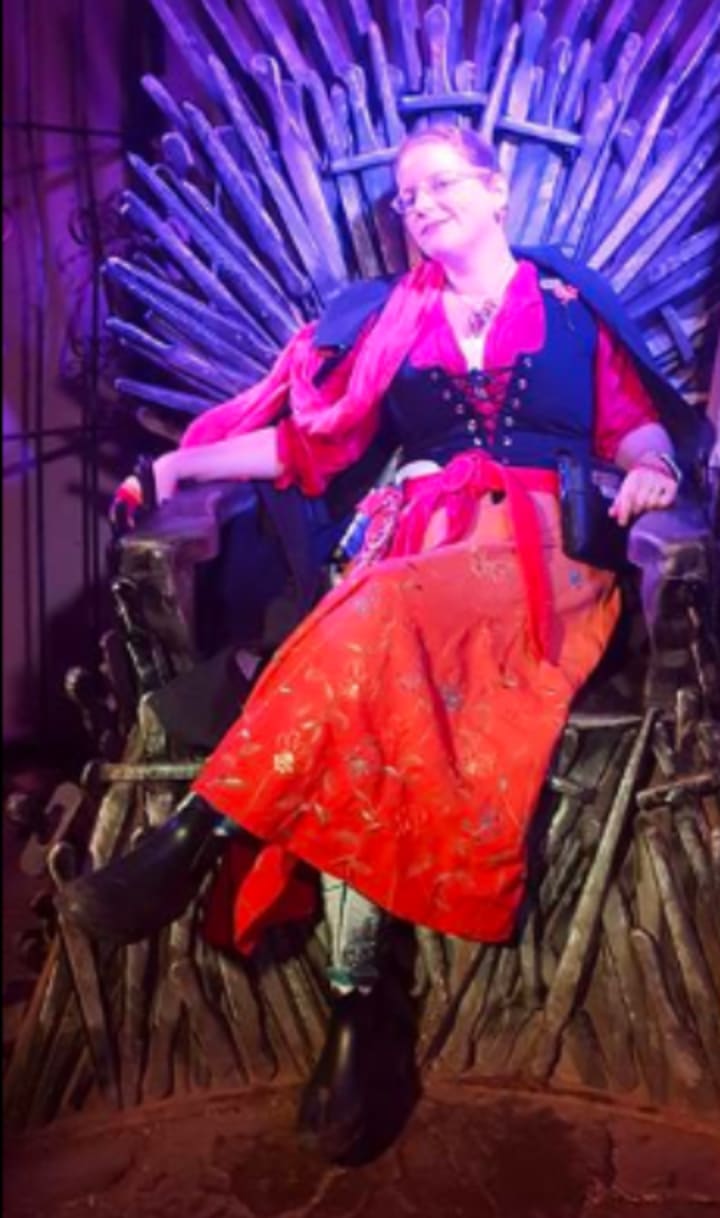 A full example of all of these things is this orange-based outfit. Weather: That outfit has rubber rain boots and I wore a black rain coat because it was a rainy day and a little cool. It's not in the picture, but I also wore the red leather tam hat that you can see in the top picture with the dragon to the left to keep the rain off along with a rainbow umbrella. Comfort: Every piece of clothing I wear to MNRF is comfortable. That orange skirt has a pocket. That black bodice has great structure without steel boning. I can carry everything on my body without a purse in pockets on a belt or in the coat. Theme: There were two themes happening that weekend. It was the Steampunk Invasion, my leggings were of that persuasion, they also kept my legs warm. My friends and I also were celebrating PRIDE for ourselves and all dressed in different colors of the rainbow, I was orange.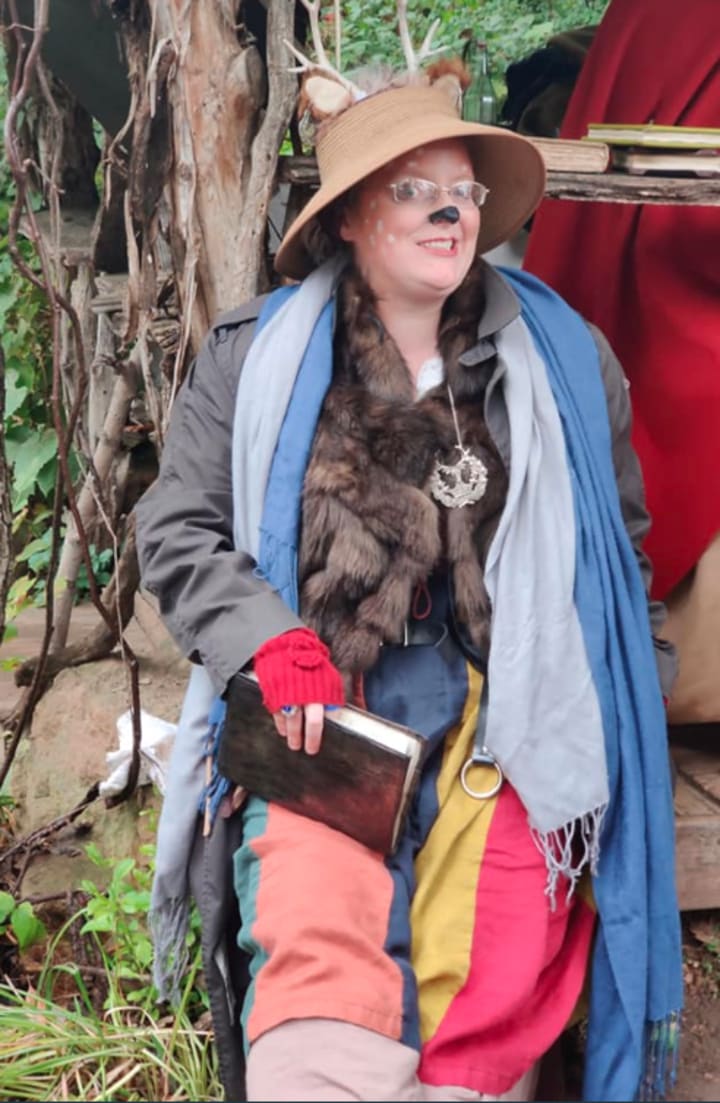 *My furs are all second hand and super warm. They're probably all older than I am. I feel no ethical issue wearing them.
What are you going to do today: If you've never been inside the gates before, and you get in before 9:30 AM, you are in for some potential sensory overload. GET A PROGRAM, they're free. If someone hasn't handed you one, they're on the benches immediately inside the gate. The info booth is also immediately to the right upon the entrance of the King's Gate. They are also the lost & found.
Again, it can be overwhelming upon arrival inside the gate. After you make it the 100 steps or so inside, I recommend checking the program and deciding on ONE THING, whether that's The Danger Committee, The Joust, or The Dregs. That way, you have one thing planned, and anything else you do besides that is gravy.
I mentioned in my top ten: pace yourself - if you see something that catches your attention, stop and check it out. Don't say you'll come back to it later. Just figure that stop into your pacing.
If you have questions, ask for help. Ask a booth employee, if they can't help you, they'll flag down someone who can. Same with someone in an elaborate or historical costume, chances are, they are there a lot or they work there. They won't be offended if they don't know the answer, they probably know someone who does. Or, they might really want to help you and escort you to where you want to go. The MNRF is a community; people want to have a good time, that includes YOU.
$5 or less: I asked the MNRF community what are their favorite inexpensive things there, here are some of them: A song request by The Dregs. A tip to any performer (if you're not sure, ask). A Pickle. A bunch of incense sticks. Some honey sticks. Lip balm from Seventh Sojourn. Coconut Macaroons. Kettle Corn. A 2-person duel at King of the Log.
Freebies: There's free stuff too?! You bet your butt you can find free experiences inside the gate. The children's knighting ceremony with King Henry. A walk through the Mermaid Cove or The Fairywing Forest. Samples of lotions in various shops. People watching. Pet and learn about snakes from the Royal Herpatology Society. Meet historical Vikings. The Irish Cottage. The Petting Zoo. Play a game of chess. Watch the parade at noon. Take photos on the Iron Throne. The large stage shows (tipping may or may not be mentioned at the end). Craft demonstrations like swords, glass, pewter, and more.
Food & Drink: Food lines are going to be busy between 11 AM-2 PM. Don't be shocked by this. Plan accordingly. My favorite foods: The Asian booth, the Polish booth, the crepe booth, and the whole row of booths in 'Cartwheel Cove' which is near the exit of the Mermaid Cove.
You want to imbibe alcohol? Be prepared to have your ID out every time and only buy one at a time. I'm a mead fan myself.
Don't forget to drink water. Make sure you get to a privy to pee once in a while. And for the love of all that is holy, close the privy lid when you're done.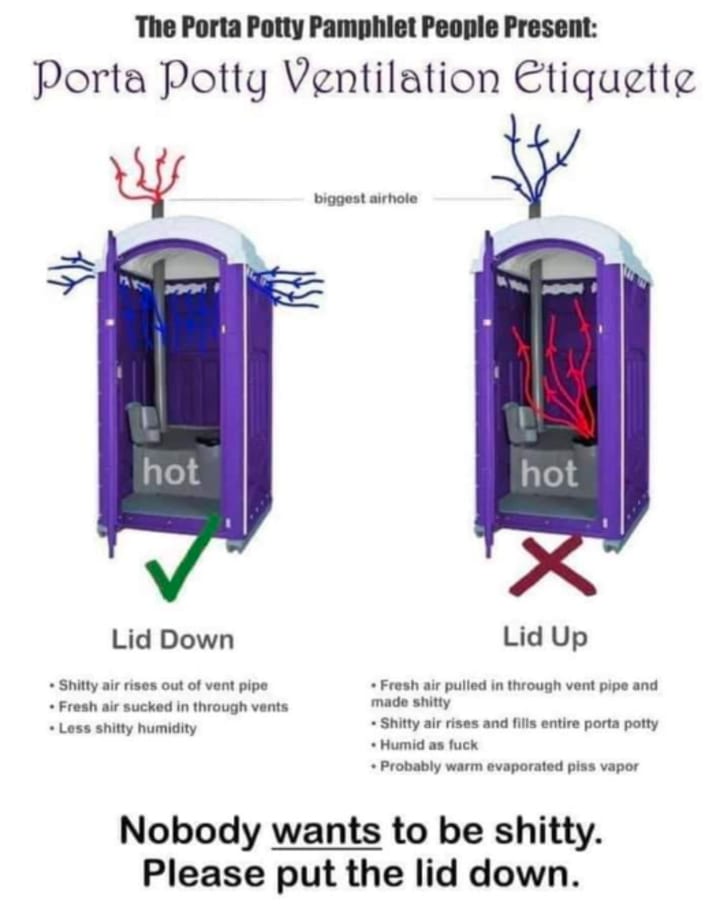 Most of all, have fun. You will never survive the day if you don't enjoy yourself. Open your mind and your heart to this experience and you will discover magic, joy, love, and a community that I absolutely adore. I have more memories than I can count of this enchanted land. See you there!
For more information the MNRF check out their facebook or website
For more information or questions on my writing reach me on facebook.
This is NOT a sponsored article. The opinions in this article are that of Tinka Boudit herself. Links included are not sponsored links. Links are included for reader's convenience.