7 Shows Fans of Invincible Do Not Want to Miss!
If people loved every second of Amazon Prime's Invincible, then the following shows are sure not to dissapoint.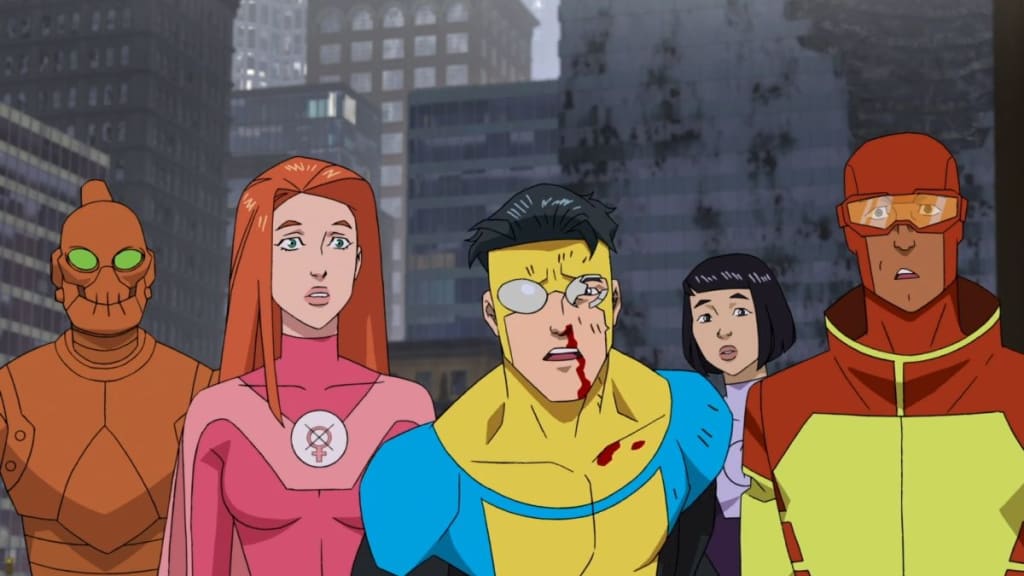 Invincible on Amazon
It is safe to say, in this era of DCEU failures and MCU game-changers, many people were probably not sure what to expect from Amazon Prime's animated superhero series Invincible, based on the popular comic book created by the man also responsible for The Walking Dead, Robert Kirkman. But the Certified Fresh endeavor on Rotten Tomatoes outdid all expectations with a gripping story following the offspring of the most powerful being on Earth, Omni-Man (J.K. Simmons), Mark (Stephen Yeun), aka Invincible, who gets his powers in high school. Through his arduous attempts to follow in his father's footsteps, he quickly realizes being a hero can be messy and learns how monumentally difficult it will be to live up to his name.
Mature-themed, well-crafted stories involving caped crusaders, vigilantes, and antiheroes seem to be all the rage these days, and while fans wait for the already green-lit second season of Invincible to touch down, they will need more relentless, adult-oriented comic book based narratives to occupy their time with on the small screen. After scouring through plenty of contenders, here are seven viable candidates that will fill any Invincible void fans may be going through.
From Harley Quinn to The Boys, here are some exceptional follow-up options for those looking for shows offering up a similar no-holds-barred approach to superhero storytelling that fans of Invincible are used to experiencing every episode.
The Umbrella Academy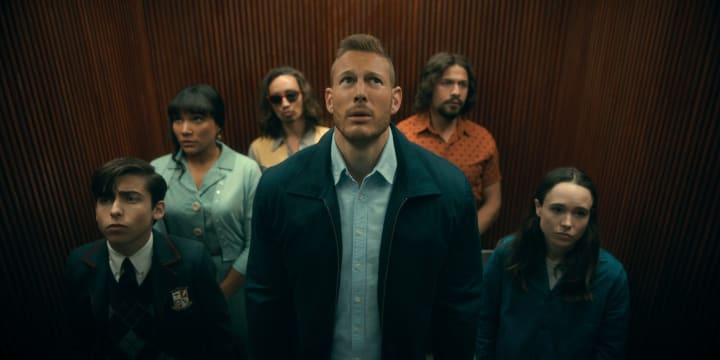 If there is truly one series out there that proves saving the day isn't easy, it's the Netflix original series The Umbrella Academy. The narrative plays out like the X-Men, except with way more time travel and family dysfunction. The story follows seven of the children, including Vanya, aka Number Seven (Elliot Page) and Allison (Emmy Raver-Lampman), aka The Rumor, that were born instantly and simultaneously at 12:00pm on October 1, 1989, despite none of the mother's showing any signs of being pregnant beforehand. An eccentric billionaire named Sir Reginald Hargreeves (Colm Feore) adopts the seven super-powered individuals and trains them to fight crime, only to have them each leave the team only to be reunited at their adopted father's funeral.
The tragic event ends up kickstarting the show when their missing brother Five (Aidan Gallager) returns to the fold after being missing since he was a kid. The chaos, mayhem, and hijinks that unfold as the titular heroes overcome each other, their own flaws, a relentless time travel police force, and an apocalyptic conspiracy involving the Kennedy assassination are what make this well-crafted drama a solid endeavor to behold after the final credits roll on season one of Invincible.
Harley Quinn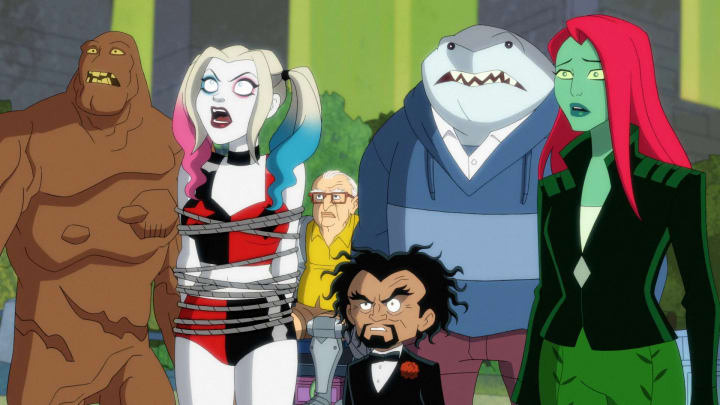 The animation style of Invincible is very reminiscent of the X-Men: The Animated Series or Spider-Man: The Animated Series making the Amazon Prime show feel like an adult version of their childhood favorites. If anyone was looking for a mature-themed equivalent for the GOAT that ruled after school known as Batman: The Animated Series, then look no further than the DC Universe-turned HBO Max original Harley Quinn.
The adult animated show follows the titular character voiced by The Big Bang Theory's Kaley Cuoco as she breaks away from the Joker and tries to make a name for herself in the male-dominated criminal underworld of Gotham City and the Legion of Doom. With the support of her number one gal pal Poison Ivy (Lake Bell), she forms a crew of misfit villains, including Clayface (Alan Tudyk), Doctor Psycho (Tony Hale), and King Shark (Ron Funches), that embark on sidesplitting hyper-violent, misadventures full of crude humor that Invincible fans will not want to miss.
SuperMansion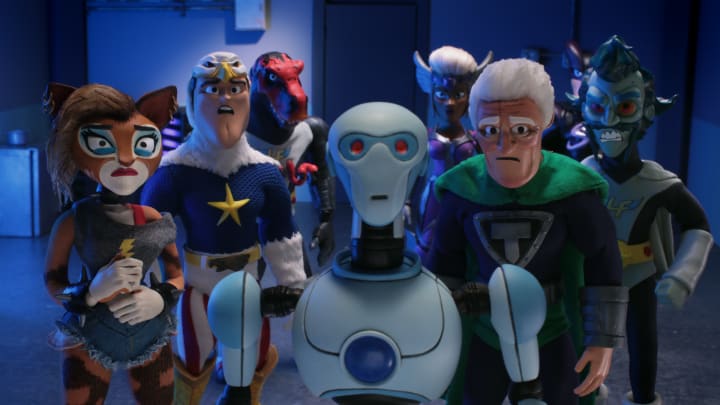 Fans of Invincible saw how difficult it was for the Guardians of the Globe to get along and work together in order to be an effective world-saving force. If they are looking for a more comical, mature-themed take on a Justice League-style group of heroes trying to coexist under the same roof, then look no further than the stop-motion animated series from the creators of Robot Chicken, SuperMansion.
The series that first aired on Adult Swim and called Crackle home for most of its run follows aging superhero Titanium Rex (Byran Cranston), who leads the League of Freedom, which includes Cooch (Heidi Gardner), American Ranger (Keegan-Michael Key), Robot (Zeb Wells) and Zenith (Yvette Nicole Brown). In the show, viewers witness how the wickedly funny characters deal with the gut-busting fallout of their attempts to not get shut down by the government, stay popular, get sponsorship, and still save the day against threats like the devious Dr. Deviso (Chris Pine).
There are three seasons and five specials of SuperMansion with a slew of big-name guest stars and laugh riot storylines comic book lovers, as well as Invincible fans, will absolutely appreciate.
The Boys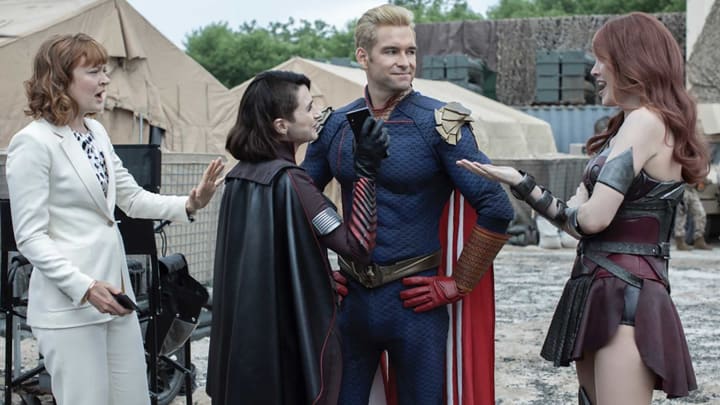 It would not be the craziest thing in the world to find out that if somebody thought that the Amazon Prime series The Boys was a live-action version of Invincible because the shows are nearly the same, with the obvious exception one is animated and the other is not. Despite the difference in format execution, the two programs have so much in common, and anyone that has seen either of these could agree that the two would pair extremely well together.
The Emmy nominated Amazon original is based on the comic of the same name that follows a group of vigilantes, including Billy Butcher (Karl Urban) and Huey (Jack Quaid), who take down corrupt superheroes who abuse their enhanced abilities for nefarious purposes. Their main target is the blonde-haired, blue-eyed version of Superman, Homelander (Antony Starr), head of the Avenger-esque group The Seven, and their newest recruit, Starlight (Erin Moriarty), may just be what they need to stop him.
All fans of Invincible have to do is imagine the violence, gore, and debauchery seen in the show caused by super-powered people, crank it up ten notches and imagine what it could look like in real life, making The Boys an ideal experience that exists on the same streamer.
Watchmen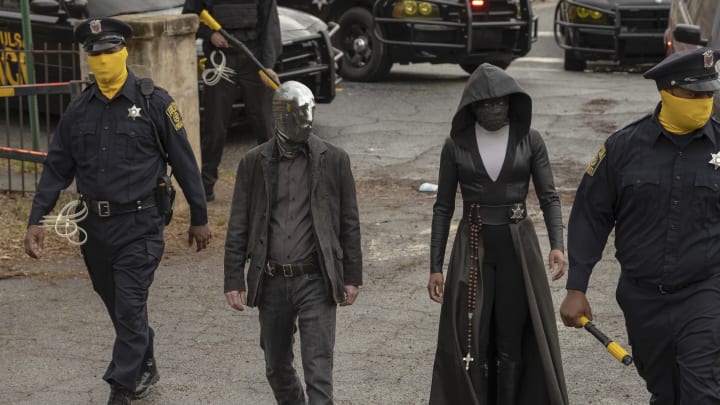 If Invincible fans want to get a similar vibe, albeit a bit less violent and more story-focused, then the critically acclaimed Watchmen limited series is the absolute perfect option to experience. Lost writer Damon Lindelof delivers a solid, cohesive story that actually sticks the landing, and there are many that consider it to be on par with many of the top-rated programs on the small screen.
The Watchmen series on HBO takes place 34 years after the events depicted in the Alan Moore and Dave Gibbons created comic series and acts as a remix to the original source material as opposed to a reboot or remake. The enthralling story takes place in an alternate history where being a vigilante is a crime and cops wear masks for their own protection. When a white supremacist group re-emerges from the shadows and a police chief (Don Johnson) is hung, one detective, Sister Knight (Regina King), will launch her own investigations that will unveil things about her past as well as a vast conspiracy involving the world's smartest man Ozymandias (Jeremy Irons).
The poignant storyline, remarkable writing, and award-winning performances make Watchmen an instantly riveting affair fans of Invincible are sure to enjoy.
Misfits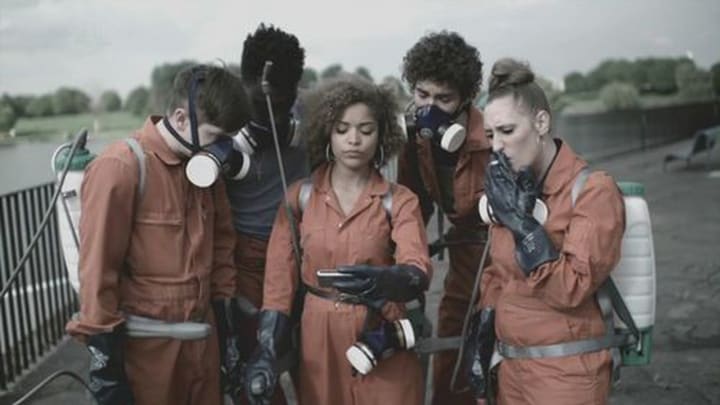 If fans got a kick out of seeing what it was like to manage to become a superhero with trying to navigate the complicated world that is high school, then the show they should have on their radar is, without a doubt, Misfits. The British sci-fi comedy-drama aired five seasons and offered up a unique take on the genre with its own gritty style that will offer up a captivating change of pace that will not disappoint those who enjoyed Invincible.
In the critically acclaimed series Misfits, a strange electrical storm gives everyone supernatural powers, and the series follows a group of teenagers on probation doing community service. These troubled youths struggling to find a place in this world now have to deal with having powers like invisibility, time travel, hearing people's thoughts, enticing people beyond their control with a simple touch, and not being able to die.
The series Invincible fans shouldn't sleep on plays out like the X-Men meets Skins and features an exceptional cast, including Game of Thrones actor Iwan Rheon and The Umbrella Academy's Robert Sheehan.
Marvel's M.O.D.O.K.
Finding something to watch after such an exhilarating thrill ride can be a daunting affair, and many would be surprised at what endeavor they embark on after the fact. While many would maybe see this is as strange, the hilarious hijinks of an iconic Marvel Villain's midlife crisis in Marvel's M.O.D.O.K. will go down surprisingly well after experiencing Invincible's story of a young boy getting his powers in a hyper-violent coming of age story.
Marvel's M.O.D.O.K. is a sci-fi stop motion animated Hulu original sitcom that has comedian and actor Patton Oswalt voicing the titular character. In the series, he must find a way to get his company A.I.M. back after he is forced to file for bankruptcy. But if that wasn't enough, he is going through problems at home with his wife Jodie's (Aimee Garcia) successful business as well as his awkward son Lou (Ben Schwartz) and approval-hungry popular-girl daughter Melissa (Melissa Fumero).
There is no denying the final moments of the Amazon prime series left fans in a state of shock, so settling down with the supremely funny antics that Marvel's M.O.D.O.K. has to offer will help fans get by until new entries of Invincible arrive.
superheroes
Reader insights
Outstanding
Excellent work. Looking forward to reading more!
Top insight
Easy to read and follow

Well-structured & engaging content
Add your insights