5 Surrealist Paintings to Spark Your Creativity
No, I'm not talking about artworks by Magritte, Dali, or Ernst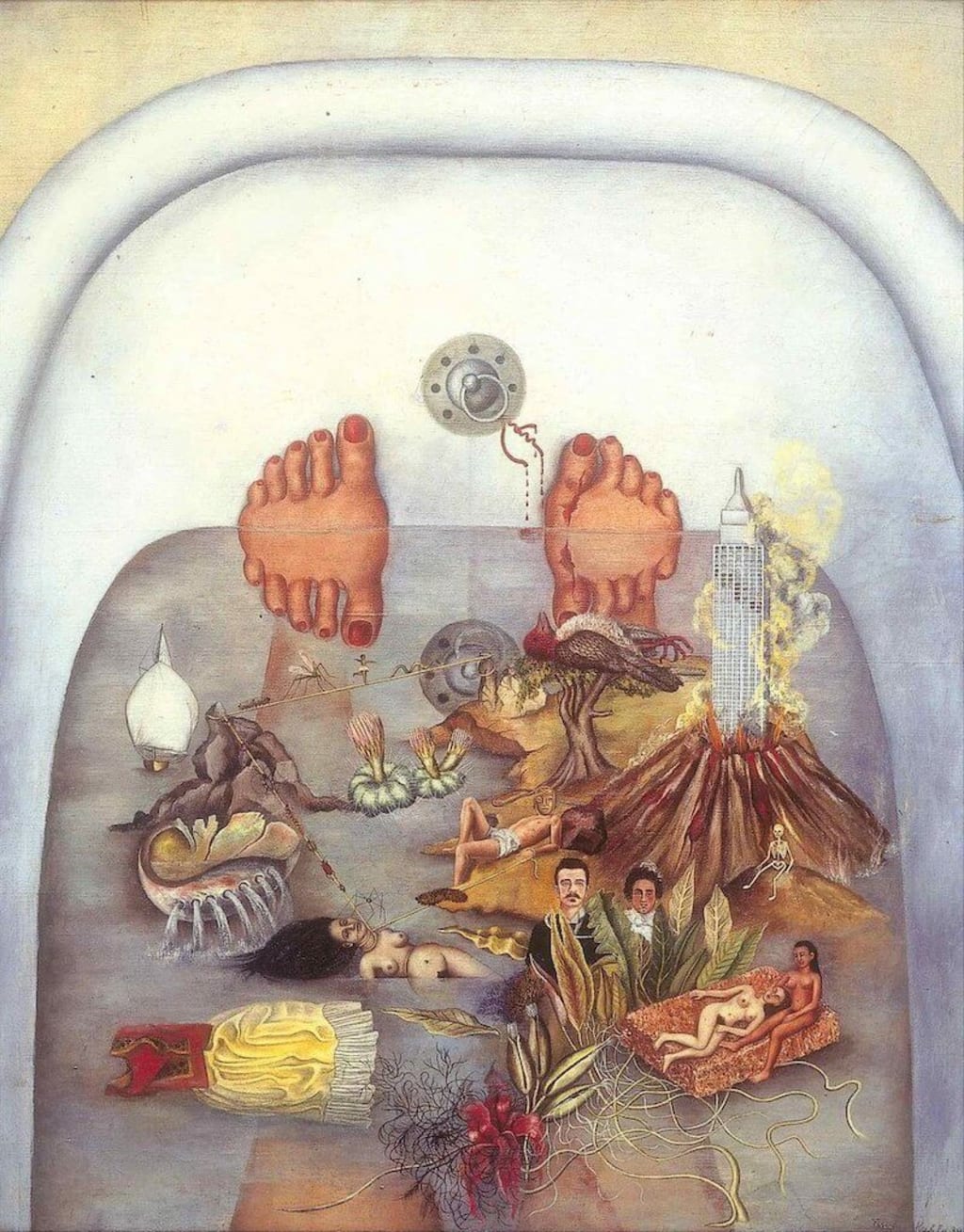 French avant-garde poet Guillaume Apollinaire coined the word "surrealist" (beyond reality) in 1917.
But it was André Breton, who defined surrealism in his surrealist manifesto
pure psychic automatism, by which one proposes to express, either verbally, in writing, or by any other manner, the real functioning of thought. Dictation of thought in the absence of all control exercised by reason, outside of all aesthetic and moral preoccupation.
However, a recent exhibition by art curator Matthew Gale from the London's Tate Modern took surrealism from "beyond reality" to "beyond borders".
Gale says, "Surrealism is not a style, it's a state of mind that leads to a free individual creativity."
Let's delve into 5 surrealist artists who:
• loved to daydream
• possessed an insatiable curiosity
• were out-of-the-box thinkers
• were highly observant
• and sublimed their ugly experiences into artistic pursuits
1. Eine Kleine Nachtmusik by Dorothea Tanning (1943)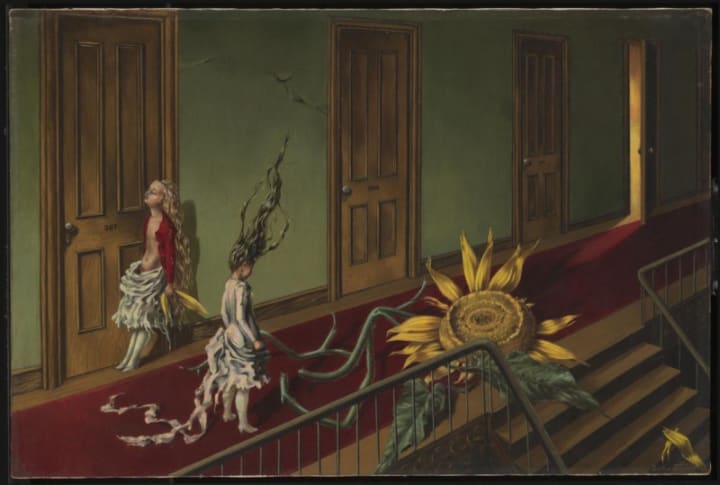 My first reaction to this painting - uncanny, weird, and spooky.
• The ambiance appears to be a hotel corridor with numbered doors. The rightmost door is slightly opened and gives a glimpse of incandescent light.
• A giant sunflower is placed on the red carpet with a few petals on the stairwell and a few with a girl wearing a tattered red jacket. But, hey, wait. Is she a living figure or a toy? She appears to be a life-size doll from her hairline and regularly moulded contours of her torso.
• Another girl stands next to her with her face in the opposite direction. Her long hair stretches upwards as if blasted by a powerful gust of wind. The branched stems of the sunflower seem to surround her.
What does it all mean?
Dorothea Tanning created this painting during her stay with friend Max Ernst, in Sedona, Arizona. She was fascinated by Mozart and titled this after one of his most well-known serenades.
Tanning was fascinated by Gothic novels in her adulthood, and so she used these giant aggressive flowers to show the supernatural forces.
2. What the Water Gave Me by Frida Kahlo (1938)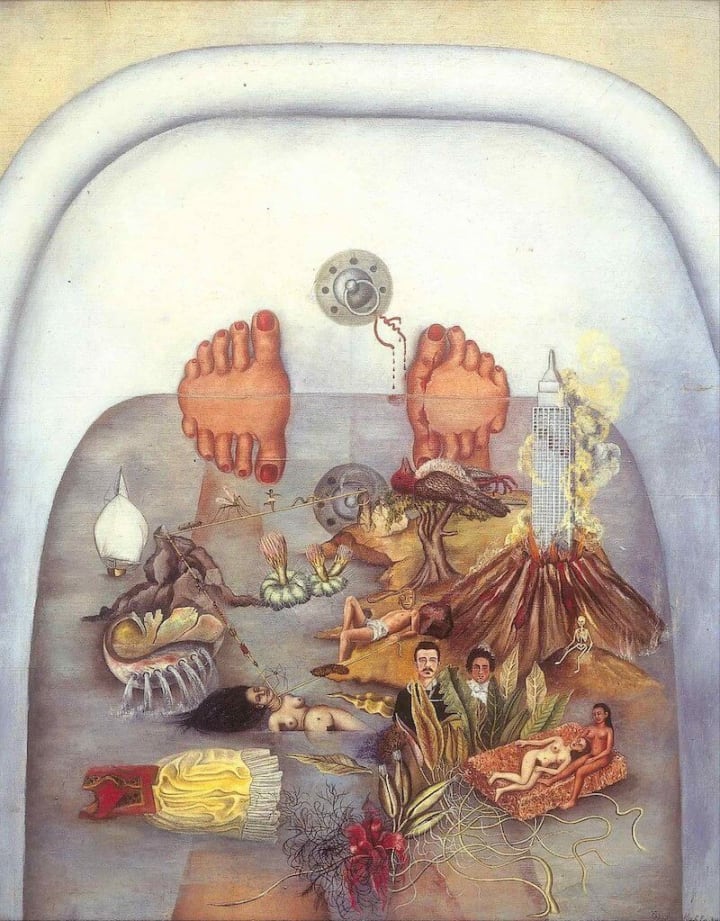 This painting reveals the ramblings of Kahlo's life - from her severe pain to her miscarriages and tempestuous marriage.
In this composition, Frida shows:
• Bathtub with her red pedicured nails and right deformed foot.
• A volcano erupts and burns a skyscraper on the left. Symbolically, it represents that she no longer suppresses her feelings about her body and relationship with her husband.
• Woodpecker is perched upon a tree, and a skeleton rests on the mountain.
• Naked girl seems to float in water in the center. She is strangled by a faceless man who lounges near the edge of the volcano bed.
• Seashell full of bullet holes shows the emptiness in her life.
• And then there is a Mexican dress, a couple that resembles her parents, and two female lovers who later appear in her 1939 painting Two Nudes in a Forest.
The most commendable part of Frida's life was - that she defied her destiny as a victim and propelled her creativity through her paintings.
3. Venus Asleep by Paul Delvaux (1944)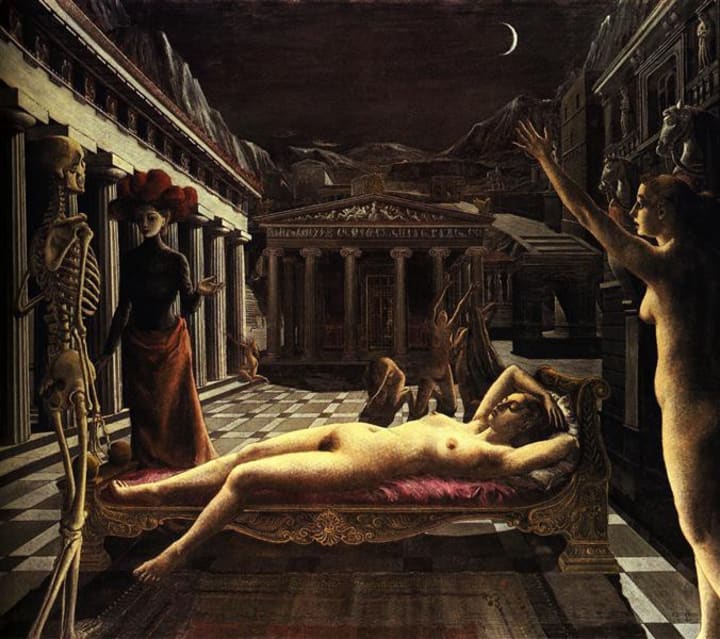 The painting portrays a classic amalgamation of mythology and a disturbing ambiance.
• Set against a moonlight sky, the building is lined with horse heads and has female nudes, a skeleton, and a dressmaker's dummy.
• Venus calmly sleeps on a beautifully designed chaise longue. A contrasting element to the anguish in the picture.
Much like Otto Dix's famous paintings during World War 1 bombings in Belgium, Delvaux painted this during the second world war.
4. Harlequin's Carnival by Joan Miro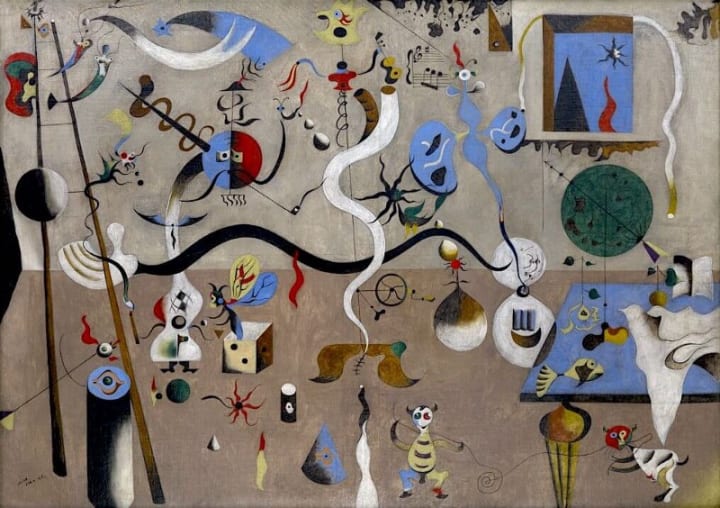 The most surrealist of them all. And if you know the inspiration behind this painting, I'm sure you would be awestruck like I was.
• Joan Miro created this artwork when he didn't have money to buy food for him. The hunger pangs forced him to bring many elements together and have this surrealist masterpiece.
• It shows an anthropomorphized object, such as the ladder with an eye and ear, starting from the extreme left.
• Next, we see a harlequin-styled face with a half blue-red color. The eyes show anger with a long mustache. As we move towards the violin-shaped stomach, there's a hole representing Miro's poverty and hunger.
• Rest, all other hybrid creatures are celebrating and dancing with music literally in the air.
It is believed that the title of the painting refers to Mardi Gras, the celebration that precedes fasting during the season of Lent in the Catholic liturgical calendar.
5. Celestial Pablum by Remedios Varo Uranga (1958)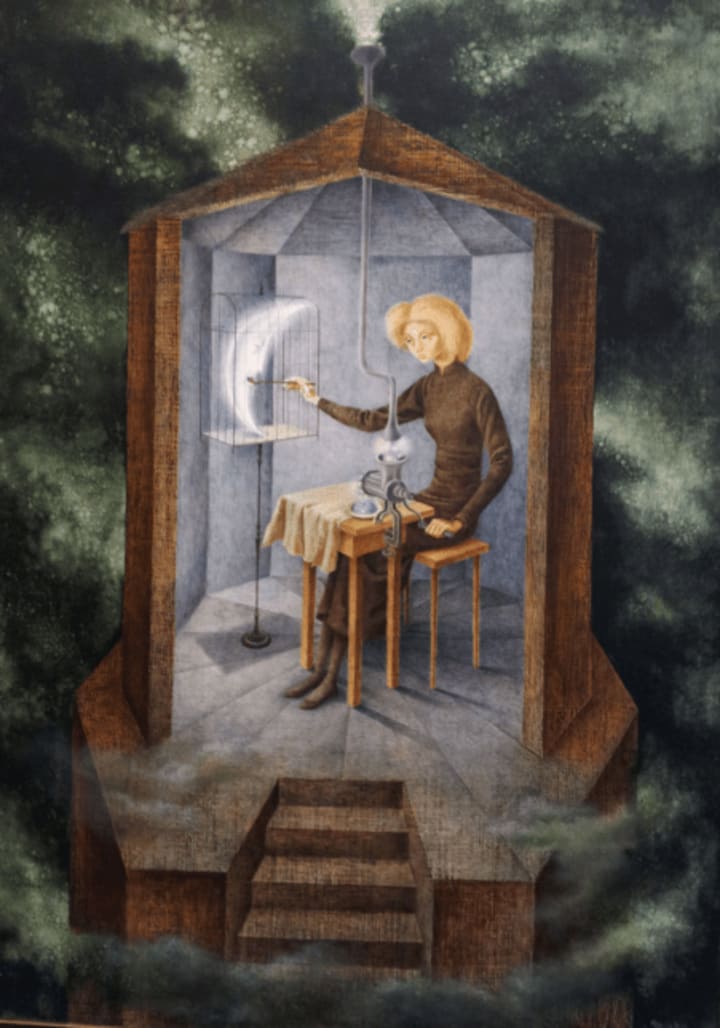 Many of Varo Uranga's paintings were related to the cosmic universe, and she believed that both art and science were deeply intertwined.
This was no exception.
Sitting in a medieval-looking tower, a lonely woman operates a juicer, lamped on her desk. She pipes in starlight through a hole in the ceiling and turns the handle of her small machine to crush celestial fragments, creating pablum (baby food). She then feeds the baby food to her caged moon.
Symbolically, the moon shows female strength and fertility. Varo was a feminist and resisted patriarchal societies.
----
Which one is your favorite and why? Drop them in the comments.
----
References:
1. Seven artworks exploding the myth of a movement
----
If you like my articles, here's my free e(book).
art
About the author
Art enthusiast. I engage with art at a deep level. I also share insights about entrepreneurship, founders & nascent technologies.
https://linktr.ee/kamnakirti