5 Disney Characters Who Were Nearly Forgotten, But Rescued From Obscurity
Back from the scrap heap!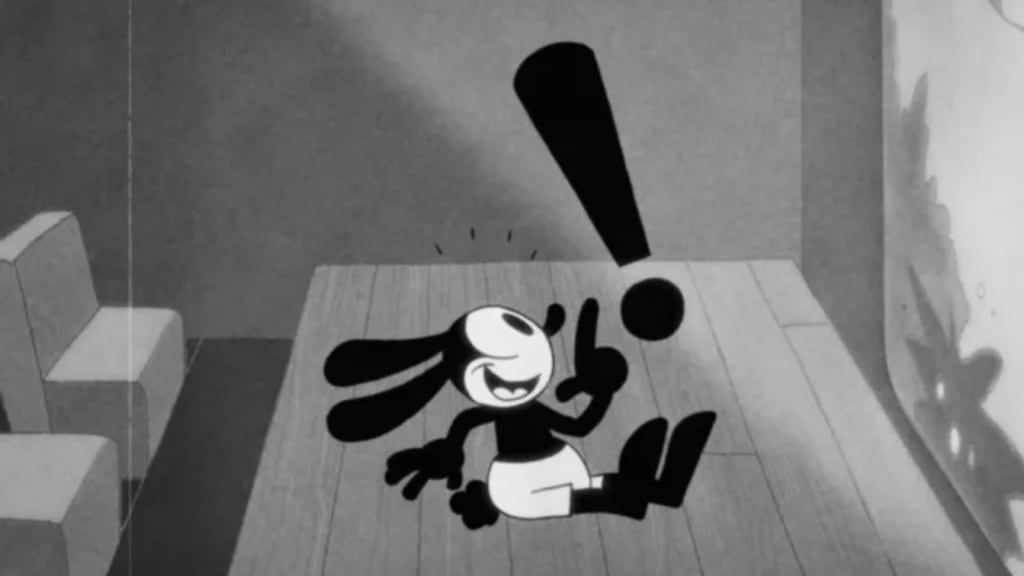 Credit: Disney.
In the world of children's entertainment, it is common for shows and characters to spend a window of time in the limelight before falling out of favour, ready to be replaced by the next big thing. Sometimes, even the timeless characters of the Disney stable of stars fall victim to this trend.
However, in Disney's case, these characters rarely disappear entirely. Let's look at some Disney characters who were nearly forgotten, only to be rescued from obscurity by a later project.
1. Oswald The Lucky Rabbit
In 1927, Walt Disney and Ub Iwerks created the cartoon character Oswald The Lucky Rabbit. Oswald was the result of Disney's desire to explore what he called 'Personality animation', ie, portraying a character's personality through their movements, mannerisms, and behaviours rather than just their appearance. In recent studies of the character, Oswald is described as having a bigger ego than Mickey, but no less likeable for that, as he is also courageous and adventurous.
While the early theatrical shorts starring Oswald were animated at Walt Disney's animation studio, the rights to the character belonged to Charles Mintz and Universal Pictures. After completing his contract for twenty-six Oswald shorts, Disney discovered that some of his animation staff had been poached by Mintz so that Universal could continue producing the shorts without him.
Learning from their mistake, Disney and Iwerks resolved to make a new character and keep the rights for themselves, which soon led to the birth of Mickey Mouse. Meanwhile, Oswald suffered from a lack of continuity with his character as various Universal execs forced him through repeated redesigns. While he continued to appear occasionally in comics up until the 70s, he never quite returned to the heights of the Disney-led shorts.
This all changed in the mid-2000s, when new Disney CEO Bob Iger made a deal to regain the rights to Oswald The Lucky Rabbit and the Disney produced Oswald shorts. The company were eager to include Oswald in a new video game, Epic Mickey. In the game, Oswald acts as the leader of the Wasteland, a realm for forgotten cartoon characters, and resents Mickey for taking the fame and attention that had once been his. However, as they work to save Wasteland from the Blot, the two eventually bond and accept each other as brothers.
Epic Mickey was a hit, spawning both a sequel and a hand-held spin-off, and reignited interest in Oswald, who became an unlikely fan favourite. The character now appears regularly for meet-and-greets in Disney Parks, and even got a brand new short of his very own in 2021.]
2. Della Duck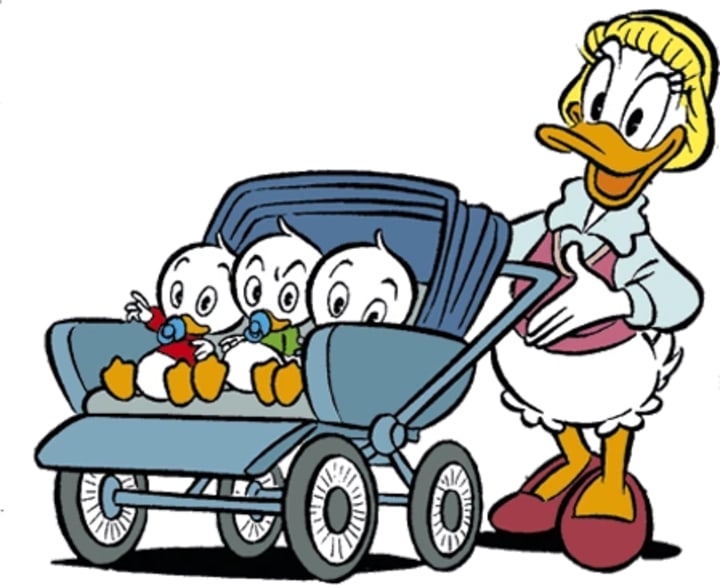 Della Duck, the twin sister of Donald and Mother of triplets Huey, Dewey, and Louie, has been an unseen character through most of her history. In the triplets' 1938 debut short 'Donald's Nephews', the boys arrive alone on Donald's doorstep, bringing only a note from Della to explain their visit. She was almost never mentioned in animation thereafter, and her comic appearances were always off-panel, referenced only in letters or phone calls to Donald as he cared for Huey, Dewey, and Louie.
Eventually, even these off-panel interactions dwindled, and Della's absence was explained as her being away training as a pilot, and then an Astronaut. By 1942, most official sources listed the triplets as having been officially adopted by Donald.
Despite never having appeared on screen, the reason for Della's absence from the lives of her children remained a subject of interest for fans of the Disney Duck universe. Her story was finally revealed in the 2017 Ducktales reboot. The core storyline of the show's first season revolves around the mystery of Della's disappearance, and Donald's subsequent estrangement from Uncle Scrooge. It is eventually revealed that Della stole the Spear of Selene, a spaceship intended as a gift to celebrate the triplets arrival once they hatched, and became lost in a cosmic storm. The season one finale reveals that Della is alive, but crash landed the ship on the far side of the Moon.
In season two, Della, voiced by Criminal Minds star Paget Brewster, eventually makes it back to Earth, reuniting with her children. She becomes a regular character for the remainder of the series, and an unlikely fan favourite.
3. Clarabelle Cow
Clarabelle Cow was created around 1930 by Walt Disney and Ub Iwerks, to serve as a supporting character in the Mickey Mouse theatrical shorts. While a livestock cow that may have been a proto-Clarabelle appeared in the very early shorts, the fully realised version of Clarabelle that most fans would recognise Today first appared in 'The Shindig'. Clarabelle usually appeared as a friend of Minnie who disapproved of Mickey's antics, discouraging Minnie from accepting his romantic overtures. Despite sometimes behaving rather snootily, Clarabelle was quite clumsy and unobservant, a source of humour in the shorts.
Despite continuing to appear as a supporting character in some Disney Comic Strips, Clarabelle largely disappeared from the public eye following the closure of Disney's Shorts division, apart from a brief cameo in Mickey's Christmas Carol.
After decades away from the spotlight, the character made a surprise return in the Direct-To-Video film Mickey, Donald, and Goofy: The Three Musketeers. Here, Clarabelle serves as the offsider of the film's villain, Captain Pete, but reforms when she finds herself unexpectedly falling in love with Goofy. Clarabelle has become a regular supporting player in projects centred on Mickey and friends, often portrayed as a friend of Minnie Mouse and Daisy Duck, and the town gossip. Her romantic attatchment to Goofy has also stuck.
4. April, May, and June Duck
April, May, and June Duck were introduced to the Donald Duck comics in the 50s, as the young nieces of Daisy Duck. Appearing sporadically after their debut, the trio were very minor characters, mostly existing to act as female counterparts to Huey, Dewey, and Louie where needed. There were early plans to include the girls in the original Ducktales, but it was feared the series would ed up with too many characters, so instead their basic design was used for a single new character, Webby Vanderquack.
April, May, and June's first animated appearance was a brief cameo in House of Mouse, filling in for Huey, Dewey, and Louie's usual role of the House band when the boys were unavailable. However, their first major appearance in an animated project was a supporting role in the 2018 series The Legend of The Three Caballeros.
In this series, Donald requests the girls' help in cataloguing the items inherited from his Grandfather, Clinton Coot. They keep watch over the Cabana when Xandra and the Caballeros are away on adventures, while also scheming to help Donald reconcile with their Aunt, Daisy. The series brought April, May, and June to the attention of modern audiences, giving them their own character traits beyond simply being counterparts to Donald's Nephews, and paved the way for their pivotal role in the final season of the Ducktales reboot.
The final season of the rebooted Ducktales reveals that Webby Vanderquack is in fact April, a clone created from Scrooge McDuck's DNA as the evil F.O.W.L needed his direct descendant to find the season's Macguffin, the Papyrus of binding. When April was rescued and raised by Mrs. Beakley as Webby, F.O.W.L create May and June as attempted replacements. By the end of the series final episode, Scrooge has embraced April/Webby as his daughter, while May and June looked set to be adopted by Donald and Daisy.
After these recent appearances, many fans are hoping to see more of the female Duck trio in the future.
5. Chip and Dale
Nowadays, as such beloved members of the wider Disney family, it seems impossible to think that Chip and Dale could ever be forgotten. While they probably wouldn't have disappeared as entirely as some of the other entries on this list, there was definitely a time when the beloved Chipmunk brothers slipped out of the spotlight.
Chip and Dale, often shortened to Chip 'n Dale, appeared in many Disney Theatrical Shorts as adversaries of Pluto, or more often in later shorts, Donald Duck. 'Chips Ahoy!', the last of the classic era shorts to feature the characters, was released in 1956, shortly before the closure of Disney's Shorts division. For just over three decades after this, Chip and Dale appeared in very little new material, apart from a few short framing stories for televised anthologies featuring the characters' theatrical shorts, and a blink-and-you'll miss it cameo in Mickey's Christmas Carol.
This chaged in the late 80s, when the success of the original Ducktales series sparked the Disney company's interest in reviving other classic characters for a modern day animated series. The then relatively new Walt Disney Television Animation studio initially planned for a series based on the 1977 film The Rescuers, but these plans screeched to a halt when they discovered a film sequel was already in development. Rather than scrap the idea entirely, the Television Animation team simply reworked the series as a vehicle for Chip and Dale, thus Chip 'n' Dale: Rescue Rangers was born.
The series ran for 65 episodes, an impressive feat at the time, and revived public interest in the characters. Chip and Dale have remained regular supporting characters to series featuring Mickey Mouse and the rest of the classic Disney crew ever since. A feature-film version of Chip 'n'Dale: Rescue Rangers was released on Disney Plus in 2022.
If a classic character you once loved seems to have disappeared from the screen, don't give up hope.. there's always a chance at a revival.
Reader insights
Be the first to share your insights about this piece.
Add your insights