Best of Netflix
5 BEST teen dark comedies on Netflix right now
"wash your hands you detty pig"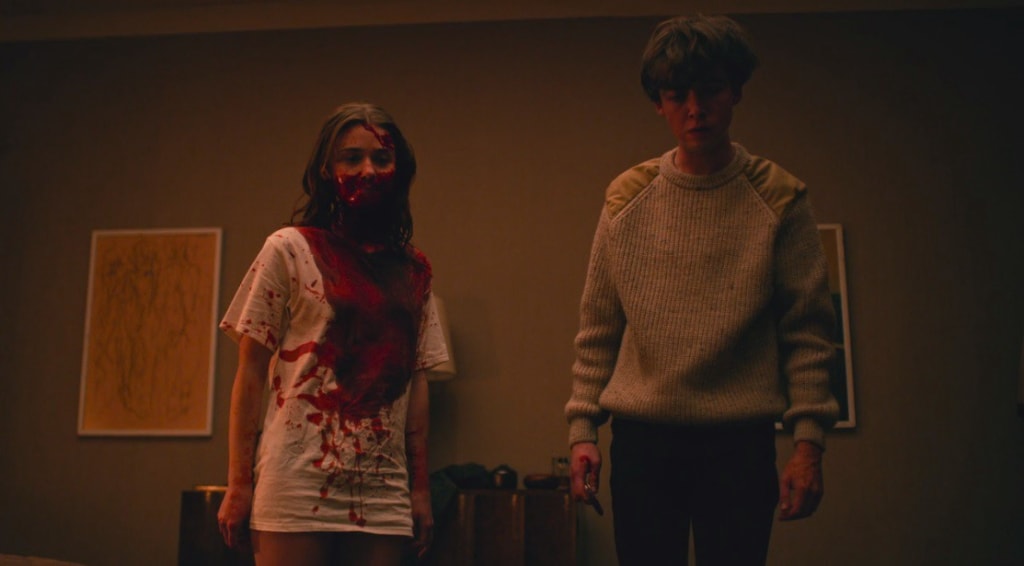 Dark comedies are my saving grace at the moment and I can't stop binge watching. Pretty much what I'm saying is come find me after quarantine because I've got plans, and this is why your plans should be the same...
These are my literal favourite five dark comedies that are long enough to have a developed plot but short enough to watch a season in a day. You really be getting the best of both worlds. All five of these recommendations are Netflix Original Series so don't worry about being 'outside the US' cause girl same. Also, these are in no particular order so don't attack me.
1. The End of the F***ing World (2017)
"I'm James, I'm seventeen, and I'm pretty sure I'm a psychopath"
Seasons: 2
Episodes a season: 8
Rating: (AUS - MA15+) (USA - R) (UK - 15)
Best series to binge when you're looking for something short and snappy. It follows James (Alex Lawther) who is a self-diagnosed psychopath, bored of killing animals... meets new girl Alyssa (Jessica Barden) who is bored of her family and new school, joining forces on a run away mission to find Alyssa's absentee father, ultimately stuffing everything up as teens always seem to do.
James however has ulterior motives to their new-found relationship.
2. Sex Education (2019)
"I wish I could be a normal kid with a normal dad and a normal d*ck"
Seasons: 2
Episodes a season: 8
Rating: (AUS - MA15+) (USA - R) (UK - 15)
Sex in high school, we've seen it in every teen movie and tv show alive but what happens when you get an awkward teen (Asa Butterfield) who has never had any experience in the sex department, in a very sex driven high school... you start a sex therapy clinic.
It kinda follows the format of each episode is some new problem that Otis solves while also following him and his friends main storyline, this allows you to fall in love with each character and connect to main protagonists while still getting a developed and entertaining storyline. This show still holds this bubbly and innocent feel even though discussing sex topics, through its characters joining humour with actual issues.
3. I Am Not Okay With This (2020)
"Anyway, here's to a normal high school experience."
Seasons: 1
Episodes a season: 7
Rating: (AUS - MA15+) (USA - R) (UK - 15)
One of the newest dark comedies to hit Netflix, following Syd (Sophia Lillis) and Stanley (Wyatt Oleff) discovering sexuality, new/old friendships (Sofia Bryant) while also figuring out new found superpowers, just teen things...lol. When you can suddenly move things with your mind, it can be quite frightening for anyone, but what you do with it and learning how to control it can make all the difference.
This show is something you can easily get hooked to and watch in one sitting because of how short it is. You really fall in love with the relationships and discover what is happening along with Syd, making the story engaging and creates some wtf moments.
4. You (2018)
"The first thing my beloved internet gave me was your address."
Seasons: 2
Episodes a season: 10
Rating: (AUS - MA15+) (USA - R) (UK - 15)
Joe (Penn Badgley), the creepy sociopathic protagonist that you root for and hate at the same time, justifying all his not so sane actions with the fact that he is doing them for love. So when he meets Genevieve Beck (Elizabeth Lail), Joe uses social media and the internet to find out everything he could, going to all limits to 'protect' this girl, but can he protect her from himself?
When you first start watching this series, their are a lot of wtf moments that you have to stop and ask yourself who you are actually rooting for. I think the blurry line creates an intrigue into the show and what really will Joe do next and how will he get out of this mess?
5. The Society (2019)
"It's been ten days, I'm not the same person I was, okay?"
Seasons: 1
Episodes a season: 10
Rating: (AUS - MA15+) (USA - R) (UK - 15)
What happens when you go on a school camping trip and when you come back everyone is gone... but did you even go home or somewhere that just looks like it?
This show depicts what would happen if a bunch of teenagers had to run their own town and the mess that it would make. The power struggle of different characters, the selfish and the selfless, and where that might make you end up in the ranks. It has amazing character development, especially watching how they change from before and after they were left alone.
How are you meant to survive with no laws, no police and ultimate freedom, but at what cost?
Enjoy :)